These Triple Chocolate Cookies are perfect in every way!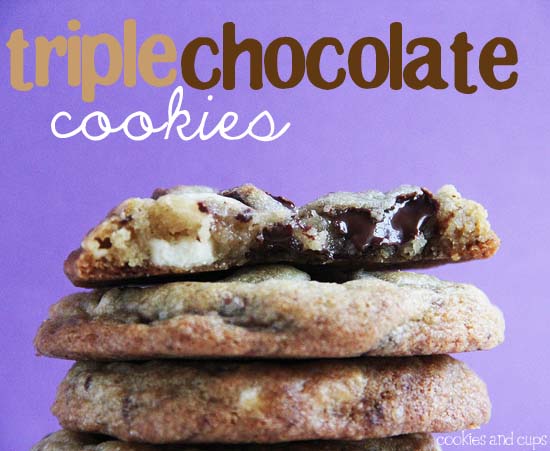 I had a dream last night that I was back in high school.
With permy hair and Guess jeans.
In my dream I went to the early 90's version of William McKinley High School.
So among the denim jackets and Polo Shirts there was singing and choreography.
Performances of songs made famous by Ace of Base and Sammy Hagar Van Halen were received by the graduating class of 1993 with standing ovations and high fives.
It was kinda awesome…until…
[Enter the villian]
There she was in her red track suit.
No, it wasn't Sue Sylvester.
It was a hard core mean girl from middle school. She obviously still haunts me to this day.
She used to tease me in my 7th grade "Theater Arts" class…calling me "Shelly Belly" which, in retrospect, is quite frankly the lamest insult ever.
But I was not a "stand up against the bully" kinda girl. I was a "please don't notice me and call me Shelly Belly or draw any attention to my home permed hair and crooked pre-braces teeth" kind of girl.
SO, into the auditorium she walked. She looked like her 7th grade self, french braid and all…because from what I understand evil doesn't age.
But instead of being scared of her making fun of my choreographed routine or throwing a Slushee in my face I promptly Body Slammed her into submission and put her in the Sleeper Hold until she apologized for years of torment.
It was the sweetest moment of redemption.
I woke up with I Saw the Sign in my head and a new found gumption…like I could WWE the heck out of anyone who dares call me Shelly Belly again.
I took my power back.
Anyway, so that was my dream last night.
Now here are some cookies that will put the belly back in your Shelly.
They are cozy. Feel free to drown your teenage scars in them. They are understanding.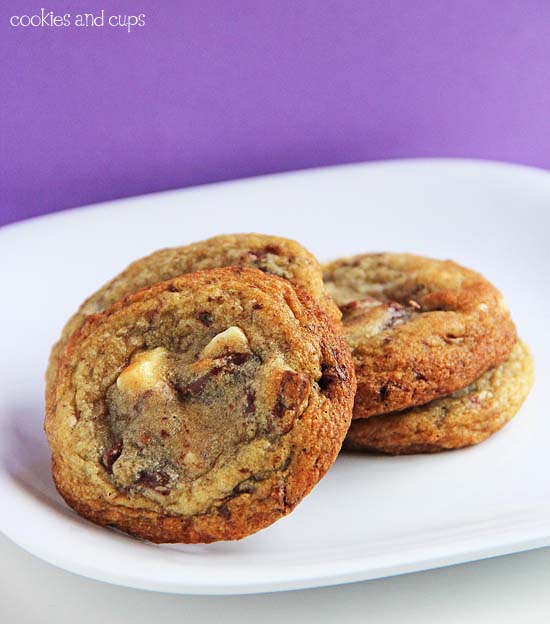 Start with 3 kinds of chocolate.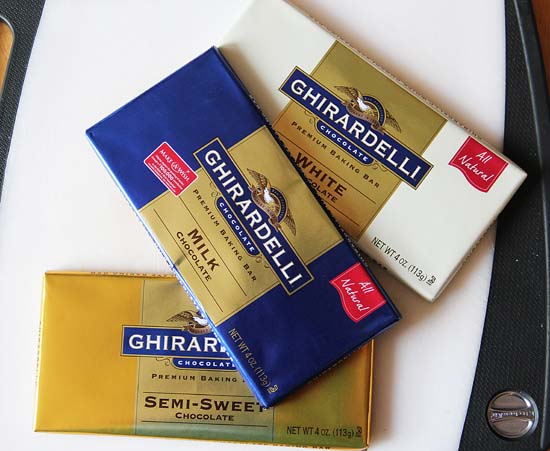 First you must chop chocolate. Take the extra time. It feels good.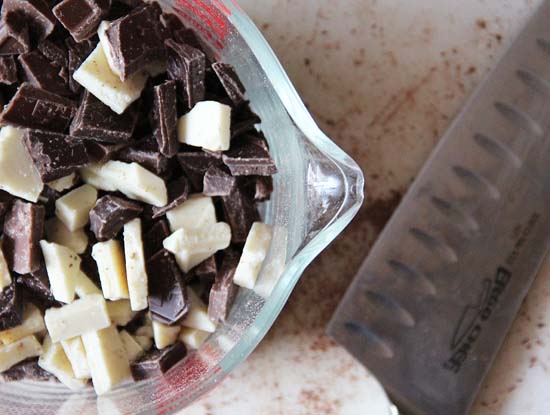 This might be hard, but after you mix up your dough let it be.
Cover it with a nice blanket of cling wrap and give it a rest.
Think about all it's just been through.
It was chopped, creamed, cracked and beaten. Those ingredients need a little bit of time.
Because in a few hours they have some important work to do.
You wouldn't go into the your life's purpose after just being put through a stand mixer.
It needs a nap, an overnight is good too.
After nap time you bake.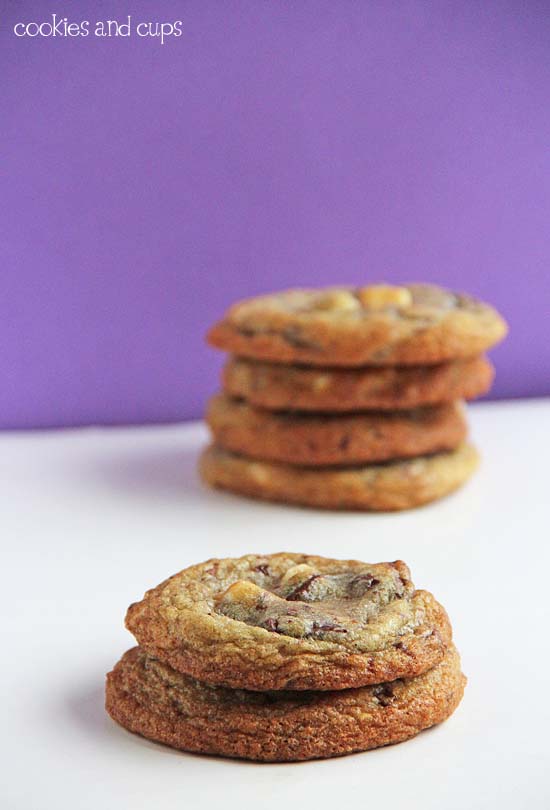 And then you eat.
I am a firm believer that a good chocolate chip cookie will solve a world of problems.
Print
---
2 1/2 cups

all purpose flour

1 cup

softened butter

1 cup

light brown sugar

1/2 cup

granulated sugar

2

whole eggs +

1

egg yolk

2 teaspoons

vanilla

1 tsp

baking soda

1 teaspoon

of coarse sea salt

6 oz

. chopped semi sweet chocolate

4 oz

. chopped milk chocolate

4 oz

chopped white chocolate
---
Instructions
Cream your butter and sugars together until fluffy.
Add in eggs plus yolk and vanilla. Beat on medium speed until incorporated.
Turn speed to low and add your baking soda, salt and flour. Mix until just combined.
Fold in your chopped chocolate.
Cover tightly and refrigerate for at least 3 hours over overnight.
Preheat oven to 350°
On a parchment lined baking sheet scoop dough by the rounded tablespoon, placing 2 inches apart.
Bake 9 minutes until the edges are golden brown.
Transfer to cooling rack.
---
Notes
Store in an airtight container for 2 days
Want To Save This Recipe?
Find more recipes like this: