Trouble with a capital "T" and that rhymes with "C" and that stands for COOKIE!
Ok, I am a dork. I couldn't possibly be the only one out there forced to watch and re-watch The Music Man EVERY year in grade school music class. That and Oliver!, right? However, that one applies here too. "Please, sir, can I have some more?" Uh, yeah, more cookies…
Alas, these cookies ARE the reason I'm in so much trouble…or the fact that I made them TWICE last week. UH-oh. They are comfort food at its finest and it is only August! I mean, I usually have at least a month left until fall is in full swing and I am am craving homey, comfort food. Trouble, my friends. If I'm craving comfort food NOW…what is going to happen when the temperatures drop and there's stew in the crock? I am going to be in sweats all winter…and not because I am cold…because of the elastic. Dude, I'm in trouble.
Here's the thing with these cookies…actually cookie bars…I haven't reinvented the wheel. I actually make them when I feeling like chocolate chip cookies, but am too lazy to bake multiple batches. They are chocolate chip cookies in bar form. Changes the whole situation…whether you like the soft middle bars or the crispier edges everyone is happy…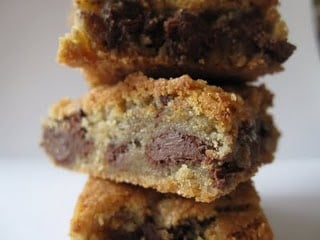 Preheat to 350
2 3/4 cup AP flour
1 teaspoon coarse sea salt
1 teaspoon baking soda
3/4 cup white sugar
3/4 cup brown sugar
2 eggs
2 teaspoons vanilla extract
2 sticks butter (1 cup)
2 cups chocolate chunks (I used Nestle)
Whisk dry ingredients together, set aside.
Cream butter and sugars together approx 2 minutes. Add eggs, 1 at a time mixing until incorporated. Add vanilla. Slowly stir in dry ingredients until combined. Add chocolate chunks.
Spread in a greased 9×13 pan.
Bake for approximately 20 minutes until golden and center is just set.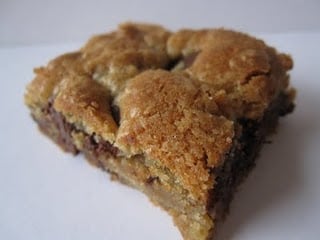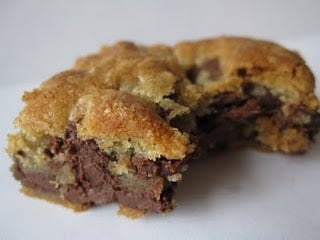 Let them cool before you cut them into squares if you have self-restraint. Otherwise eat with a spoon out of the pan…no judgment, especially if you are in sweats.
You'll go to the gym tomorrow, right 😉