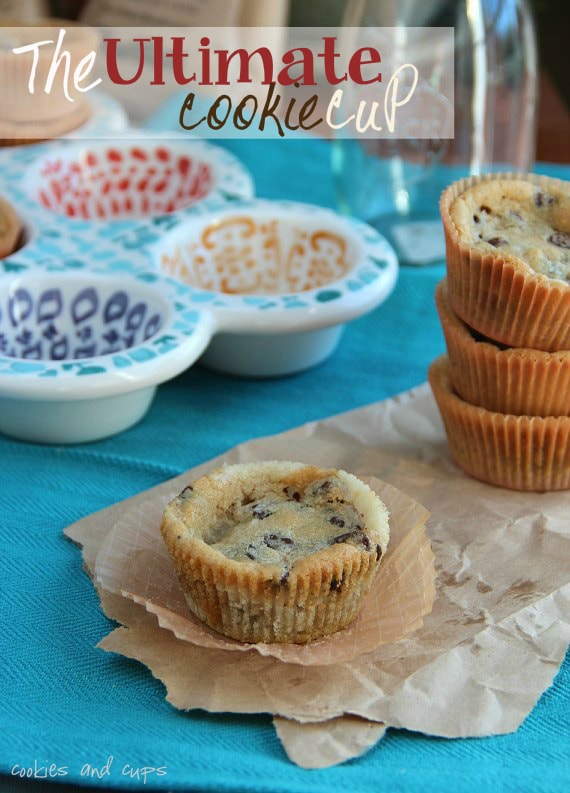 Yesterday I was all, enjoy the day because the diet starts tomorrow. It was a holiday after all, and calories don't count on holidays.
I am basically a scientist, so I know this to be true.
I had candy for breakfast, lunch, dinner, dessert and all the snacks in between.
Why is Easter candy the cutest ever? It's basically impossible to say no to the cute, pastel colored, egg shaped treats.
So I ate.
And ate.
Annnd ate.
I went to bed full. Not recommended.
But I woke up with a strong resolve.
No more sugar.
Then I got out of bed, which was my tragic mistake.
My house is filled with a tortuous level of peanut butter cups, cream filled eggs and miniature candy bars.
If the Easter Bunny was really a nice girl, she would deliver all the candy and then that very same night come and take it all away.
Whatever Easter Bunny. Way to think about YOURSELF.
But since I am a giver, I decided to use my leftover candy for good and not evil. And by "mine", I clearly mean, "my children's", but who's counting?
You will have these beauties together in no time.
The inspiration for these cookie cups came from here. I just made a few small changes and totally cheated by using pre-made cookie dough.
What you will end up with is a peanut butter cup smack dab in the middle of a Sugar Cookie and Chocolate Chip Cookie Three-Way.
It's a dirty cookie.
The Ultimate Cookie Cup.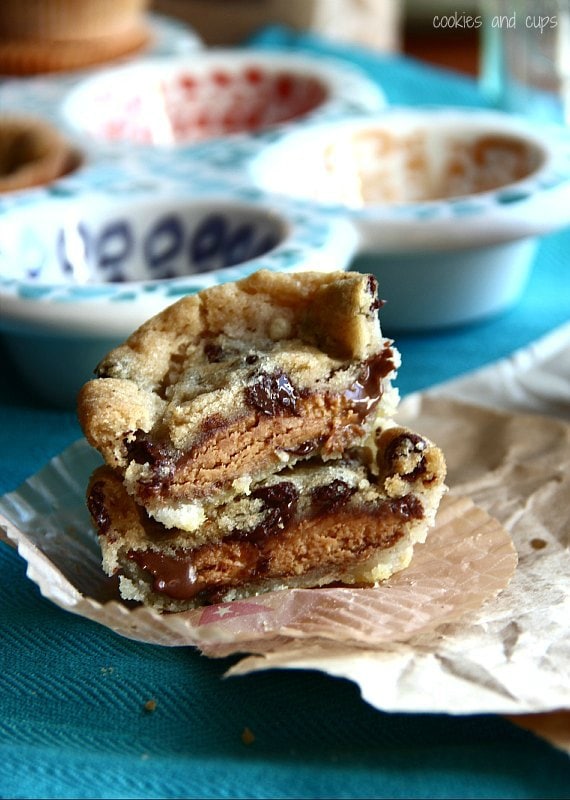 Start with a package of pre-made sugar cookie dough and a package of pre-made chocolate chip cookie dough: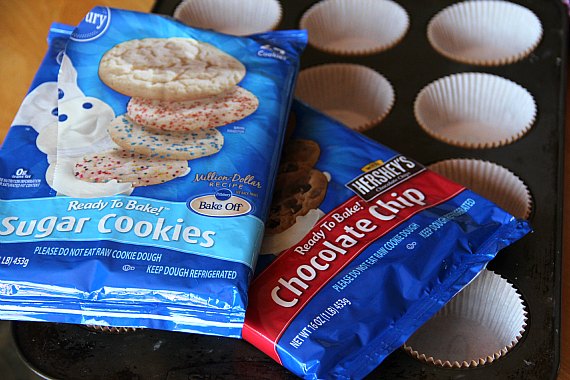 And you will need 24 peanut butter cups: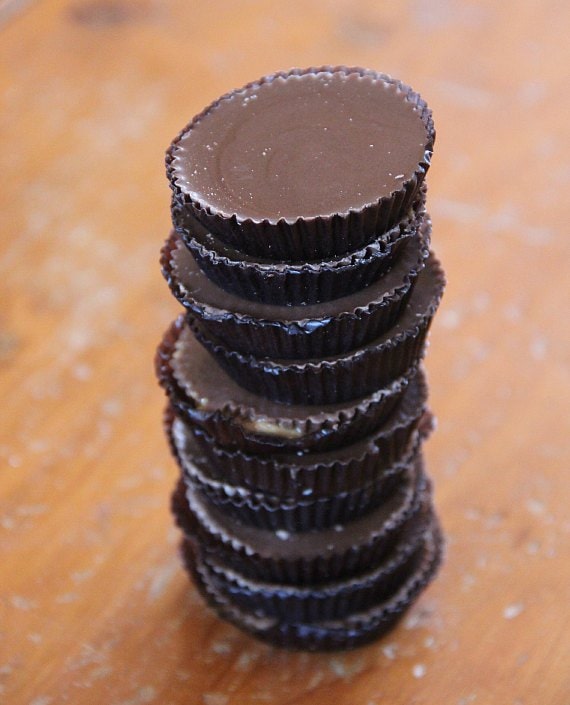 Line you muffin pan with cupcake liners…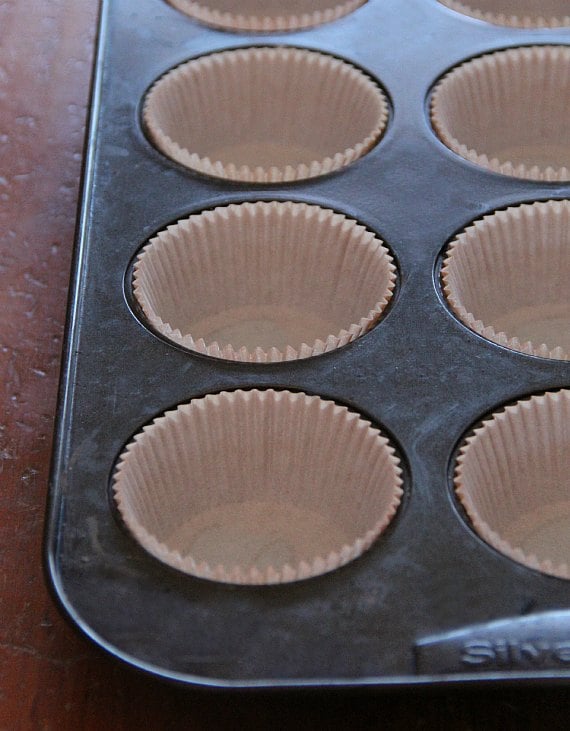 Let you cookie dough sit out for 30 minutes or so to come up to room temperature. It will make forming it around your peanut butter cup a little easier.
Then assemble them…sugar cookie on bottom, peanut butter cup in the middle and the chocolate chip cookie on top…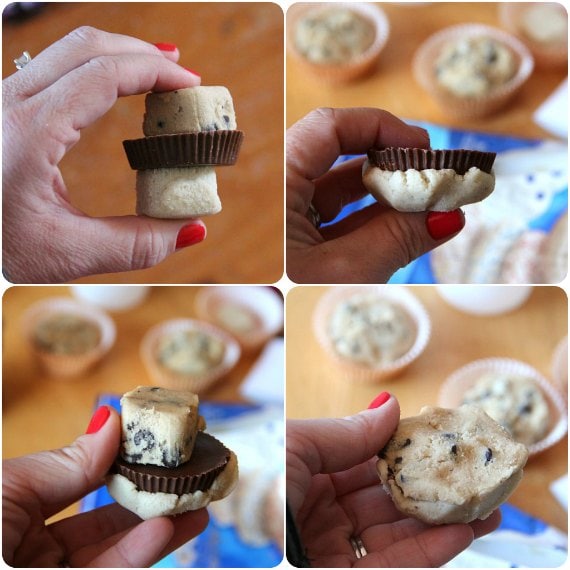 If you want to go the "from-scratch" route, totally fine, just use about 1 tablespoon of each dough.
Place the snuggly peanut butter cup in your lined muffin tin…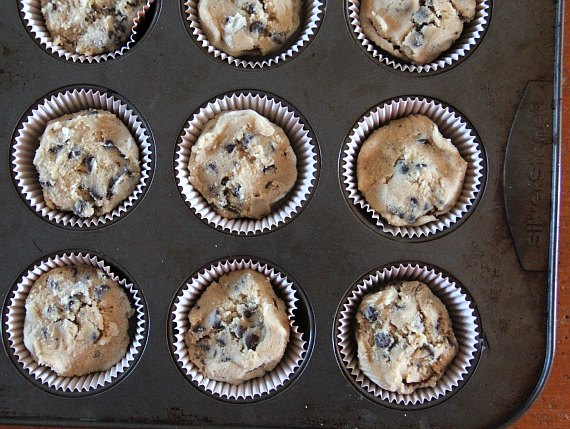 Bake them up and let them cool…If you can physically restrain yourself.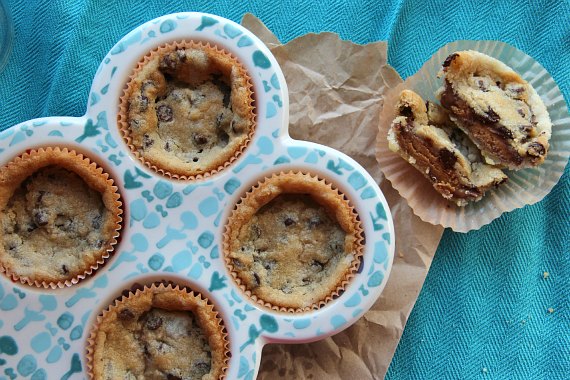 I'll start my diet tomorrow.
Also, since you all seem to love my muffin pan, HERE'S where I bought it.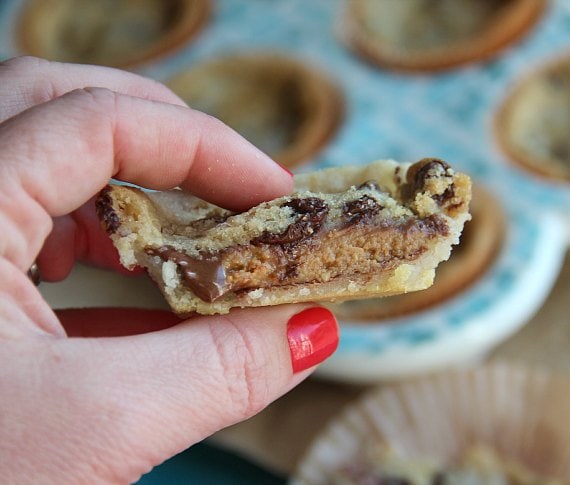 Check out these other fun ways to use up some of that leftover candy:
Butterfinger Brownies from Recipe Girl
Rolo Brownies from My Baking Addiction
Peep Show S'More Bars from Bake at 350
Snack Bars from Buns in My Oven
Print
---
---
1

package Ready to Bake Sugar Cookie Dough (makes

24

cookies), room temperature

1

package Ready to Bake Chocolate Chip Cookie Dough (makes

24

cookies), room temperature

24

full sized peanut butter cups
---
Instructions
Preheat oven to 350°
Let you cookie dough sit out of the refrigerator for approximately 30 minutes. If it is room temperature it will be easier to spread around your peanut butter cup.
Line a muffin tin with cupcake liners.
Place on portion of the sugar cookie dough on the bottom of the peanut butter cup, spreading to completely cover the bottom. Place one portion of your chocolate cookie dough on top of peanut butter cup, spreading to cover top of peanut butter cup. Make sure that entire peanut butter cup is covered.
Place in liners and bake for 13-15 minutes.
Let cool in muffin pan for 10 minutes and then transfer to a wire rack to continue cooling.
---
Notes
You can use homemade dough for these, just measure out dough into tablespoon sized portions to use.
Want To Save This Recipe?
Find more recipes like this: