This Cookie Dough Whoopie Pie Filling is too delicious. These are such a fun take on classic whoopie pies, and they're guaranteed to satisfy. So good!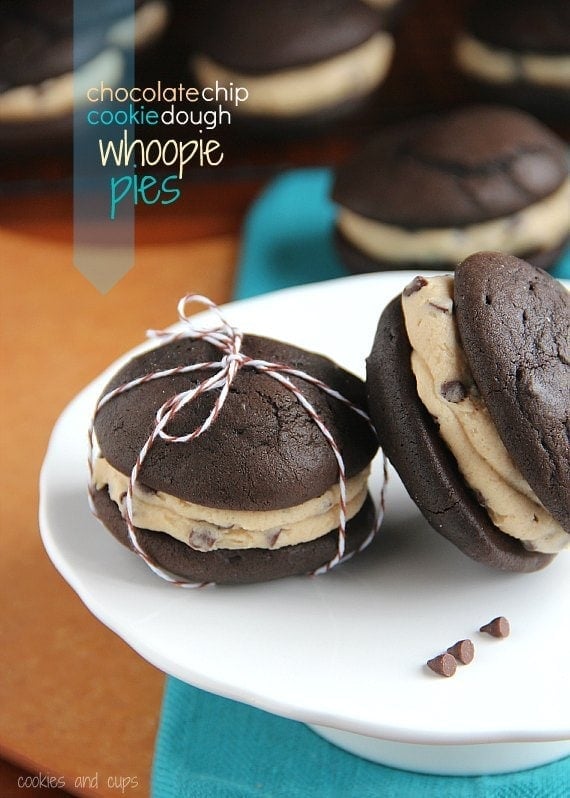 I have decided that I am not fancy enough to be driven anywhere by a "driver".
I know that sounds pretentious, and it's not like it happens all the time.
But when I AM being driven somewhere, I basically become a nervous wreck…
Taxi drivers, bus drivers, airport shuttles…nervous wreck.
I'm not necessarily worried about their driving skills, like a sensible person. No, I get nervous that they are going to kidnap me. All the time.
On Friday I was lucky enough to be able to attend a fun blogging event in in NYC. I live about an hour outside the city, so a driver picked me up and took me into New York.
Over the course of the hour that I was in the car I had cast myself in a "ripped from the headlines" episode of Law & Order: SVU.
(Obviously Jennifer Aniston was going to play me. She was so moved by the news story of the "baking blogger who was tragically kidnapped" that she felt compelled to take a break from her busy movie schedule to star in my episode.)
My driver spoke with a heavy Eastern European accent and smelled like cigarette smoke, basically a mash-up of all the bad-guy-kidnappers from the movie Taken.
I knew that in a matter of hours, I would be on a plane being sold into the sex-trade having to do weird party tricks while wearing sexy lingerie for rich, sexual deviants.
The driver was yelling on the phone to someone pretty much the entire drive. And at risk of offending half the world, yelling in a foreign language is way scarier than yelling in English.
I was convinced he was angrily negotiating the deal of the human trafficking that was about to occur. How much was I going for? What's the going rate for a 36 year old mom? Do they know I can bake?
He probably was just having a fight with his wife or something, but logic has never been my forte.
I basically resigned myself to the fact that I was about to die, so I texted Kristan, to say my last goodbyes. Which is lucky, because she reminded me to pull out a few strands of hair and leave it on the seat for DNA evidence.
It's good to have smart friends.
Speaking of good friends I also had Oprah's voice on loop in the back of my mind, "don't go to the second location", which was basically pointless at that point because I was already IN THE CAR! Thanks Oprah, how about you do a show on kidnap-murderer limo drivers? How am I expected to be prepared?
But since I am obviously here to tell you about my brush with death, you probably already figured out that I was NOT, in fact, sold into the sex trade black market. Totally lucky too, because I'm not sure my dad has the karate skills of Liam Neeson.
Near miss, my friends.
Annnd, if I was not around to tell the tale , I also couldn't share with you the genius that are Chocolate Chip Cookie Dough Whoopie Pies.
Yep, you heard that correctly.
I used my favorite chocolate whoopie pie recipe.
The filling is an egg-free chocolate chip cookie dough.
I know some of you have a fear of salmonella poisoning, so there are no worries.
On the other hand, for someone so scared of kidnapper-limo-drivers I stare salmonella in the face on pretty much a daily basis.
I'm a walking contradiction.
How to Make the Best Whoopie Pie Filling
Mix up your cookie dough…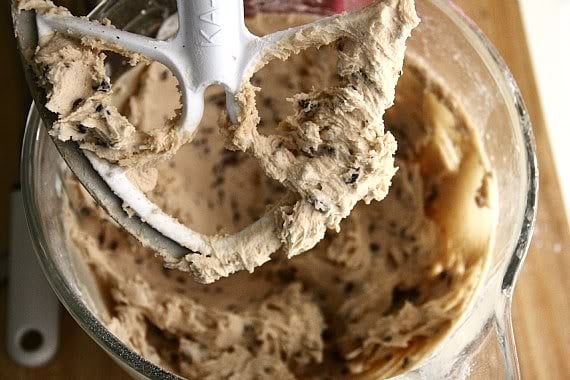 And fill a ziplock or piping bag…
Squeeze some on top of one of your cookies…sorry about the poo-like swirl.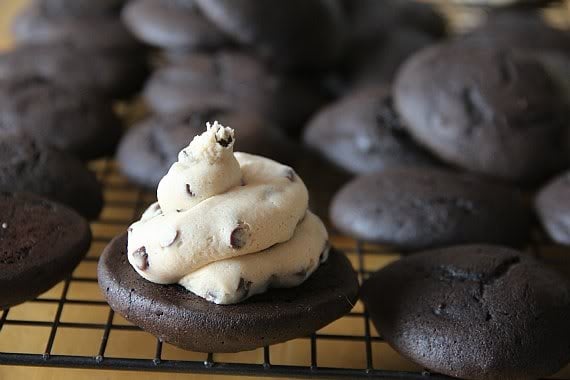 Then eat!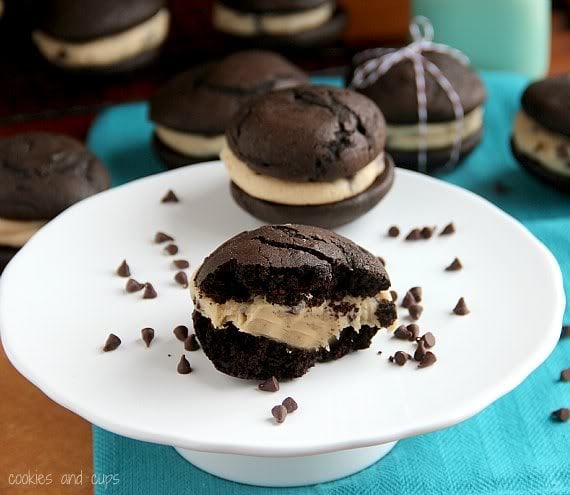 Now.
I had a little extra filling leftover.
And I ALSO happened to have some Chips Ahoy in the pantry. Don't ask, my kids love them.
Sooo, I did what any normal person would do.
I made Chocolate Chip Cookie Dough filled Chocolate Chip Cookie Sandwiches.
Waste not, want not.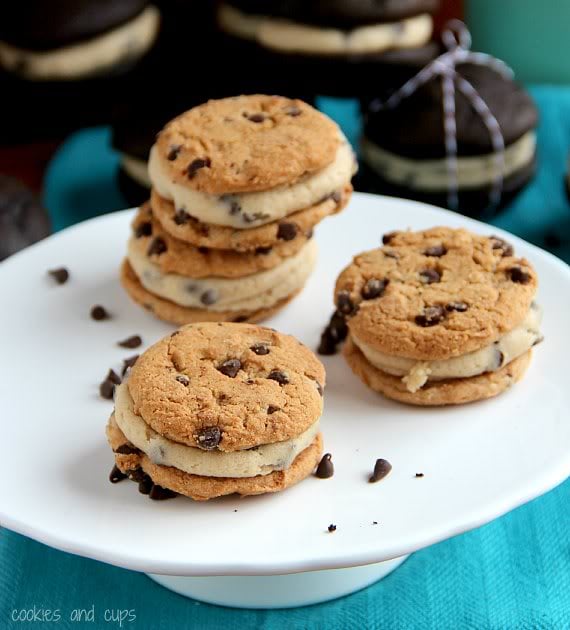 It's a beautiful thing.
HERE'S THE RECIPE FOR CHOCOLATE WHOOPIE PIES
Print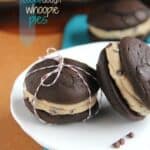 Cookie Dough Whoopie Pie Filling
Author:

Prep Time:

5 minutes

Total Time:

5 minutes

Yield:

12

whoopie pies

1

x

Category:

Dessert

Method:

Mixer

Cuisine:

American
---
Description
This Cookie Dough Whoopie Pie Filling is too delicious. These are such a fun take on classic whoopie pies, and they're guaranteed to satisfy. So good!
---
1 cup

butter, room temperature

1 cup

light brown sugar, packed

1/4 cup

granulated sugar

1/4 cup

+

2 Tbsp

milk

2 tsp

vanilla

2 cups

flour

1 cup

mini chocolate chips
---
Instructions
In a mixer, cream together butter and both sugars.
Add in vanilla and milk. Stir until combined.
Slowly add in flour and turn mixer up to medium until mixed well.
Fold in chocolate chips.
Fill ziplock or piping bag with cookie dough and pipe onto whoopie pies.
---
Nutrition
Serving Size:
Calories:

741

Sugar:

53.9 g

Sodium:

16.3 mg

Fat:

41.8 g

Carbohydrates:

88.5 g

Protein:

7.7 g

Cholesterol:

81.5 mg
Keywords: whoopie pie recipe, whoopie pie filling, filling for whoopie pies, easy dessert recipe, cookie dough edible recipe, how to make cookie dough edible
Want To Save This Recipe?
Find more recipes like this: