These gooey Chubby Hubby Bars are inspired by Ben and Jerry's Chubby Hubby Ice Cream! Made with pretzels, Reese's Peanut Butter Cups, caramel and more, thse delicious dessert bars are everything!
Chubby Hubby Bars Recipe
I am not a huge ice cream fan.
Don't feel bad for me, I certainly get my sweets in a multitude of other ways.
But, one day last week while doing my weekly grocery shopping, I got seduced by the colorful pints of Ben & Jerry's down the frozen food aisle. I generally try and avoid the ice cream section altogether…but this day I was feeling weak.
I stood and stared at the pints full of delicious concoctions…I am less intrigued by the ice cream itself, as I am by the add-in combinations.
Honestly, ice cream is just a vehicle for my cookie dough or Schweddy Ball consumption…I could take it or leave it ~ and normally I leave it. Yep, I am one of those who picks out all the goodies and leaves a half eaten pint-full of picked through vanilla. Luckily my husband is a vanilla-man, so he doesn't mind.
While hypnotized by the shelves of delicious ice cream flavors my eyes stopped on "Chubby Hubby". I decided the only option at that moment was to buy it. For research. It's a thing, trust me.
So as soon as I got home after dinner, I decided to sit down and give this ice cream a fair chance. I mean how bad could vanilla ice cream with chocolate peanut butter pretzels, and fudge and peanut butter swirls be? Well, I will tell you…not bad. Not bad at all.
In fact I was so enamored by the pretzely, chocolatey goodness that I figured there must be a more efficient way of consuming them, without having to pick through the needless vanilla.
I bring you Chubby Hubby Bars. Full of all the salty sweetness you crave without the added ice cream calories. See? I'm really helping you out. I'm a giver.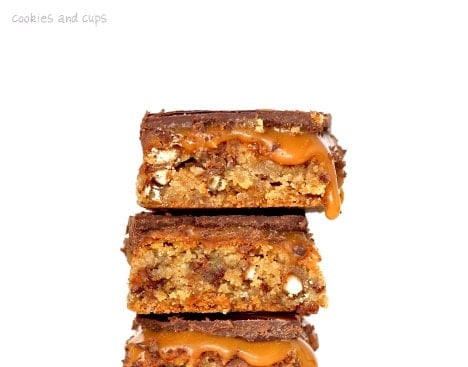 I know I make lots and lots of bars. I thought about trying to make these in cookie-form, but I'm lazy. Bars are easy.
How to Make Chubby Hubby Bars
First make a simple cookie dough and add in some of these little gems…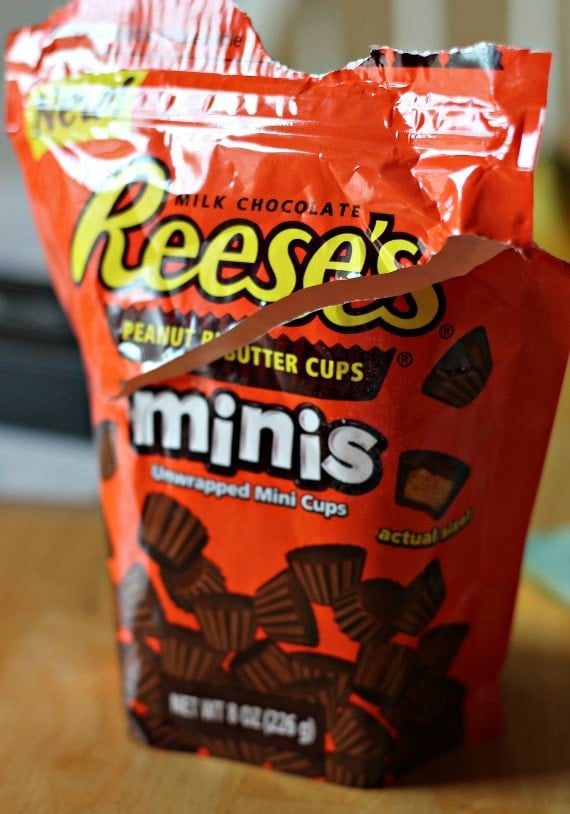 Yep, the whole bag…minus like, 6 little cups. I think you're supposed to eat those, you know, more research.
Then mix in some of these…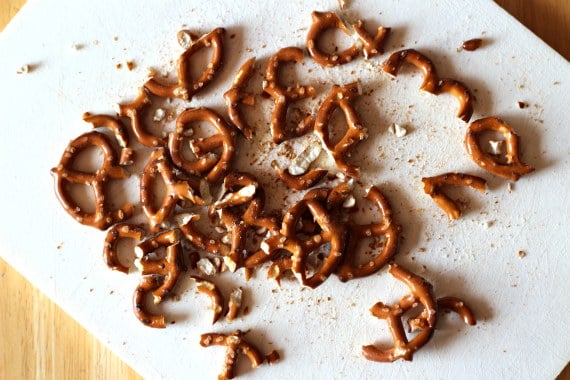 Then spread the batter into your trusty 9×13 pan.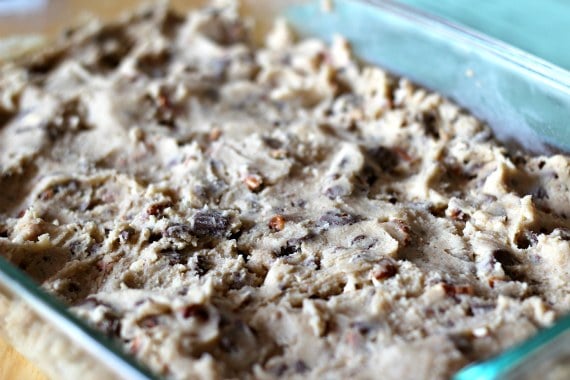 Try not to eat too much of the dough. You might get a tummy ache…I mean, I hear that it's possible…
After it's baked you could stop there…but I think you should pour a little caramel on top.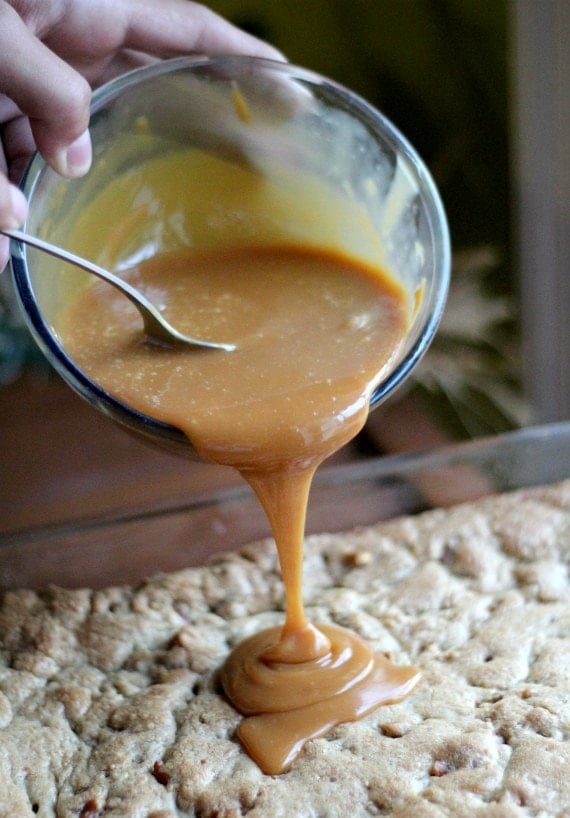 Then spread some melted chocolate on top of that.
Balls out.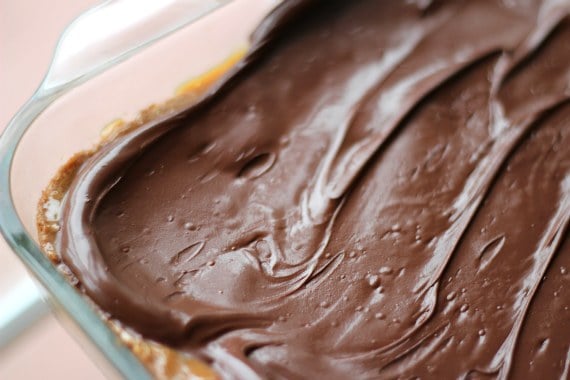 When the chocolate is set up you can share, if you're feeling generous. Told you I was a giver.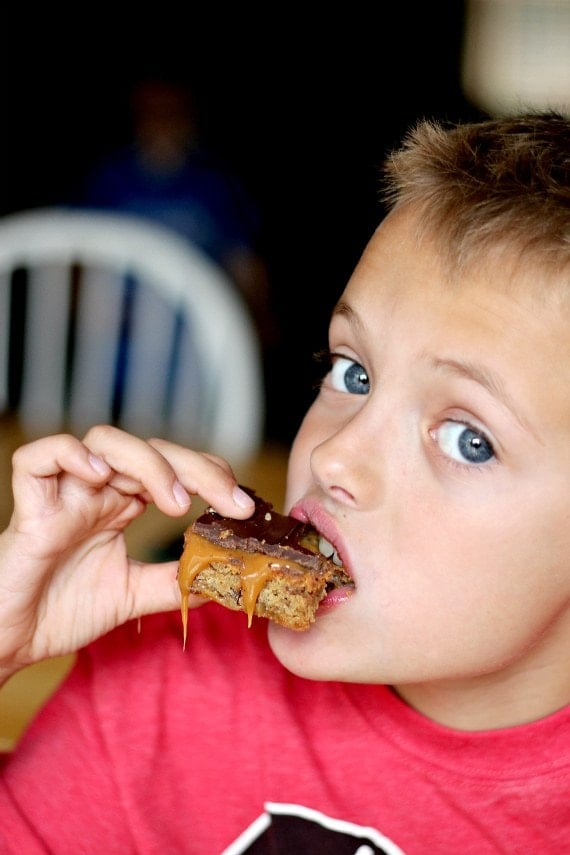 Print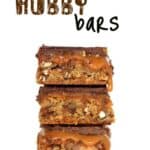 Chubby Hubby Bars
Author:

Prep Time:

40 minutes

Cook Time:

25 minutes

Total Time:

1 hour 5 minutes

Yield:

About

36

bars

1

x

Category:

Dessert

Method:

Oven

Cuisine:

American
---
Description
These gooey Chubby Hubby Bars are inspired by Ben and Jerry's Chubby Hubby Ice Cream! Made with pretzels, Reese's Peanut Butter Cups, caramel and more, thse delicious dessert bars are everything!
---
2 1/2 cups

all purpose flour

1 cup

(

2

sticks) butter, room temp

1 cup

brown sugar

1/2 cup

white sugar

2

eggs

2 tsp

vanilla

1 tsp

baking soda

1 tsp

coarse sea salt

1 1/2 cups

coarsely chopped pretzels

1

(8oz) bag of Reese's Mini cups (or

2 cups

coarsely chopped full sized Reese's)

1

(14 oz) bag of caramels, unwrapped

2 Tbsp

water

2 cups

semi sweet chocolate chips, melted
---
Instructions
Preheat oven to 350
Spray a 9×13 pan lightly with cooking spray.
Beat together your butter and sugars until light and fluffy, approx 1 min.
Add eggs and vanilla, mix until incorporated.
On low speed add in your salt, baking soda and flour, mixing until just combined.
Slowly add in your Reeses and Pretzels, mixing until evenly distributed.
Spread in your prepared pan and bake for 25 minutes.
Let cool completely. Approx 30 minutes to an hour.
When cooled, melt your caramels and 2 Tbsp water in a microwave safe bowl stirring every minute until melted.
Pour over your bars.
Chill in fridge for 15 minutes to set caramel.
Melt your chocolate chips in a double boiler or microwave and spread over caramel.
Put back in the fridge for at least 30 minutes or until chocolate is set.
Cut into squares when ready to serve.
---
Nutrition
Serving Size:
Calories:

1205

Sugar:

39.4 g

Sodium:

3019.5 mg

Fat:

22 g

Carbohydrates:

230.2 g

Protein:

27 g

Cholesterol:

37 mg
Keywords: chubby hubby, dessert bars, dessert bars recipe, caramel dessert, pretzel dessert, chocolate dessert recipe, easy dessert recipe
Want To Save This Recipe?
Find more recipes like this: