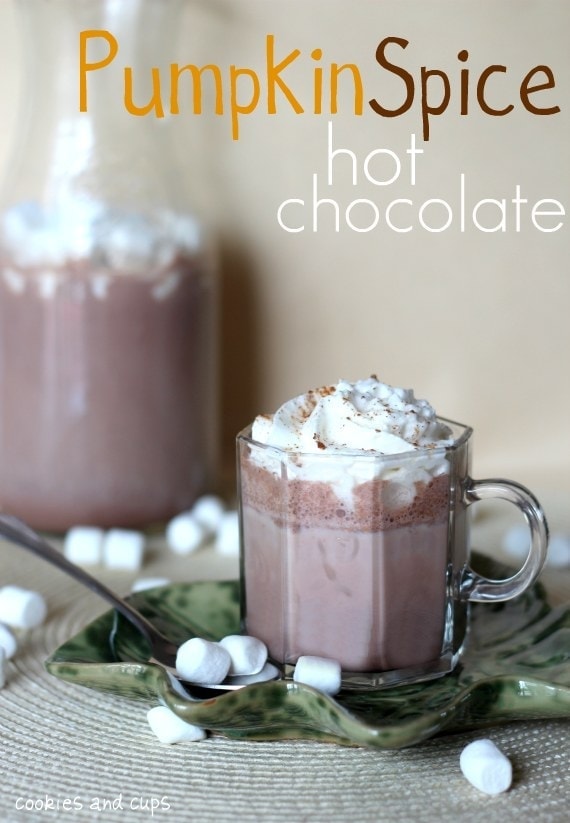 I haven't always been a coffee drinker. Up until my late 20's I swore against it.
You wanna know why?
This is the stupidest thing, so please don't judge me…
I went to Senior Prom with a boy that I was dating at the time. He was a nice guy. We got all dressed up and went out to eat with a group of friends before the dance. The restaurant we went to was very fancy. When you are used to TGIFridays, anyplace with multiple forks on the table was big time.
Anyway, I don't remember much about the meal, but what I do remember is that after the meal the waiter came over and asked our table of high school seniors if we would be interested in any coffee or dessert. Now, I don't remember if anyone ordered dessert, what I do remember is that MY date ordered coffee.
I was so incredibly embarrassed in only a way that a teenage girl can be. None of the other dates ordered coffee and it just seemed like he was trying hard to be fancy or something. Starbucks hadn't really made it's way to Texas at that point, so coffee was a completely uncool, parent beverage. I wanted to cry, seriously.
I am sure that this is not exactly how it went, but in my mind's eye my date transformed instantly. He went from cute athlete to James Lipton leaning across the table drinking his coffee, asking questions and talking in a slow soothing voice.
Now, you can see, he clearly did not resemble James Lipton…but as I look at this picture I am thinking that maybe he ordered the coffee as paybacks for the hideous dress and Bernadette Peters hair. It's a legit thought.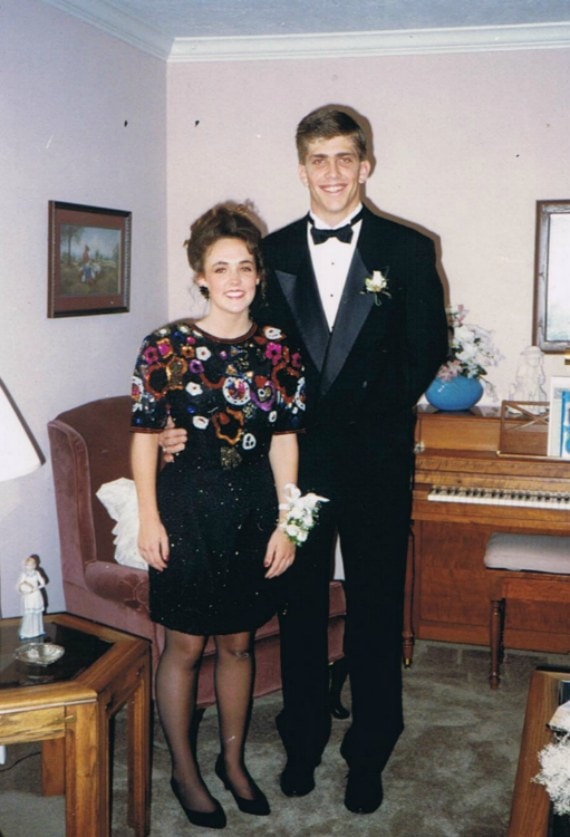 I know I had/have issues. I understand that. But I still remember (18 years later) that minute detail of the night and the stress induced by that single hot beverage. I did not agree to go to prom with a coffee drinking James Lipton. Plus, coffee breath is never cute.
My senior prom, ruined by coffee.
So it took me many years to decide to give coffee a fair shake. I am now an avid coffee drinker, much in part to the deliciousness that is flavored coffee.
BUT for all you non-coffee drinkers out there I thought you needed a chance to get in on the action, because those Pumpkin Spice Latte's are pretty much everywhere this time of year!
So here ya go…the Pumpkin Spice Hot Chocolate. Dig it.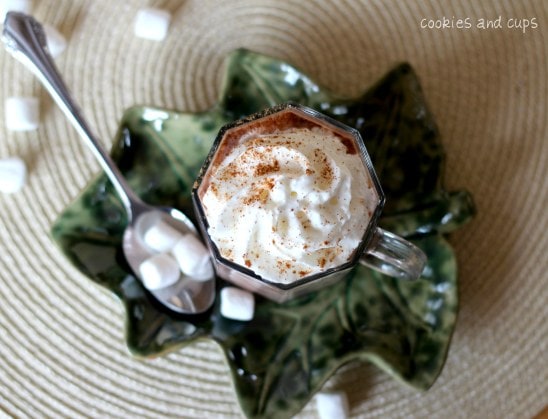 These are super easy. All you need is milk, hot chocolate mix, pumpkin pie spice, some canned pumpkin and then whipped cream if you're feeling crazy.
In a large saucepan heat up your milk and and hot chocolate mix.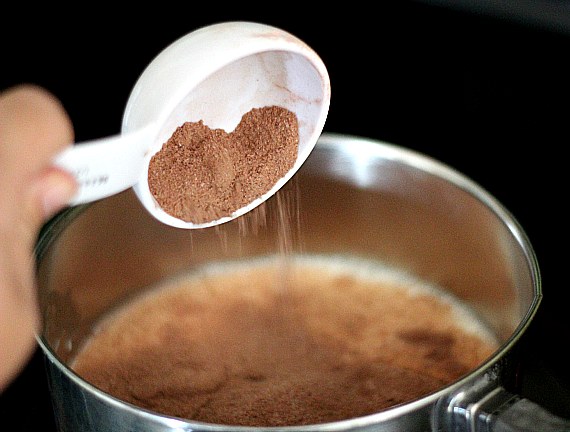 Stir over medium low heat. Whisk in your canned pumpkin and pumpkin spice.
Continue stirring until it gets warm and cozy.
Serve it with a little whipped cream or some marshmallows you're good to go!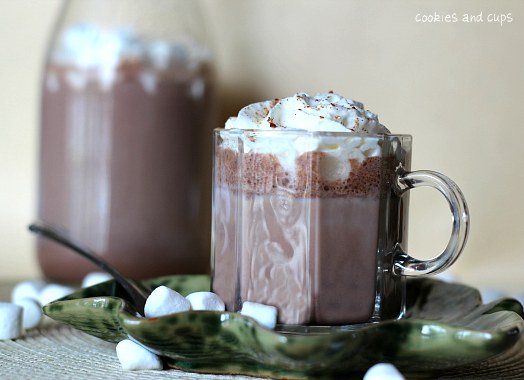 Print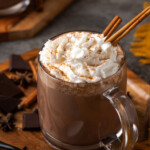 Pumpkin Spice Hot Chocolate
Author:

Cook Time:

10 minutes

Total Time:

10 minutes

Yield:

3

servings

1

x

Category:

Drinks

Method:

Stovetop

Cuisine:

American
---
Description
Indulgent pumpkin spice hot chocolate is extra rich and creamy, made with real pumpkin and filled with cozy spices. It's the perfect fall drink on a chilly evening!
---
2 1/2 cups

milk

1/3 cup

hot cocoa mix (no marshmallows)

1/4 cup

canned pumpkin

1 1/2 tsp

. pumpkin pie spice

1/2 tsp

. vanilla
pinch of salt
whipped cream or marshmallows optional
---
Instructions
Whisk together your milk and hot cocoa mix in a medium saucepan over medium-low heat.
Add your canned pumpkin, vanilla, salt, and pumpkin pie spice.
Heat until the desired temperature is reached.
Pour into glasses and top with whipped cream and/or marshmallows and a sprinkle of pumpkin pie spice.
---
Keywords: pumpkin spice hot chocolate
Want To Save This Recipe?
Find more recipes like this: