Let's talk, shall we?
I consider this an open forum, where I share my thoughts, and you can too.
We can use this as a place to voice our opinions and/or grievances.
Today, grievance is on the menu. Hungry?
Let's discuss the "Point-Out-What-You-Are-Doing Wrong" mom. (POWYADW)
We all know one and we don't like her.
Her sentences usually begin with, "I don't know if you KNOW this, but…"
or the ever popular, "No offense, but…"
how about, "You can do whatever you want, but I…"
and a favorite of mine, "Do you know your child is…"
In the early years of motherhood you encounter the breast-feeding judgers. The ones that talk and talk and talk about how great breast feeding is (no duh) and give you the sideways head look if you don't/can't/won't breastfeed. Then proceed to lecture you about how you are basically killing your child if you don't.
Resolution: Turn to them and say, "Don't you worry about who's sucking on my boobs." End of discussion, I promise you that.
Then once you hit the solid food stage there are the moms who make all their own homemade baby food and how they would NEVER feed their child the processed, cancer-in-a-jar food they sell at the supermarket.
Resolution: Casually say, "My husband and I have made the conscious decision to feed our child processed food as an infant so our other children won't think we love him more". Conversation over.
As your children get older you will get to know, what I like to call, "The Video Game Police". They will let you know that you have just killed your child's last brain cells by letting him play Mario Cart.
Resolution: State with full resolve, "Children with good hand eye coordination grow to be smarter, stronger and better lovers. I am improving their quality of life". Then fancy snap and walk away.
I had a run-in with the local POWYADW Mom just yesterday. She was ALL OVER my son's playground etiquette.
Of course I looked at her and said thank you.
I don't think of witty comebacks until 2 hours later.
What I SHOULD have said was: "Well thank you for focusing on my child's playground etiquette, we know averting attention from your 80's bangs and bad breath is quite a task and I am grateful I could be of help to you today."
I now have my words for next time.
Now that's off my chest we can talk cupcakes. Almond Joy ones.
I started with a chocolate box mix and added some extras like shredded coconut and coconut milk…
Then I made some coconut buttercream. You have to. Your life will be happier because of it.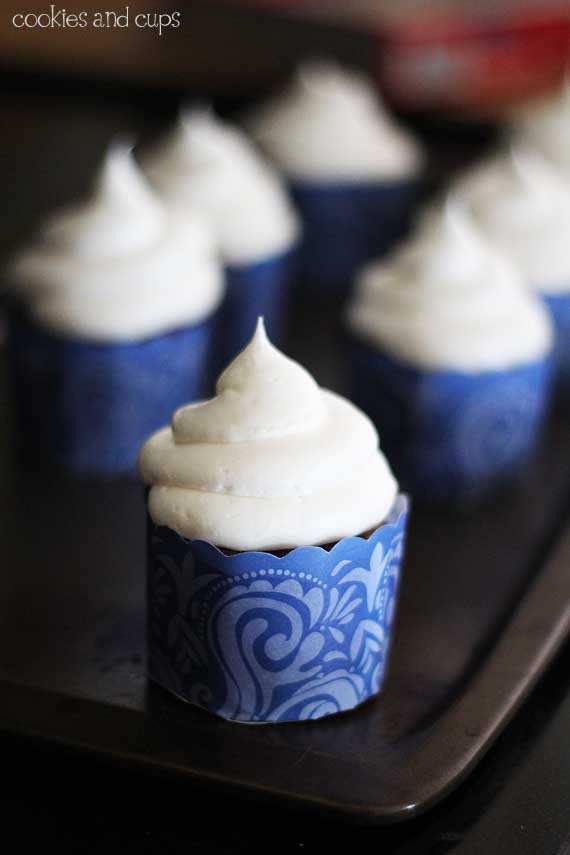 Then I stuck an almond on top. These are ALMOND JOY cupcakes, after all.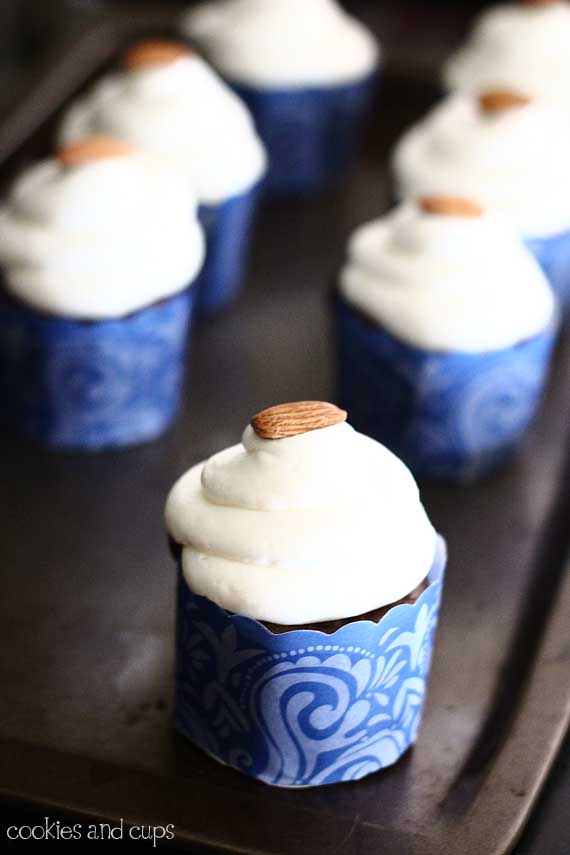 Then I dipped them in chocolate. You don't HAVE to, but you will be happy if you do. Believe in the power of chocolate.
Now eat. EAT!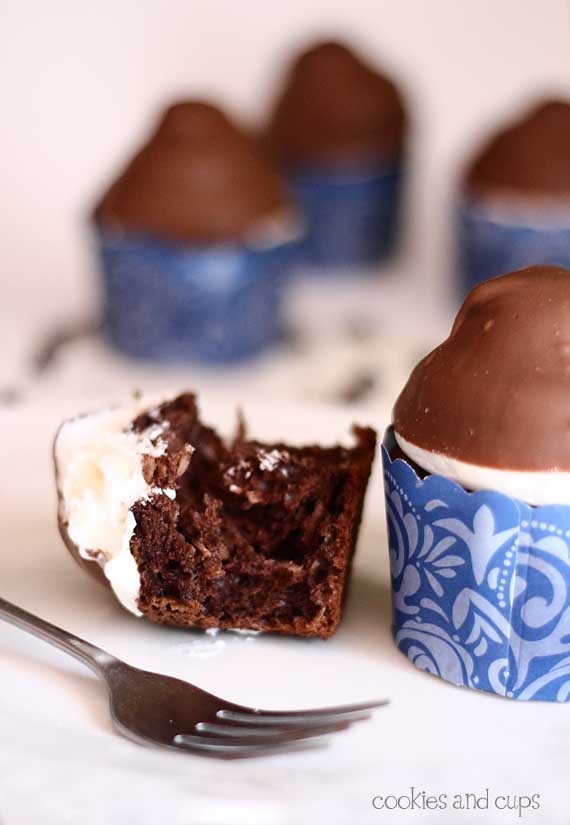 Print
---
2 cups

milk chocolate chips

1 1/2 Tbsp

vegetable oil or vegetable shortening

24

raw almonds
---
Instructions
Press an almond on top of each cupcake.
Put your frosted cupcakes in the freezer for 5 minutes.
Meanwhile melt your chocolate chips and veg oil or shortening in a double boiler or microwave. If using microwave heat for 1 minute on 50% power, then stir. Repeat in 30 second increments (on 50% power) stirring after each until melted.
Transfer your melted chocolate into a wide mouthed mug or a small deep bowl. You need your chocolate to be deep enough to dunk the entire top of your cupcake.
Remove cupcakes from freezer and dunk tops into melted chocolate.
When you are finished dunking all the cupcakes place cupcakes in refrigerator to set the chocolate.
---
Notes
Serve at room temperature, just leave in the fridge long enough for the chocolate to set, approx 15 minutes.
Want To Save This Recipe?
Print
---
1

box chocolate cake mix

1 1/4 cup

Lite Coconut Milk

1 cup

sweetened shredded coconut

1/2 cup

vegetable oil

3

eggs
---
Instructions
Preheat oven to 350°
Line muffin pan with cupcake liners.
In a large mixing bowl combine all ingredients. Mix on low for 30 seconds. Turn mixer speed up to medium and beat for 2 minutes.
Fill liners 1/2 full with batter.
Bake for 15-20 minutes until centers spring back when pressed.
Let cool completely before frosting.
---
Want To Save This Recipe?
Print
---
1 cup

butter (

2

sticks) room temperature

3/4 cup

vegetable shortening

8 cups

sifted powdered sugar

1/2

–

3/4

cup light coconut milk

1/2 tsp

. coconut extract
---
Instructions
In mixer beat together butter and shortening until smooth.
On low mix in your powdered sugar.
Pour in your coconut milk and coconut extract and mix until combined. Turn up speed to medium and mix for 45 seconds.
Pipe or spread onto cupcakes. If piping use a snipped off ziplock bag or a large 1A tip on a piping bag.
---
Want To Save This Recipe?