A festive halloween snack for those who don't like candy corn! Fake it 'til you make it with this yummy Bugle candy corn snack mix!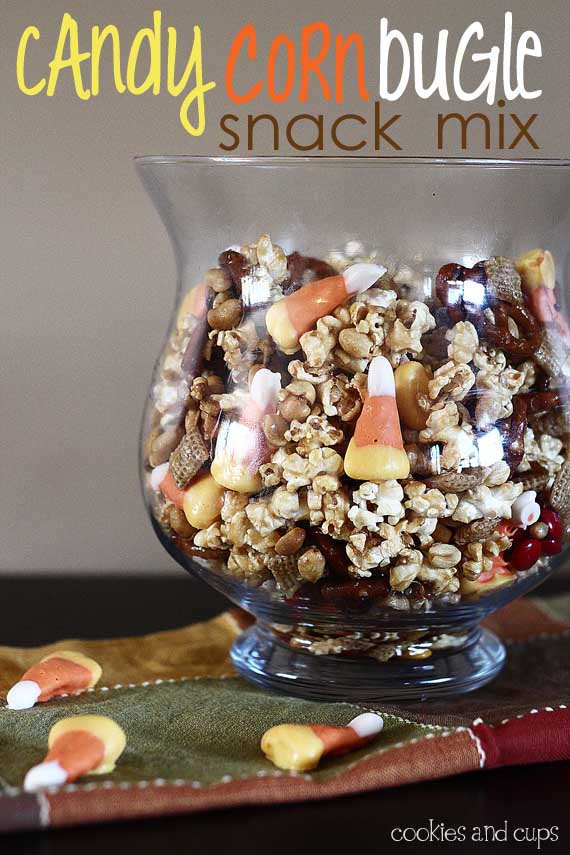 On Friday I tried to re-enter the world of exercise.
I was peer pressured into doing it by one of my sporty friends.
Do they not know me at all?
Well, this round of exercise was not a bike ride, not water aerobics and not a run.
It was the worst of them all…A Boot Camp.
Let's let that marinate in your mind for a beat.
So, being the people-pleaser that I am I said I would go with her and give it a try.
Exercise in general is pretty much against my religion, but "Boot Camp" version of exercise is basically the same as me moving to a commune, deciding to become a sister-wife, and sewing my own clothes.
Crazy-town.
I had visions of a drill sergeant type wearing camo pants and a really tight T-shirt humiliating me, blowing his whistle and screaming insults while spit flew out of his mouth in my general direction.
Well, it didn't go down that way.
When we arrived I was greeted by an itty-bitty, teeny-tiny girl who was no less than 8 months pregnant.
I exhaled, knowing that the 45 minutes to an hour I committed to, couldn't possibly be that bad.
Yeah, wrong answer.
Little lady decided that her boot camp would be all "friendly-like". With an upbeat tone, she basically told us to do 7000 lunges and 9000 push ups. Instead of yelling and spittle there was cheering and high-fiving.
I hated it. Every second.
Bring whistle blowing drill sergeant out. Him, I can deal with. Insult me, please. Tell me I suck and that I can do better.
But do NOT get in my space and congratulate me on doing the worst lunges in the history of the lunge. Say it straight-sister, my form is horrendous. Plus, when you turn around I start counting by 5's…and I know you know that.
Do not tell me I am almost there…do not tell me I am doing great. I am NOT almost there, I have 3,500 lunges left. I am not doing great, I am barely bending my knees.
At least with a drill sergeant he looks like he could whoop some butt…I know he could out-run me. But when little 32 week pregnant lady blows by me, clapping and smiling…it's kinda humiliating.
Apparently I do not respond well to positive reinforcement. I blame my parents.
Now, 2 days later I feel resentment because I can't sit down on the toilet without the help of a handicap bar. Going down the stairs takes me no less than 15 minutes and I am not 2 sizes smaller overnight, which is basically what I was expecting to happen.
The world owes me a handicap sticker for my car and some Ibuprofen.
Now that we have that out of the way I have some INTERNET friends (Callye, Glory and Kristan) that I'm thinking might know me better than my real-life friends. Instead of boot camp they asked if I want to create something fun with Candy Corn. Let me think about this..Boot Camp or Candy Corn…Candy Corn or Boot Camp.
Candy Corn is the winner.
I know that candy corn isn't a favorite for everyone so I decided to take some liberty with the theme and do them candy corns up Bugle-style.
I have had quite a run with Bugles lately…Santa Hat Bugles, Party Hat Bugles, Peanut Butter/Chocolate Bugles…so why stop there?
These are super easy, all you need are some Bugles and orange, yellow and white candy melts.
How to Make Bugle Candy Corn
Melt your colors one at a time. Dip the orange first…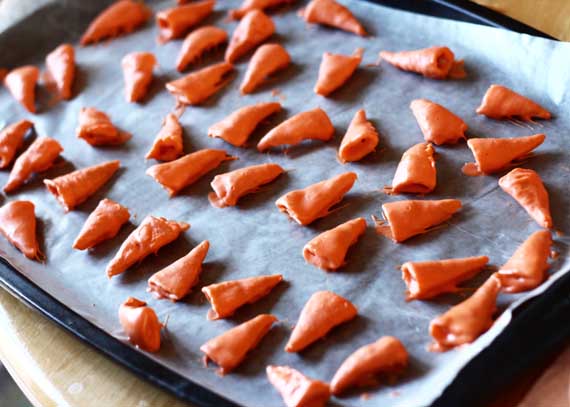 Then the yellow…
and finally the white…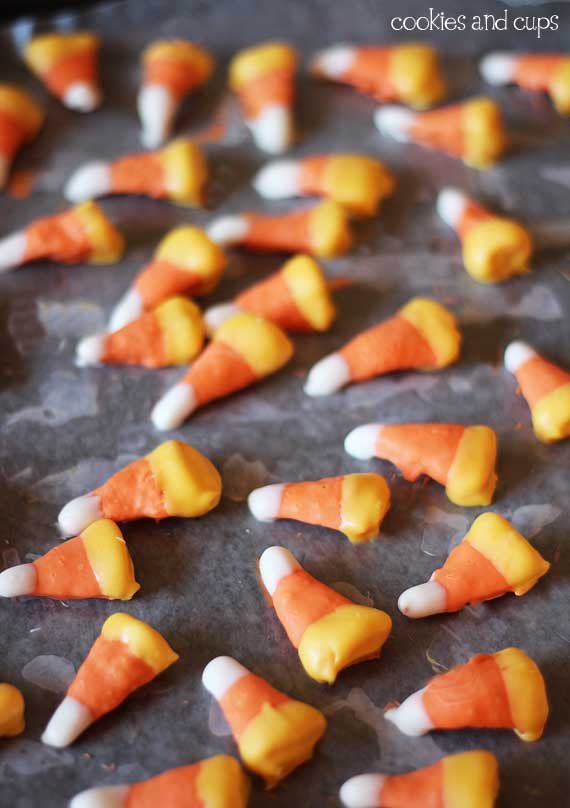 Now, if you want to stop there it is really perfectly acceptable. On their own, these dipped bugles are really good.
BUT if you want to go the extra mile (which, really, is against everything that I stand for) make a sweet and salty snack mix to put these in. You can do it!!!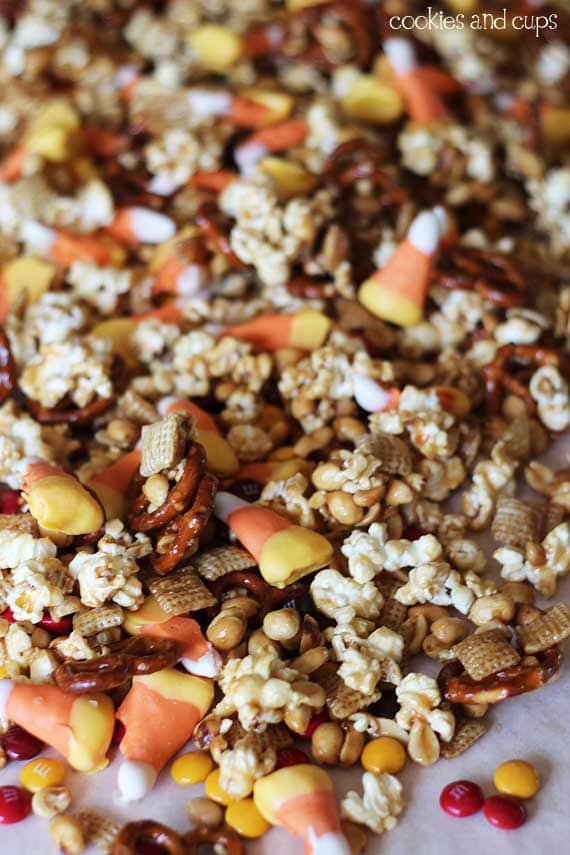 Yes, that's better. A whole handful of yum. Bugles, popcorn, peanuts, pretzels, Rice Chex and M&M's topped with a buttery, brown sugar sauce. I'd run for that!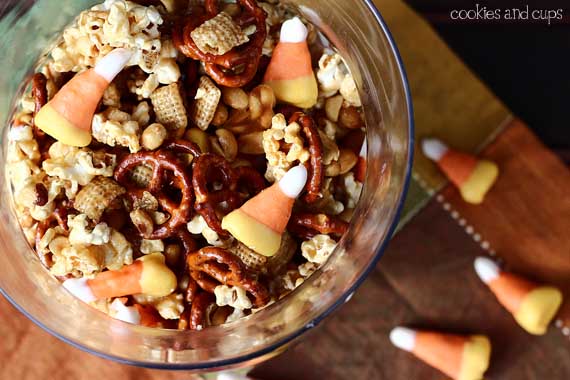 Now hop on over and check out the candy corn inspired treats my friends made:

Candy Corn Meringues at Confessions of a Cookbook Queen
Candy Corn Cheesecake Mousse at Glorious Treats
and Slice and Bake Candy Corn cookies at Sweet Sugarbelle

Print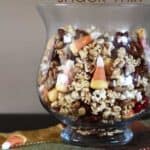 Candy Corn Bugle Snack Mix
Author:

Prep Time:

20

Cook Time:

30

Total Time:

50 minutes

Category:

Snack

Method:

Oven

Cuisine:

American
---
Description
A festive halloween snack for those who don't like candy corn! Fake it 'til you make it with this yummy Bugle candy corn snack mix!
---
1

(3 oz bag) of buttered microwave popcorn, popped

3 cups

mini pretzel twists

2 cups

lightly salted, dry roasted peanuts

2 cups

Rice Chex

1 cup

M&Ms

1 cup

butter

1 cup

packed light brown sugar

1/3 cup

light corn syrup
---
Instructions
Preheat oven to 300°
Mix popped popcorn, pretzels, peanuts and Chex in a large bowl, set aside.
In a medium saucepan melt butter, sugar and corn syrup. Bring to a boil and boil without stirring for 4 minutes.
Remove from heat and pour over your popcorn mixture.
Transfer to a large baking pan and bake for 30 minutes stirring 3 every 10 minutes.
Remove from oven and transfer to a parchment lined counter. Sprinkle you M&M's on top and let cool. When cooled break into pieces.
---
Notes
If you are going to add the Bugles to this recipe, do so after the mix has completely cooled.
Keywords: snack mix recipe, snack mix recipes, easy snack idea, halloween snack idea, halloween snack ideas, halloween dessert ideas, halloween treats ideas, halloween treats easy, halloween appetizer
Want To Save This Recipe?