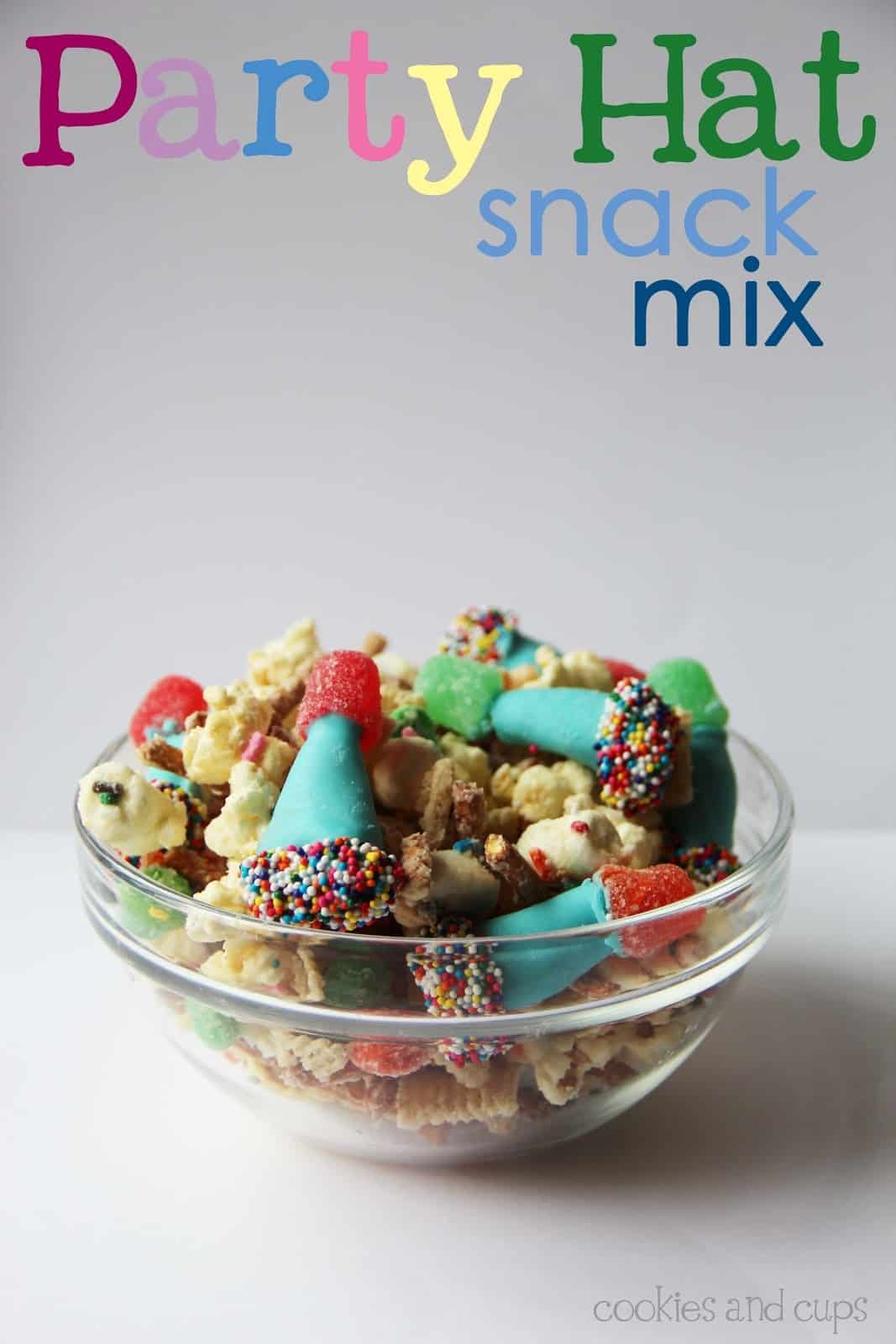 Making cute stuff is fun, isn't it?
I'm not gonna bore you with a story today.
Probably because it's Sunday evening and my brain is weekended out.
And because I know some of you might not feel like reading right now…I get it.
But, that's cool…the fact that you even stop over here to see what I'm up to is amazing to me.
So, less words…more sweets today.
This special treat is based on the
Santa Hat mix
I made in December. I decided it needed a makeover for the other 11 months of the year.
So, here for all the other months is Party Hat Mix.
The fun part about this mix is it is great with or without the Party Hats because the mix itself is super yummy and also perfect for any occasion.
You wanna know why?
Because it's Cake Batter Party mix.
Yep…Cake mix in the mix.
There have been so many fun treats going around with cake mix added I decided to give it a go in snack mix.
It worked and it was good.
Here's the how-tos for the hats…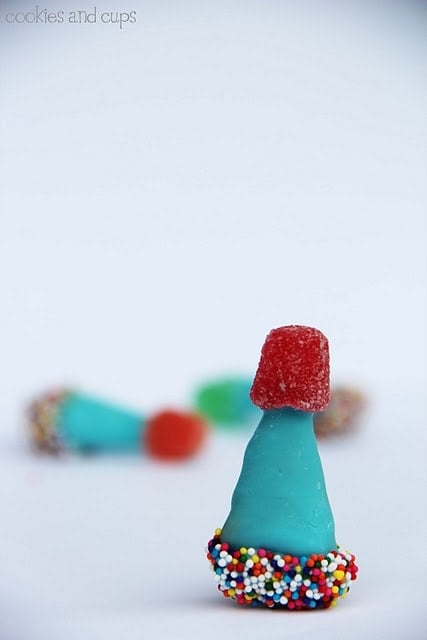 Candy melting disks
Colorful non-pareils
Spice Drops candy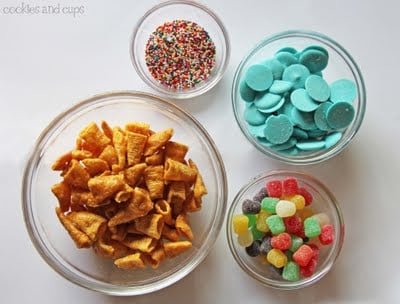 Melt the candy disks (and 1 Tablespoon Vegetable shortening ~ optional) on medium power for 1 minute and then stir, continuing on in 30 second increments until melted.
Dip your bugles into the melted candy leaving the bottom undipped (as pictured)
Gently Press your Spice Drop on the top of the bugle holding from the bottom.
Now dip the bottom in the melted candy.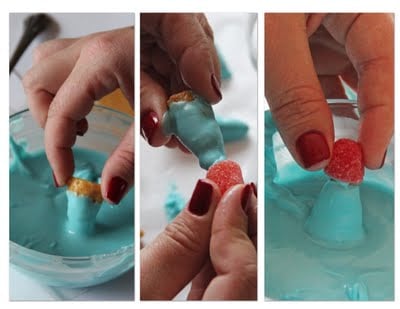 Keep your non pareils close…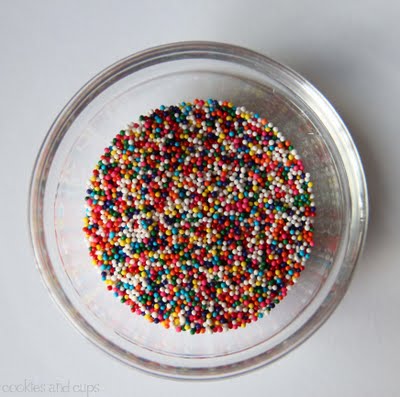 and immediately dip the bottom of the Bugle into them.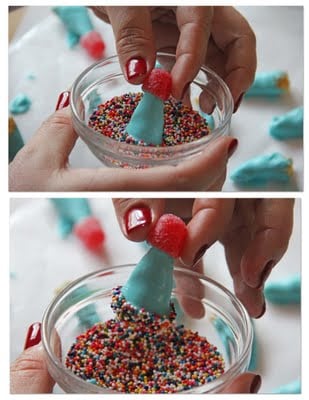 Gently place each "hat" onto wax paper to dry.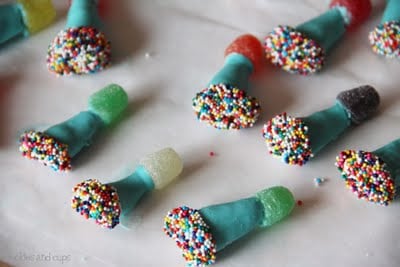 When the hats are setting you can make your snack mix.
Cake Batter Party Mix
1 bag buttered popcorn, popped with unpopped kernels removed
4 cups thin pretzel sticks
4 cups Rice Chex mix
1 cup salted peanuts
2 cups mini marshmallows
6 Tablespoons of white cake mix
1 (12.6 oz bag) M&M's (a little more than 2 cups)
16 oz. white chocolate.
1/2 cup rainbow sprinkles
In a wax lined roasting pan combine popcorn, pretzels, Chex, peanuts, Marshmallows and M&M's.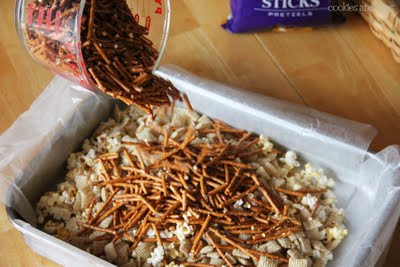 Sprinkle evenly with dry cake mix.
Over a double boiler (or in microwave) melt your white chocolate.
When melted pour over your mix.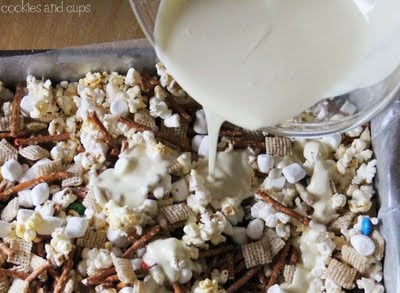 Using a spoon stir until the mix is evenly coated with white chocolate.
Sprinkle the rainbow sprinkles on top and stir to combine.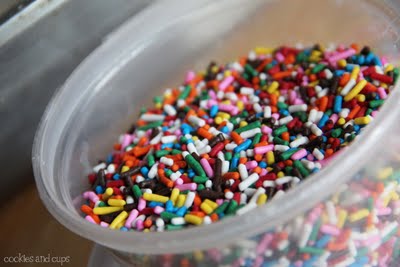 Let sit until chocolate is set, 20-30 minutes.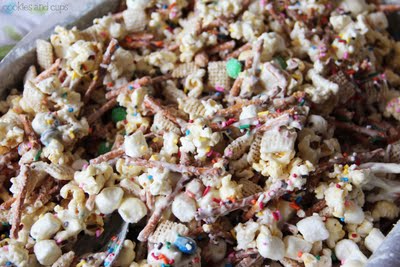 Once the chocolate is set you can add your party hats combining them evenly throughout the mix.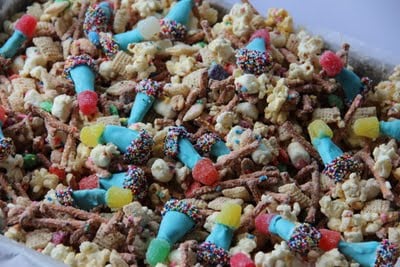 There you have it
…easy, super cute and yummy.