These Mashuga Nuts are SO good, they are candied nuts and can be served right out of the oven or room temperature! Just like the NYC street nuts!
A few weeks ago my friend and I spent a whole day baking together.
We made all sorts of yummy treats for our neighbors.
Trying to diversify from all the baked treats she had a fun idea to make some yummy mixed nuts.
I was completely unfamiliar with any such nut…so off to Google I went.
Apparently they are pecans coated with sugar and cinnamon and "Mashugana" is the Yiddish word for crazy.
Crazy nuts.
Love that.
I've tried and trust me it doesn't come off natural.
It was like my Good Will Hunting phase when I desperately wanted to say everything was "wicked cool" or yell "What a pissa!" whenever something went wrong.
 I am sad, I know.
So back to the nuts…they are yummy, will make your house smell incredibly delicious and aren't nuts heart healthy or something?  I thought I read that one time…whatev.
Copy Cat Mashuga Nuts
2 lb mixed nuts, salted
2 cups sugar
4 egg whites
2 tsp. cinnamon
1 cup butter
(2 sticks)
1 teaspoon vanilla
(if you don't have an oven large enough for 2 baking sheet cut the recipe in half)
Beat the
eat the egg whites until they are foamy.
Gradually add the sugar and continue to beat on high until the whites are thick and shiny. (approx 2-3 minutes) The whites will not have stiff peaks it will just be thicker.
Mix in the vanilla and cinnamon. Beating until combined.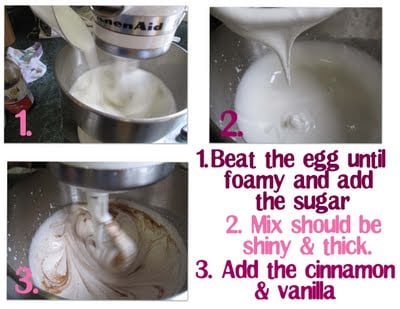 Fold in the nuts.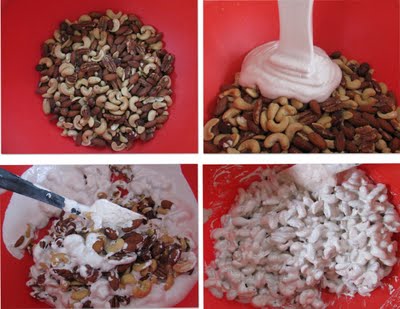 Now on each baking sheet (jelly roll pan or a baking stone, use a sheet with sides) place 1/2 cup butter and pop in oven until the butter is melted.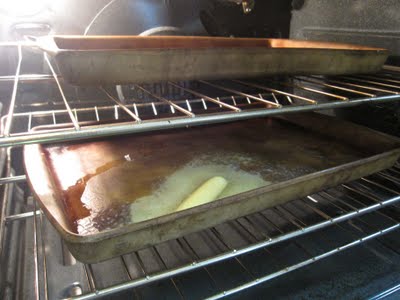 Remove the baking sheets from your oven.  Spread the coated nuts in a single layer on the baking sheets..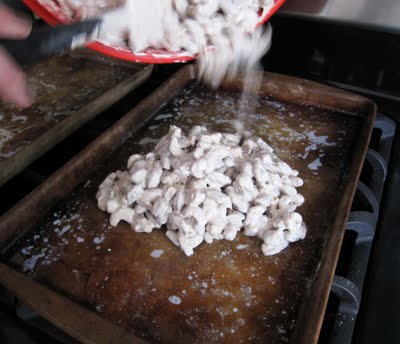 diving equally between the 2 sheets.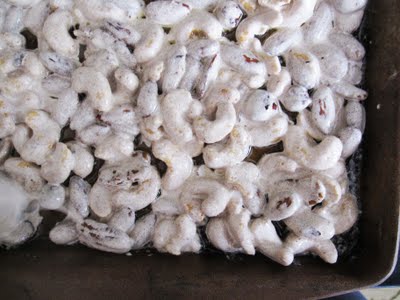 Bake the nuts for 20 minutes and then stir. Bake another 15 minutes and stir again. Repeat until the meringue on the nuts is brown and the butter is absorbed. This should take another 1/2 hour or so.
Let cool before eating.
If the nuts are kept in an air tight container they will stay fresh for quite a while.
They're perfect to divide up into bags and give as gifts!