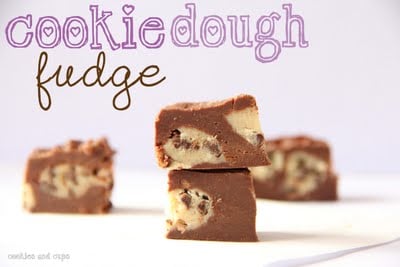 This Cookie Dough Fudge is guaranteed to put a smile on your face! It's rich, chocolaty and loaded with homemade cookie dough!
Well, I hope everyone out there either had a great Mother's Day and/or spoiled your Mom endlessly.
I had a very low-key, but completely enjoyable day.
My husband made me dinner and I got bunches of handmade cards from the little ones.
My youngest had to fill out a survey for his Mother's Day card…
Questions like, "What is your mom's name?", "How old is you mom?"
I am fairly certain that Kindergarten teachers do this for their own jollies.
Another example:
"What is your Mom's favorite thing to do?"
Well, upon reading my Mother's Day card, my child answered, "Play on her phone"
Seriously.
Could he have not said, "Give me hugs" or "Play board games with me"?
I now seem like the world's most inattentive Mother.
And while
Words With Friends
on my phone does seem to take up a good portion of my day I somehow feel self conscience about this when my 5 year old puts me on blast to his teacher.
My friend, Anne, gets the prize, though for Most Humiliating teacher story.
When her daughter got asked "What is your Mom's favorite thing to do? " for her Mother's Day interview her sweet, precious daughter answered, "Lay on her bed and eat Puppy Chow".
Ok, let's let that hang in the air for a moment.
Not only does this make Anne sound incredibly lazy, it also makes her sound like some sort of Dog Food eating freak.
What her daughter failed to mention was that
Puppy Chow
is a deliciously sweet snack that our neighbor makes AND that she had been sick the days prior to the "interview" so she HAD been laying on her bed.
I am sure that the talk in the Teacher's Lounge was on FIRE that afternoon!
In all honesty, I know we all love the handmade cards…humiliation and all…because we all know that the ammunition that our children give us on a daily basis is more than enough to embarrass them for their teenage years to come.
Paybacks, kids. It's a tough lesson.
Now to the fudge. To add to my day of indulgence I decided to go back to territory I have been very familiar with lately.
Cookie Dough.
It has been the basis to some delicious treats as of late, like
these
..and
this
…and of course
these
.
Why stop there?
The idea for this delicious fudge came from the blog
Fields of Cake
. I nearly fell outta my chair when I saw
this post
. I knew there was absolutely no way that I wasn't making it. Not. A Chance.
I made a few adaptations…I used a different fudge recipe for starters and also used my egg-free cookie dough recipe, but the ideas is all hers.
Cookie Dough Fudge
First make you egg-free cookies dough and try not not eat it!
Freeze it so it won't melt in your fudge…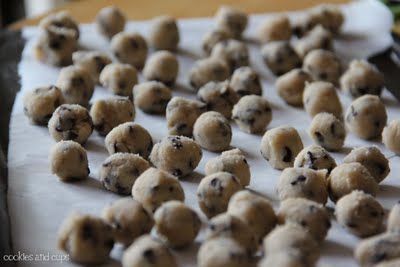 Simply fold dough into fudge and chill.
Cut into squares and enjoy!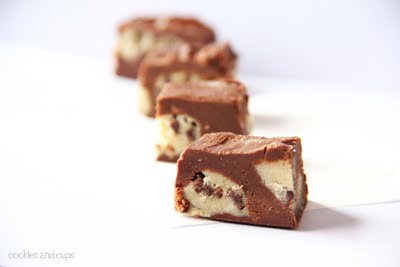 Print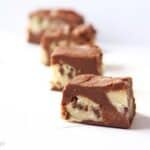 Cookie Dough Fudge
---
Egg-free cookie dough:
1/2

c. butter, softened

1/2

c. packed light brown sugar

1/4

c. granulated sugar

2 Tbsp

. milk

1tsp

. vanilla extract

1/2

t. salt

1

c. all-purpose flour

3/4

c. mini semi-sweet chocolate chips
Fudge:
2 cups

semi sweet chocolate chips

1 cup

milk chocolate chips

1

(15 oz) can Sweetened Condensed Milk.
---
Instructions
Egg-free Cookie Dough:
Combine first 5 ingredients in a mixing bowl and cream together. Add flour and stir until combined. Stir in chocolate chips. You will need 1 1/2 cups approx of dough.
You might have some leftover. You can freeze any leftovers for later.
Form your cookie dough into marble sized balls.
Place on a waxed paper lined baking sheet.
Freeze for at least 15 minutes. The longer the better, so it doesn't melt when you add it to the fudge.
Fudge:
Butter the bottom and sides of an 8×8 pan.
In a medium saucepan over low heat melt the sweetened condensed milk and chips together. Stirring continuously.
When chocolate is melted remove from heat.
Remove your cookie dough from the freezer and carefully fold into your fudge.
Spread immediately in the pan.
Chill for at least an hour.
Cut into squares and serve
---
Want To Save This Recipe?
Find more recipes like this: