These fun cupcakes give you 3 cookies in one! I call them Cookie Crazy Cupcakes!
So I have an invention, y'all.
I wish I could keep it a secret, but I suck at secrets.
So don't go stealing my idea, kay?
It's called a "psycho-sensor".
Here's the back-story on my invention…
At the ripe old age of thiry-something-ish I made the executive decision to banish all crazy people from my life.
BANISH!
When I was younger I had more time for drama…well, maybe not time, but I allowed it around me more often than not.  I didn't have it in me to tell the drama creators to "go scratch".
But, I hit my thirties and suddenly didn't have the time or patience for crazy.  Certainly they sneak through the cracks every now and then…or sometimes you just WANT someone to be a good person, but all the will in the land can't force them from the dark side.
So.  I have to say that life is calmer, more fun and people know where you stand when you don't "do crazy".  It's a fact.
But here's the problem…sometimes people like to disguise as normal, when really they are imposters.  We'll call them undercover crazies…all normal and such on the outside, all Real Housewife on the inside.
That's why you need a patented psycho-sensor.  I will soon be selling it on QVC…just you wait.
In my mind's eye it looks like a headlamp…that way people can see you're crazy-busting-butt from a mile away.
So, block the crazies, ditch the crazies or drop kick those crazies right out of your hair…they cause frizz for real…and only allow crazy in the form of a cupcake into your inner circle.
And do I have one for you today.
Oh yes siree.
This cupcake has got it goin' on…
Oreos? Check.
Chocolate Chip Cookie?  Check?
Biscoff?  Checkity check check.
That's 3 cookies in one cupcake.
Cah-razzzy.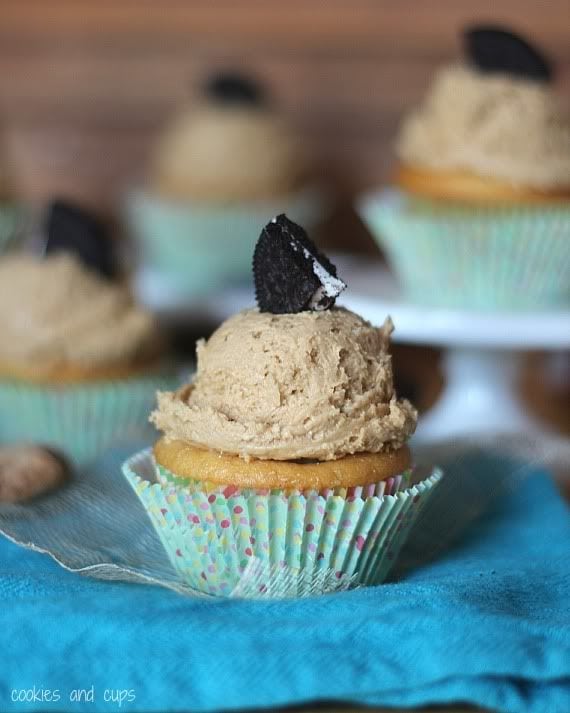 Here are the dirties…
Make some cookie dough.  I used the recipe for the dough from THIS sweet girl's post.
Form the dough into heaping tablespoon sized balls.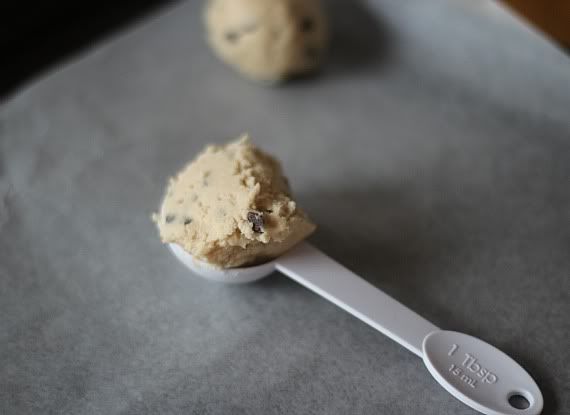 Freeze the dough-balls for at least an hour…you want them to be TOTALLY frozen solid so the dough doesn't cook inside the cupcake.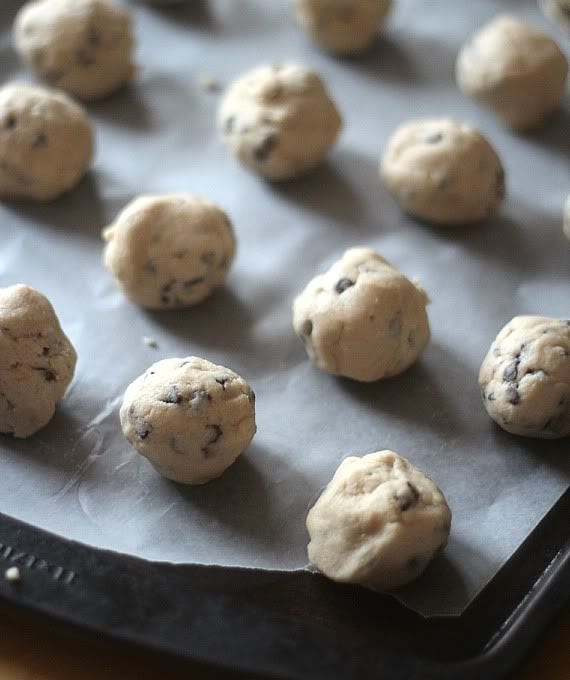 When the dough is frozen you can start assembling the cupcakes.
I used a vanilla boxed cake mix for the cupcake portion, but feel free to get all scratchy on me, I won't be mad.
Line your muffin tin with cupcake liners and drop a whole Oreo in there.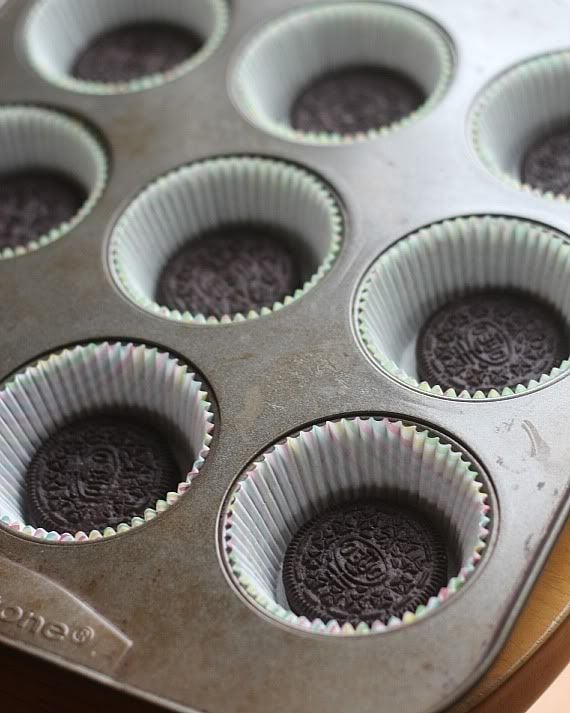 Fill your cupcake liner with 1/8 cup batter…with the Oreo in there you will need less than usual.
Then plop a frozen dough ball right in the batter.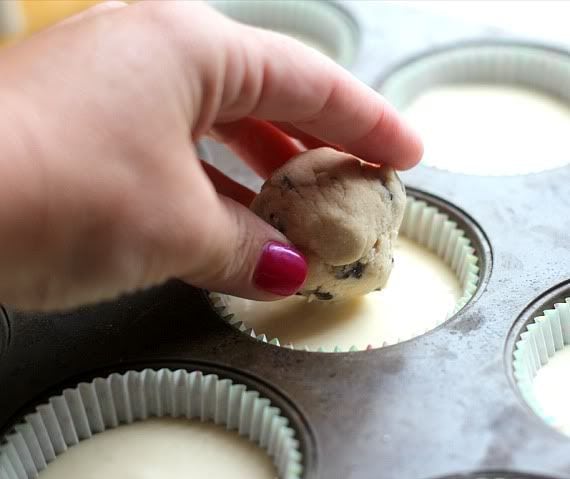 Your dough will poke it's head out a little bit. No worries.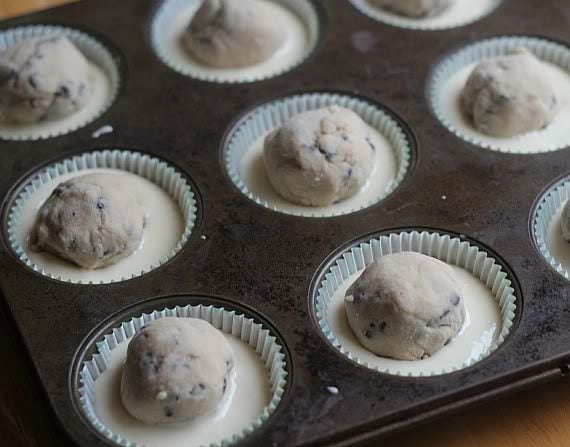 Bake the cupcakes for 20 minutes. They will look like this.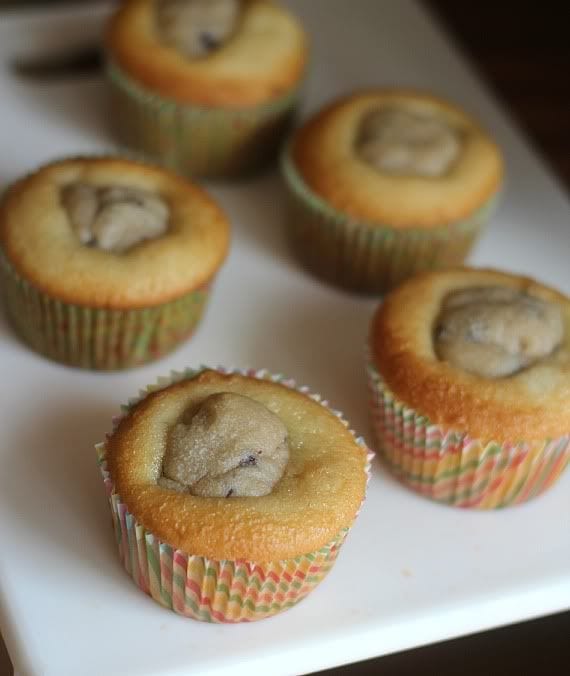 Then you need to make some frosting. To complete the trifecta of cookies I used Biscoff cookie spread in my frosting. If you aren't able to find Biscoff in your supermarket, you can certainly order some…OR sub peanut butter in it's place. Ahh, yes, peanut butter would be good here.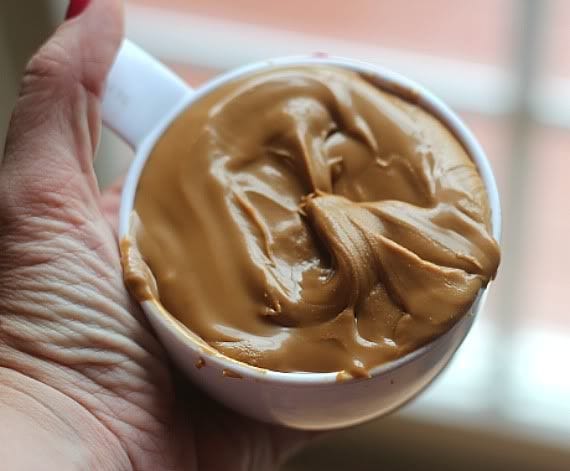 Then frost those crazies.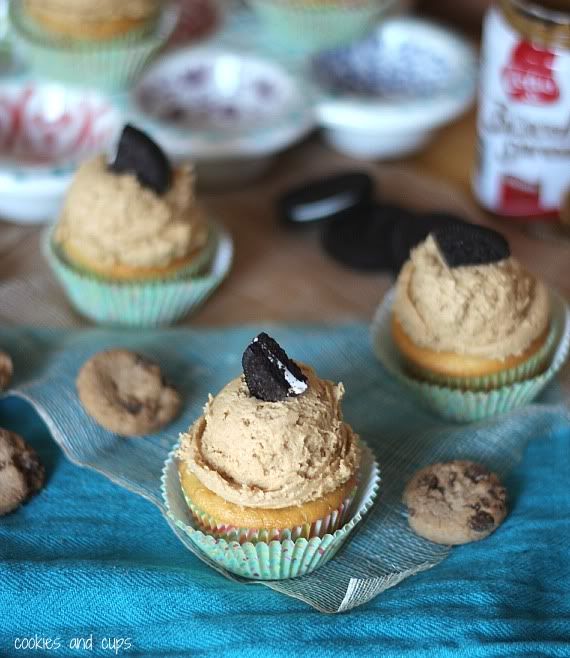 And then eat.
That's why we're here, yes?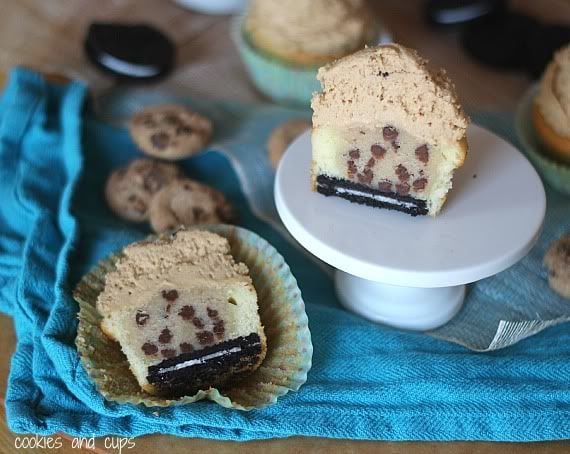 Psycho-sensor activate!
Print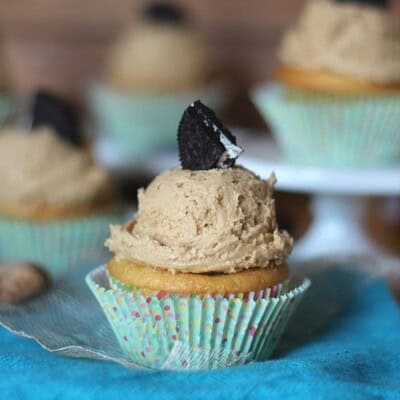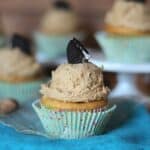 ---
Description:
makes 24 cupcakes
---
Scale
Ingredients:
Cookie Dough Filling
1 cup

butter, room temperature

1 cup

brown sugar

1/2 cup

granulated sugar

1/4 cup

milk

2 tsp

vanilla

2 1/2 cups

all purpose flour

1 tsp

salt

1 cup

mini chocolate chips
Cupcake
1

box vanilla cake mix, prepared according to package directions

24

Oreo Cookies, plus more for garnish, if desired.
Frosting
1 cup

butter, room temperature

1 cup

Biscoff cookie spread or peanut butter

4 cups

powdered sugar

3

–

4

Tbsp milk
---
Instructions
For Cookie Dough Filling
In stand mixer cream together butter and both sugars until fluffy, turn mixer to low and add in milk and vanilla, speed mixer back up to medium for approximately 30 seconds until smooth. Turn mixer back down to low and stir in flour and salt until incorporated. Fold in mini chocolate chips.
Scoop out dough in heaping tablespoon sized portions and roll into balls. Place on a parchment or wax paper lined baking sheet and place in freezer for at least an hour.
Cupcakes
Preheat oven to 350°
Prepare cupcake batter according to package directions. Line 2 (12 count) muffin tins with cupcake liners and place an Oreo cookie in the bottom of each.
Fill each tin with 1/8 cup of cake batter. (This will fill the cupcake liner approx 2/3 full)
Place a ball of frozen cookie dough in the batter. It will not be submerged.
Bake the cupcakes for 20 minutes. The edges will be set and golden.
Allow to cool completely before frosting.
Frosting
Cream butter and Biscoff or peanut butter in your stand mixer until smooth. Turn mixer to low and slowly add in your powdered sugar and milk. Turn mixer to medium and mix until smooth.
Frost cupcakes.
---
Want To Save This Recipe?