This Homemade Butterfinger Bark is the ultimate Butterfinger dessert recipe! Made with only three ingredients, this easy dessert bark is crunchy and delicious.
Homemade Butterfinger Bark
I know this site is full of unnecessary indulgences.
I get it.
Annd I realize there is no reason whatsoever in your life that you should worry about making Homemade Butterfinger bars.
But sometimes I let Pinterest talk me into doing stuff.
Because everyone on Pinterest is rich and pretty and wears amazing clothes and has really super clean and stylish homes, that are organized amazingly well.
And apparently I am influenced by all things superficial.
So, yeah.
I saw on Pinterest people making Homemade Butterfingers. And since I also want to be rich and pretty and stylish with good hair, I decided to make Homemade Butterfingers too.
That's how it works, right?
And what's completely crazy, is besides living in perfect lighting and having unlimited money, the people of Pinterest are scientists too.
Because these Homemade Butterfingers are made from candy corn.
Seriously.
So I decided to give it a try.
And it's possible that whilst I was eating my Homemade Butterfinger, I MAY have clicked my heels together 3 times, thinking that I would open my eyes to a hazy, grey and white house, with perfect throw pillows and inspirational chalkboard writing on the walls.
Well.
I didn't.
BUT I did enjoy my Homemade Butterfinger. So, I call it a success.
And since I don't have patience to dip candy bars and make them look Pinterest-pretty I decided to make Homemade Butterfinger Bark.
More rustic…less perfect…more me.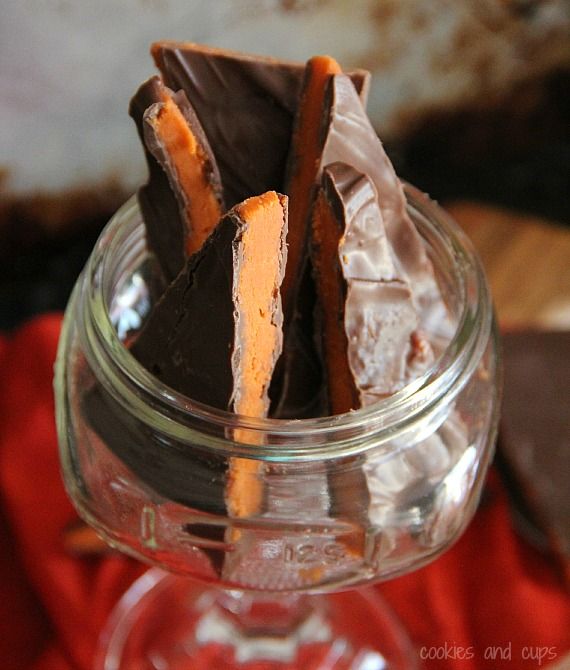 Now I know you are going to ask..does it TASTE like Butterfinger?
Well, yes and no.
I did a side-by-side taste test comparison…in the name of research…and here are my findings:
Butterfinger is more crunchy..so for texture, Butterfinger wins.
BUT for taste, Homemade Butterfinger Bark wins. And really, isn't taste the most important?
My husband really liked it, Butterfinger or not…it's just really good.
Maybe next time I will stir in some crushed corn flakes and try to duplicate the texture…we'll see.
How to Make Homemade Butterfinger Bark
Start with some melting chocolate. You could use Almond Bark, high quality chocolate, whatever you want…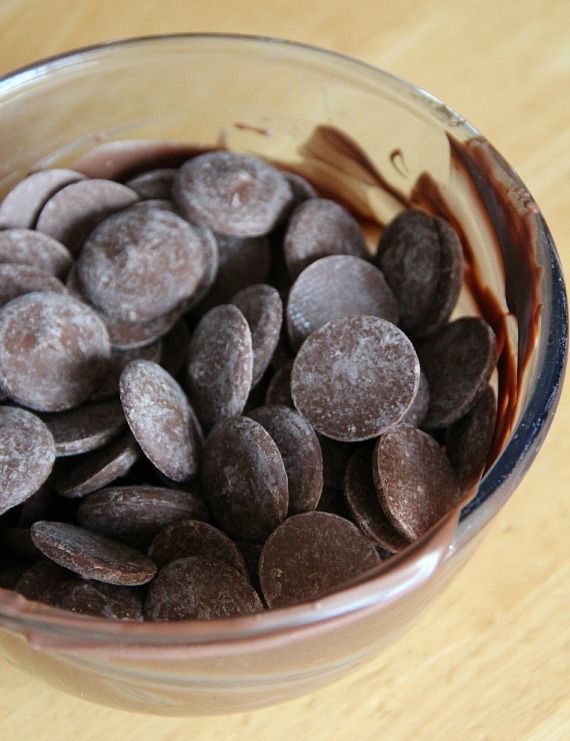 Melt half of it and spread on a foil lined baking sheet…
Chill it for a few minutes to set.
Then grab some candy corn…I used 5 cups.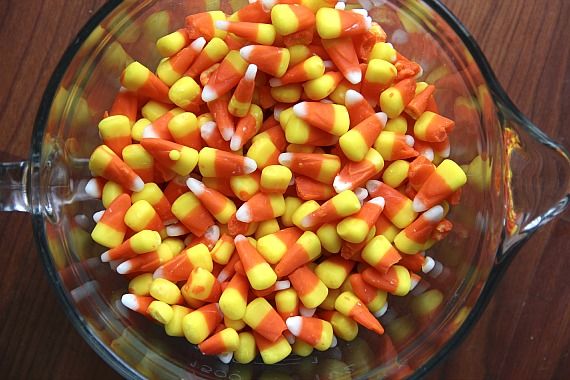 I melted it in the microwave.
It stays pretty thick…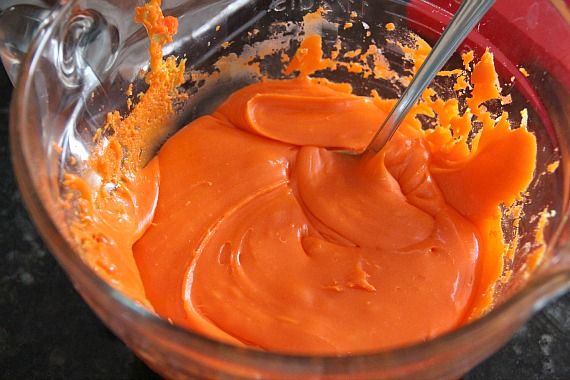 Then have your peanut butter ready to go…the cooler the melted candy corn gets, the harder it is to stir. Just ask my biceps.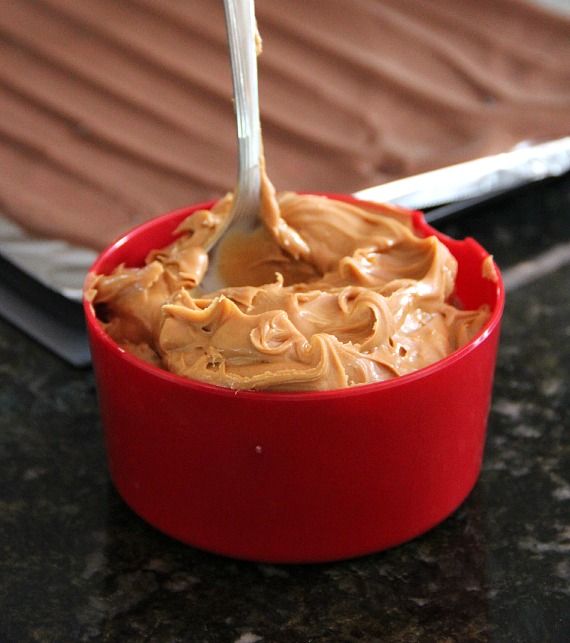 Stir those guys together…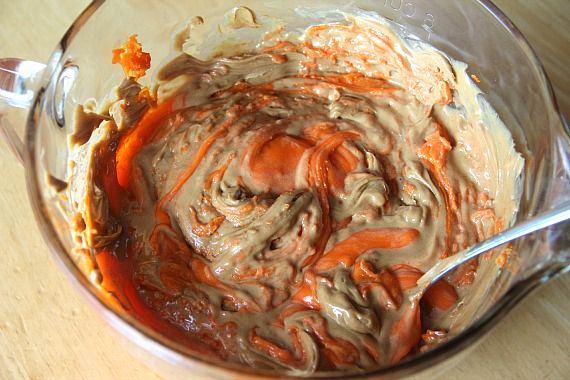 Then spread it on the chilled chocolate.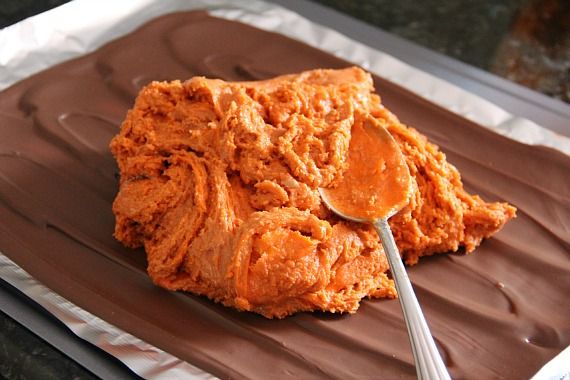 Then chill that for about 20 minutes or so.
Then melt the other half of the chocolate and spread that on top…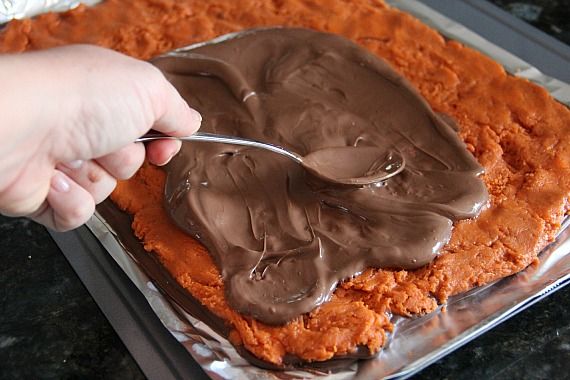 Easy.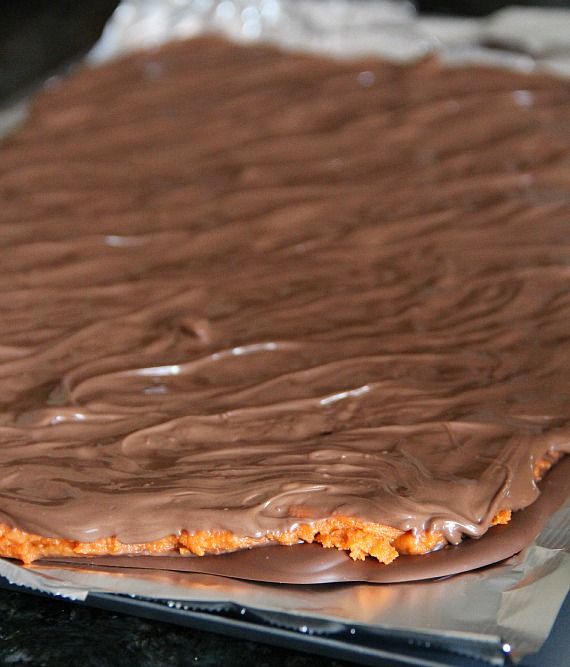 Chill that and then cut it into pieces…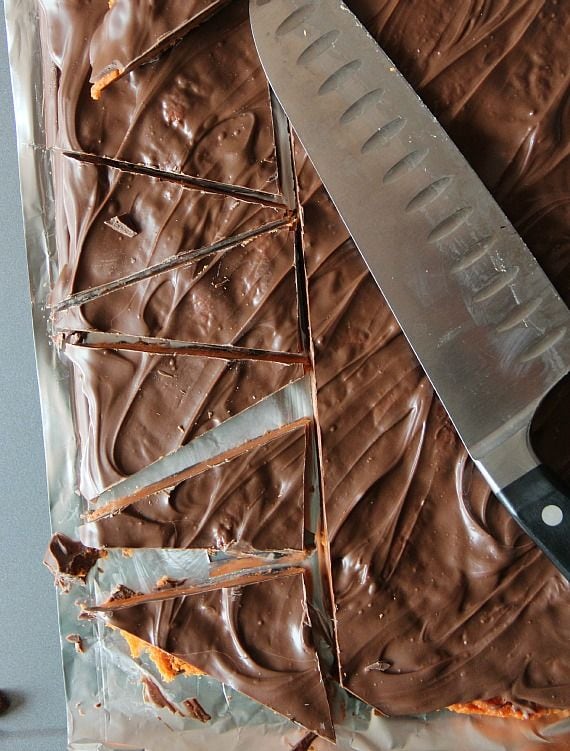 That's it!
Take that Pinterest.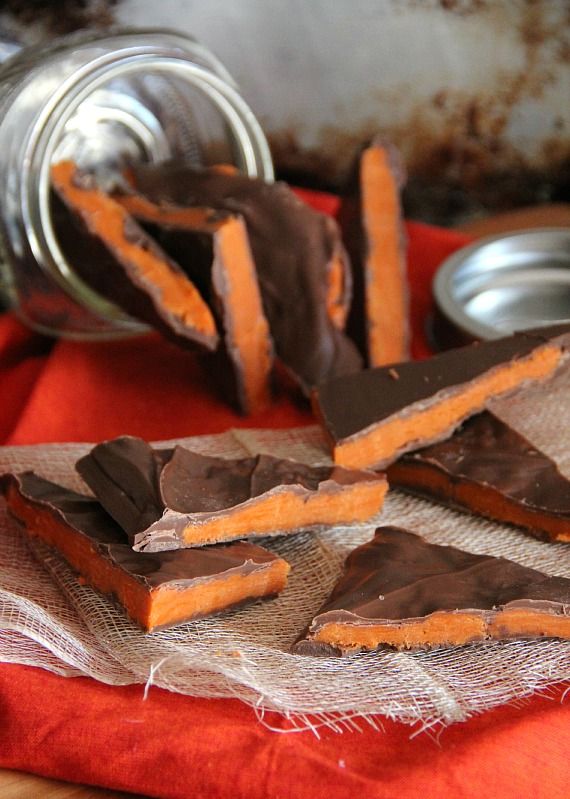 Print
Homemade Butterfinger Bark
Author:

Prep Time:

25 minutes

Cook Time:

8 minutes

Total Time:

33 minutes

Yield:

About

10

servings

1

x

Category:

Dessert

Method:

Stove

Cuisine:

American
---
Description
This Homemade Butterfinger Bark is the ultimate Butterfinger dessert recipe! Made with only three ingredients, this easy dessert bark is crunchy and delicious.
---
5 cups

candy corn

1 1/2 cups

peanut butter

20 oz

chocolate for melting, divided in half
---
Instructions
Line a large baking sheet with aluminum foil.
Melt 10 oz of chocolate over double boiler or in microwave,according to package directions.
Spread the melted chocolate on the foil lined baking sheet, approximately 11″x15″. DOn't worry too much about the exact measurements, you just want it to be a thin layer.
Place baking sheet in fridge to chill quickly, about 10 minutes.
In a large microwave safe bowl melt your candy corn, 1 minute and then stir, then in 30 second increments until melted, stirring after each 30 seconds.
Immediately stir in peanut butter. Mixture will be very thick. Use those muscles!
Spread it on top of chilled chocolate.
Place this back in the fridge for another 20 minutes, until chilled.
Melt the remaining chocolate and spread it on top of the peanut butter layer.
Chill again at least 20 minutes.
Cut into triangle shaped pieces.
---
Nutrition
Serving Size:
Calories:

670

Sugar:

59 g

Sodium:

182.5 mg

Fat:

37.4 g

Carbohydrates:

80.2 g

Protein:

13.3 g

Cholesterol:

0.8 mg
Keywords: butterfinger dessert, bark recipe, easy dessert recipe, easy dessert few ingredients, halloween dessert, halloween dessert recipe, easy candy recipe
Want To Save This Recipe?
Find more recipes like this: