Let me start this off by saying that somethings needn't be improved on ~ the Oreo being one of them. But that didn't stop me from trying! My best friend thinks I am ridiculous for going to all the trouble to make something that can so easily be purchased for under $2 at the local supermarket, but a little challenge never hurt anyone, right? At least that's what I tell myself.
Mission: Homemade Oreo, underway!
I found many recipes after searching but one recipe appeared over and over as THE recipe for oreos, here it is…
For the cookies:
1 1/4 cup all purpose flour
1/2 cup unsweetened Dutch process cocoa (ok- I couldn't find this after looking at 2 of my supermarkets, so I used plain old unsweetened cocoa powder. I looked up the difference and it has something to do with alkaline and the amount of baking soda/baking powder needed. I followed the rest of the recipe as is and they turned out fine)
1 t. baking soda
1/4 t. baking powder
1/4 t. salt
1 to 1 1/2 cup sugar (depending on how sweet you wanted the cookie. I didn't know, so I used 1 1/4 cups =) )
1 stick plus 2 T. butter – room temp. Cut the butter into pieces, like tablespoon sized
1 large egg
Preheat oven to 375
Mix all dry ingredients in your mixer on low until all combined
Now add the butter a little at a time on med-low until it comes together as a dough. Don't over mix. It makes a dry dough.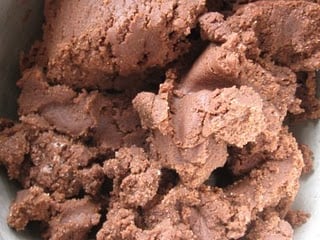 On a parchment lined baking sheet place rounded teaspoon sized portions out about 2 inches apart and slightly flatten the dough.


Bake 7-9 min (don't over-bake or you will have really hard cookies!!!)
Cool completely before filling.For filling:
1/4 cup vegetable shortening (Crisco)
1/4 cup room temp butter
2 1/2 cups sifted powdered sugar
2 t. vanilla extract
Cream butter and shortening together at high speed, drop speed to low and add sugar and vanilla. Once combined kick the speed back up to high and beat for 2-3 minutes.
Now put the filling in a ziplock and cut a small corner off the edge and slowly top half the cookies with frosting leaving enough room at the edge of the cookie to allow for it to squish when you make the sandwiches.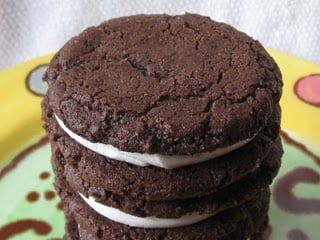 These were good cookies, not EXACTLY like the Oreo out of the package, but with a glass of milk equaly delicious!