Another July in the books! How could this possibly be true? The summer is in its final hurrah, and I'm ready for it! August is my BIRTHDAY month so bring it on!
This month I've been focused on vacation plans. We have a big one that we're on right now…an Alaskan cruise and I can NOT wait to share all the details with you. We started planning it last October, so it's been a long time coming.
ANYWAY, July was actually a really fun month…we went to see Taylor Swift at MetLife Stadium…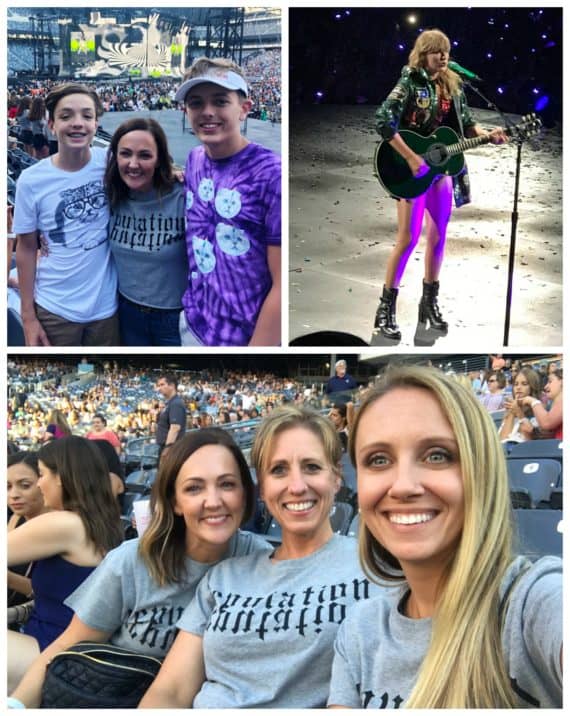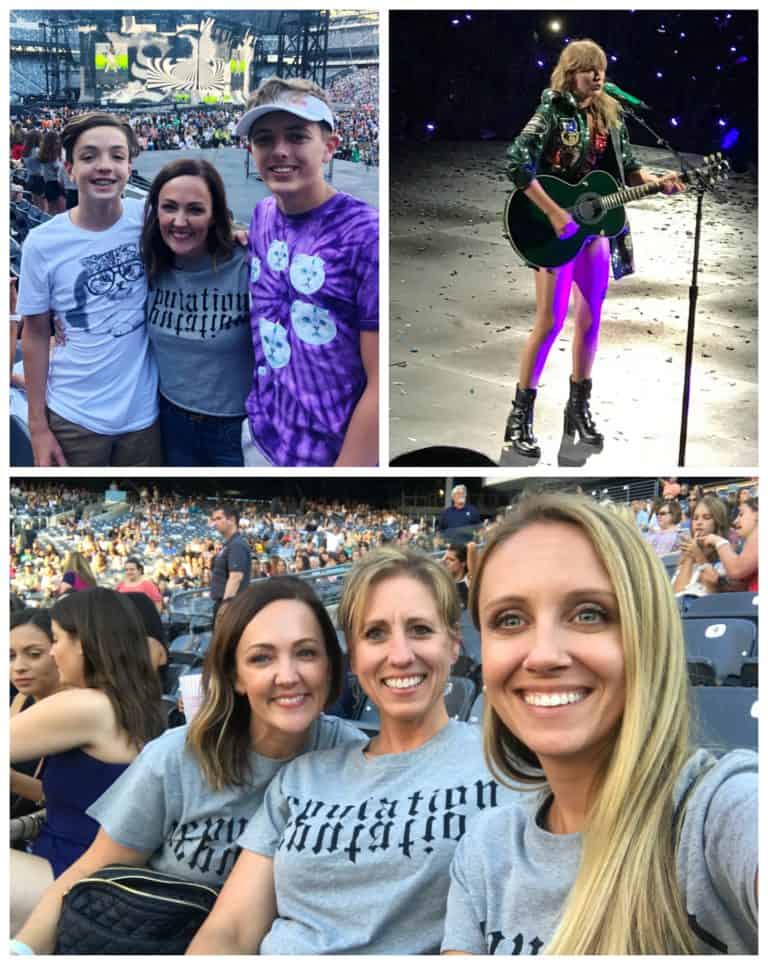 Two girlfriends and I took our boys (six of them) to see the show and it was THE MOST FUN! She puts on a fantastic show, and I will absolutely go see her again. Obviously her music is super catchy, but she just really seems like a really grateful person.
My youngest had a birthday this month along with a ton of my friends, so it's been a big celebration month! He wanted tickets to see a Champions League soccer match at Metlife (Manchester City vs Liverpool) so back to Metlife we went a few days after the concert.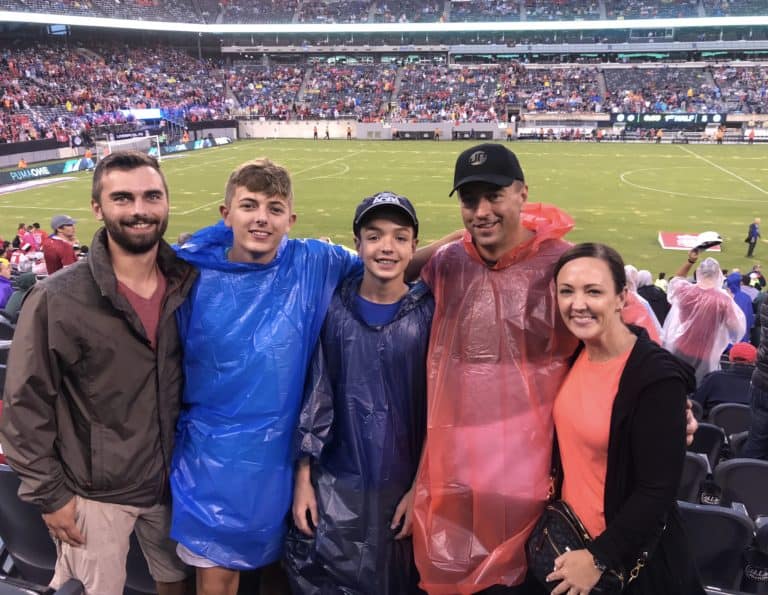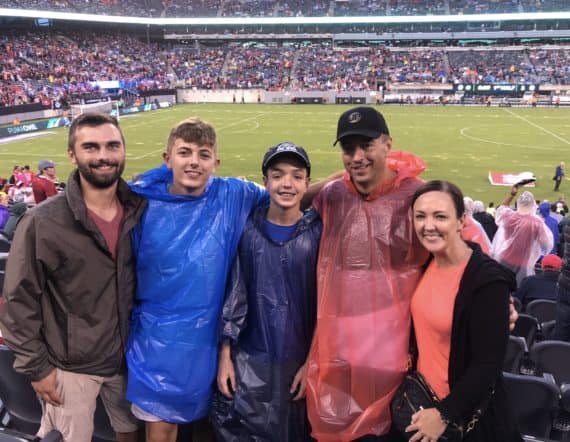 ANNNND we also went and saw Anastasia on Broadway. We really liked it!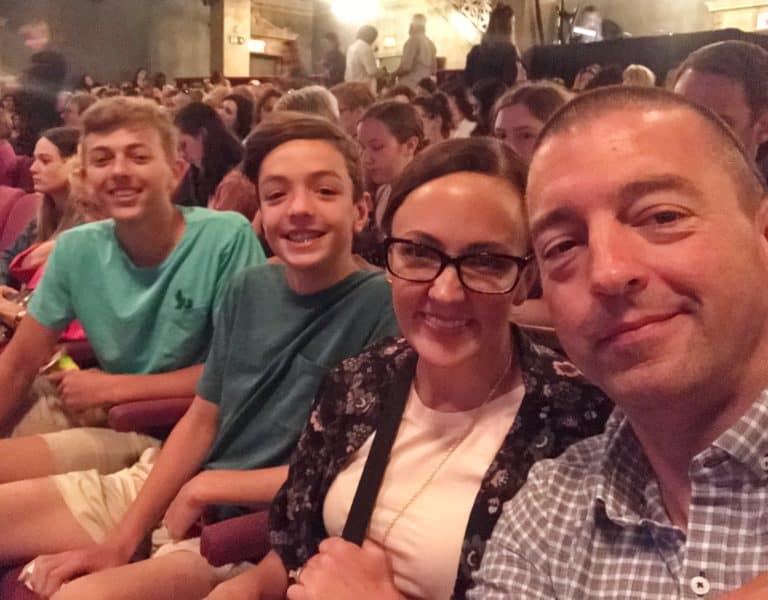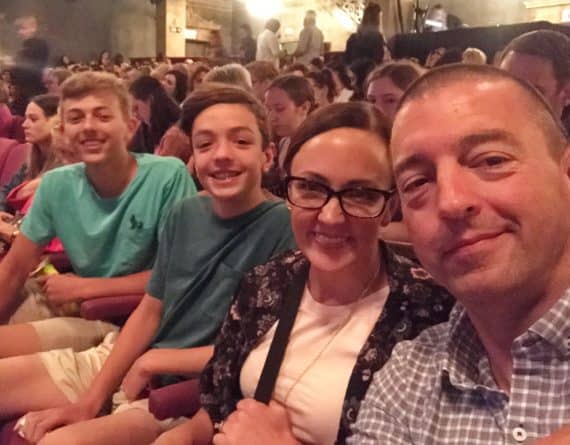 Also, I dragged my boys to do Goat Yoga this month…if you follow me on Instagram you surely saw the chaos. It was about 20% yoga and 80% goats. Totally adorable!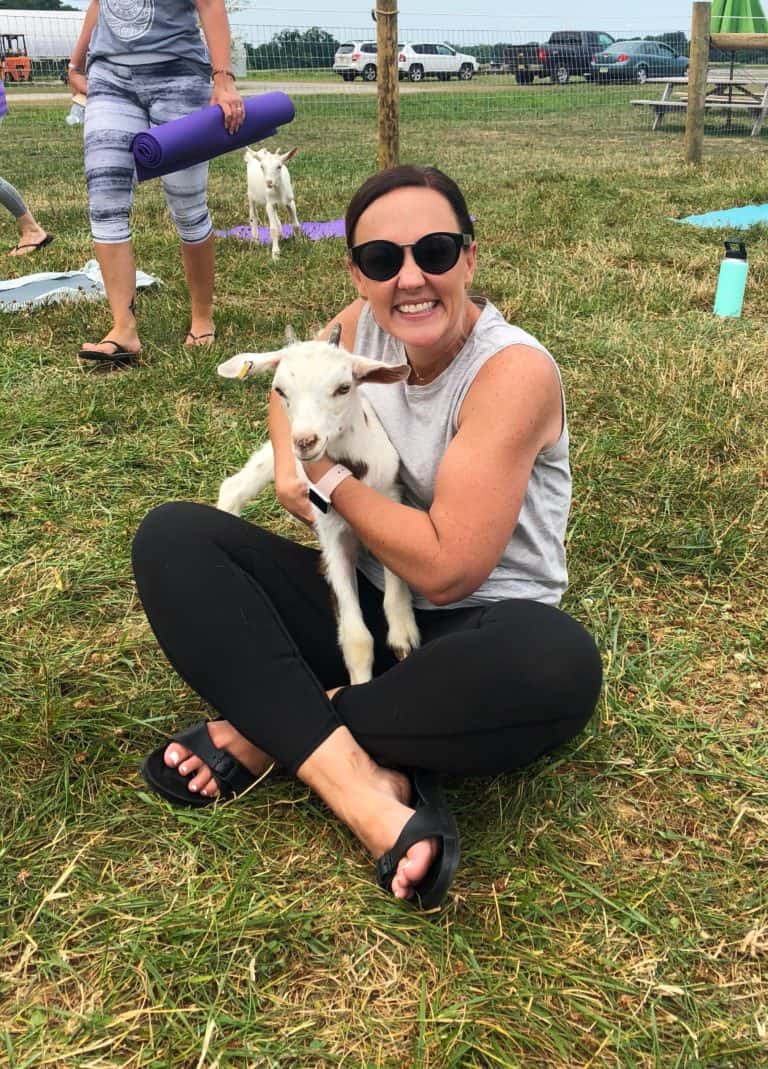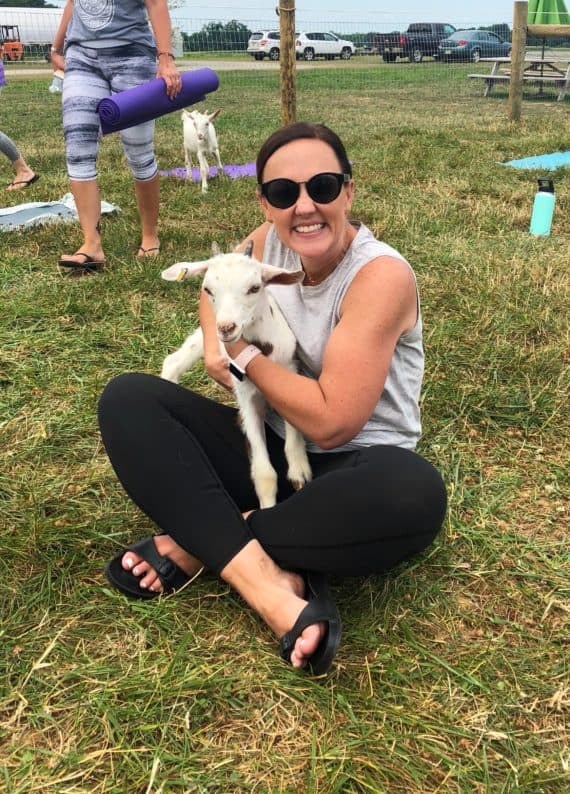 And ok…moving on to my favorite THINGS of the month…
Of course since it's summer, rosé is my drink of choice!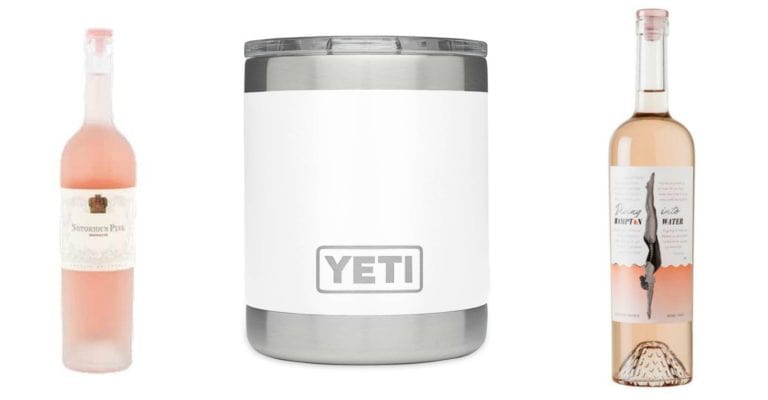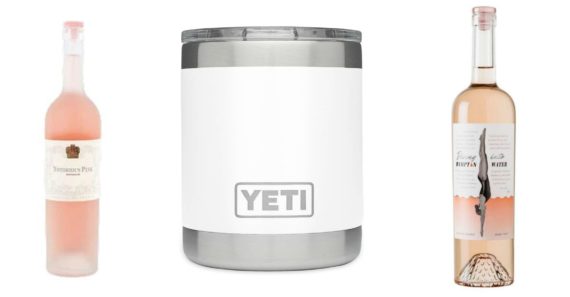 Right now I am loving Notorious Pink and Hampton Water…AND I love using my 10 ounce Yeti tumbler at the pool or beach to enjoy a glass! First off, it keeps it super cold (pro tip – chill your Yeti if you're gonna use it for wine), and second it has a lid, so it keeps out the sand if you're at the beach. I am officially a member of the Yeti cult!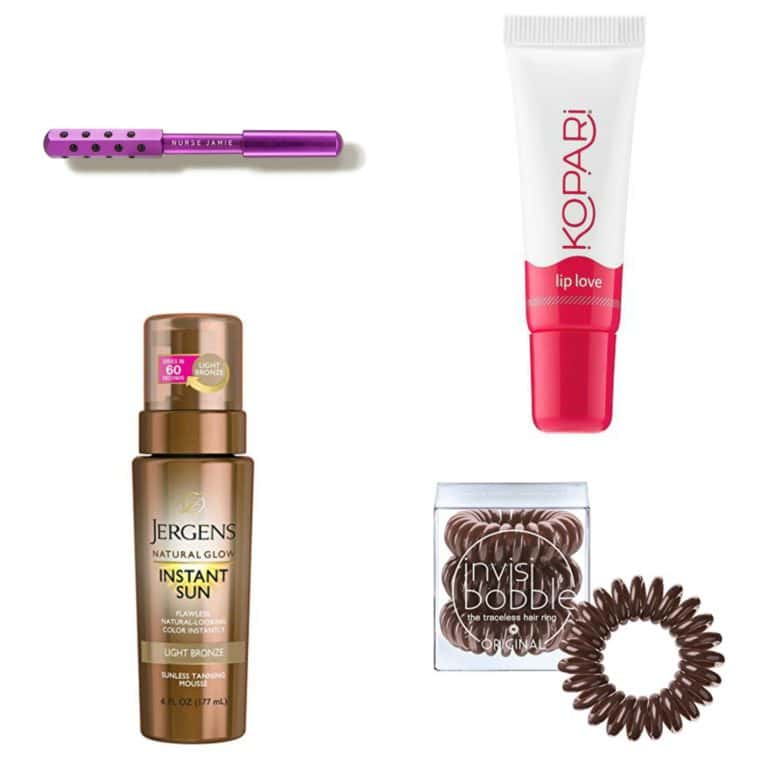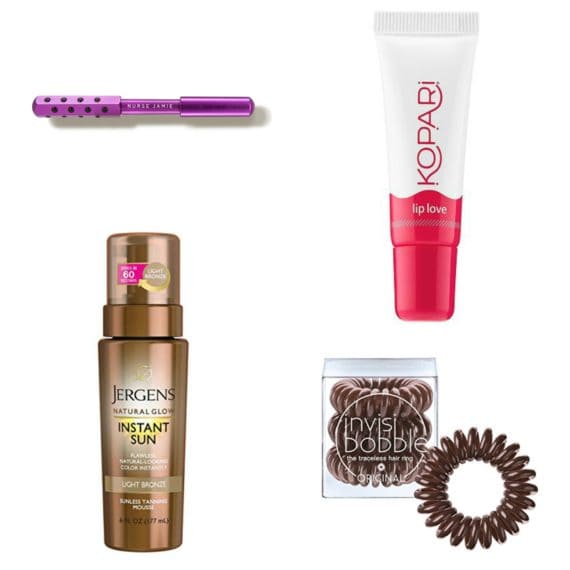 I don't have a ton of new beauty faves this month…I've really still been using and loving my Clinique Even Better Glow foundation, my Marc Jacobs bronzer, and Waterproof Better Than Sex mascara. It's been kind of my light makeup-daily routine this month.
BUT I bought this silly Nurse Jamie Face Roller thing, I think it's called the "uplifter" and I am obsessed with it. It claims to help with elasticity and firmness among other things. I am not sure if I see a huge improvement yet (I've only been using it for a little over a week), but I LOVE the way it feels, and I feel like circulation in my face is better…imagine how it feels when you get a facial and your aesthetician massages your face…it just plumps everything and feels gooood. I have it on my night stand and every night when I get into bed a roll it on my face while I'm reading. Seriously obsessed.
Also, this Kopari Coconut Lip gloss. Let me tell you, I actually didn't love it when I first got it, but now I own 3 tubes, and have used an entire one. It is a slick, clear gloss that I didn't really think was that amazing at first. But then I noticed that my lips felt so much better after using it, and it kept my lips hydrated for a really long time. Sometimes chapstick or balm, once it's worn off, leaves your lips just as dry as before you used it…not this one! I still love my Bite Agave lip mask, but this is a great, slightly lighter option that I guarantee you will become obsessed with. Plus it leaves your lips glassy and shiny!
I love a sunless tanner, and this Jergen's Mousse is fantastic! It's fairly inexpensive, doesn't smell, dries SUPER quickly, and is just a pretty tan. I have tried a lot of self tanners, and this is my favorite of the summer!
AND the Invisibobble hair coily things have been in my hair ALL summer. I love that these don't pull or break my hair, and actually HOLD my hair in a messy bun thing without having to twist them too tight…meaning you don't get a hair headache. They're just easy!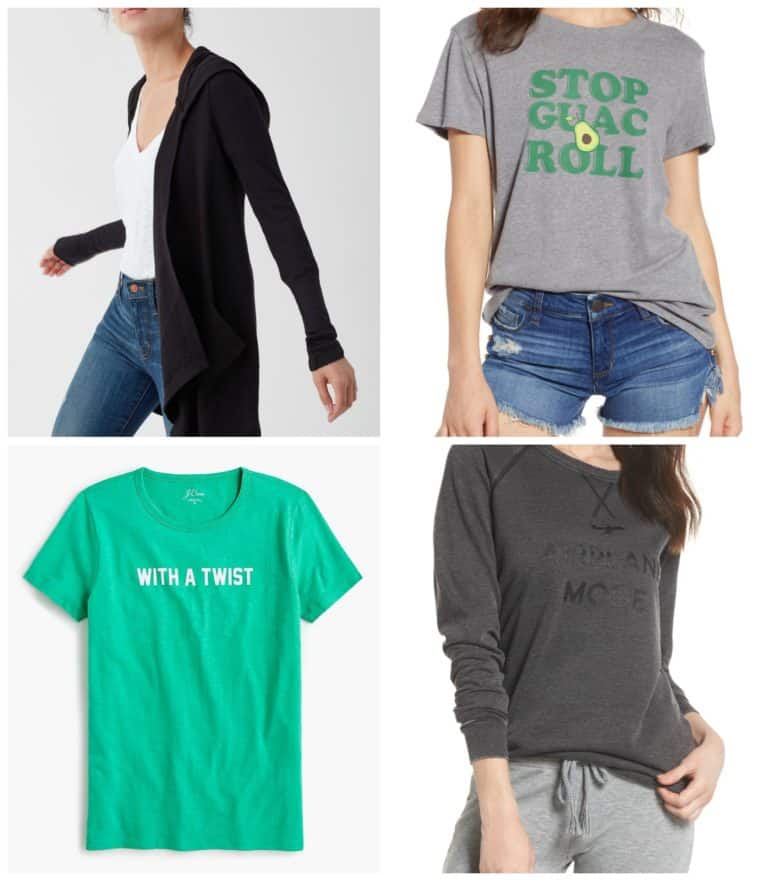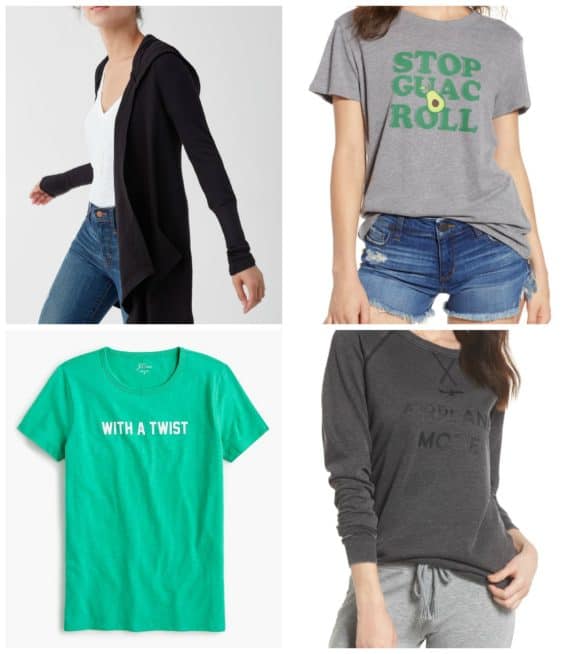 Clothes-wise I haven't gotten a lot this month, because I am done buying summer stuff, but not quite ready for fall stuff….AND get this…I didn't buy one single thing this year at the Nordstrom Anniversary sale. Literally nothing really spoke to me this year, and I just wasn't into it. My bank account thanked me.
BUT I did pick up a few new t-shirts, because Stop Guac and Roll is a shirt every single person in life needs. AND I grabbed this "With a Twist" shirt from J Crew mostly because I liked the green color, but also, it's just the perfect summer weekend shirt!
Also, I am OBSESSED with this Splendid Waffle cardigan. It's light enough to wear in the summer evenings, but totally cozy and will take me through the fall and winter. This is a MUST buy if you're looking for a new cardigan…or even if you aren't.
AND since we're going to be traveling this month, I thought that a comfy "Airplane Mode" sweatshirt was necessary. And also for every other day of the year.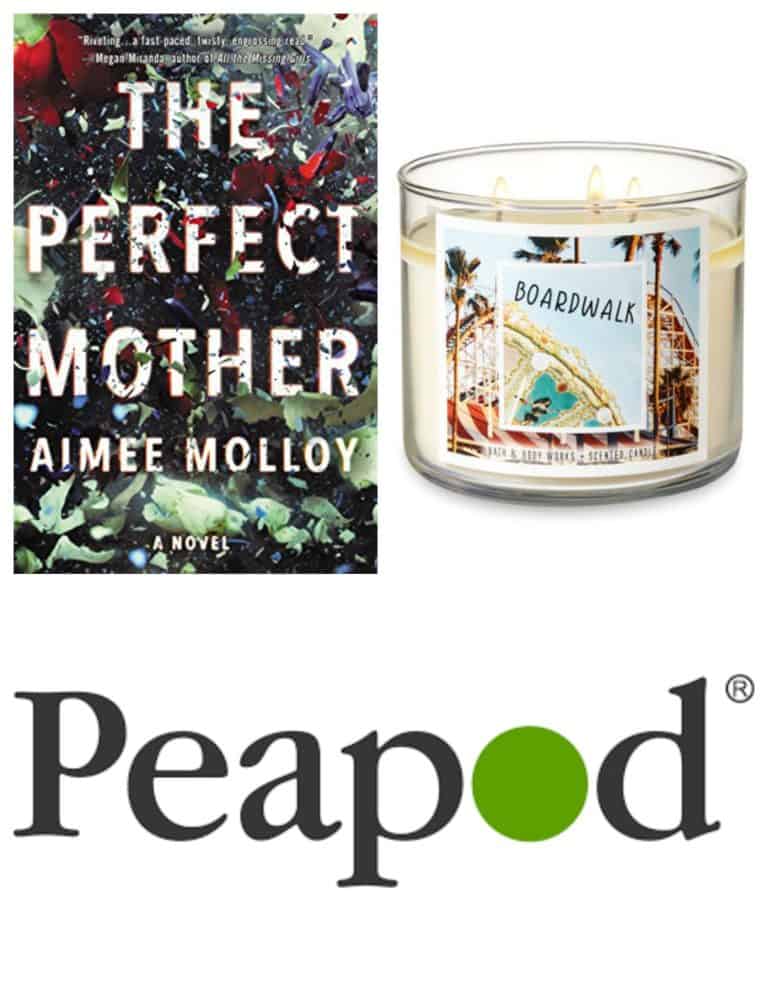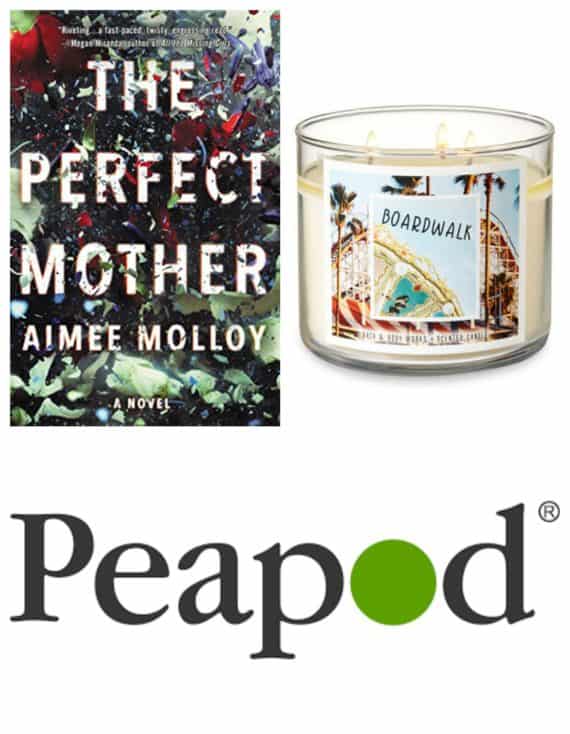 And finally some random stuff…I'm reading The Perfect Mother and am really enjoying it! I saw that they are planning a movie and that Kerry Washington is attached to play a role. I did read a book called Bring Me Back and it was just meh… and also I downloaded Something in the Water and got about 1/4 of the way through and just didn't like it! Let me know, do I need to go back to it? Does it get batter? Is it worth it? I usually don't quit books, but I have had a few duds the past few months, and I am learning that I don't HAVE to finish them! ha! I have always been a book finisher, no matter how bad. But you know what? There is no reason for it!
Also, of course I am loving my summer candles! Boardwalk is my most favorite right now, and pretty much every summer!
And can we talk about Peapod for a quick second? I am in no way affiliated with Peapod, but I freaking love it so much. It's a grocery delivery service that I've been using now for about a year and I am obsessed. I have a big order delivered twice a month or so, and it is a LIFE SAVER! I schedule out my grocery orders in advance, and when I know I am going to be out of town, I plan for a shipment to be delivered as soon as I get back. They have everything, the process are great and I am just in love. Like I said, I'm not sponsored by them, but if you sign up through my link you can get 60 days of free delivery! Delivery after that costs me like $6.50 (I think?) which is WELL worth it to me, because if I go to the store I spend way more than that in impulse purchases.
I've already got my grocery order planned for the day after we get back from Alaska. AND you can update it until midnight the night before delivery. So yeah. Love.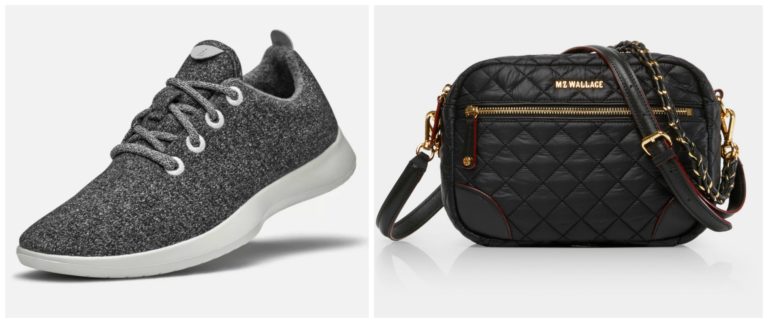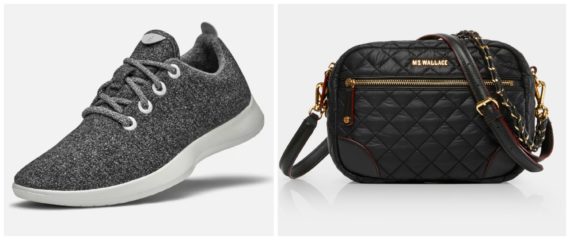 Finally I picked up 2 things for our cruise…first, I got these All Birds sneakers. I have seen them all over in the past few months, and heard how comfy they are. So I decided to give them a shot, since I knew we would be doing a lot of walking, and thought they look little nicer than regular sneakers.
I got the wool because they are supposed to be so cozy, and almost slipper-like, and I will tell you they are really great! For me, they are true to size…I am a pretty solid size 8 and these fit perfectly.
And second, I got this MZ Wallace Crosby Crossbody bag. It is absolute perfect for travel. It's small enough that you are lugging around a tote, but holds an insane amount. It's so roomy, with tons of pockets and zippers. It's super lightweight, and comes with 3 straps…a long, canvas adjustable crossbody strap, a leather shoulder strap, and a woven, leather and metal strap that is perfect to dress it up a bit. One purse and it literally does it ALL! You know I am a huge fan of MZ Wallace bags…have been for years…and this is such a great addition to my collection. I've been carrying it since I got it last week!
So that's it for July…let me know if you have any favorites, and wish me luck on our cruise!
*As always, this post contains a few affiliate links. I bought everything in this post with my own money, and none of it is sponsored. Thank you!!