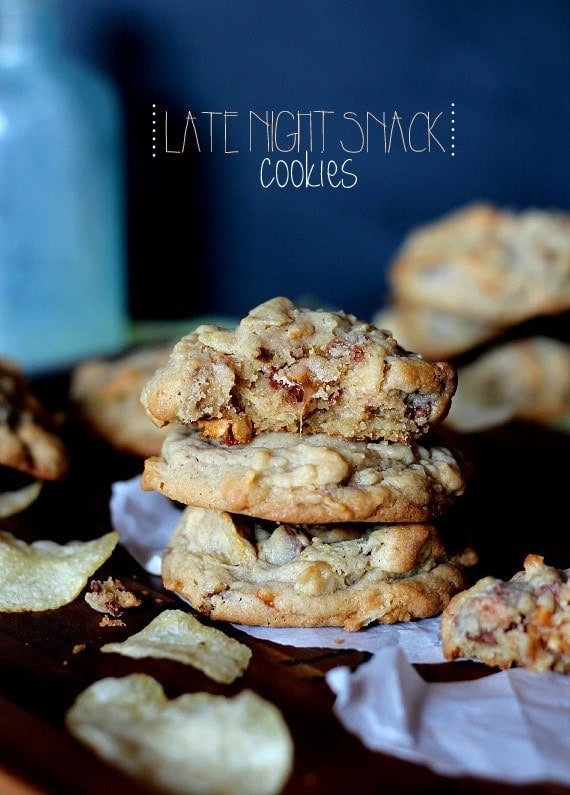 I'll admit, I have never been a late night eater.
Most likely because I can't seem to keep my eyes open past 10:00. But I hear that late night snacking is a whole thing. I get it, honestly…I mean, you're sitting there watching an episode of Grey's…what else are you supposed to do with your hands?
Clearly taking up crocheting is not an option for me, which means busying my hands with cookies is really the only other option.
So, my kids (ahem) are obsessed with the Ben & Jerry's flavor Late Night Snack…besides loving Jimmy Fallon, it might be the perfect ice cream in all the land. It's Vanilla Bean Ice Cream with a salty caramel swirl and fudge covered potato chips…hellooooo.
In that vein I decided to turn the ice cream into a cookie. For late night eating.
Late Night Snack Cookies.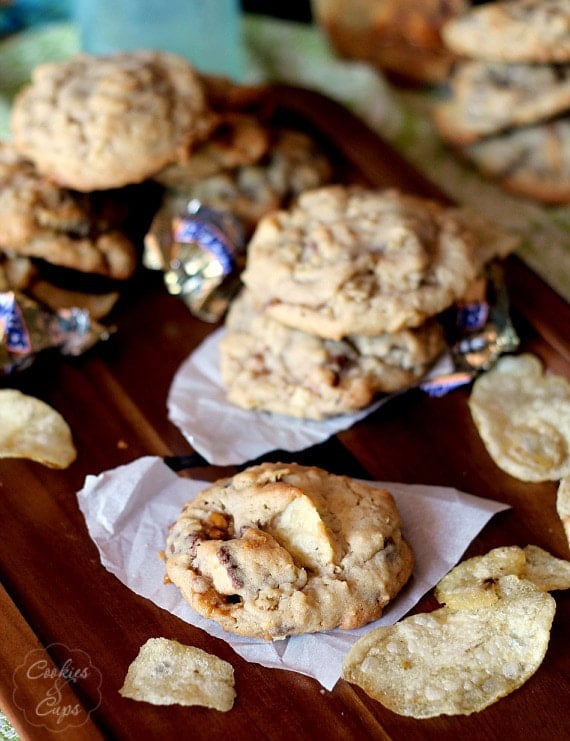 What I decided to do was use a sturdy cookie base, add in some chopped Snickers bars, which would add the caramel/chocolaty bits and then pulse in some thick cut potato chips at the very end…the integrity of the chip was muy importante to me.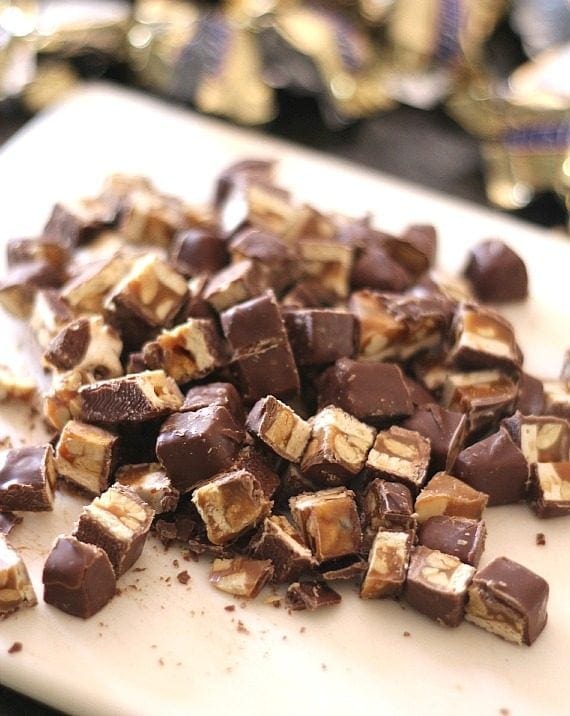 Start by chopping up some candy…and then freeze it for at least an hour… Freezing it will keep the caramel from oozing out all over the place. Trust me on this one!
Then go ahead and make your dough.
One egg, plus a yolk… that's what I did here. The yolk adds a nice fat and richness to the batter…and I didn't want the cookie to spread too much.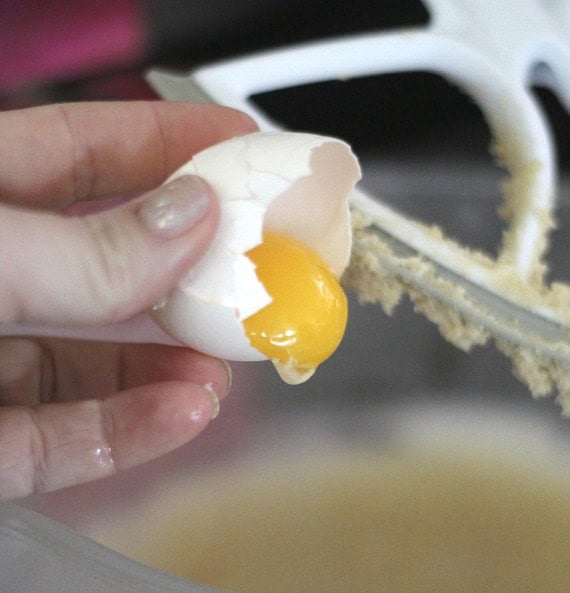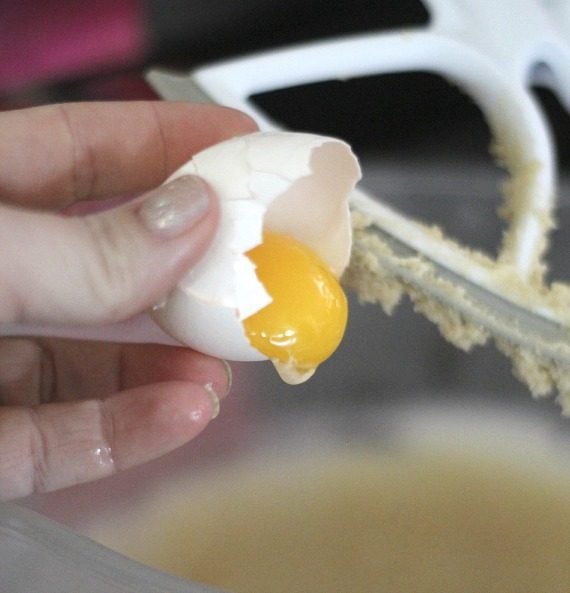 I also added a tablespoon of heavy cream to the dough..again, a little extra fat never hurt a cookie.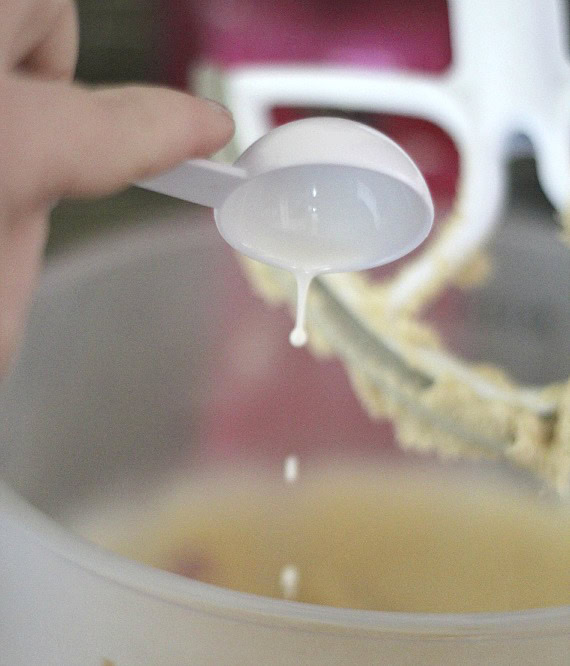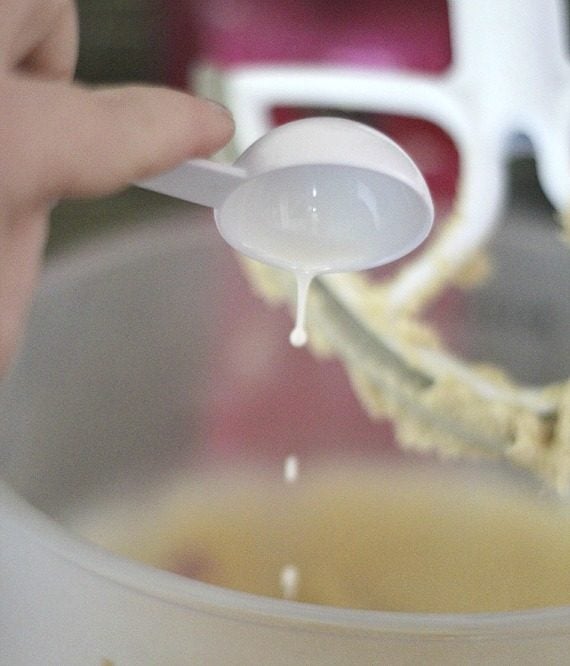 After I had all the ingredients in the dough I lastly added about 5 cups of potato chips.
Pour them into your mixing bowl and pulse it a few times. You don't want them to break up too much…having the big pieces of the chips poking out adds a nice crunchy/salty bite.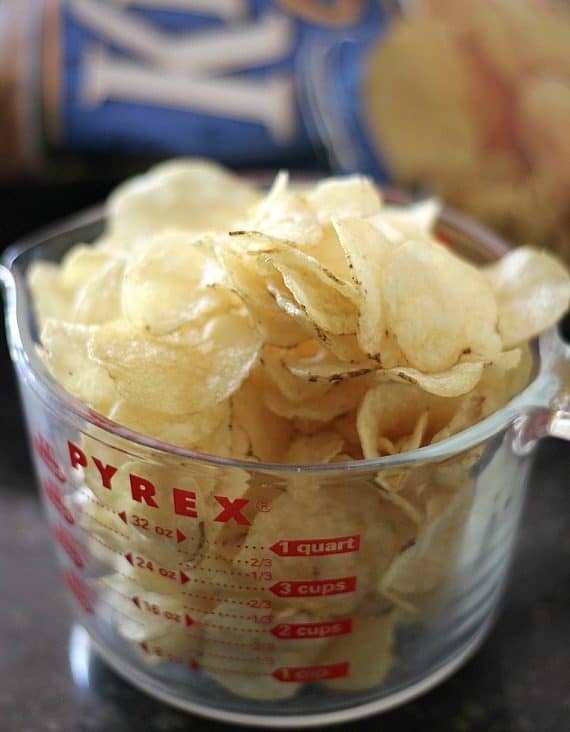 Just drop heaping tablespoons of the dough onto a lined baking sheet and give it about 9-10 minutes in the oven!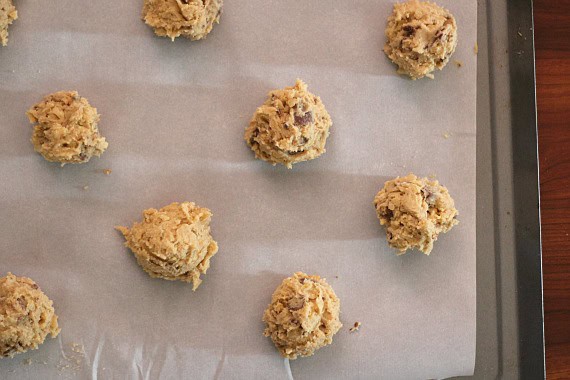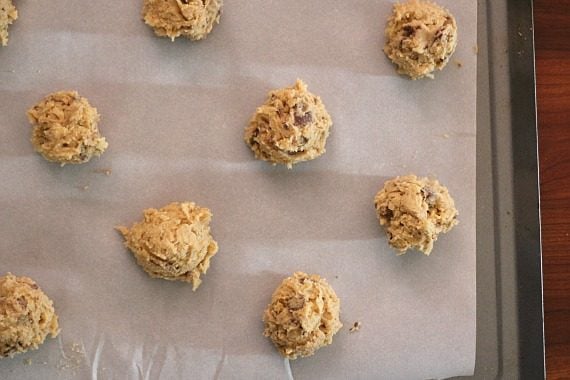 That's it.
Cookies beat crocheting any day 🙂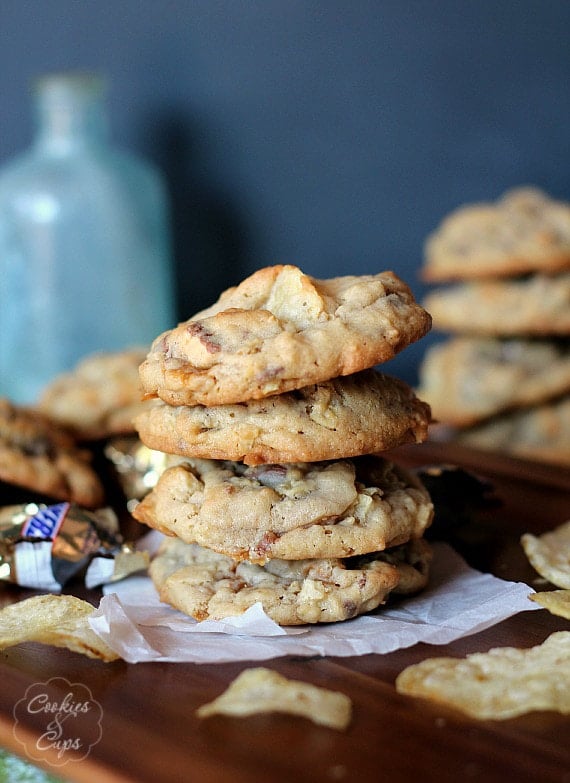 Print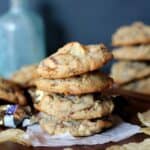 Late Night Snack Cookies
---
---
1 cup

butter, room temperature

1 1/4 cups

light brown sugar

1

egg +

1

yolk

1 Tbsp

heavy cream or milk

1 Tbsp

vanilla

2 1/2 cups

flour

1 tsp

baking soda

1/2 tsp

salt

3 cups

chopped Snickers candy, frozen

4

–

5

cups thick cut salted potato chips (I used Kettle Chips)
---
Instructions
Preheat oven to 350°
Line baking sheet with parchment paper, set aside.
In bowl of stand mixer cream butter and sugar for 2 minutes until light and fluffy.
Turn mixer to low and add in egg, yolk, milk and vanilla. Increase speed to medium and mix until smooth and incorporated.
Turn mixer back down to low and add in flour, baking soda and salt, mixing until combined.
Add in Snickers candy and mix until evenly distributed. And finally add in potato chips and pulse until combined. Don't over mix, as all the chips will break up too much.
Drop by heaping tablespoon onto lined baking sheet and bake 9-10 minutes until edges are golden. Allow to cool 2-3 minutes on baking sheet and transfer to a wire rack to continue cooling.
---
Notes
store airtight for up to 3 days.
Want To Save This Recipe?
Find more recipes like this: