I finally went and saw The Hunger Games this weekend with my book club girls.
To plan any sort of outing with my lady-friends it requires no less than 7 million emails back and forth.
That's not an exaggeration.  I counted.
Can anyone explain this to me?
Who is riding with who? Who is buying tickets ahead and who is getting them at the box-office?  Are we going to eat dinner?  Where are we eating?  Are we eating before or AFTER the movie?  How early shall we get there?  What time are you picking me up?  What color shirt are you wearing? AHHHHHHHHHHH!
My husband and his dudes plan something and they are able to figure out the plan within a series of grunts.
How do they DO that?
Also, I might add if plans aren't NAILED DOWN you are basically predestined to stand around in the moment looking at each other until someone makes a decision.  The simple question, "Where should we eat?"  sends 10 women into a downward spiral of indecisiveness and awkward eye contact.  At home we're all email ninjas, shooting our opinions  across the Internets with gusto, but standing around looking at each other in human-form, we all put on our "laid-back", "go-with-the-flow" costumes and decisions take hours.
I have to say, as much as I love making fun of my friends, I too, succumb to "large group apathy".  I was right there with them, saying "Makes no difference to me", "I'll do whatever"… which we all know that's a straight-up lie.  I am not in any way shape or form easy-breezy.
But yeah, we went and saw the Hunger Games.  Then we ate.  And since no one could decide where to eat, we went to a Diner.  Where I decisively ordered Disco Fries. 
It was a good night.  Love you ladies!
Another thing I did this weekend was make cookies.
Cookies that are mixer to mouth in 10 minutes.  Life is good.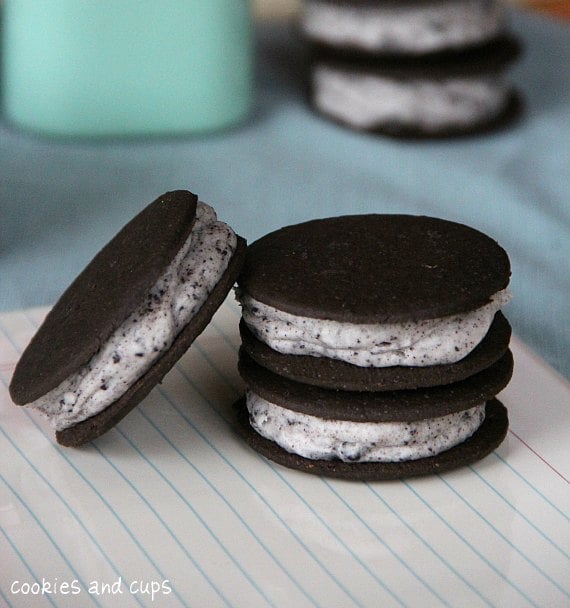 Start with some Nabisco Chocolate Wafers…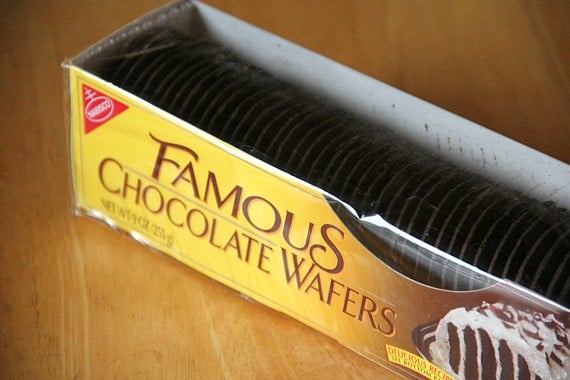 The magic is in the filling.  You've got cream cheese, butter, Oreos and powdered sugar.
Lay your wafers out…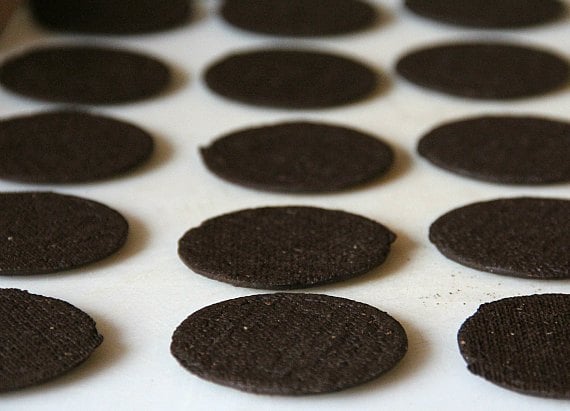 Squeeze on some filling…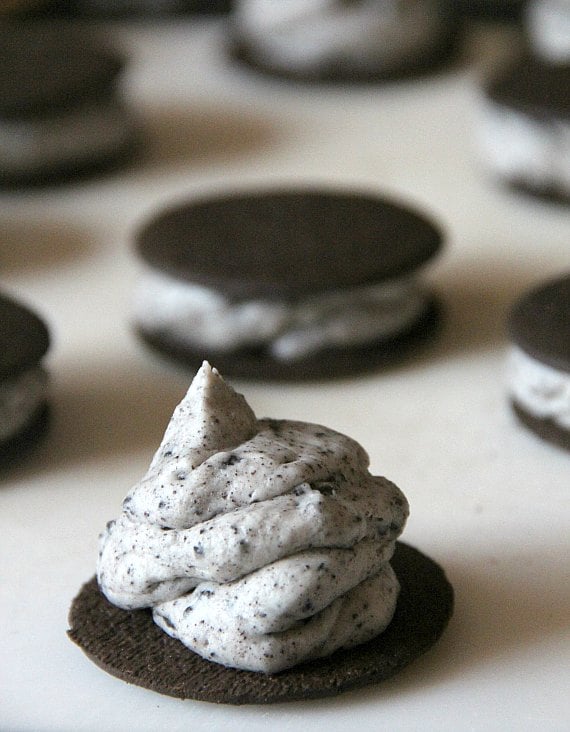 And top with another cookie.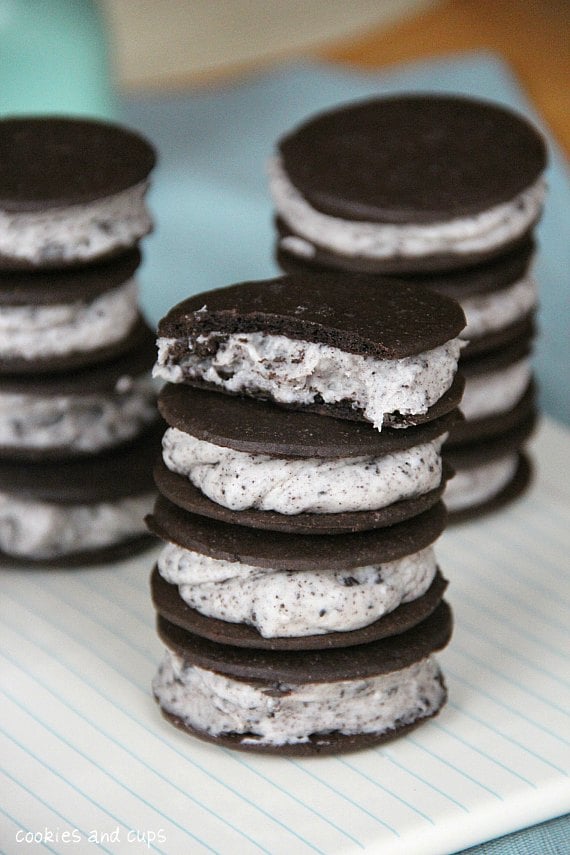 Apparently my easy-breeziness manifests in the form of sandwich cookies.  Hey, I'll take what I can get.
Print
Oreo Cheesecake Frosting filled Sandwiches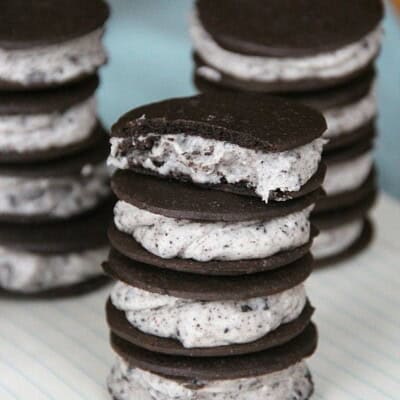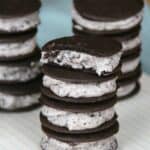 ---
Description:
makes 20 sandwich cookies
---
Ingredients:
40

Chocolate Wafer Cookies (I used Nabisco)

8 oz

cream cheese, room temp

1/2 cup

butter (

1

stick), room temp

4 cups

powdered sugar

12

Oreo cookies, crushed
---
Instructions
In a mixer, beat butter and cream cheese until smooth, approx 45 seconds.
On low speed add in your powdered sugar
Once all powdered sugar is added, raise speed to medium and beat for 25 seconds.
Turn mixer back down to low and add in crushed Oreos until evenly incorporated.
Transfer filling to a piping bag fitted with a large, open tip, or a ziplock bag with corner cut forming a 1/2 inch hole.
Line 20 of your wafer cookies on a flat surface and squeeze approx 2 Tbsp filling onto each. Top with remaining cookies, forming sandwiches.
---
Notes:
Store in refrigerator for up to 3 days. You could also freeze for up to a month.
Cookies are best if made ahead and chilled so the cookie has time to soften.
Want To Save This Recipe?