Peanut Butter and Jelly Cookies are thick peanut butter cookies stuffed with peanut butter chips, creamy peanut butter and jelly! Just like your favorite childhood sandwich in cookie form!
Can you even deal with how absolutely out of control these Peanut Butter and Jelly Cookies are? If you haven't really looked at that top picture above, take another second and just give it the attention it deserves. I am telling you that transforming my most favorite lunchbox treat into a cookie was a labor of love. I am pretty picky when it comes to peanut butter cookies. I don't like them when they are crumbly, or too peanut buttery if that makes sense. I feel like I perfected peanut butter cookies with my Soft Peanut Butter Cookie Recipe. So when I first began developing this PB&J Cookie I used that cookie recipe as a starting point. Unfortunately it didn't work because while they are perfect on their own, they aren't thick or sturdy enough to hold all the delicious filling that I stuffed into these! But after a little tweaking, I nailed it. I am telling you that these cookies are my new favorite food group.
These Peanut Butter and Jelly Cookies are thick, buttery peanut butter cookies, with a crackly top, stuffed with creamy peanut butter, strawberry preserves and peanut butter chips!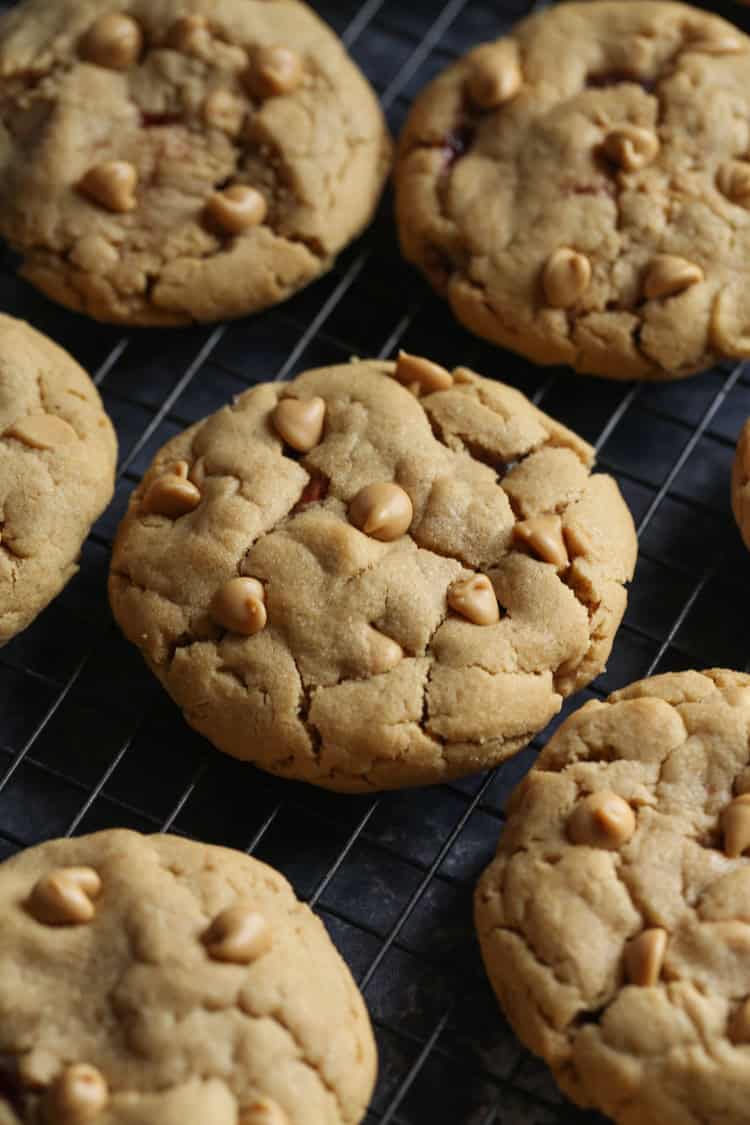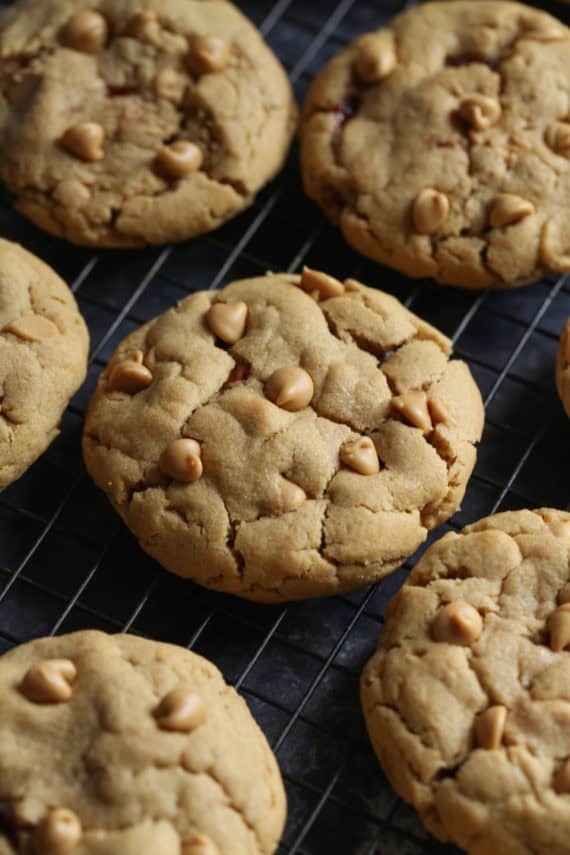 If I haven't swayed you enough with the description of how good these cookies are, let me tell you how easy they are to make! The peanut butter cookie base is a combo of peanut butter and butter. You CAN make peanut butter cookies with just peanut butter and no butter, but peanut butter doesn't have as high a fat content as butter, so I find that I prefer the texture of a peanut butter cookie that is made with the combo of peanut butter AND butter.
Sidenote: I have a recipe for Flourless Peanut Butter Cookies that works without butter due to the lack of flour, and they are great, but they won't work for this recipe.
Freeze Small Dollops of Peanut Butter. Before you start making the cookie dough, line a plate with wax paper or parchment paper. Drop little spoonfuls of peanut butter onto the prepared plate. This doesn't have to be exact or pretty, so don't worry about that. The amount you will need is about 3/4 teaspoon of peanut butter. Since you might not have a 3/4 teaspoon measuring spoon, you can eyeball it with a heaping 1/2 teaspoon or a scant full teaspoon. Make sense? Don't get too hung up on this. Place the plate in the freezer while you make the dough. Also, you might be wondering why I don't freeze the jelly/preserves. Well, I tried and it really doesn't ever get solid, so it's not worth the trouble!
Make the Cookie Dough. This is super easy and straightforward. AND you don't have to chill the dough!
Stuff the Cookies. Use a large cookie scoop, and I'm talking LARGE. You will need 3 1/2- 4 tablespoon scoop! These will be big cookies, and if you are using my proportions of peanut butter and jelly filling, you will need this amount of cookie dough. Make a well in the center of the dough and spoon in 3/4 teaspoon of jelly and then place in one of your frozen peanut butter nuggets. Form the dough carefully around the filling doing your best to seal it in!
Bake! Place them on a baking sheet with enough space for them to spread, and bake them until the edges get slightly golden and the tops start to crack slightly. Then press some more peanut chips on top to make them pretty!
Let them cool! You will need to allow these cookies to cool for at least 5 minutes on the cookie sheet before transferring them to a wire rack. They will be soft due to the filling and need to set up. If you try and move them too soon they will break.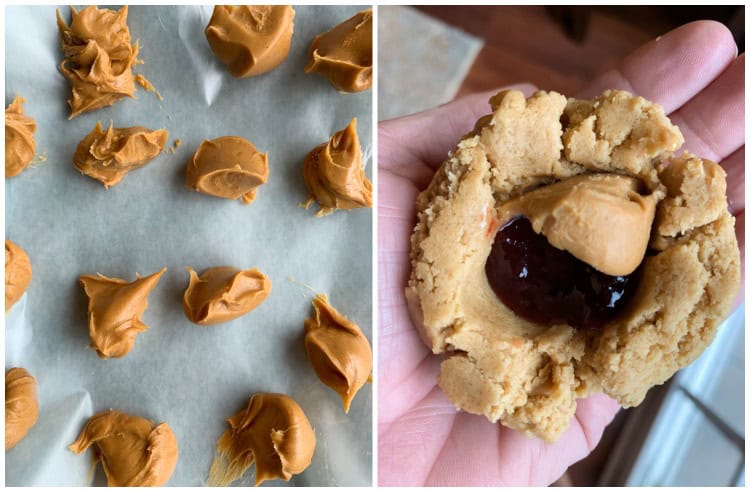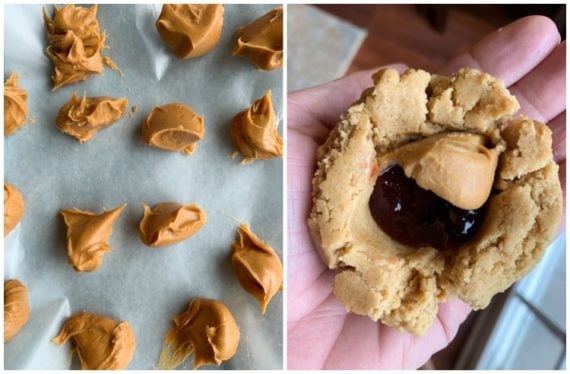 What Kind of Jelly Can You Use?
You can use any flavor you prefer. Obviously grape or strawberry are the go-to. I have also found that I prefer using strawberry preserves in this recipe most often because preserves have bits of strawberry which I love, but certainly use what you prefer!
Can You Use Crunchy Peanut Butter?
You can, for sure. I don't love crunchy peanut butter, I'm more of a creamy girl, but you can. OR use creamy peanut butter in the cookie dough, and use crunchy for the filling. Up to you! Since I added peanut butter chips to this recipe, you really don't NEED the crunchy peanut butter for texture.
Do You Need to Chill These Cookies?
Nope! But you certainly can. You can easily assemble these cookie before baking them and chill the dough balls, or you can chill the dough if you're doing things ahead. But if you do chill the dough before you assemble them, make sure that you allow the dough to come up to room temperature before you stuff them, otherwise the dough will be difficult to work with.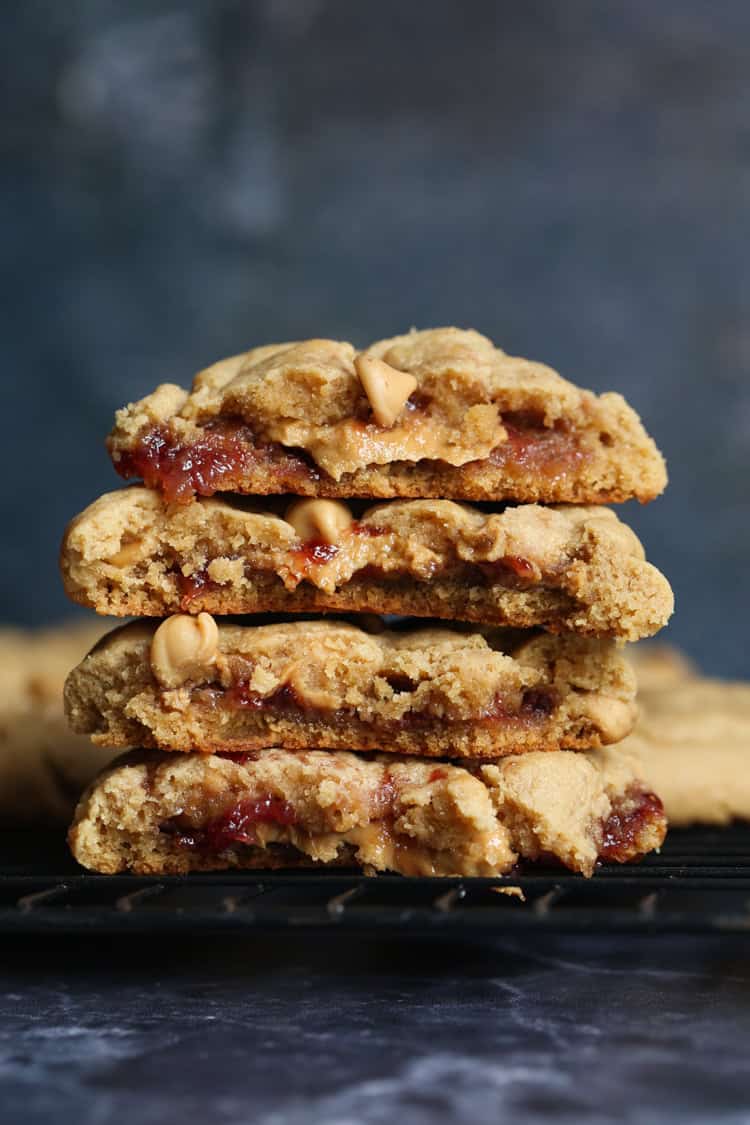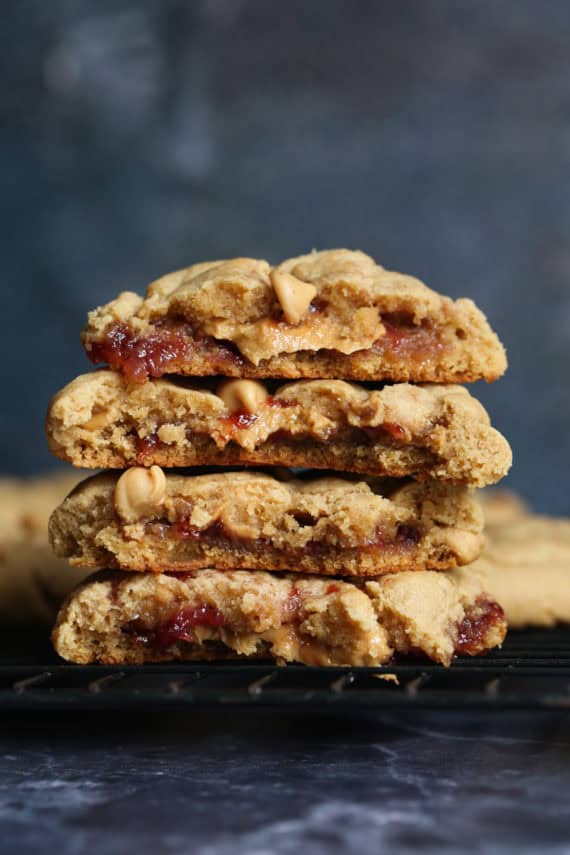 I really think you will love these Peanut Butter and Jelly Cookies so much. And if you make them, don't forget to share them on Instagram! I love seeing your creations!
Love Peanut Butter Cookies? Try These Recipes:
Print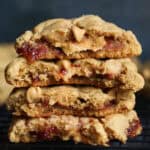 Author:

Prep Time:

20 minutes

Cook Time:

12 minutes

Total Time:

32 minutes

Yield:

15

large cookies

1

x

Category:

Cookies

Method:

Oven

Cuisine:

Dessert
---
Description
Your favorite childhood sandwich now in form!
---
1 cup

creamy peanut butter, plus 1/4 cup, divided

1/2 cup

butter, room temperature

1/4 cup

granulated sugar

3/4 cup

light brown sugar

1

large egg

2 teaspoons

vanilla extract

1 teaspoon

baking soda

1/4 teaspoon

kosher salt

1 1/2 cups

all-purpose flour

1/2 cup

peanut butter chips, plus 1/4 more for optional garnish

1/4 cup

strawberry preserves or jelly
---
Instructions
Preheat oven to 350°F. Line a baking sheet with parchment paper and set aside.
Reserve 1 cup of peanut butter for the cookie dough. Set aside.
Line a plate with wax or parchment paper. With the remaining 1/4 cup peanut butter, scoop out 3/4 teaspoon portions and place them onto the prepared plate. You will need 15 small "dollops" of peanut butter. They don't need to be exact. Place the plate in the freezer while you prepare the cookie dough.
In the bowl of your stand mixer fitted with the paddle attachment mix together 1 cup of peanut butter and the butter until smooth. Add in both types of sugars and mix for 2 minutes on medium speed.
Add the egg, vanilla, baking soda, and salt and mix for 30 seconds, until combined, scraping the sides of the bowl as necessary.
Turn the mixer to low and add in the flour, mixing until just incorporated. Stir in the peanut butter chips.
Using a large cookie scoop (3 1/2 tablespoons) portion out the dough. Remove the plate with the peanut butter dollops. Make a large well in the cookie dough. Scoop out 3/4 teaspoon of the strawberry preserves and place this into the well of the cookie dough. Top this with one of the frozen peanut butter dollops. Form the dough into a ball carefully around the peanut butter and jelly, doing your best to seal it in. Repeat the process with remaining dough, peanut butter and jelly. If working in batches, place the peanut butter scoops back into the freezer to remain firm.
Place the dough onto the prepared baking sheet 2- inches apart. Bake for 12 minutes, or until the edges are lightly golden and the tops start to crack.
Remove the cookies from the oven and press additional peanut butter chips onto the tops as a garnish, if desired.
Allow the cookies to cool on the baking sheet for 5 minutes before transferring to a wire rack to cool completely.
---
Notes
You can use any flavor of jelly or preserves that you prefer.
Store airtight for up to 3 days.
Nutrition
Serving Size:

1 cookie

Calories:

322

Sugar:

17.1 g

Sodium:

213.3 mg

Fat:

20 g

Carbohydrates:

30.7 g

Protein:

7.4 g

Cholesterol:

29.9 mg
Keywords: cookies and cups, cookie recipe, peanut butter cookie, peanut butter and jelly, jelly, jam, preserves
Want To Save This Recipe?
Find more recipes like this: