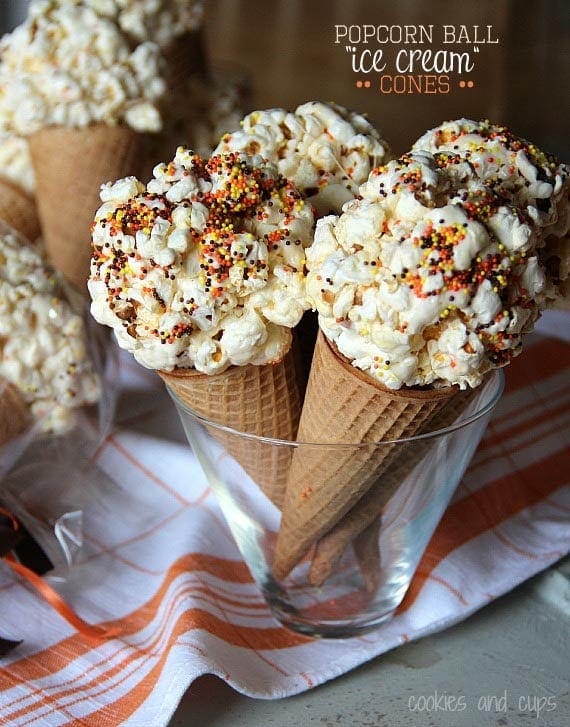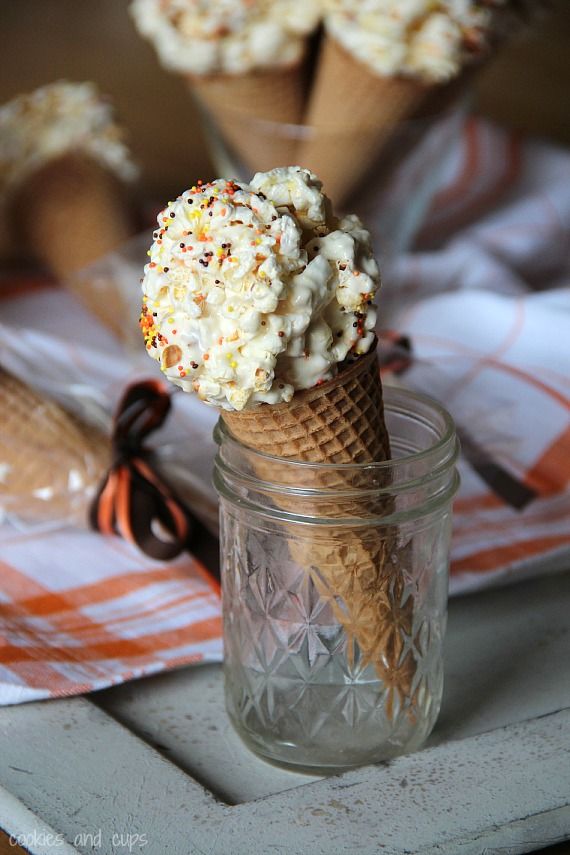 Don't you just love it when an idea actually works the way you want it to?
Obviously I have this blog and obviously I am constantly thinking of stuff to make…
And sometimes I have an idea that fails miserably. Like adding pumpkin pie filling into rice krispie treats.
Totally gross. Don't try it.
Or chopping up Milky Way candy bars into a cookie and having the caramel burn all over the baking sheet.
Total smelly mess.
…or try and come up with the best brownie recipe ever and completely forget to add eggs.
Bad bad bad.
But then I have ideas like these…Popcorn Ball "Ice Cream" Cones.
Stick a buttery, marshmallowy, popcorn ball on top of a sugar cone and then step back and stand slack jawed, marveling at your fake ice cream cone-cuteness-invention wondering how your brain got so awesome. Was that a run-on?
That happened. Today. For real.
And I have to say that slack-jawed awesome-staring isn't that cute a look…I mean, in case you were wondering.
It's one of those "feels better on the inside" faces.
annnyway…
Yeah I made them.
And didn't google them.
Because I want to live in a world where I invented these.
The end,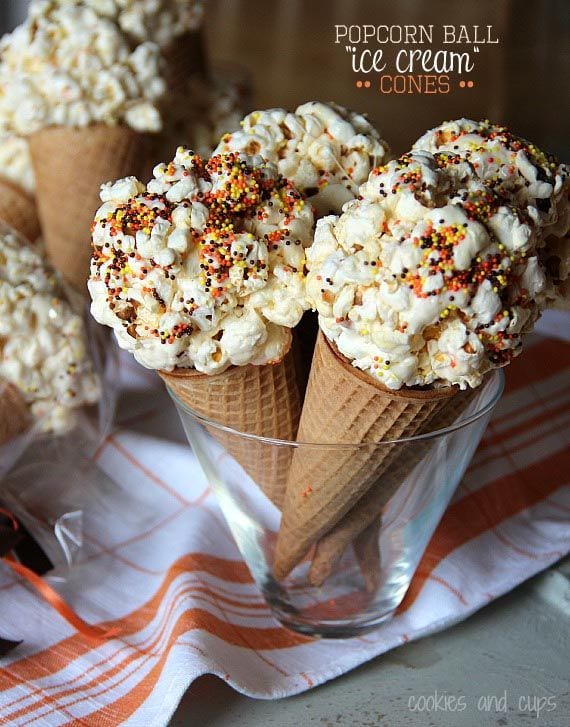 And what's even better is they are major simple.
Like ten minutes and you're a popcorn ball goddess.
Just do your popcorn in the microwave…
2 bags, please.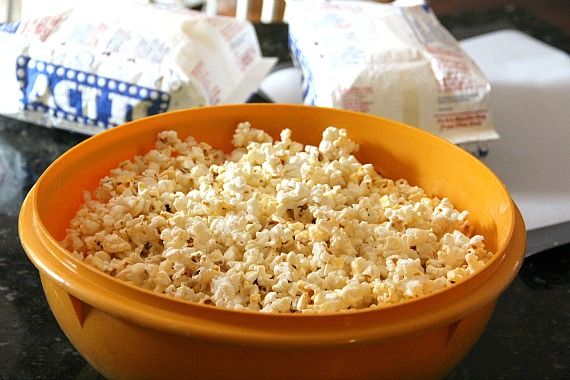 Then pick out those pesky unpopped kernels.
Next get your sugar cones ready…which basically means, open the box.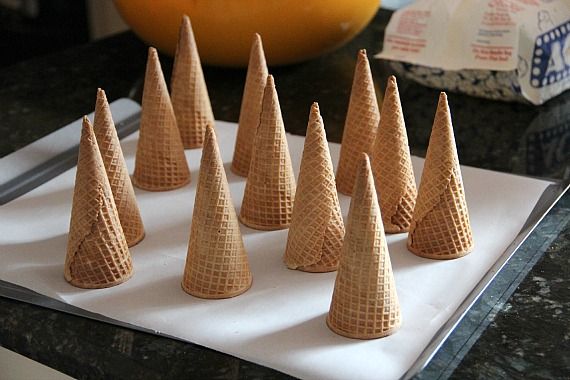 I filled my cones with some M&Ms. I used the festive Candy Corn flavored ones. You totally don't have to.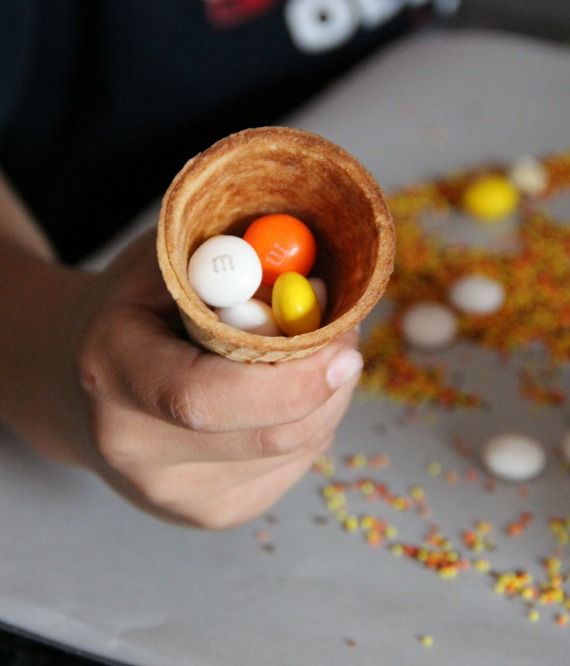 Then I melted some butter and marshmallows together.
Don't my marshmallows look romantical?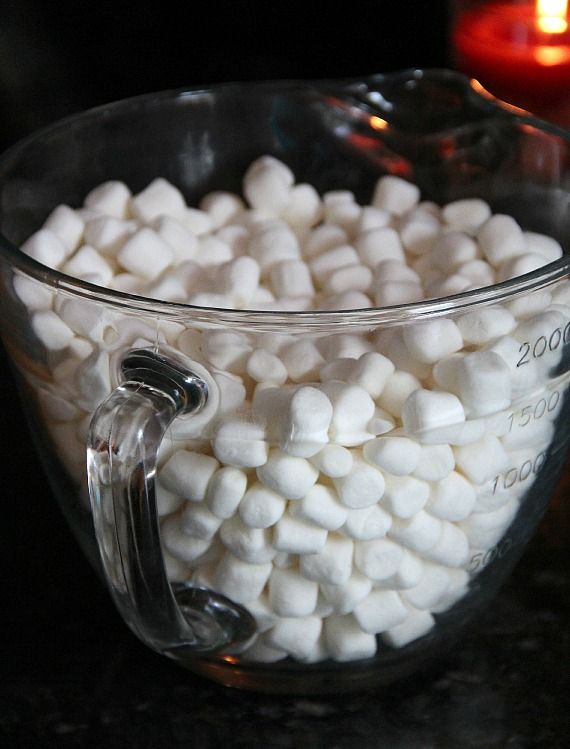 Pour that bad-assness on your popcorn.
And stir til you can't stir no more.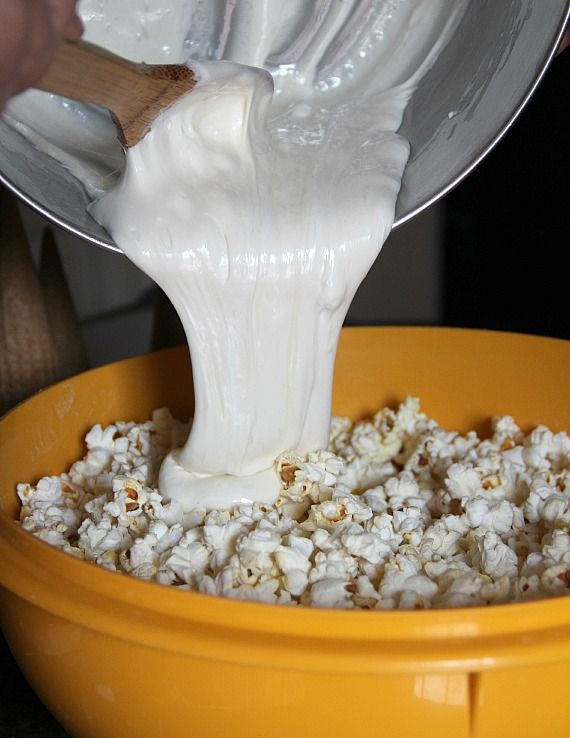 Now move quick, people…that marshmallow gunk will cool off fast and then it's all for nothing. You've been warned.
Form your popcorn into 3″ balls. I actually added a bit on the bottom of each to fit in the cone..I found that it helped them stick a little better.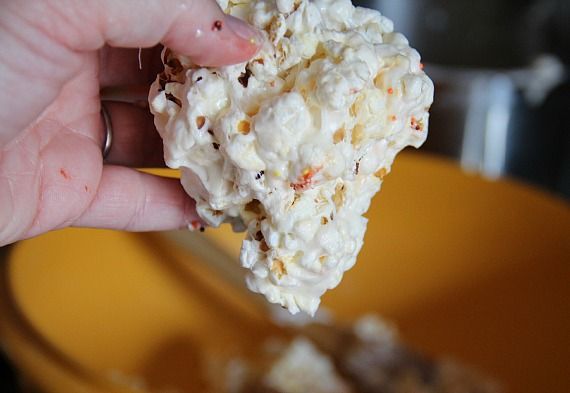 Now gently press your popcorn ball onto the cone.
I said GENTLY!
Also, you might need to buy a few extra cones, you know just in case. (I may be speaking from personal experience).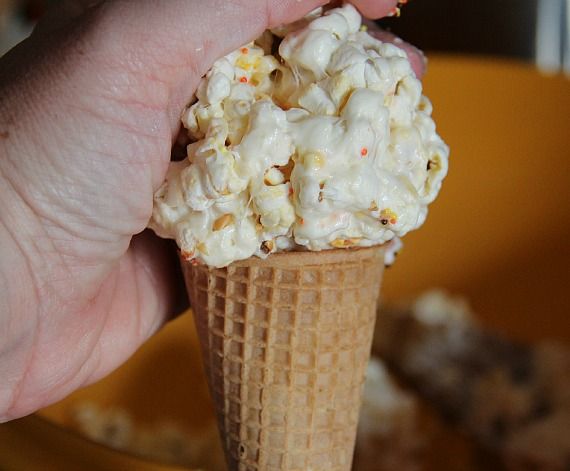 And here's a great time to get the kids involved…have them immediately dip the cone into some sprinkles while you start the next one.
Remember, you're moving quickly!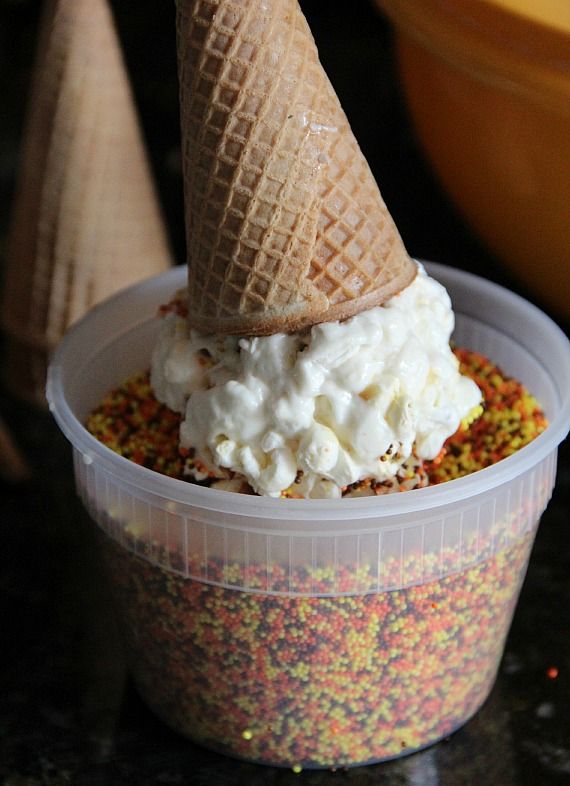 And it's possible you might end up with a mess…
Again, personal experience.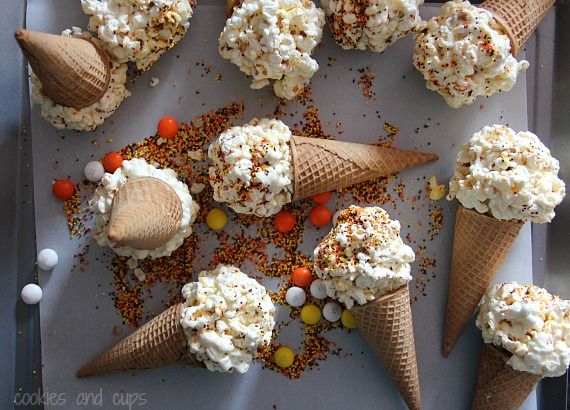 And really, it would be wrong not to package these up in cute bags with ribbons and love, wouldn't it?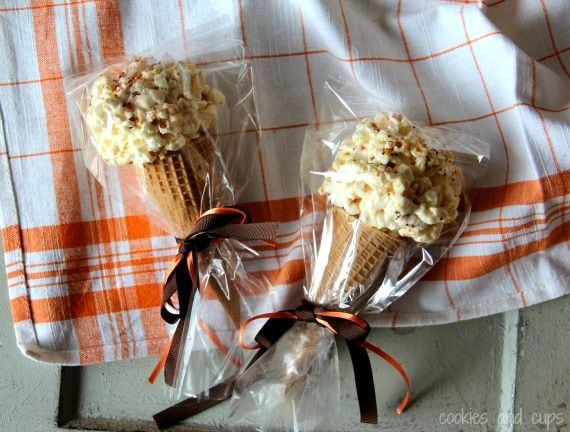 And then ask your orange sweatband wearing kid to hold it so you can take a picture. Like a boss.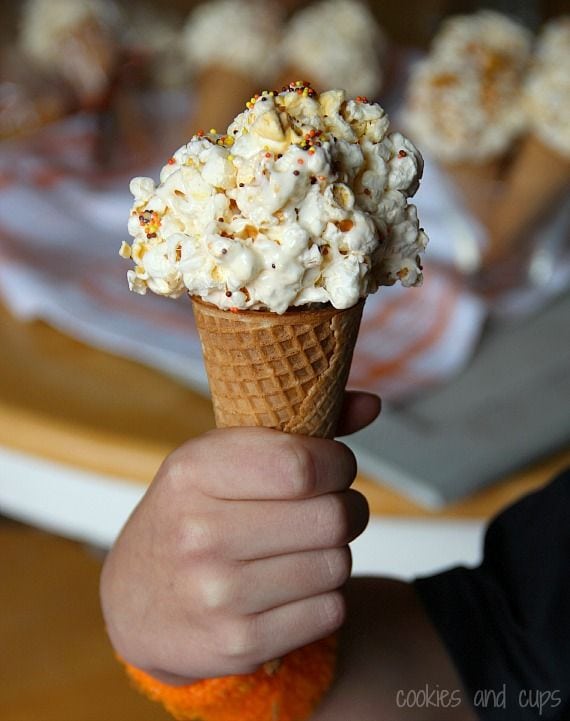 Print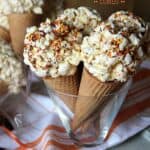 Popcorn Ball "Ice Cream" Cones
---
---
2

(2.75 oz) bags buttered microwave popcorn, popped

8 cups

mini marshmallows

1/4 cup

butter

12

sugar cones
optional ~ sprinkles and M&Ms
---
Instructions
Pop popcorn according to package directions. Pour in a large bowl and remove any unpopped kernels.
If you are filling your cones with M&Ms do this now and set aside.
Also, if you are garnishing with sprinkles, it's easiest to pour the sprinkles into a bowl so you can dip your popcorn ball into them. Do that now, and set aside.
In a large sauce pan melt butter over low heat. When melted add in marshmallows and stir until melted.
Pour over popcorn and stir until coated completely and evenly.
Immediately spray your hands lightly with cooking spray and form into 3″ balls and press gently onto the cone. You need to do this gently so the cone doesn't break.
As soon as the popcorn is on the cone dip in your sprinkles.
Transfer to a wax paper lined counter or baking sheet to set up.
Individually wrap or store in an airtight container for up to 2 days.
---
Notes
Having your kids help to dip the cones in the sprinkles is a huge help and a fun way to get them involved!
Want To Save This Recipe?
Find more recipes like this: