These Pumpkin Pie Pockets are as cute as they are delicious!!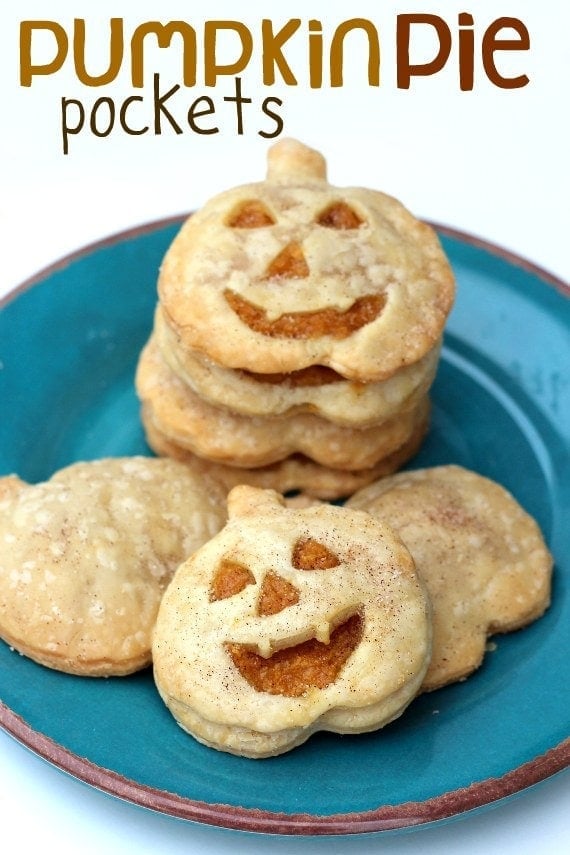 I'm not a huge pumpkin fan. Pumpkin Spice, YES. Actual pumpkin…not as much. And while, I haven't fully flipped into eating pumpkin pie…but I have flopped into a "small-amounts" liker.
I'm basically halvsies on pumpkin. Sometimes it's great, other times it makes me gag.Kinda like the way I feel about quinoa or James Franco.
So here is a small amount pumpkin recipe. Perfect for those of us on the pumpkin-texture fence…Pumpkin Pie Pockets..heavy on the crust, light on the pumpkin. Everything is best in moderation.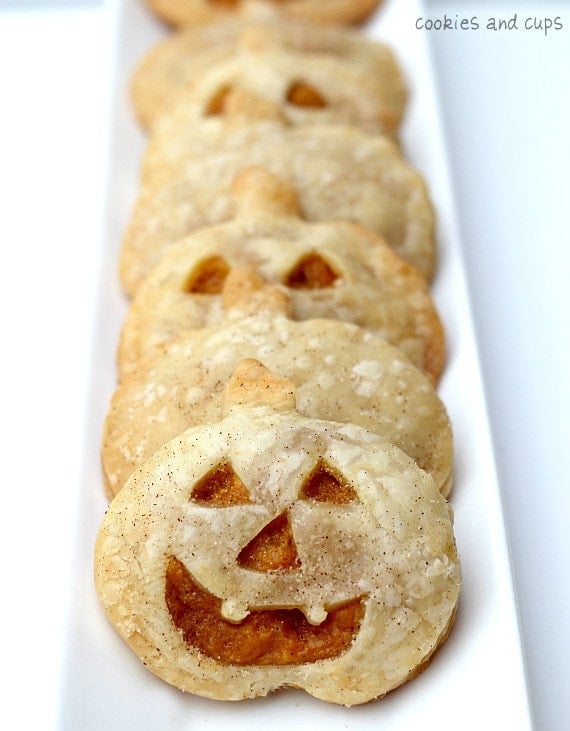 The day before I made these I put together my filling. You could certainly use the pumpkin pie filling that you like best, but since I don't have one I thought I would experiment a little. I made a pumpkin filling that among some other boring ingredients included cream cheese and butter. It worked.
You certainly don't have to make the filling the day before…it was just a time saver for me.
When I was ready to assemble my little pockets I used pre-made pie crust that comes in the rolls.
I rolled it out a bit thinner. Thin is in, if you haven't heard…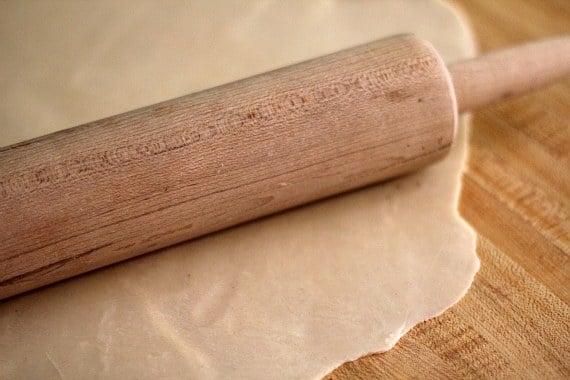 Then using my pumpkin cookie cutter I cut shapes.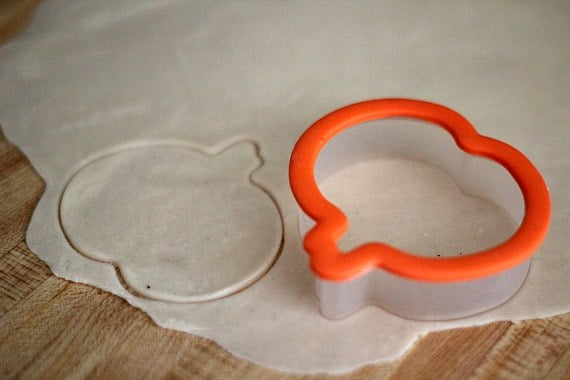 I decided to get a little fancy on some and cut faces 🙂 You don't have to…especially if you don't like your food looking at you. I get it.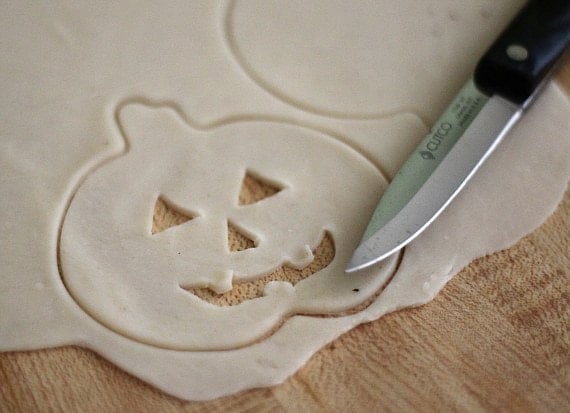 Then scoop about a tablespoon amount of your filling into the center of the bottom crust.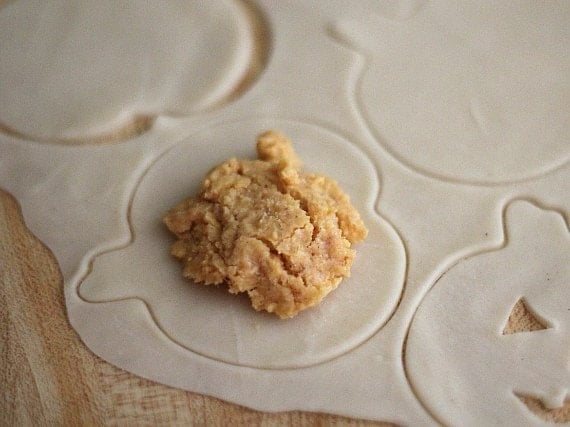 Wet the edges of the bottom crust with an egg wash ( a beaten egg and about 1 tbsp water mixed together) and place the top crust on top, pinches the edges closed.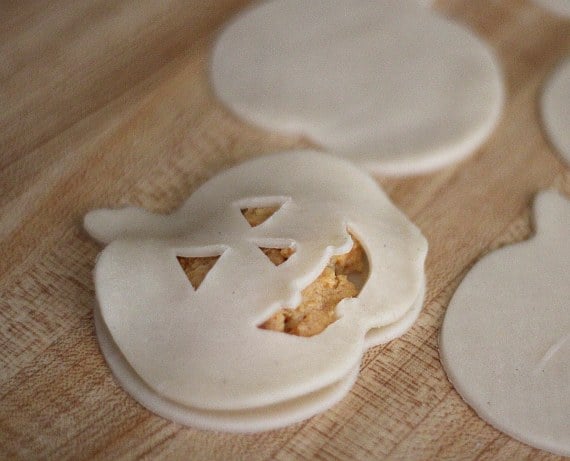 You could brush the top crust with a little egg wash too for extra shine, but I didn't. I forgot. That's life.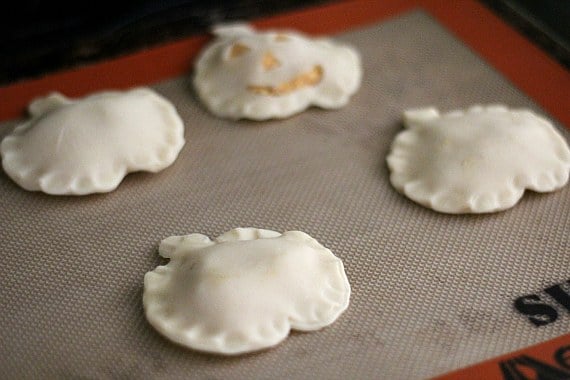 Bake at 350 on a parchment or Sil-Pat lined baking sheet for 15-20 minutes, until crust browns up.
When they come out of the oven you can sprinkle them with a little cinnamon sugar (2 tbsp sugar + 1 tsp cinnamon)
Let them cool and then eat. These are great warm or at room temperature.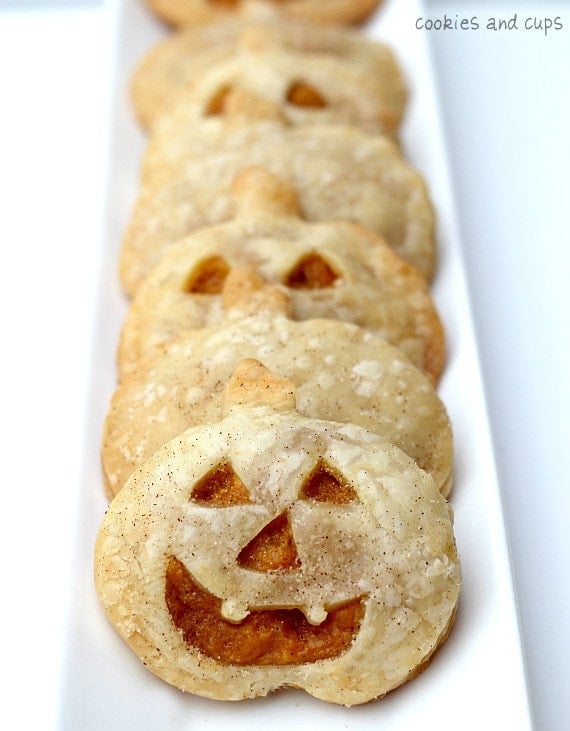 Print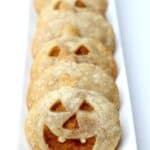 Pumpkin Pie Pockets
---
---
4 oz

cream cheese, room temp.

1 cup

canned pumpkin

1/2 cup

sugar

1/4 tsp

salt

1

egg yolk

1/2 cup

half and half

4 tbsp

melted butter

1 tsp

vanilla

1/2 tsp

pumpkin pie spice

2

store bought rolled pie crusts
egg wash (1 beaten egg and 1 Tbsp water)
Cinnamon sugar (2 Tbsp sugar + 1 tsp cinnamon)
---
Instructions
For Filling:
Preheat oven to 350
Spray an 8×8 pan with cooking spray, set aside.
In your mixing bowl beat cream cheese and pumpkin until combined and smooth. Add in your sugar and salt and mix until incorporated. On low add in your butter, half and half vanilla, pumpkin pie spice and egg yolk.
Turn mixer up to medium and mix until combined.
Pour mixture into prepared pan and bake for 20-25 minutes until set.
Let cool before filling your pie pockets.
Assembly:
Flatten your crust on a floured work surface. Roll the crust out a little thinner.
Cut your crust into rounds, approx 3″ in diameter.
Place 1 tbsp of pumpkin pie filling in the center of each.
Brush the edges with egg wash and place a top crust over filling and pinch edges.
Bake at 350° on a parchment lined baking sheet for 15-20 minutes until golden brown.
When done, remove from oven and sprinkle with cinnamon sugar.
Serve warm or room temperature
---
Want To Save This Recipe?
Find more recipes like this:
Save
Save