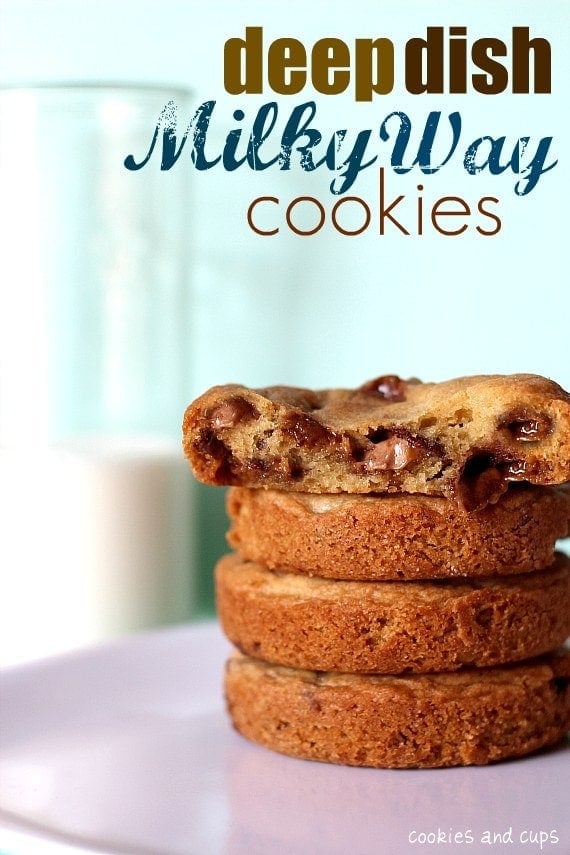 I am right in the middle of trying to teach my son a life lesson. I am not so sure how I got qualified to do this.
He's right smack dab in the middle of, "Well my FRIEND has a such and such…Why can't I have one too?"
Anyone who has children goes through this, I'm sure.
What I try and remind him of is that it's good when your friend has something different because it makes going to their house more fun.
Which is officially the lamest thing I think I have ever said as a parent.
Not only is it lame, but it's COMPLETELY untrue.
Here's why ~ when I see my friend in a great pair of shoes, I don't NOT buy them and just wait to go over to her house so I can wear them while I'm over visiting…
I'm thinking I wouldn't have many friends if I asked to do that. Hello, creeper.
I get that it's kinda different…but kinda not.
I'm not proposing to go out and buy your kids all sorts of toys, I'm just noticing a little bit of a double standard.
Here's a truth I should probably keep to myself…
When I was little I was obsessed with the movie The Goonies.
So much so that I wanted my parents to almost lose their house, so my friends and I could go on a scavenger hunt and find jewels from One Eyed Willy's stash to save the day…
Which now, looking back as an adult…the pirate was named "One Eyed Willy" which I find hugely inappropriate. Ok, moving on.
Beyond the treasure and the pirate and that bad-ass cavernous water slide, what I really wanted was Mikey's inhaler.
The poor kid had asthma, which was completely insignificant to me at the time. I was obsessed with his inhaler.
So obsessed, in fact, that I fashioned my own DIY inhaler…yes, I did…out of a Pushup Pop Lollipop and construction paper.
AND I tried to play it off that it was real. There is no doubt in my mind why I was not a popular person…no doubt at all.
So, while my parents could not give me asthma, hence no inhaler for me, I learned you couldn't always get what you want, all while making myself a complete social outcast sucking on a bright blue "inhaler" that was held together with masking tape.
Tough lesson.
So here's what I propose…avoidance and procrastination.
If your kid's friend has something your kid wants, just tell him "Maybe for your birthday", or "ask Santa".
Because you don't want him or her walking around trying to pass off a deck of cards as an iphone.
Save him from social suicide.
OR just be the house that always has cookies, then all the kids will want to come to YOUR house and your kid will never see what cool toys their friend's have.
Problem solved.
You can start with Deep Dish Milky Way cookies.
They are deep dish. They are Milky Way. They are delicious.
First and foremost you need to get one of these pans. It's essential to the happiness of your life moving forward.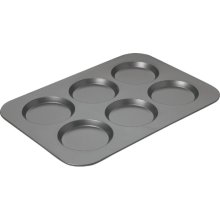 It's called a muffin top pan, but I have never once in my life made a muffin top. I do, however, make a LOT of deep dish cookies.
So here's what I did…
I chopped up an entire bag of Fun Sized Milky Way bars.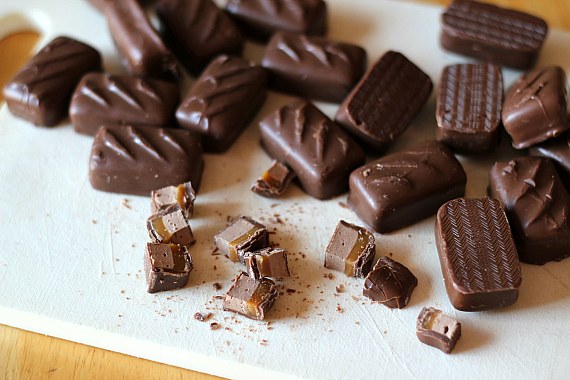 I mixed up a quick cookie dough batter and folded in my chopped Milky Way.
For these cookies I had to cut out circles of parchment to place in the bottom of each muffin top tin, because there is lots of caramel in these cookies and they will stick to the bottom if you skip this step…so DON'T skip this step!
I sprayed the pan with cooking spray, placed the parchment rounds in each cavity and then sprayed the parchment again lightly.
Then I filled the pan with 1/4 cup cookie dough for each cookie…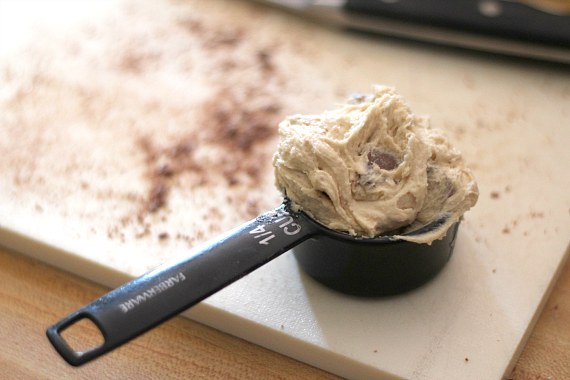 like so…
*please note that in this picture I DID NOT line my pan with the parchment rounds…this is how I know it's a necessary step 🙂 My next batch had a lined pan!
Here's a visual, stressing the point…this is a picture of the bottom of the cookie…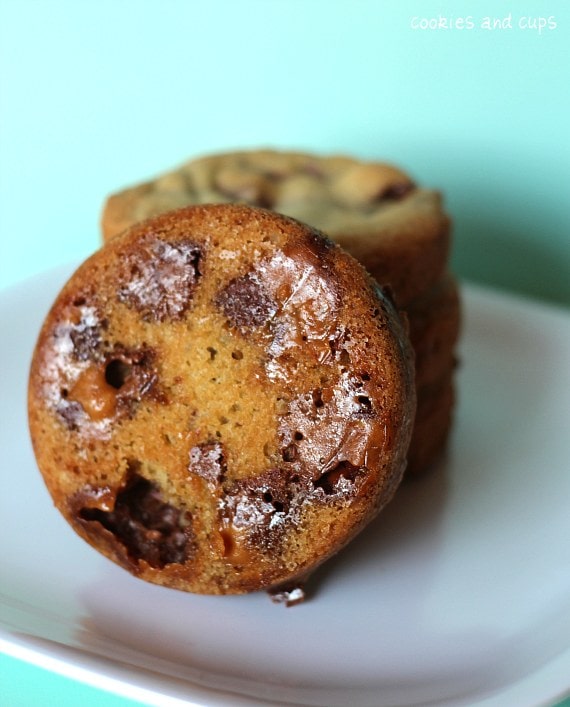 If you don't line the pan all that all that delicious caramel will stick and you will cry. Because losing caramel to an unlined pan is unsatisfactory. Lost caramel is a straight-up travesty.
If you don't have a muffin top pan, you can make these like regular drop cookies, but use less batter for each… a rounded tablespoon will do nicely.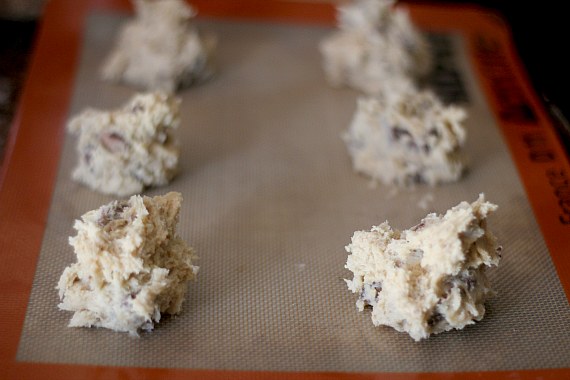 Bake at 350, in the muffin top pan you will need to bake them for about 13-15 minutes, until the edges are golden and centers are just set. If you bake them on a cookie sheet, lined of course, 8-9 minutes will be good.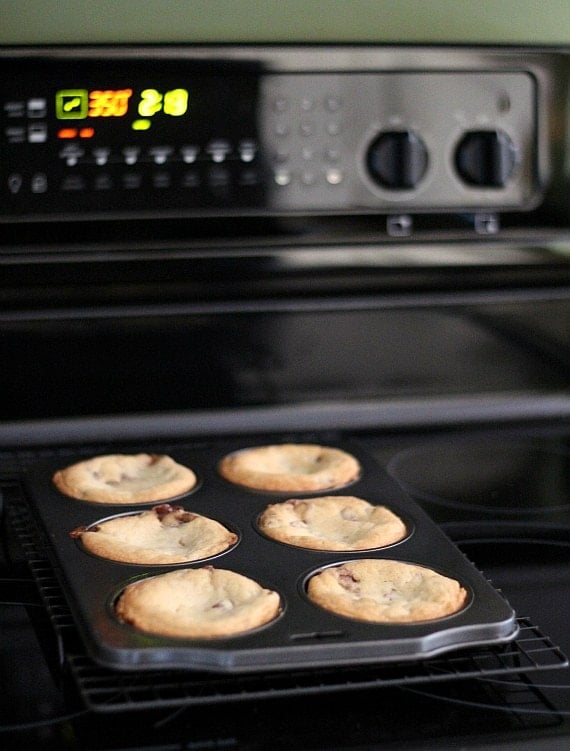 Let them cool in the pan for 5 minutes and then loosen the edges with a knife and flip onto a wire cooling rack.
Then eat!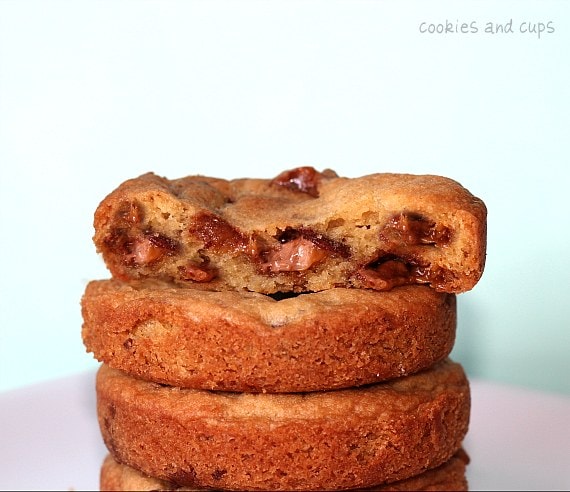 Print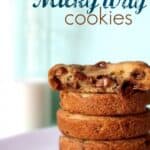 Deep Dish Milky Way Cookies
---
Description
makes approx 12-15 deep dish cookies, or 24 regular large-size drop cookies
---
1 cup

butter, 2 sticks, room temp

1 cup

dark brown sugar

1/2 cup

granulated sugar

2

eggs

2 tsp

vanilla

1 tsp

baking soda

1 1/2 tsp

coarse sea salt

2 1/2 cups

all purpose flour

1

(11.24 oz) bag of fun sized Milky Way bars, chopped
---
Instructions
Preheat oven to 350°
Prepare your muffin pan by first spraying with cooking spray, next lining each tin with a parchment round. (Cut the parchment to fit in the bottom of the pan) and then spraying the parchment again lightly. Set aside/
Cream butter and sugars together in mixer. Turn speed to low and add eggs and vanilla. Turn up to medium for approximately 20 seconds until batter in combined.
Turn mixer to low and add in flour, baking soda and sea salt. When just mixed together fold in your chopped Milky Way.
Press 1/4 cup batter into each muffin top and bake for 13-15 minutes until the edges are golden and the center is JUST set.
Remove from oven and let cool in pan for 5 minutes. Loosen edges with a knife and flip the cookies onto a wire cooling rack.
---
Notes
If you make these without using a muffin top pan, line your baking sheet with parchment paper or a Silpat. Space the cookies out 2? apart and drop by rounded tablespoons onto baking sheet. Bake 8-9 minutes until edges are golden.
Want To Save This Recipe?
Find more recipes like this: