This easy 3 ingredient Red Velvet Popcorn is such a fun snack or dessert! It makes a super cute Valentine's Day gift and it's a great treat to munch on during a movie!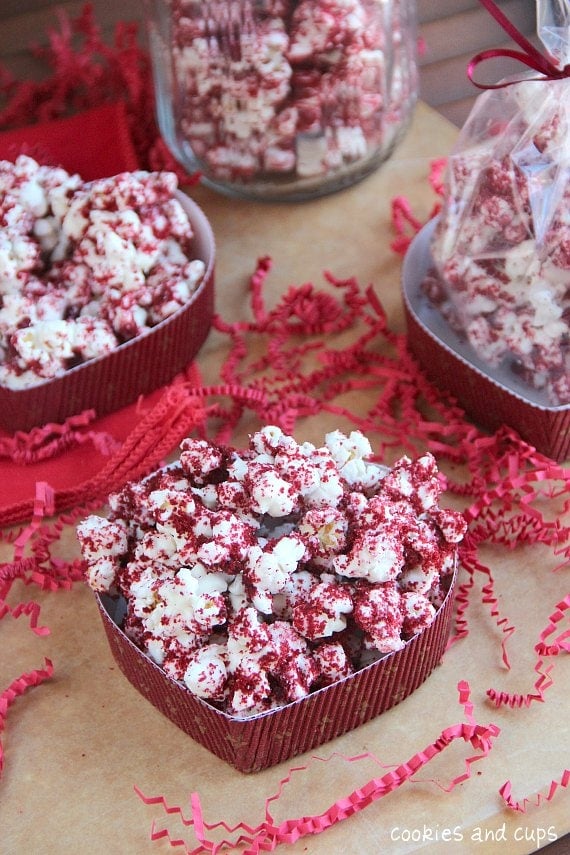 I have found that if I am not smiling, my husband automatically thinks something is wrong.
And on these rare occasions (that I am not smiling like a fool) he asks me, "What's the matter? What are you thinking? What's wrong?"
When I tell him nothing, he never believes me. Ever.
So today I am going to make a list of some my most recent smile-killing thoughts. I will refer him to this list then next time I am not showing teeth.
Here goes:
1. I saw on TV today that Nicholas Cage is making another Ghost Rider movie.
WHY? Did people enjoy the first movie so much that a sequel needed to be made?
2. My friend told me that she thinks Kris Humphries is hot.
I am not sure that we can be friends anymore.
3. A lady at the gym this morning said to me as I was walking into the bathroom, "Going to make your daily deposit?"
WHO SAYS THAT? Obviously I am walking into the bathroom. NO more discussion needs to be had.
4. I have always thought that "nevermind" was one word.
Well, it isn't. Apparently. The red squiggle line keeps telling me it's not.
5. I went to see a psychic last night with some friends. The man/psychic was the guy who the show "The Mentalist" is based on.
Well, he didn't look anything like Simon Baker. Complete letdown. Also, "letdown" is one word…didn't know that either.
6. Toddlers and Tiaras is not only still on the air, but sharing pearls of wisdom. One particularly repugnant parent gives her daughter "special juice" to keep her "energized". The special juice to which she is referring is known by the rest of the population as Mountain Dew. Now, if the "special juice" doesn't work, you could try giving your precious dumpling some "pageant crack" (pixy sticks) to keep her peppy. Oh the vernacular of a Toddler and Tiara mother.
And probably my most common reoccurring, unpleasing thought…
7. THERE IS A SINK-FULL OF DISHES AND MY HUSBAND NEVER DOES THEM!
So yeah. Those are the deep rooted issues that I have in my life at any given moment.
I suppose my life is pretty ok.
Now, moving on to something that would be sure to put a smile on my face…
Red Velvet Popcorn. This idea came to me over this past weekend when I was putting together the fun Valentines Party we did a few days ago. A few of the ladies did amazing red velvet treats like these or these or these. And then my friend Amy made some sweet Valentine's popcorn. I thought that combining the two would be so fun!
So I gave it a go!
How to Make Red Velvet Popcorn
It was a really simple process. I baked up a red velvet cake…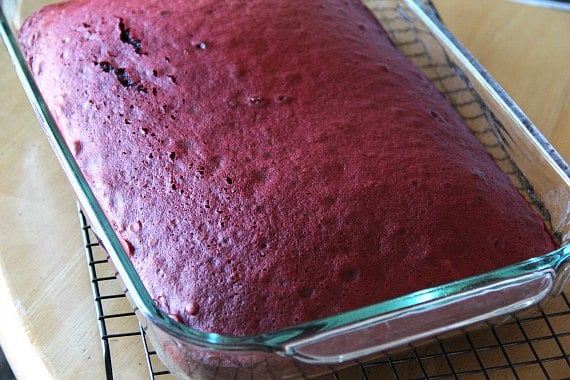 I used a boxed mix for this cake, but if you're looking for a great scratch recipe check out this one.
You are actually only going to need part of the cake, about 1/4 of it. I have attached at the end of the post some fun ways to use up the rest of the cake, or heck, just eat it.
When the cake is cooled break up enough to make about 3 cups of cake crumbs. You don't have to be exact here, 3 cups is just a jumping off point.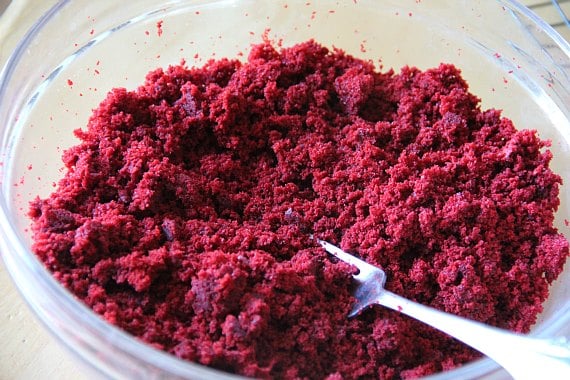 Now make your popcorn and melt your white chocolate. Pour the white chocolate over the popcorn in a large bowl and stir to coat evenly.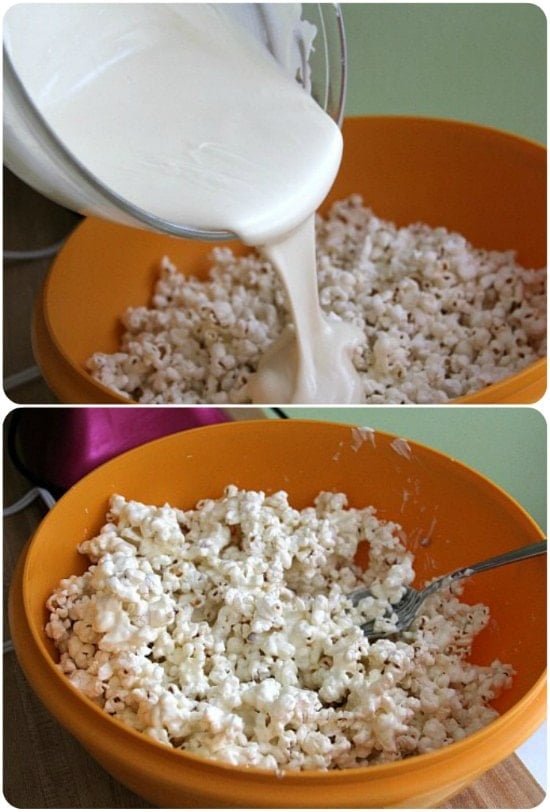 Transfer your wet popcorn to a wax paper lined counter and spread it out evenly.
Now sprinkle your cake crumbs all over. I really liked the cake on the popcorn, so I used a heavy hand when adding the cake.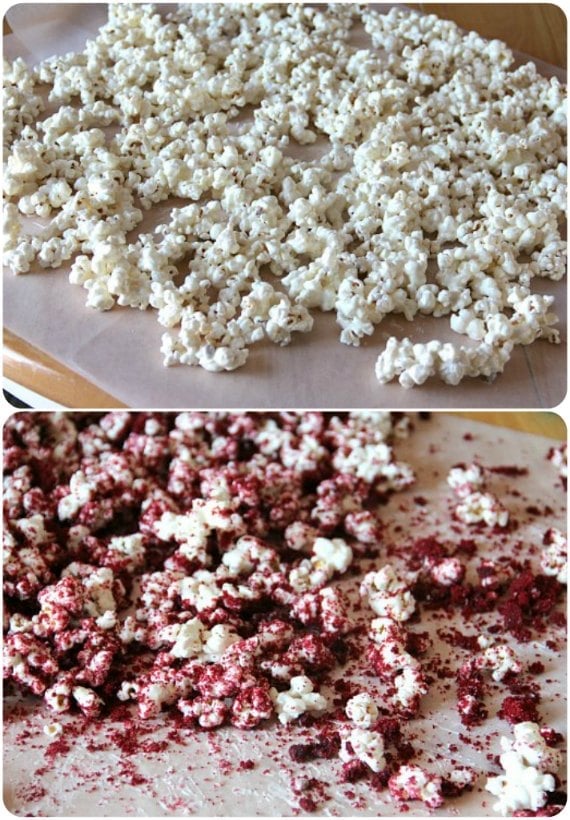 Then let it set up, that's it!!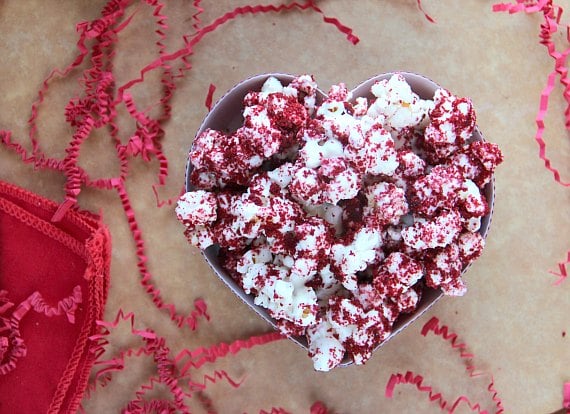 You could also give it away in bags for party gifts…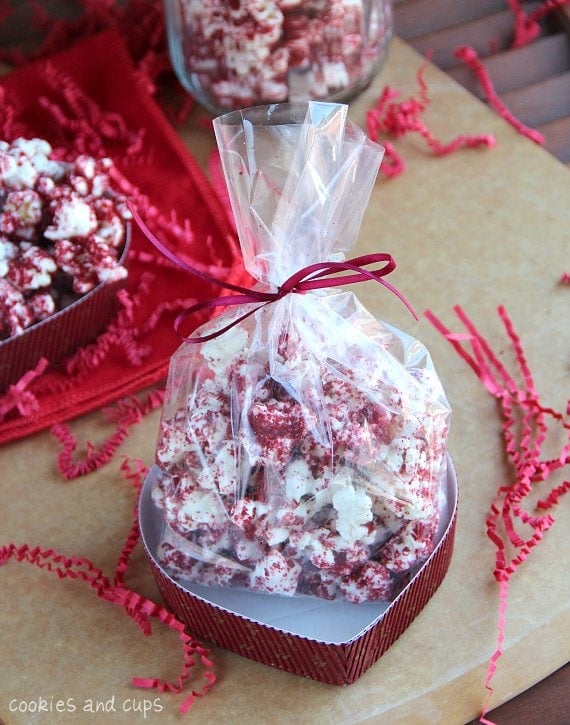 Now if you need some fun ideas for ways to use up leftover red velvet cake:
Cupcakes in a jar from Glorious Treats
Red Velvet Milkshake like this one from The Novice Chef
Print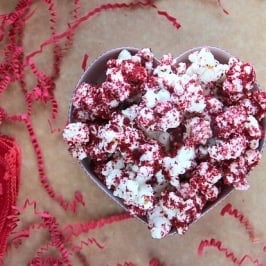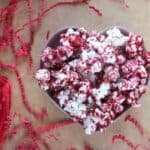 Red Velvet Popcorn
Author:

Prep Time:

10 minutes

Total Time:

10 minutes

Yield:

8

servings

1

x

Category:

Snack

Method:

Bowl

Cuisine:

American
---
Description
This easy 3 ingredient Red Velvet Popcorn is such a fun snack or dessert! It makes a super cute Valentine's Day gift and it's a great treat to munch on during a movie!
---
1/2 cup

unpopped kernels approx 16 cups popped popcorn

3 cups

red velvet cake crumbs (about

1/4

of a 9x

13

cake)

20 oz

white chocolate or white melting candy, such as almond bark or disks)
---
Instructions
Pop the popcorn using an air popper into a large bowl.
Melt your white chocolate according to package directions. I use a double boiler for white chocolate.
Pour the melted chocolate over the popcorn and stir to coat completely.
Pour the popcorn onto a waxed paper lined counter and sprinkle with your red velvet crumbs.
Let it dry completely before eating.
---
Notes
Store in an airtight container for up to 2 days.
If you don't have an air popper you can use 2 bags of microwave popcorn, just make sure you get the lightly salted/buttered or a "natural".
Also, this recipe calls for approx 3 cups red velvet cake crumbs. This doesn't have to be exact. Use more or less depending on the results you desire.
If you use a boxed mix red velvet cake you will be using about 1/4 of the cake. I baked mine in a 9×13 pan.
Nutrition
Serving Size:
Calories:

510

Sugar:

48.9 g

Sodium:

172.8 mg

Fat:

24.7 g

Carbohydrates:

67.6 g

Protein:

6.7 g

Cholesterol:

14.9 mg
Keywords: popcorn recipe, easy snack recipe, easy dessert recipe, homemade popcorn, snack recipe, simple dessert recipe, valentines day dessert, valentines dessert
Want To Save This Recipe?
Find more recipes like this: