Classic Nutter Butter cookies and crispy rice cereal come together in these scrumptious peanut butter Rice Krispie treats! Nutter Butter Krispie Treats are the perfect no-bake dessert for kids, and just as tasty for adults!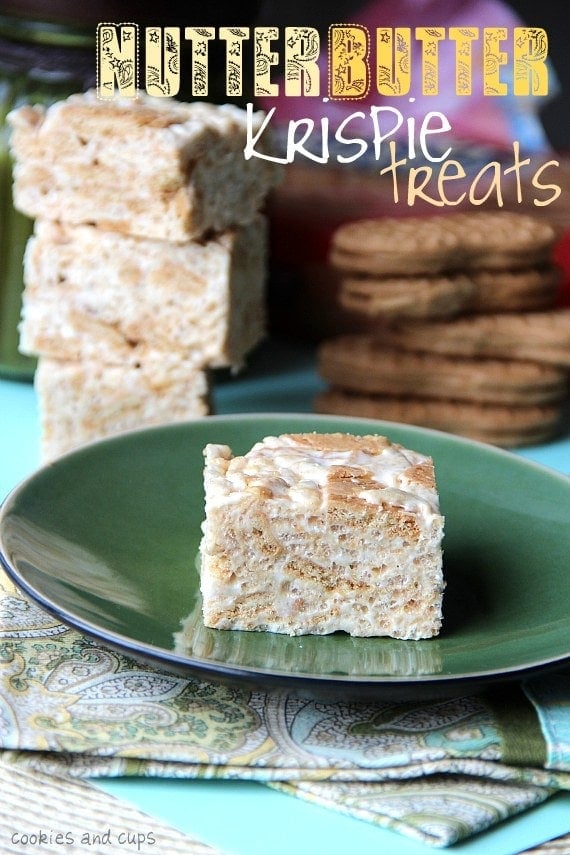 I tend to be a fairly predictable person.
I generally don't "keep people on their toes". I don't "fly by the seat of my pants".
I like the norm. The status quo. A schedule.
I work well with structure and repetition.
That doesn't translate into boring…I am just prepared. Isn't that what we try and teach our children?
When people say they are looking for "spontaneity" and "excitement" I just don't get it.
I have never been that person.
I like what I like, I do what I do, and I don't need anyone coming in all willy-nilly messing up my order.
Don't pop over unannounced. I don't have a "pop over-able personality". I need time to plan. To prepare. To "wrap my mind" around the fact that you are coming over.
You know, to go over possible talking points in my head…to plan snacks…to choose a nail color.
I don't do spontaneous vacations. The thought of a get up and go trip gives me anxiety. There is far too much to do before a vacation. I need weeks, if not months to prepare. I mean it takes me days to pick out my "airplane outfit", which is totally a thing, by the way.
I hear people when they are talking about finding a boyfriend or a husband, "He needs to be spontaneous"….why?
Trust me you do not want a spontaneous husband…one who is always going to be the "fun" parent while you are stuck doing homework and dishes.
I am still a fun person. At least that's what I tell myself. I just like to plan my fun.
So back to predictability…
You come here and you know what you are going to get. That's comforting.
I mean, what if I got all spontaneous and decided to make a cake out of beets or something. You would be disappointed…
And my goal is not to disappoint you. Along with being completely non-spontaneous, I am also quite needy, apparently.
So in keeping with tradition around these parts, I have made another krispie treat for you.
It's a good one. Really good.
Nutter Butter Peanut Butter Rice Krispie Treats.
I nailed it.
First get you some Nutter Butter cookies. These are my husband's most favorite store-bought cookie, behind the Golden Double Stuf Oreo and the Samoa Girl Scout. Man loves him some preservatives.
You will need a whole pack of these lovies.
And then it might hurt your heart a little, but you have to chop them to smithereens.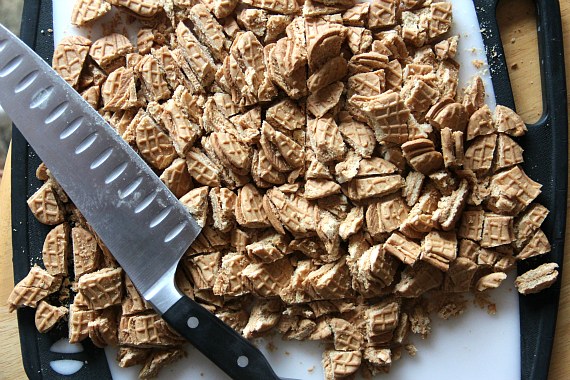 Now go about making rice krispie treats as you normally would, but mix in the cookies…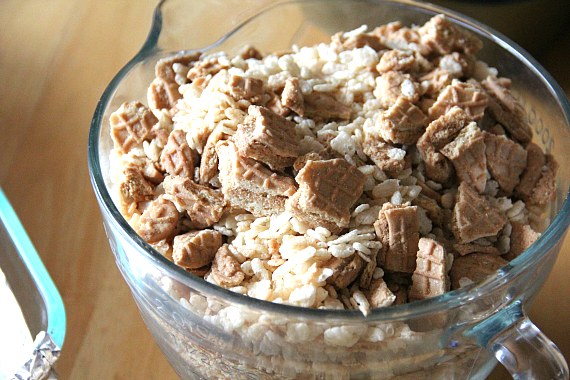 Once you have your cookies, krispies and marshmallowy mix together, press it into a prepared pan…
When it is ready, go ahead and cut it into squares.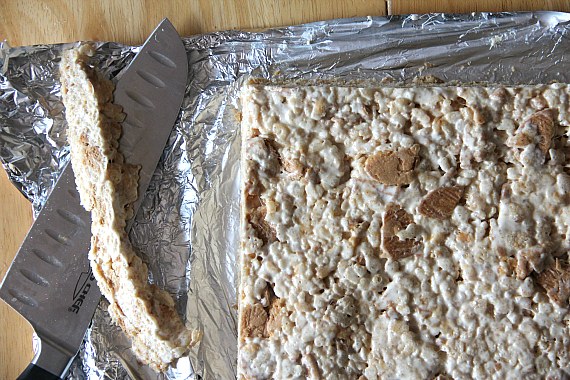 And it's very important to taste test.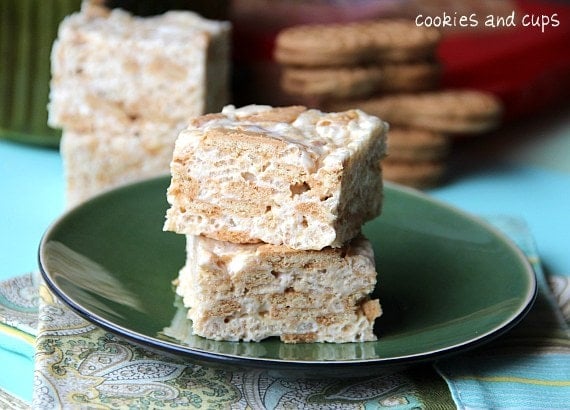 Nutter Butters + Krispies + Marshmallows = love.
Print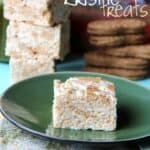 Nutter Butter Krispie Treats
Author:

Prep Time:

10 minutes

Total Time:

10 minutes

Yield:

30

squares

1

x

Category:

Dessert

Method:

No-bake
---
Description
Classic Nutter Butter cookies and crispy rice cereal come together in these scrumptious homemade peanut butter Rice Krispie treats! An easy no-bake dessert that's loved by kids and adults alike.
---
1

(16 oz) package of Nutter Butter Cookies, chopped

6 cups

rice krispie cereal

1/2 cup

butter

2

(10.5 oz) bags mini marshmallows
---
Instructions
Line a 9×13 baking dish with foil and spray lightly with cooking spray.
In a large sauce pan melt your butter over low heat.
Still on low heat, add the marshmallows to the melted butter and stir until marshmallows are melted.
Remove from heat and stir in your rice krispies and chopped Nutter Butter cookies.
When combined, pour mixture into prepared pan and press evenly.
Allow to cool, about 20-30 minutes and cut into squares.
---
Notes
Store in an airtight container for up to 3 days
Keywords: no-bake dessert, peanut butter rice crispy treats, rice krispie treats variations
Want To Save This Recipe?
Find more recipes like this: