I've put together a fun list to answer the question What To Buy at Trader Joe's?!
So you might live in a part of the country where Trader Joe's have been around for a long time. OR you might live in a place where there are NO TJ's….ORRR still you might live in a place where they're just starting to pop up here and there.
I'm in New Jersey, and while there are a few Trader Joe's locations, there isn't a store that close to my house. They are all about 45 minutes to an hour away in different directions. But I love that little food store. So I try to make a special trip every 6 weeks or so. I wish I could get there more often, but it just doesn't seem to happen. So basically I always have a running TJ's list going so when I get the chance to get down there, I'm all set.
The funny thing is, when you live in an area without a TJ's, everyone is always asking WHAT DO YOU BUY THERE? It's like this mystery, which is funny, because really, it's just a grocery store. I felt that way the first time I went into a TJ's and literally left with 2 items. I was overwhelmed!
BUT TJ's is mostly all private label food, so you won't find Fruity Pebbles, or Pillsbury products. Now before you get all worried that TJ's MUST be pricey, ala Whole Foods, think again. It's not. I actually spend LESS on more groceries than I do at my local supermarket. It's true. PLUS you can get all sorts of fun stuff that you can't get from you usual grocer.
I also want to say that I am in no way affiliated with Trader Joe's, nor am I being paid to say any of this. I really just love the store, shop there and want to help you guys!
So, I thought I would make a list of some of my favorites from TJ's that I buy time and time again. This list will always be ever changing, I am sure, because every time I go there I pick up something new and love it…BUT what I am sharing with you today are my regular "MUSTS".
Last time I was shopping I tried to take pictures of the things that I bought, but I didn't get a pic of everything, so I will list the items that aren't pictured as well.
When you first walk in you will see the fresh flowers. I LOVE this section, and try to buy a bunch or two. But that's just a splurge purchase, because I don't think they are priced that much differently than any other grocery store.
But in my store the bread section is right next to the flowers. And I ALWAYS buy this Canadian White bread…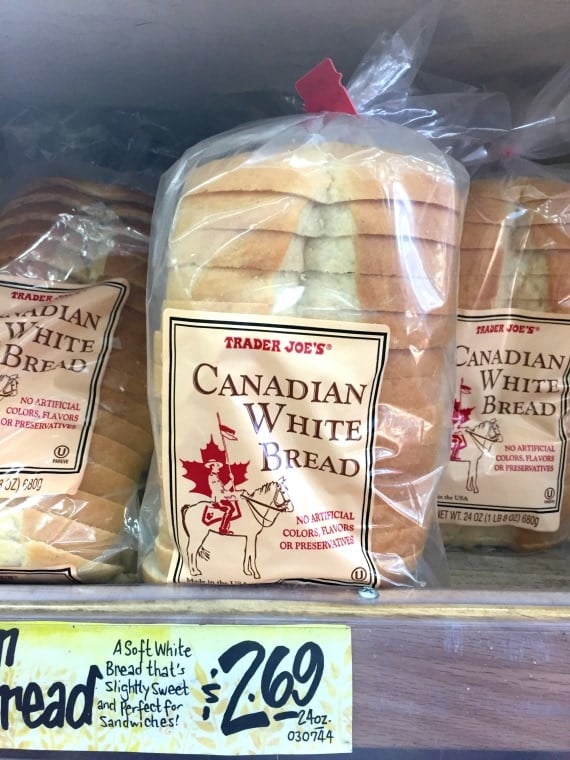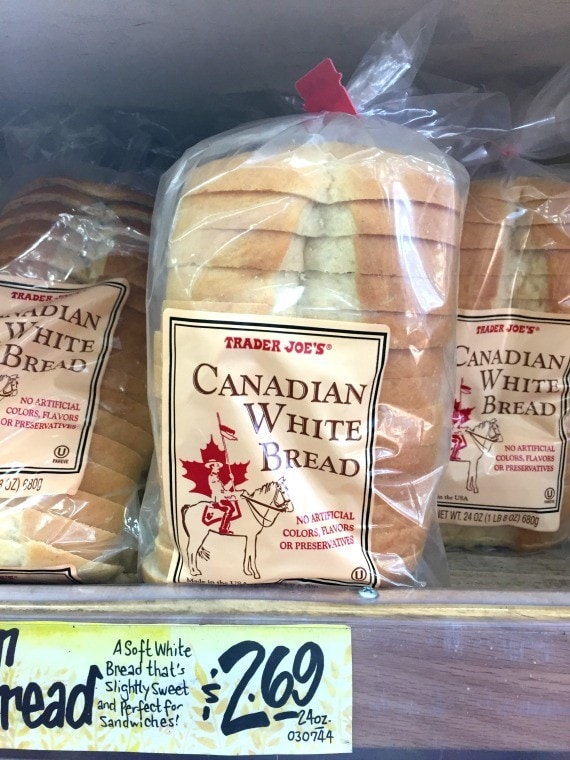 Let me say, I never buy white bread. Only from TJ's for a treat. This stuff is RIDICULOUS. It's sweet, chewy and omg with a spread of butter or jam…I love it. I'm under no false allusion this is health food. But I am telling you it's so good.
Also, in the bread section the Pretzel bread/buns are AMAZING, the Everything Bagels are DELISH and the Brioche buns are great too!!
Next up you'll walk through the produce section, and while they have some good prices and the produce always looks nice, it isn't locally grown, so if you're making a special trip to TJ's for "musts", don't bother with fruits and veggies, just get them at your regular store.
Down the cold food section you'll find lots of prepared sandwiches and salads, which I've gotten before and they are good, but not a MUST. Also skip the sushi.
BUT the hummus is SO yummy and they have lots of flavors. I love the Three Layer one, but everyone that I have tried has been amazing. The hummus is a must for me!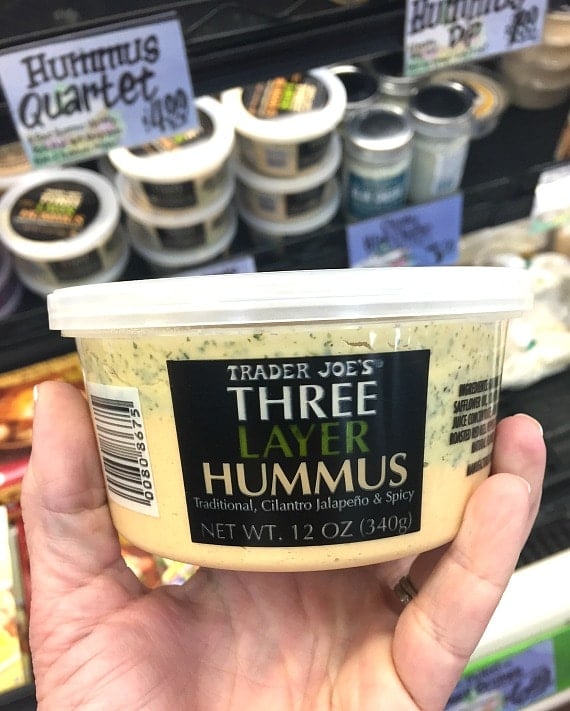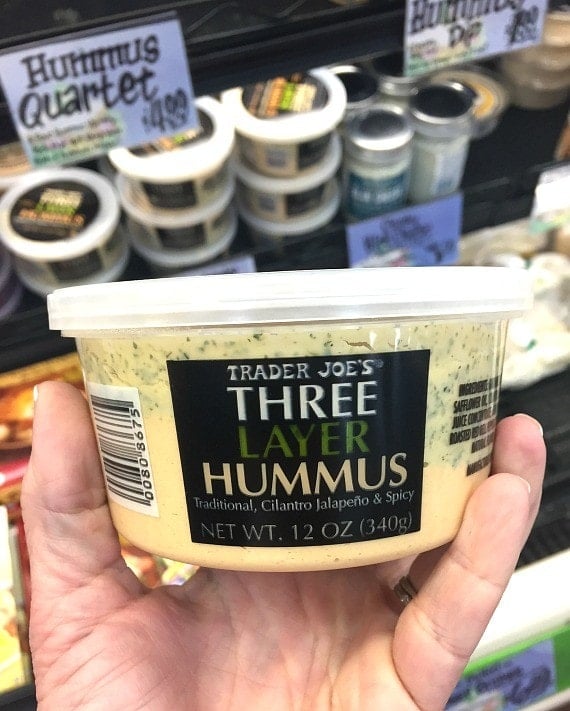 And then you come to the cheese section. Be still my heart. The prices are great and the variety is outstanding. My kids really like the Fresh Mozzarella Cheese sticks. They are like string cheese, but don't actually string. They're tasty.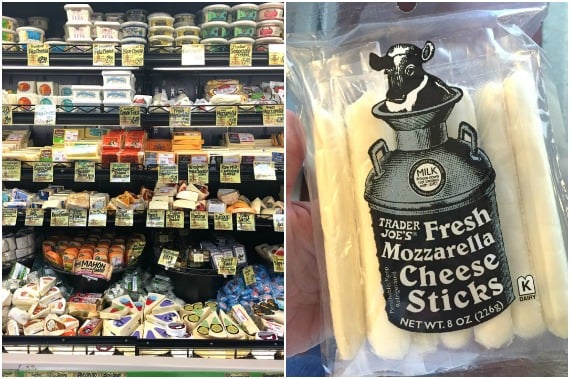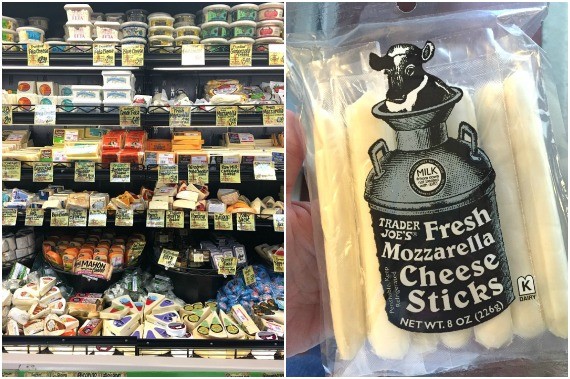 I"m not a huge fan of their cereals, but their coffee section is great! They even have TJ's K-cups!!
The frozen food section is where it's at. I have a few I ALWAYS buy. Starting with Mac 'n Cheese.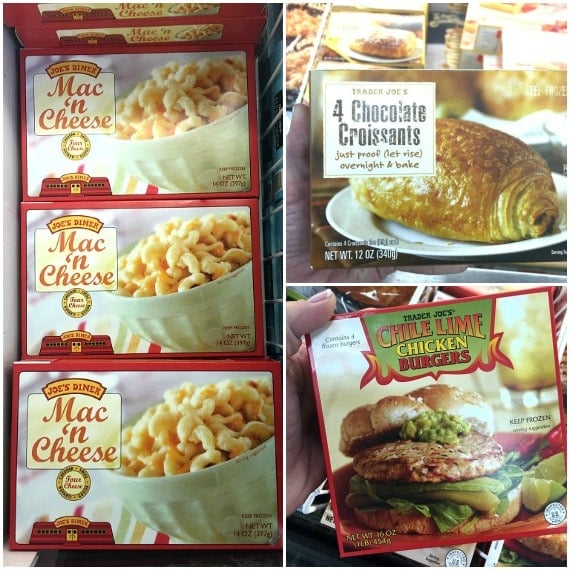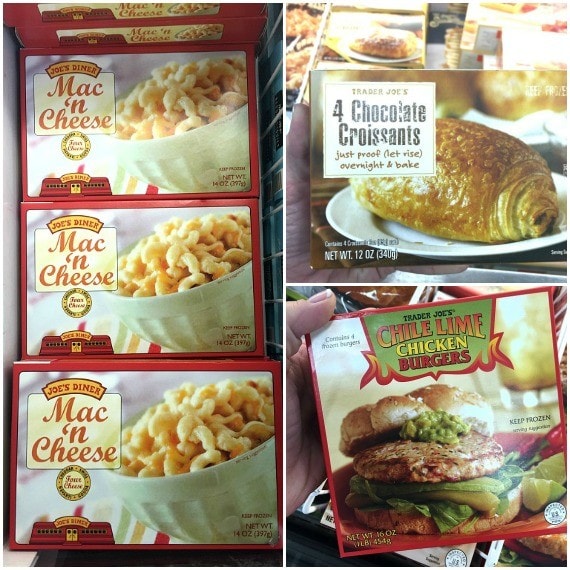 This single serving Mac 'n Cheese is OUT OF CONTROL. I am telling you it's major. SO creamy and rich and yummy and it's microwavable. One of my boys requests is ALL THE TIME. BUY this.
The Chocolate Croissants are another must for me. You pull them out of the freezer the night before, let them proof and pop them into the oven in the morning. It's one of the best you'll have, and you'll feel so very fancy baking them.
The Chicken Lime Burgers are really great too. I adore them on a bun or off…with a large scoop of guac.
The Turkey Bolognese is also a major must for me.
It's a frozen sauce, that I feel like only serves about 2 people…so buy more than you think you need. I love it on a Portobello Mushroom with a little cheese on top, or of course on pasta! Honestly we love this stuff, and it's so handy to have in your freezer in a pinch!
Still in the frozen section another must for me is the Kung Pao Chicken and the Mandarin Orange Chicken. Both of these are fantastic and great to whip up for a quick meal. We've tried lots of frozen stir fries and these are above and beyond the best.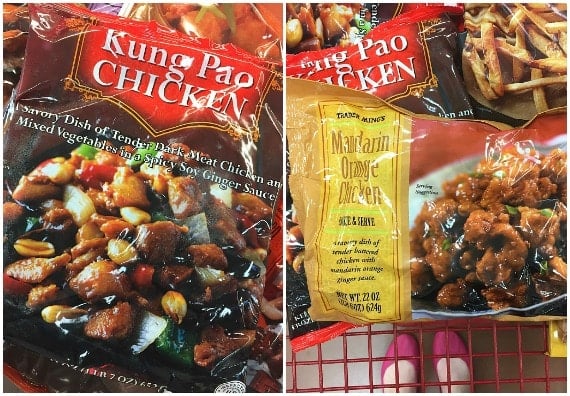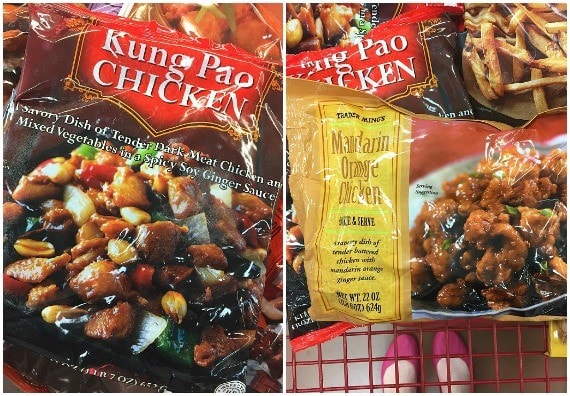 Also, not pictured are the hand-cut french fries. They are great.
There are so many other little treasures in the frozen section, but I am only trying to share my MUST BUYS.
You'll see above the frozen stuff there are TONS of candies and chocolates and snacks. It's HARD to decide what you need to get.
My friend Amber told me to try these…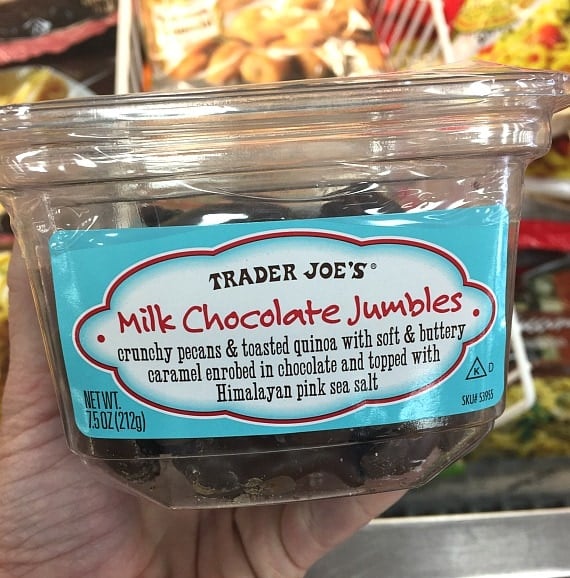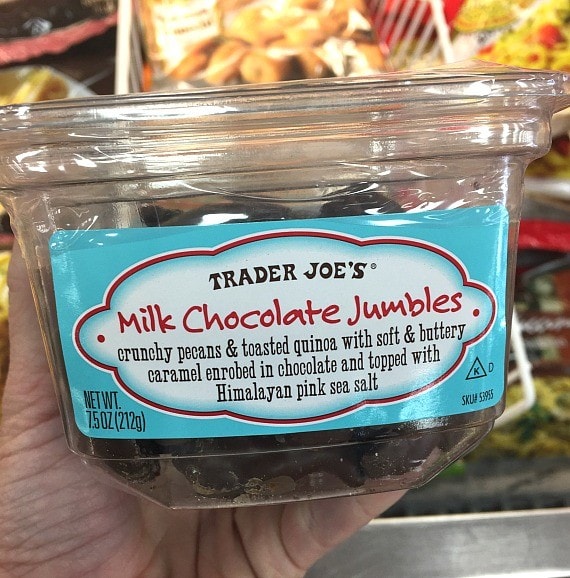 Oh my word, y'all they are AMAZING. I would have never picked these up, because hello quinoa in chocolate, no thank you very much. BUT I'm so glad I did. They are freaking ridiculous. The quinoa are just tiny little crispy bits. covered in crazy delicious caramel. MUST buy.
Other unpictured treats to try… Pecan Pralines. OMG YES. Cowboy/Cowgirl Bark. LOVE. Chocolate Covered Sunflower Seeds..adorable and addictive.
Also this…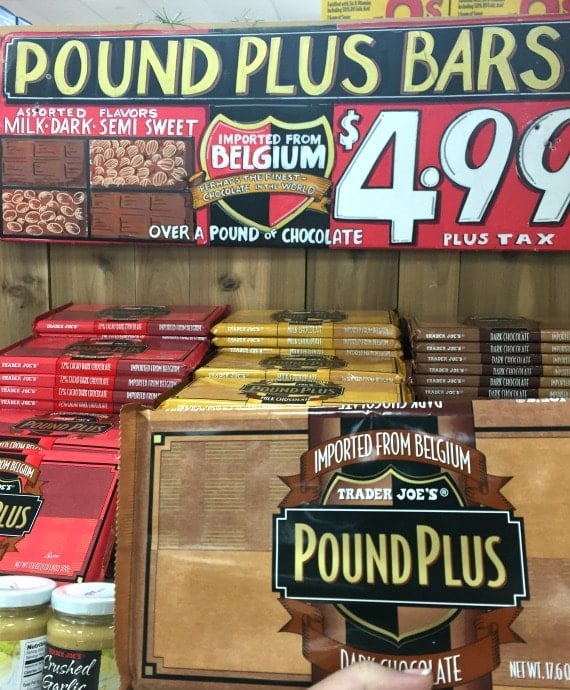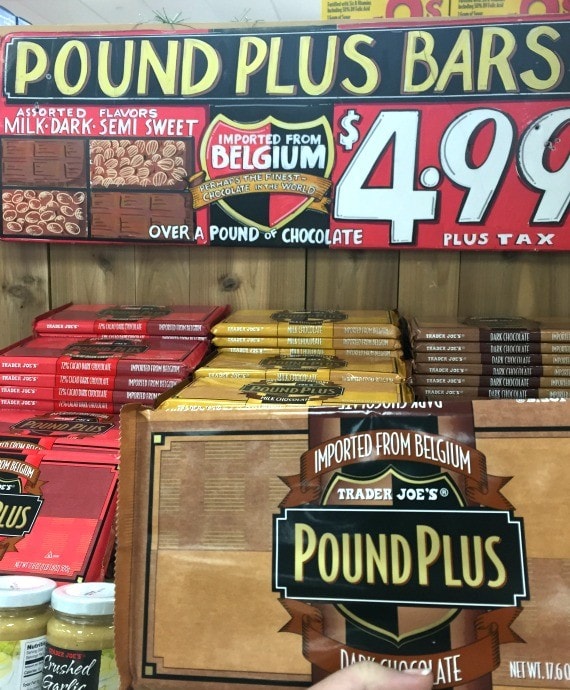 If you're a baker, buy their chocolate pound bar. Great chocolate at a great price. I love chopping this stuff up for chocolate chunk cookies. And it melts fantastically!
Oh and yeah, all things Cookie Butter.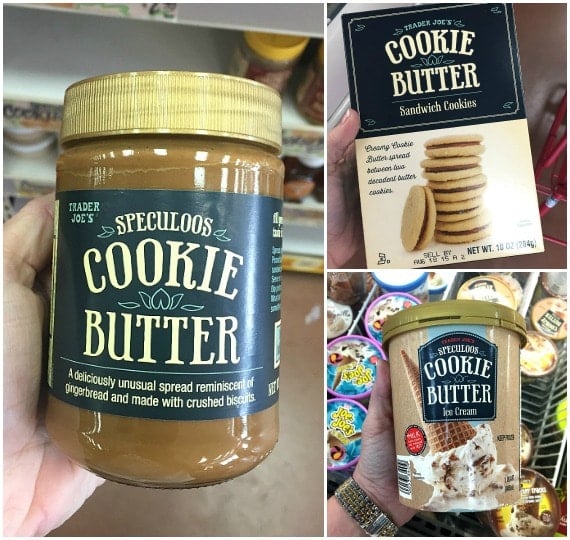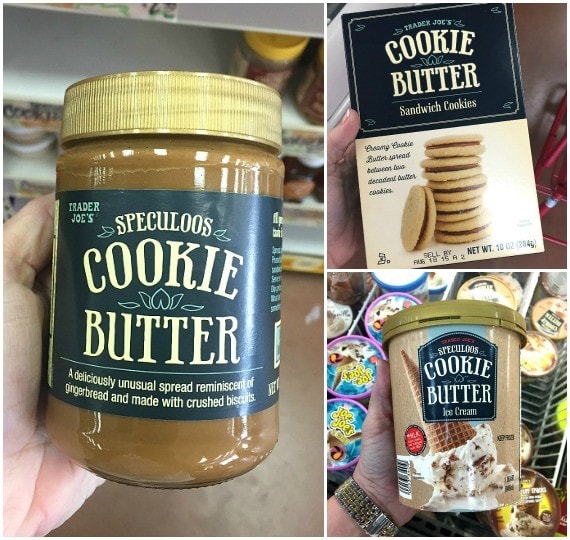 Get the jar of Cookie Butter, obvi. But the ice cream is killer and the sandwich cookies…OMG YES. They are my new favorite cookie. The shortbread is buttery and melty and crispy and the cookie butter filling is a dream. You need. NEED.
Not pictured: Joe Joes. (TJs version of Oreos) They are super tasty and made with natural flavors and NO artificial preservatives or hydrogenated oils. I mean if you're gonna have a cookie…
Next up, let's talk nuts. TJ's has a huge assortment of them…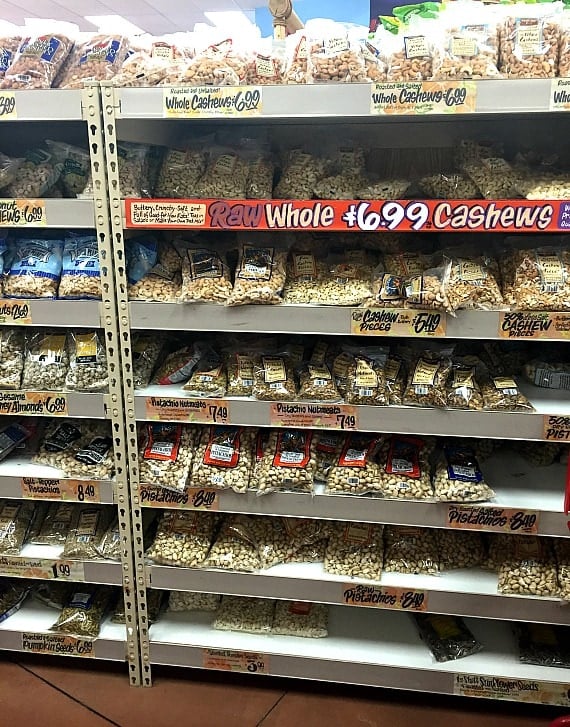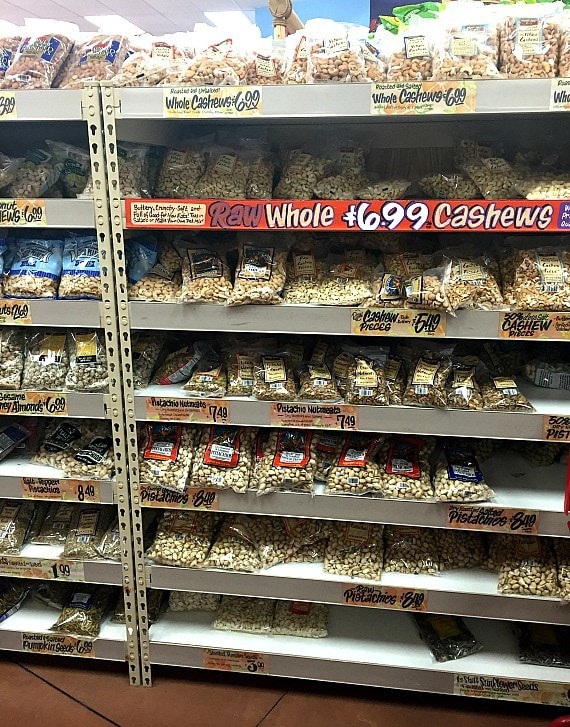 My husband eats a lot of nuts, and I feel like TJ's prices are pretty darn great. Plus they have some really cool flavored almonds and cashews. Our favorite right now are the Coconut Cashews. YUM!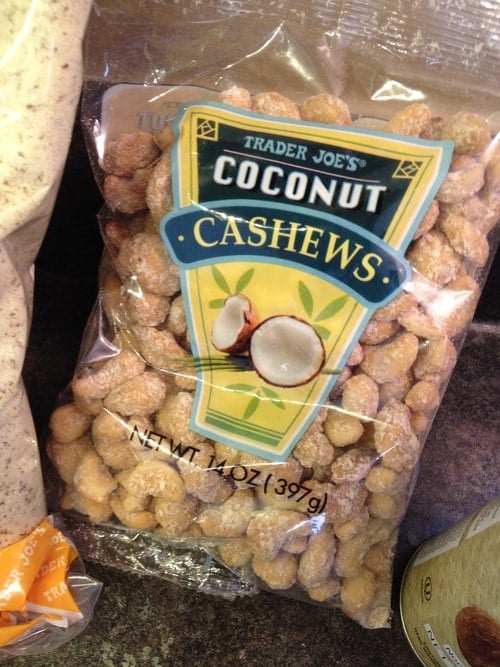 And speaking of coconut you MUST buy these Coconut Chips… they are so ridiculously good.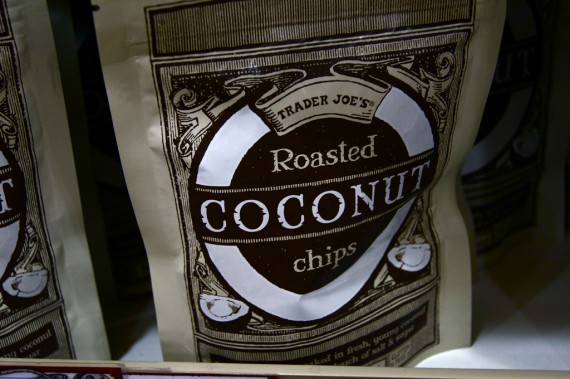 Next up this olive oil. You know how Ina Garten says to use "good quality" olive oil? Yeah, this is that without the price tag. It's so so good.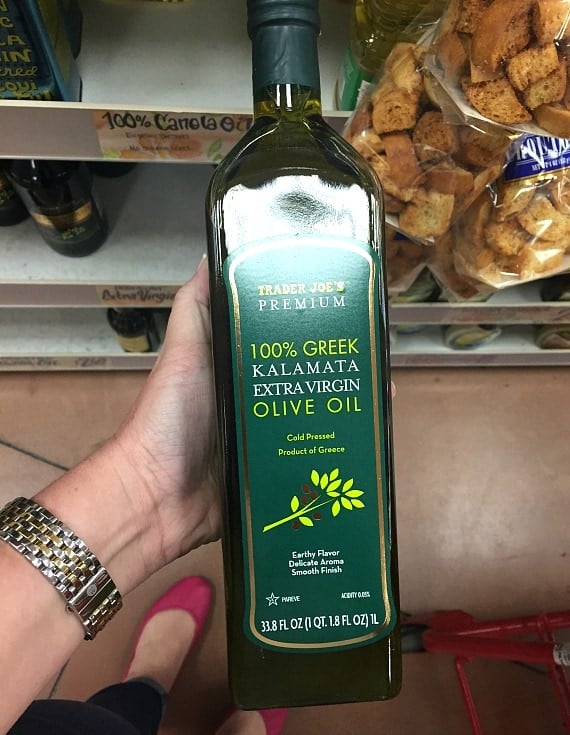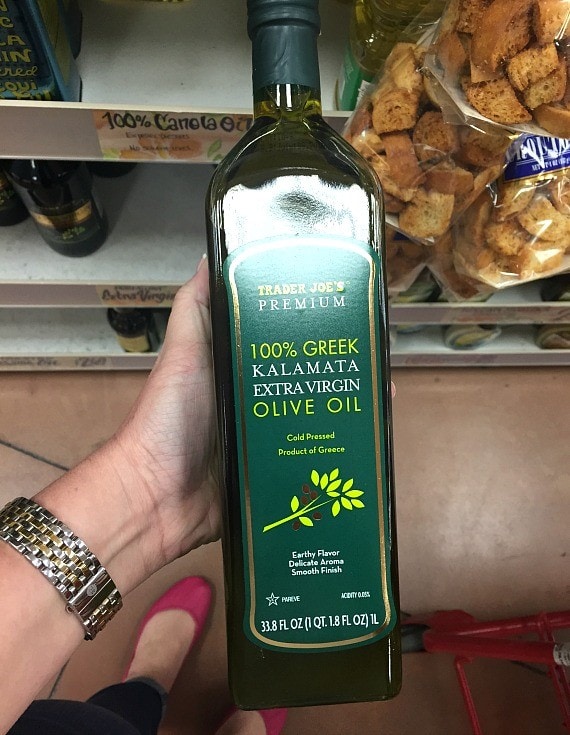 And then maple syrup. The price at TJ's is way less than at my local super market, and it's really good stuff.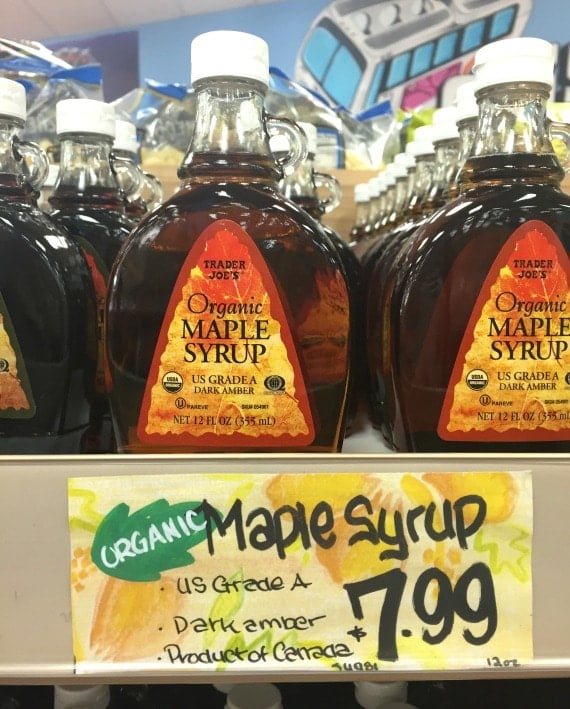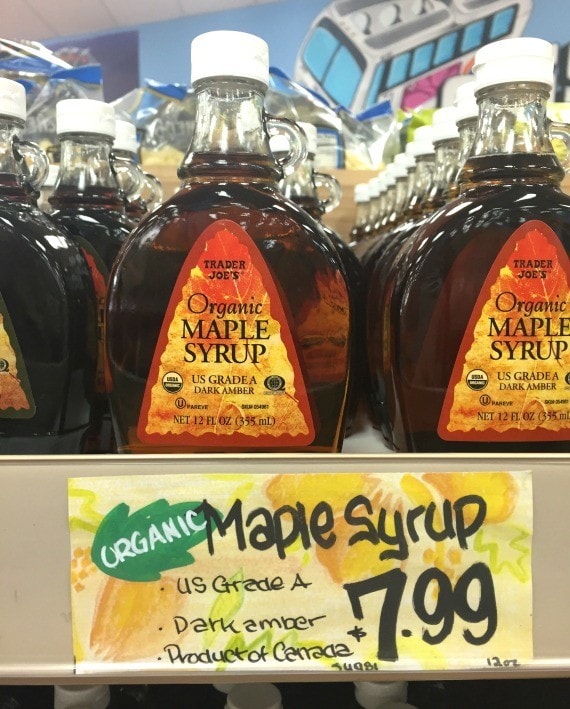 I am leaving out snack foods, in terms of potato chips etc…because every single thing I've bought there has been great, so I really feel like you can't go wrong and it's just a personal choice. BUT the chocolate covered potato chips might be my favorite!
Also, this Coffee Concentrate…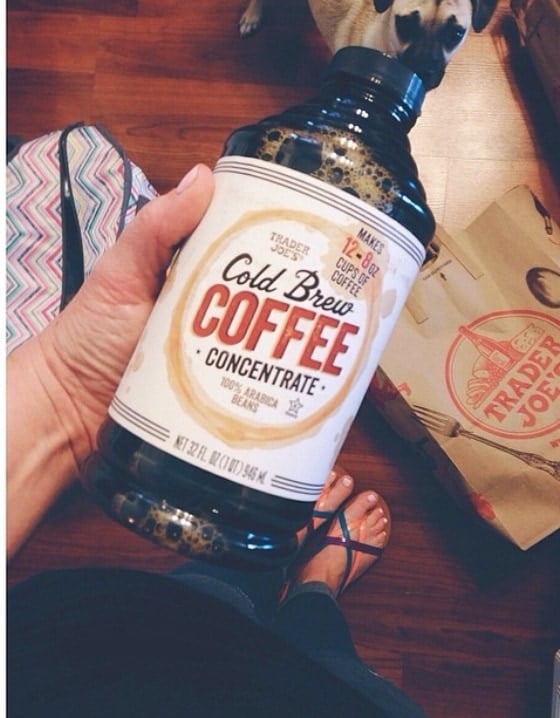 They were sold out this time, but it's always a must buy for me!! I love love love this Cold Brew Concentrate. It's so perfect for a whenever caffeine boost, and a little goes a long way! Iced Coffee on hand at all times for the win!
I would love to know your favorites from Trader Joe's! If I left anything off the list leave me a comment here!