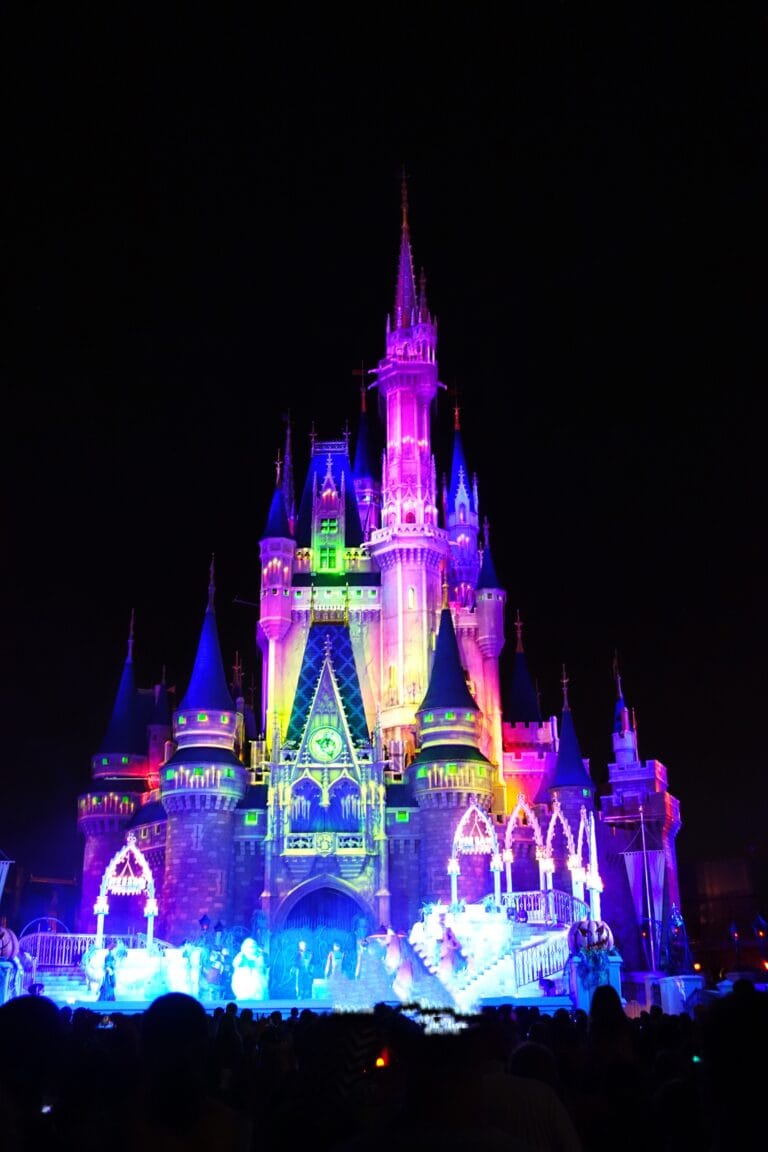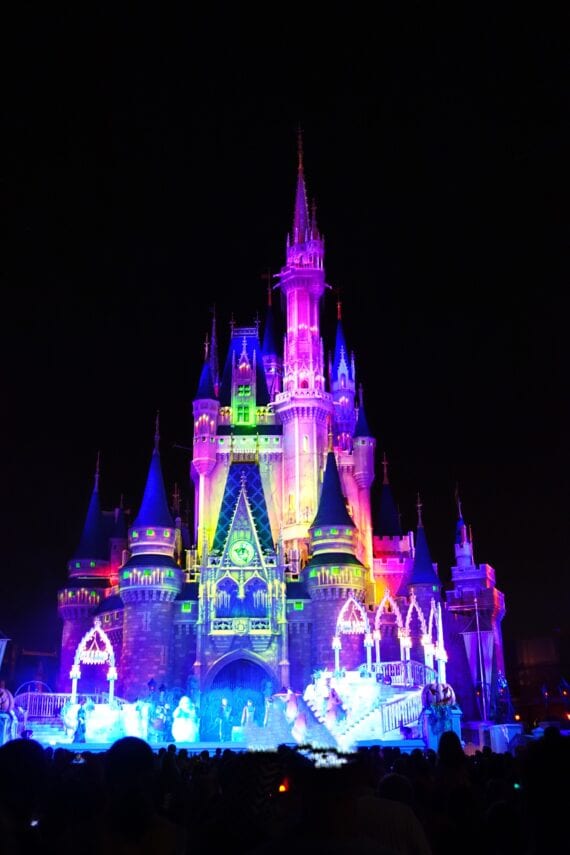 A few weeks ago I had the AMAZING opportunity to visit Walt Disney World during the Epcot Food and Wine Festival. Friends…Disney's food game is STRONG! I am a huge Disney fan and have been at least once a year for the past…gosh…6-7 years?
So I want to share with you all of my favorite MUST EATS at Disney today. If you don't have a Disney vacation planned, you are going to want to get your suitcase ready!
WARNING: This post is very picture heavy! Prepare to leave hungry!
American Tourister is Disney's official luggage and they were gracious enough to send us all a piece of their new iLite Max line to get us there in style!
Our first morning we decided to get to Magic Kingdom early to see the park opening. If you haven't seen this cute ceremony, plan to do it at least once during your stay!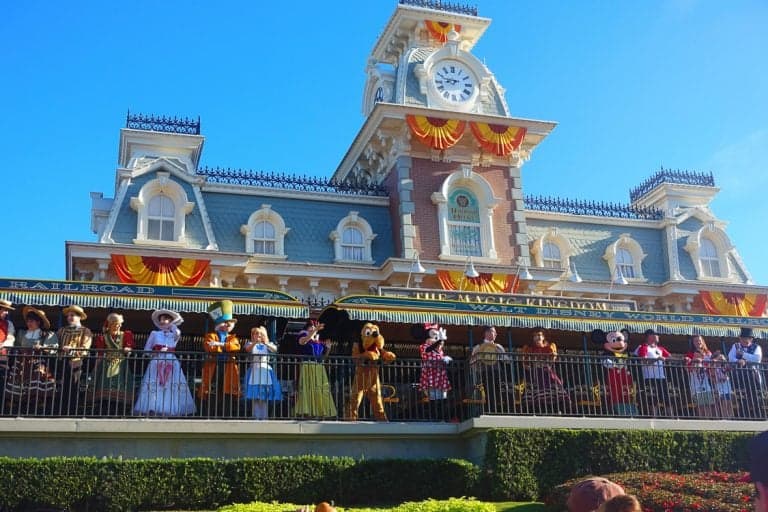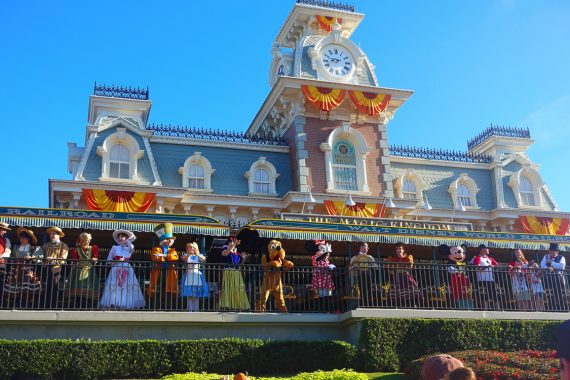 The park was decked out in fall decorations which were the cutest…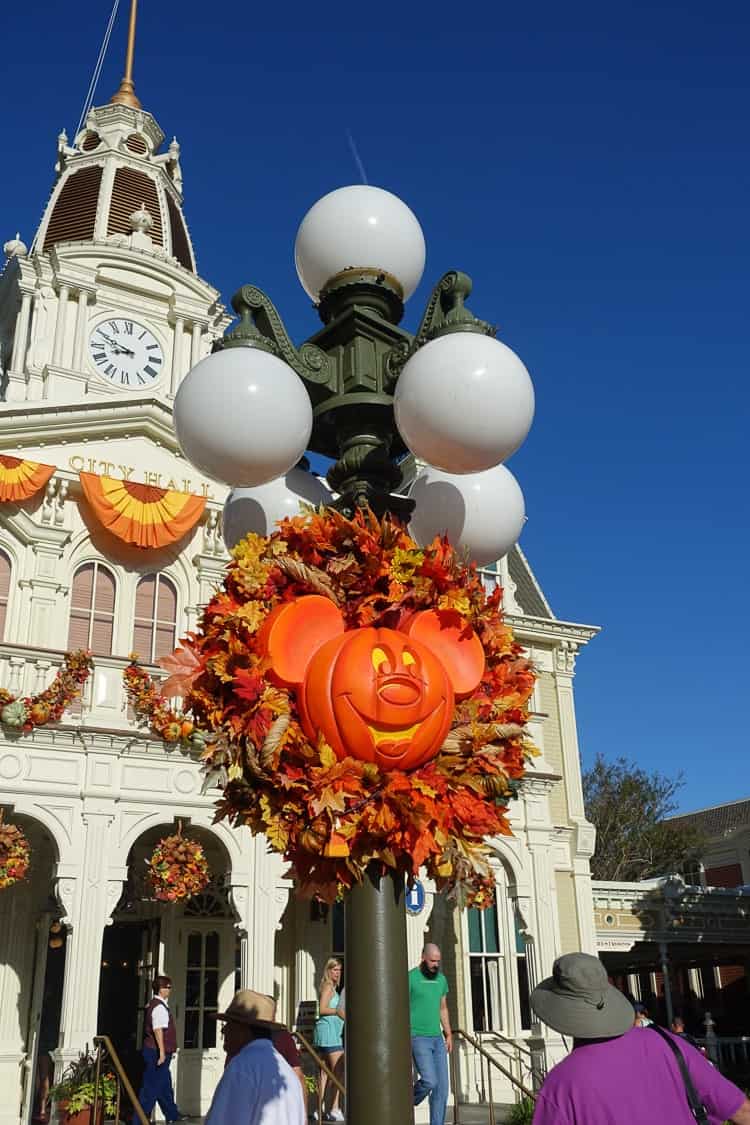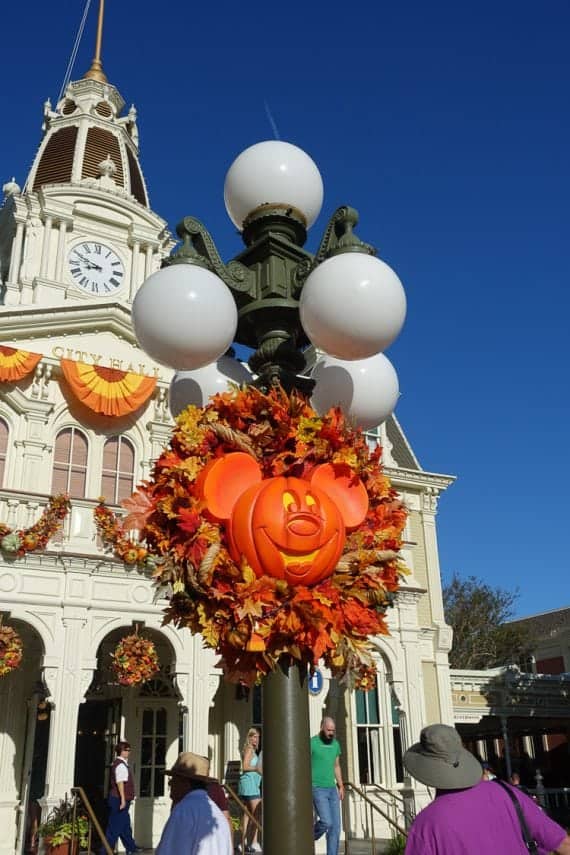 We made our way through Magic Kingdom, riding Space Mountain, Seven Dwarfs Minetrain and of course, Pirates of the Caribbean.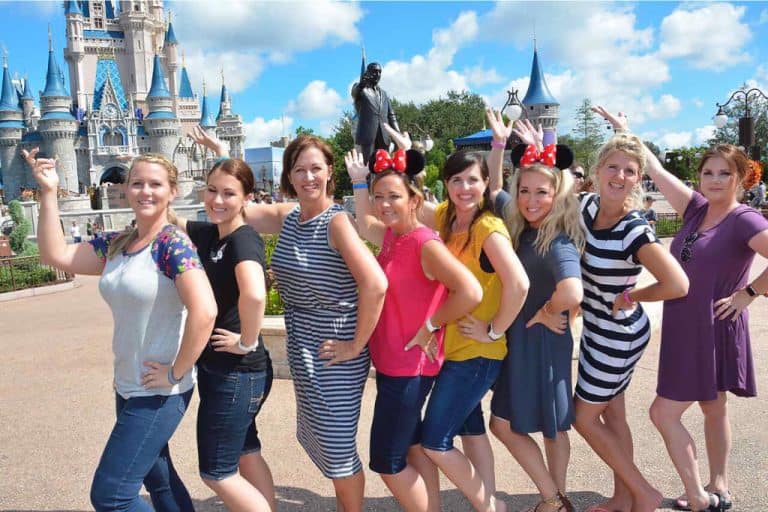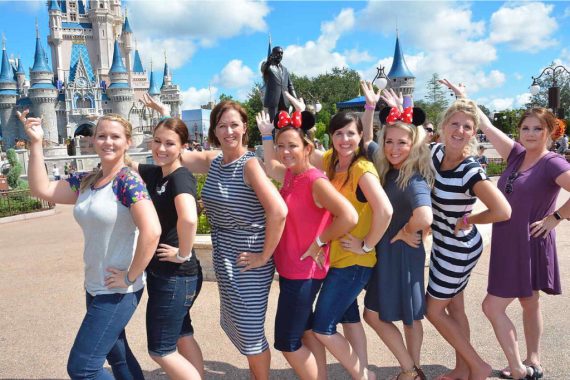 (Shawn/Jamielyn/Kristen/Me/Kristyn/Jenny/Amanda/Kristan)
But really let's talk about the MUST EATS at MAGIC KINGDOM:
Gaston's Tavern in Fantasyland: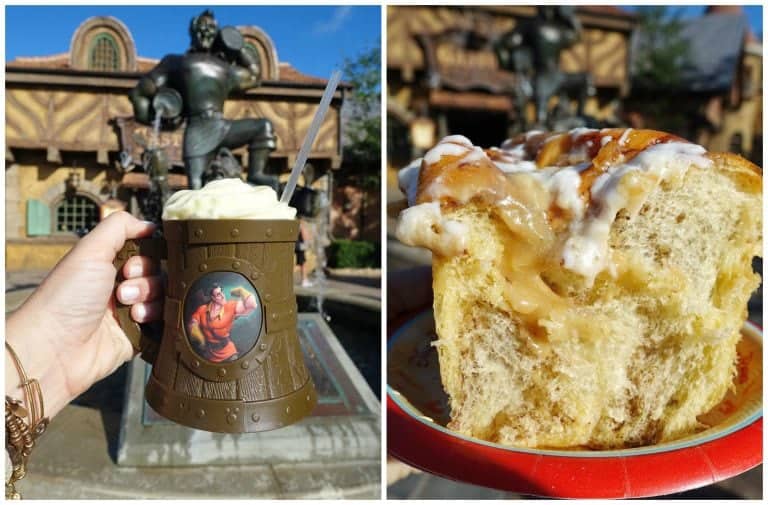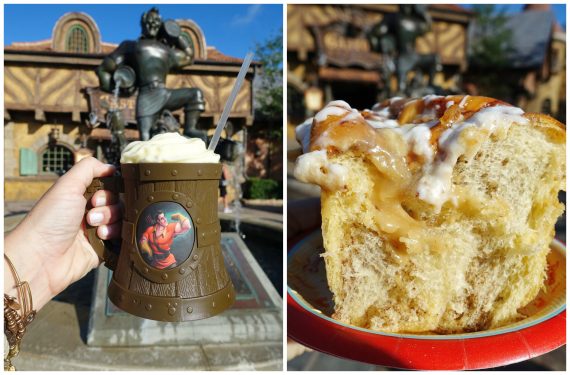 Gaston's Brew (on the left) is one of my most favorite treats at Disney. It's a no-sugar-added frozen apple juice with a hint of toasted marshmallow topped with a thick, creamy all-natural mango-passion fruit cream on top. If I could have one every morning for the rest of my life I would be happy!
The Cinnamon Roll at Gaston's Tavern is an iconic Disney treat. It's ENORMOUS!!! Ask for extra icing!
In Sleepy Hollow you definitely need to try this Nutella and fruit stuffed Waffle Sandwich!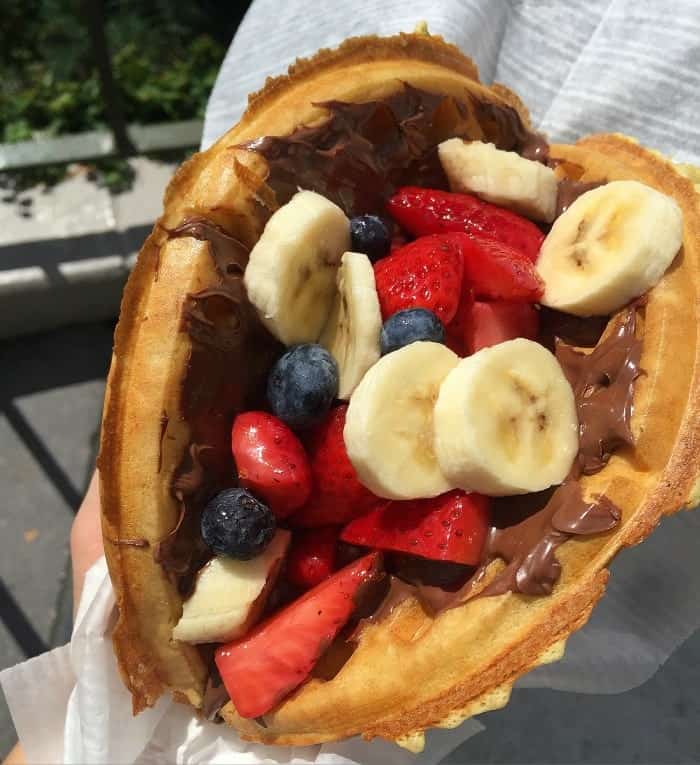 (photo via)
If you looking for something for lunch or dinner, you MUST try the loaded waffle fries at the Golden Oak Outpost in Frontierland! These are the Pulled Pork Waffle Fries, but they have BLT Waffle Fries and other fun combos! Make sure to check their menu and schedule, though, as I know it's constantly changing.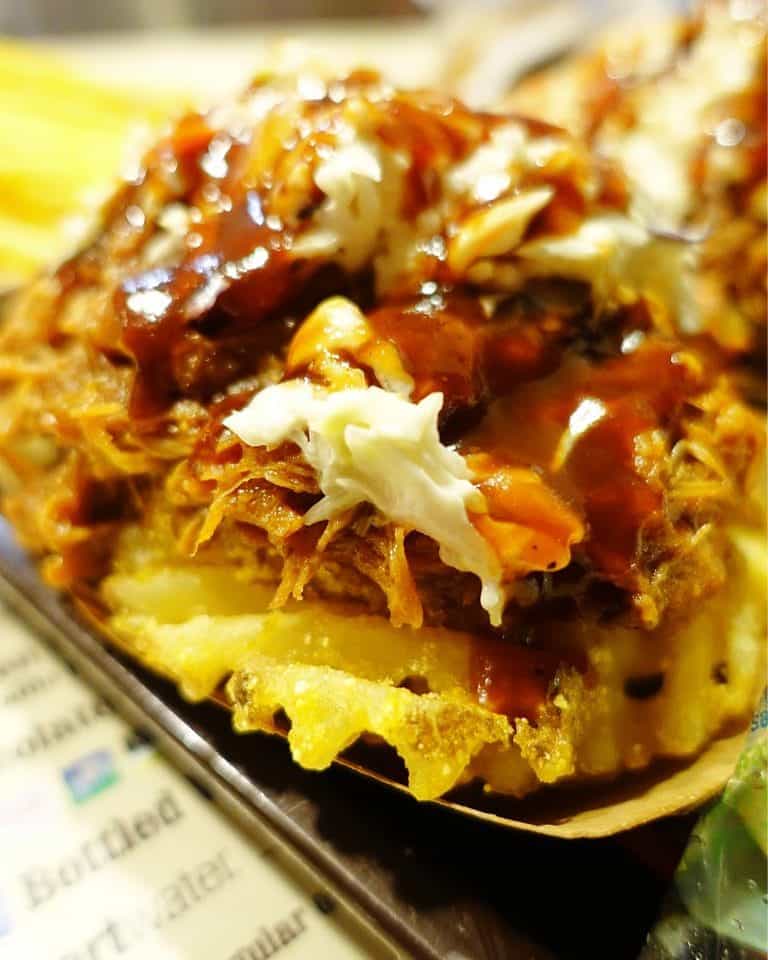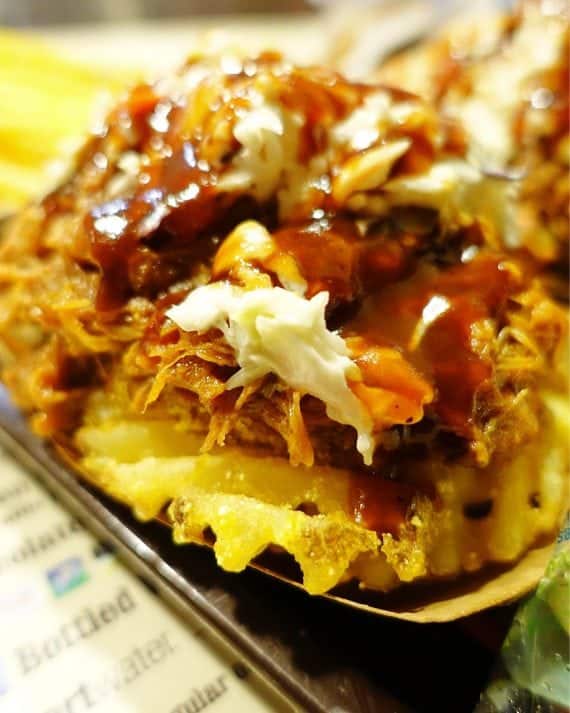 Another MUST at Magic Kingdom is a meal at Be Our Guest. Whether it's breakfast, lunch or dinner you are sure to be dazzled!
We went for breakfast on this trip and the Nutella and Banana Stuffed Croissant Doughnut along with The Grey Stuff Cupcake cannot be missed!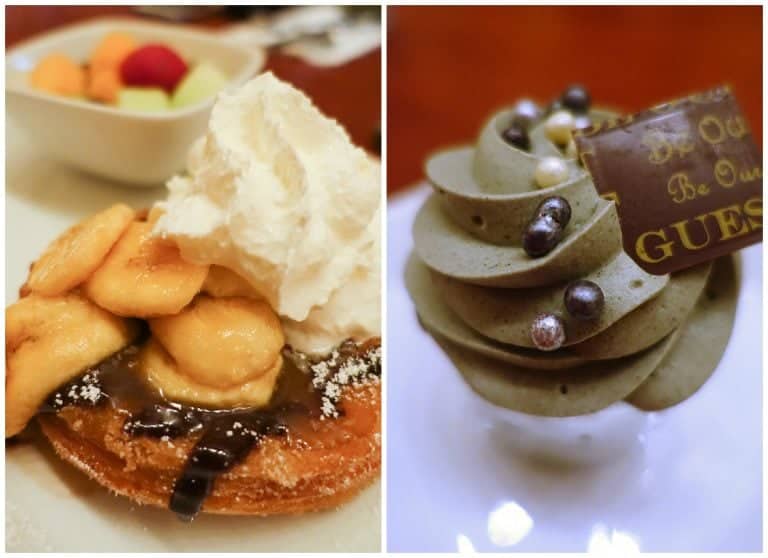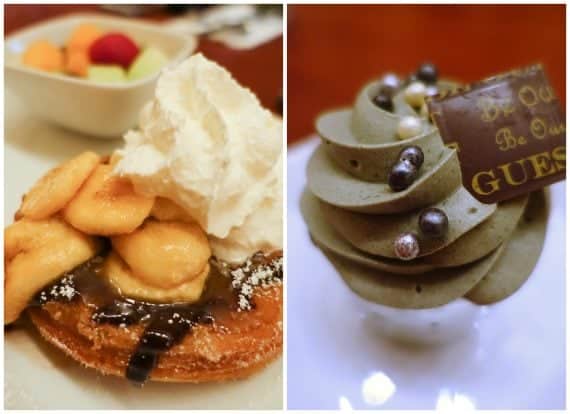 The Grey Stuff Cupcake is a light whipped butter frosting that tastes like creamy cookies and cream and it's on top of a rich, devil's food cupcake!
And you can't leave Magic Kingdom without stopping into the Plaza Ice Cream Parlor on Main Street. My favorite thing to get is the Chocolate Chip Cookie Ice Cream Sandwich with Cake Batter Ice Cream! But the simple cone is good too…anything with Mickey Ears is a winner 🙂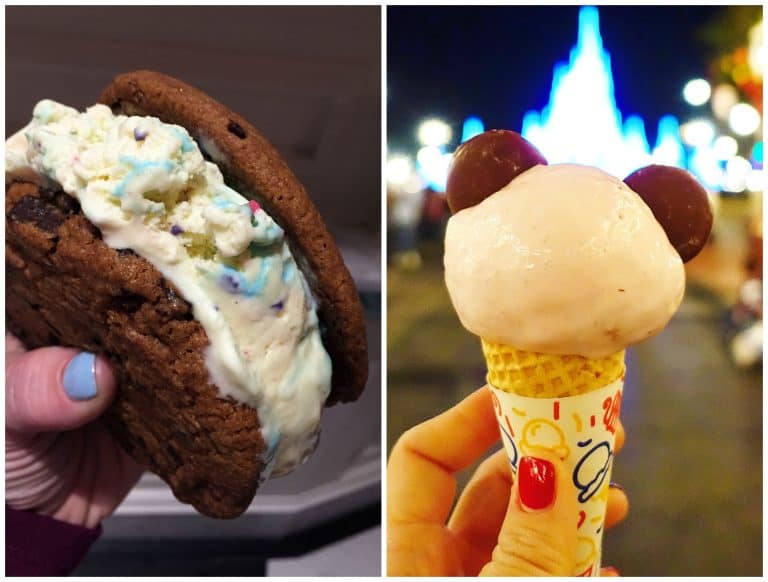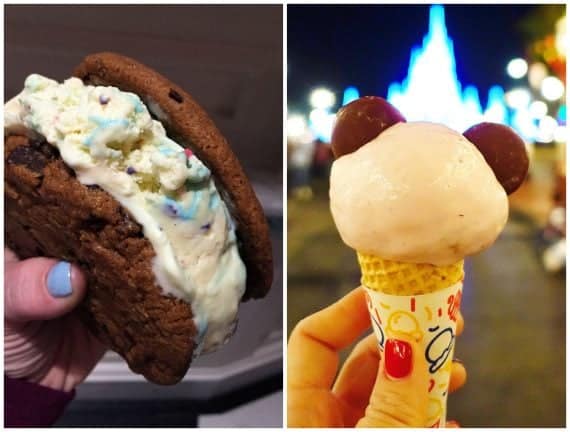 If you are visiting Disney in the months before Halloween I HIGHLY recommend getting tickets to Mickey's Not So Scary Halloween Party! I have been to this one as well as Mickey's Very Merry Christmas Party and I LOVED the Halloween party!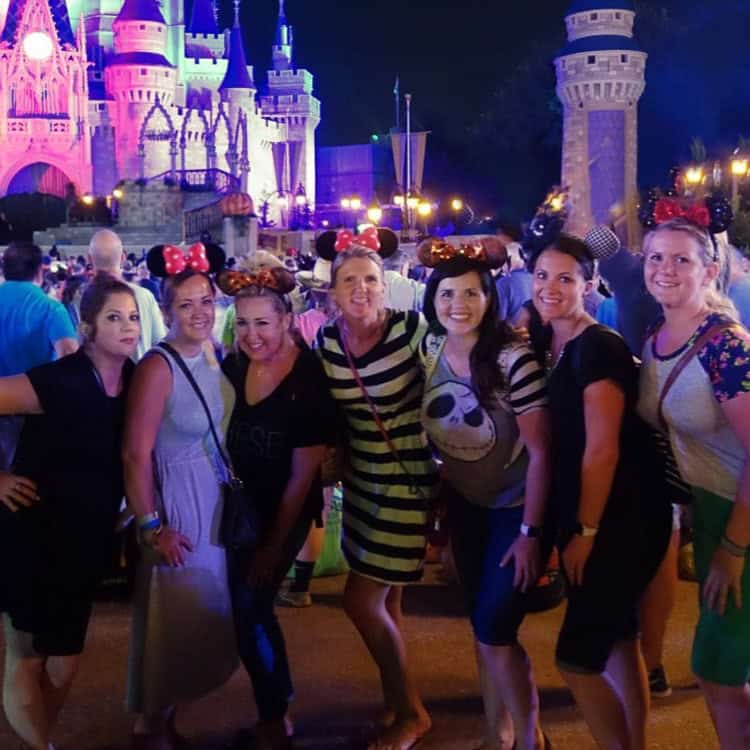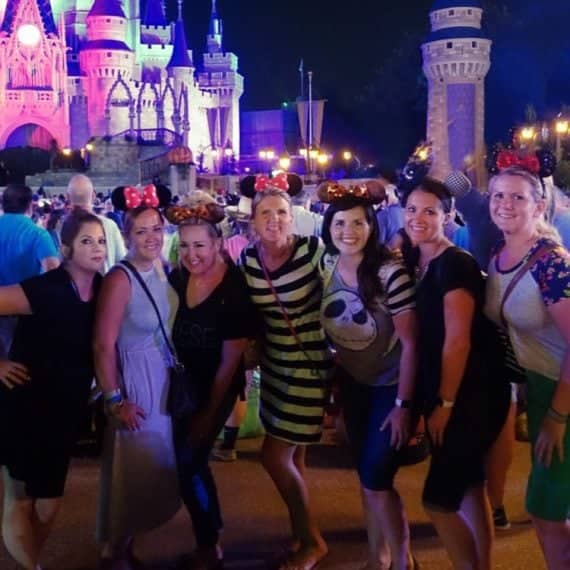 The parade is fantastic, the shows are really great, and you can trick or treat throughout the park! SO many people come in costumes and it's just really festive.
They light up the castle in Halloween colors and serve exclusive treats throughout the park that you can only get at the party like this Candy Corn soft serve!!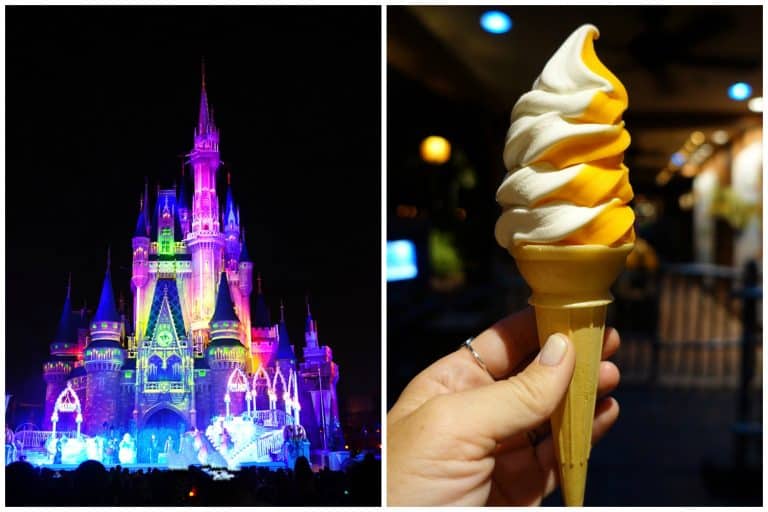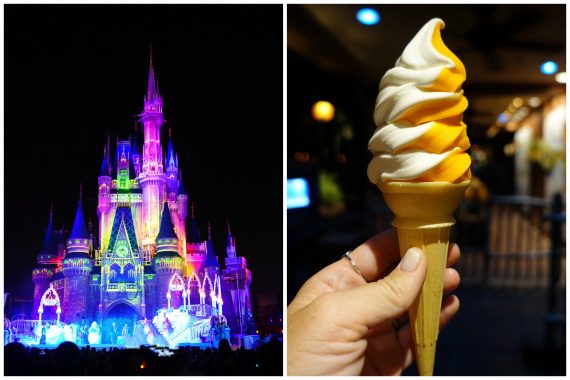 We stayed at Disney's Boardwalk Inn, which is one of my favorite places to stay at Disney! I love the boardwalk hotels and have stayed at both the Beach Club and the Boardwalk Inn and can't recommend them enough.
The Boardwalk is right next to Epcot, so you can be in England with just a 5 minute walk, and you can walk to Hollywood Studios too, it will take you about 15 minutes. These are the only Disney hotels that you are within walking distance to 2 parks, which for me is ideal.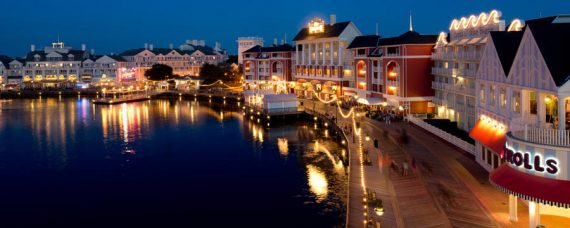 (photo via)
There are some fabulous dining options on the Boardwalk too. We enjoyed a fantastic dinner at The Flying Fish, which is newly reimagined. It's really fine dining at it's best. The dishes are seasonal and sustainable, and presentation is stunning.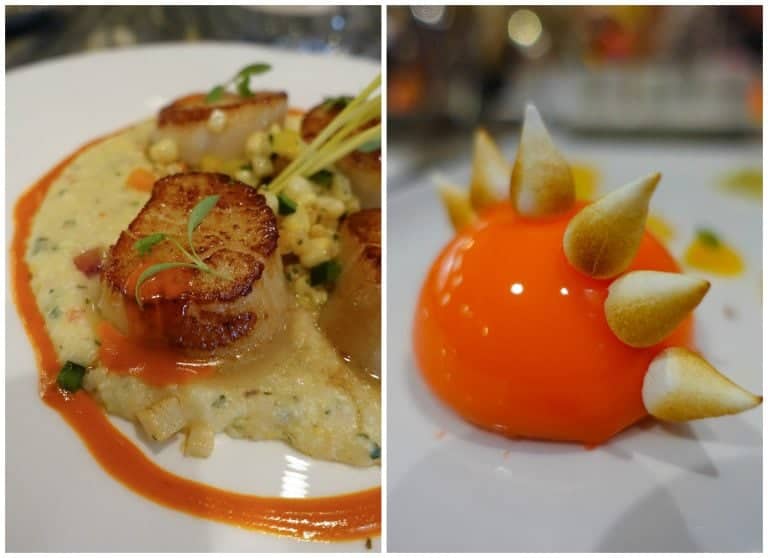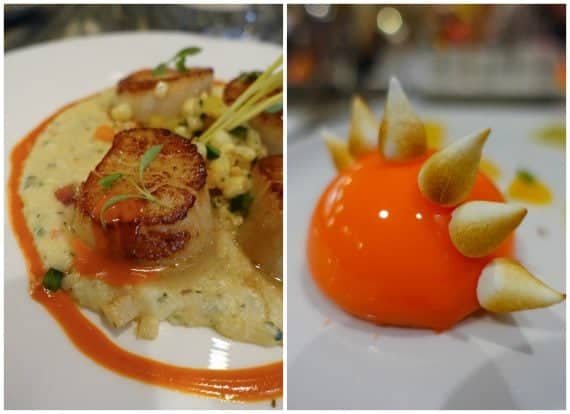 I got the seared scallops, which were easily the best scallops I have ever had. And look at that creative dessert! It's called the Coral Reef and it's a Lemon Tart with Toasted Meringue. It was DELICIOUS! Also you must order the Blue Crab Bisque to start. If you're not a seafood fan, the Wagyu Filet Mignon is out of this world. They also have a kid's menu, which is perfect for those on family vacations.
Another MUST on the Boardwalk is Trattoria al Forno. Friends, this is my favorite breakfast at Disney. Do NOT miss this. Of course, they serve a full menu, breakfast, lunch and dinner, I have eaten here multiple times at breakfast/brunch and can't say enough about this spot. (I do have a friend who goes CRAZY for their meatballs at lunch and dinner).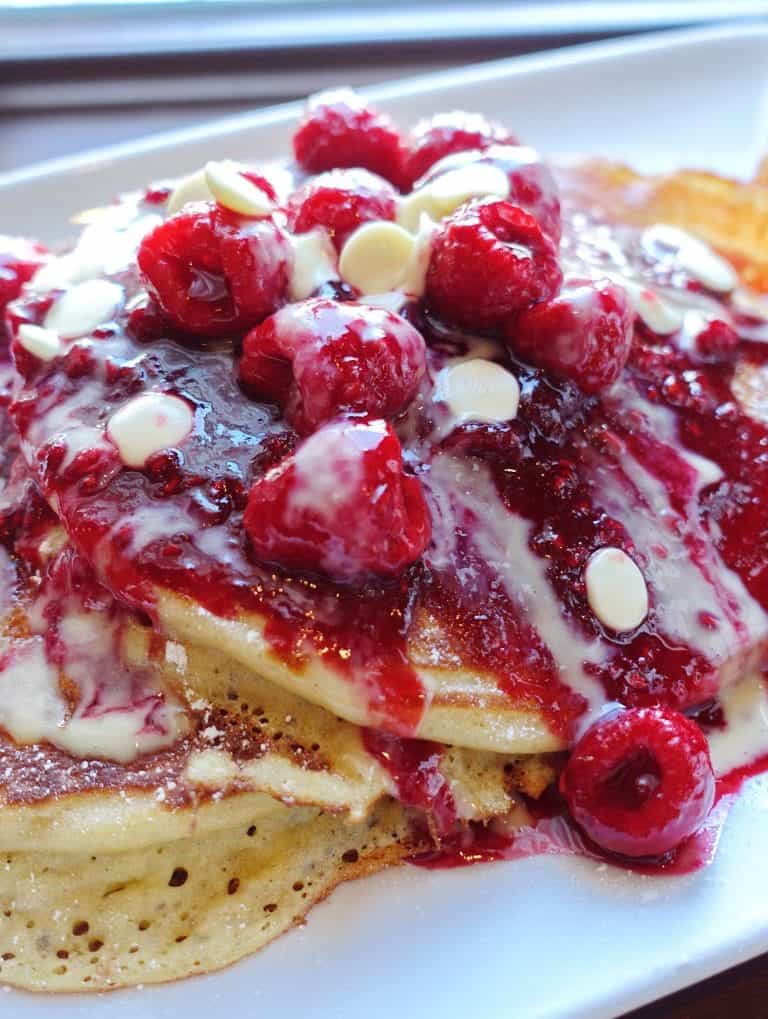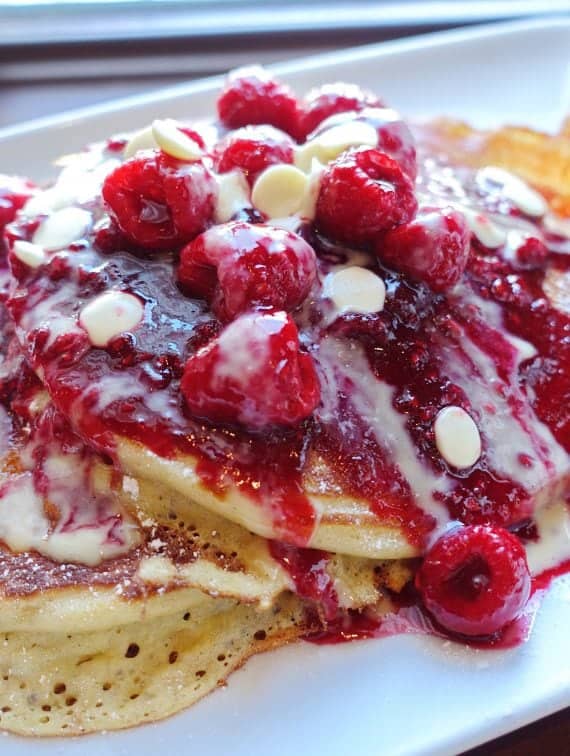 These are the Berries and Cream Pancakes and OH MY WORD. GET THEM. Seriously amazing!
If you are a coffee drinker, you must try their French Press Pot. Honestly, it's the best coffee I have ever, ever had. They have some amazing breakfast sliders that are next level.
And of course, if you have room, definitely make a plan to stop at Ample Hills on the boardwalk. They have some seriously fun flavors, Like Gooey Butter Cake and Oatmeal Cookie. They also have fun pretzel and chocolate chip cookie cones!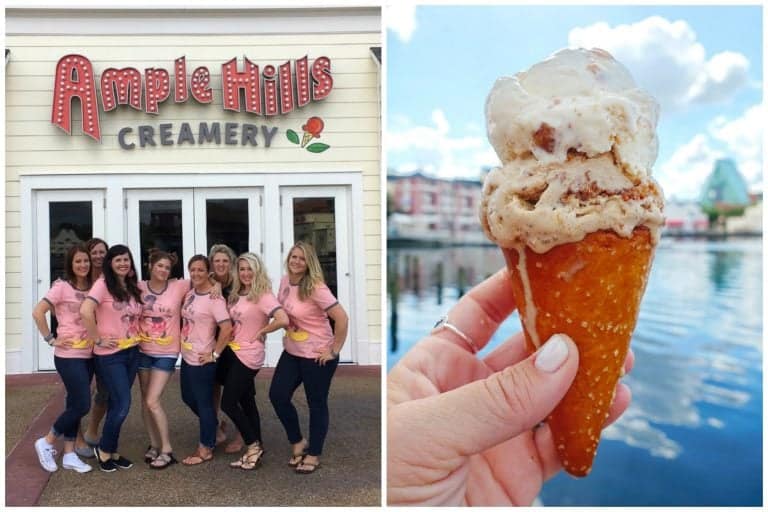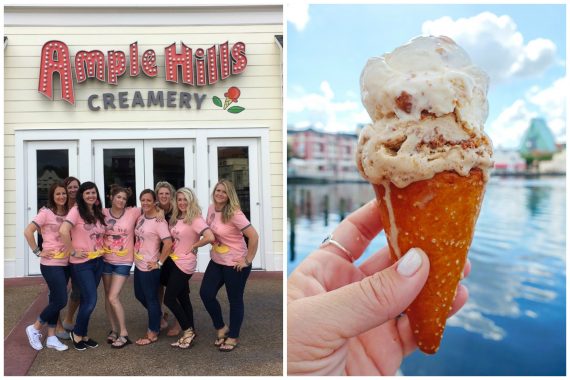 The Boardwalk Bakery is another must. This cupcake is a Disney classic. It's a light whipped Cookies and Cream frosted (and filled) chocolate cupcake. Just look at the adorable Oreo!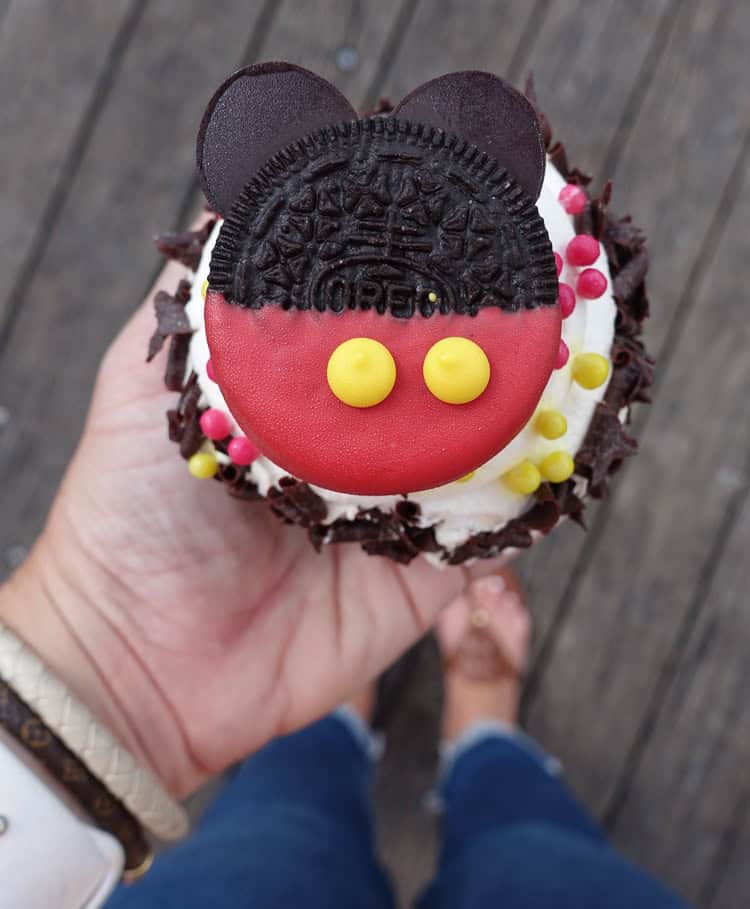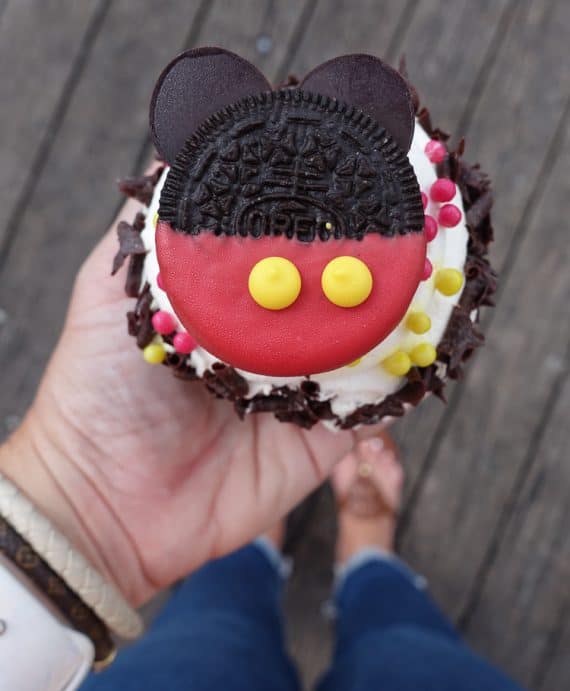 Like I said, the Boardwalk is right next to Epcot, so it's a quick walk over to the park and the entrance puts you right in the countries section near England!
Epcot is my favorite park, probably because of all the food! We were lucky enough to be there at the same time the Food & Wine Festival was happening. Oh the calories I consumed! If you are thinking of a Disney trip in your future I HIGHLY recommend going during the Food & Wine Festival!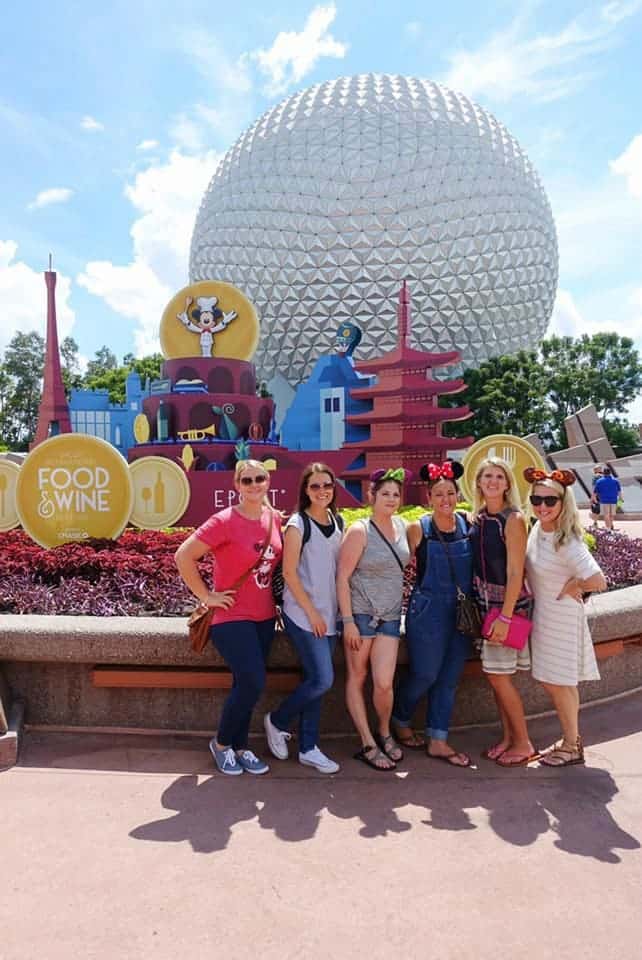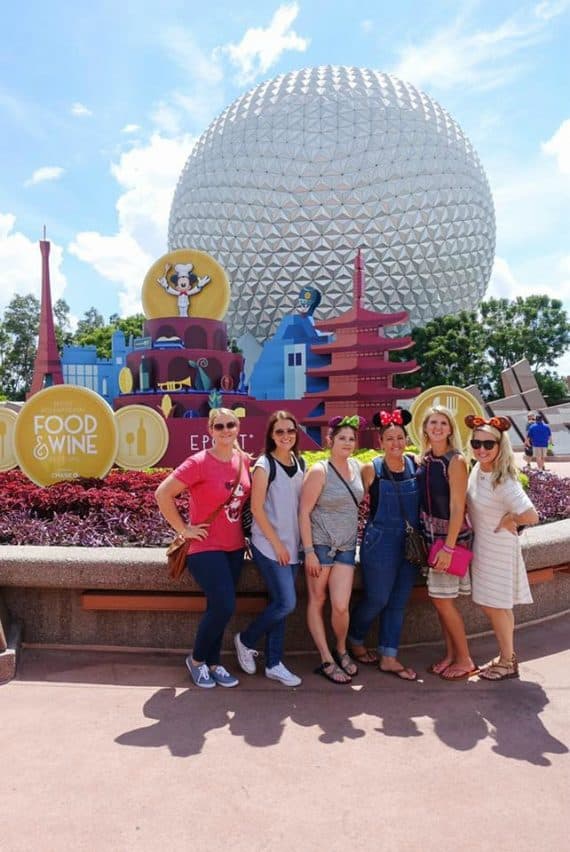 Come with an empty stomach! All the countries have small plates representing some of the best of their restaurants! We ate and ate and ate…
And of course there are the treats at Epcot that they have all year 'round. Every trip we take I try to get all of my favorites…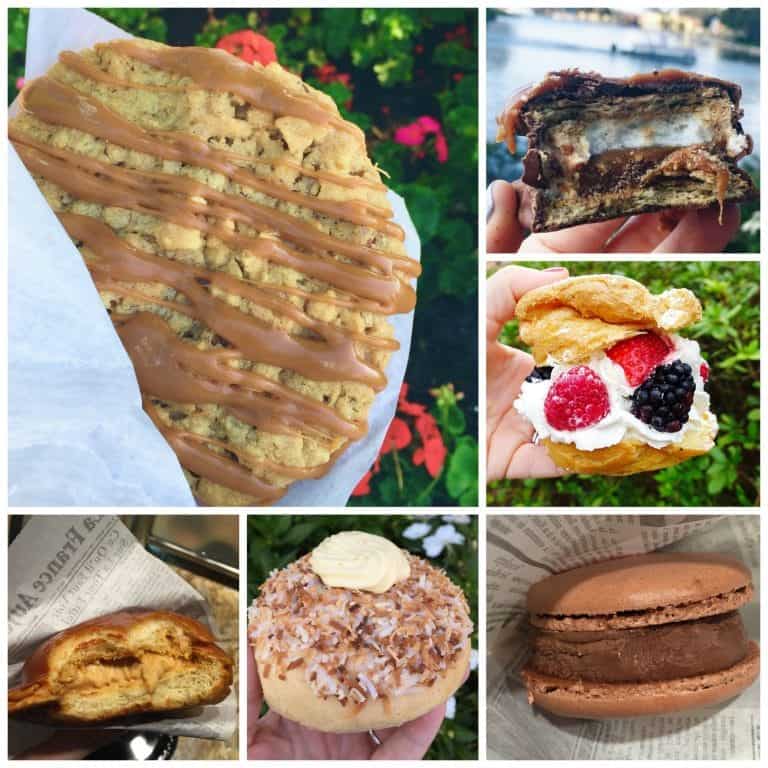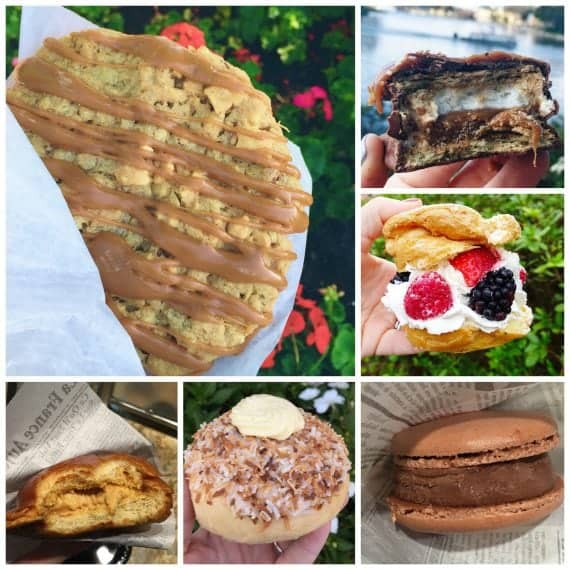 My favorites:
The Caramel Apple Oatmeal Cookie in Germany at Karamell-Küche is my favorite cookie at all of Disney. Actually everything at Karamell-Küche is my favorite. There are so many fun sweets here. (Also pictured top right the Caramel S'more).
In Norway the Kringla Bakeri og Kafe is a Disney classic treat spot. The School Bread (pictured lower center) is "Sweet Cardamom Bun filled with Vanilla Crème Custard and topped with Glazed and Toasted Coconut". And the Berry Cream Puff (pictured right center) is as delicious as it is pretty!
In France there is an Ice Cream shop tucked into the back corner called L'Artisan des Glaces and they serve crazy delicious Warm Brioche Ice Cream Sandwiches. They cut a brioche bun in half, fill it with your favorite ice cream and topping and press it in a hot griddle. The results are stunning. (Pictured lower left is a salted caramel ice cream brioche sandwich). They also have a Macaron Ice Cream sandwich that is crazy good! (Lower right).
For a meal you definitely need to try Via Napoli in Italy for AMAZING pizza and The Rose and Crown in England for fish and chips or the Scotch Egg (pictured)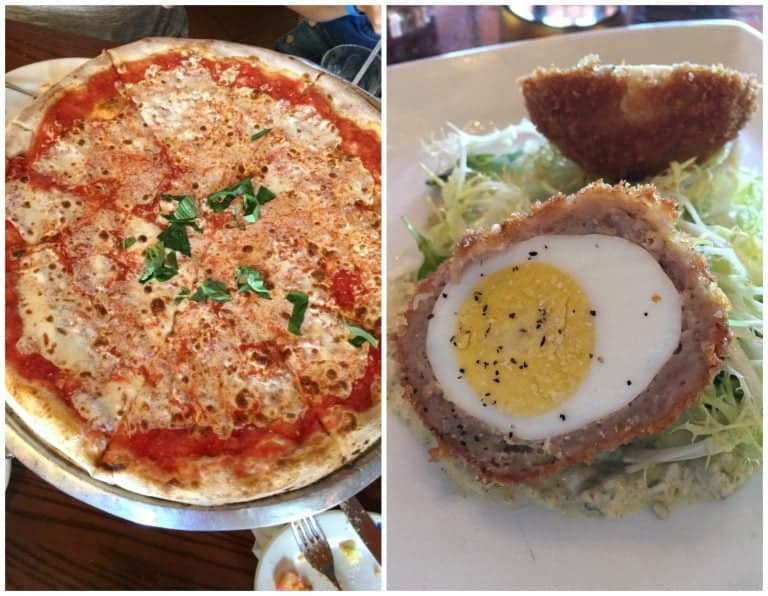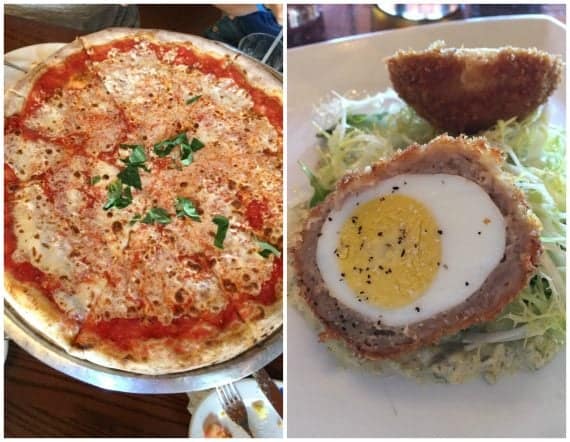 Hollywood Studios has another one of my favorite treat spots.
After riding Tower of Terror and Rockin' Roller Coaster you need to go get my 2 favorite treats in the park (and maybe all of Disney)! I look forward to these 2 every trip!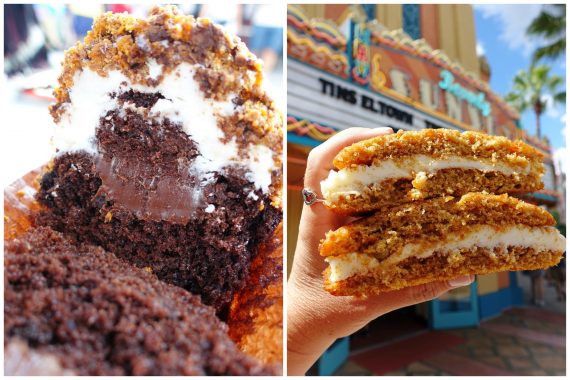 The Butterfinger Cupcake from Starring Roles Cafe is a chocolate cupcake filled with chocolate ganache, topped with buttercream frosting and a chocolate shell coated in crushed Butterfinger. And the Carrot Cake Cookie Sandwich is from Sweet Spells, right next door to Starring Role.
Of course you can't stop there, right?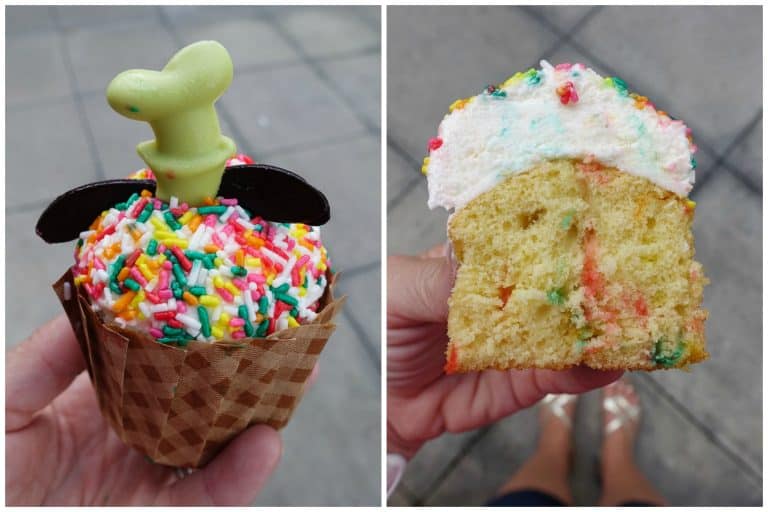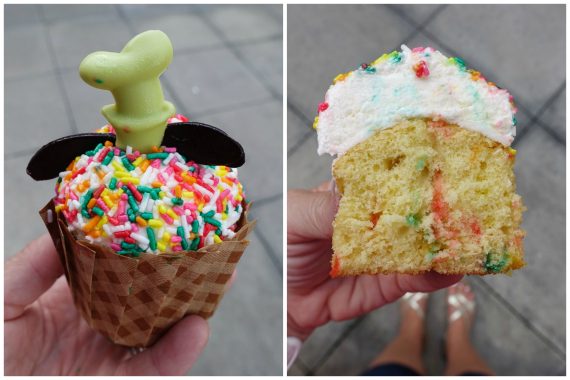 The Goofy Funfetti cupcake from Starring Rolls is amazing. And so are the other cute treats I picked up at Sweet Spells…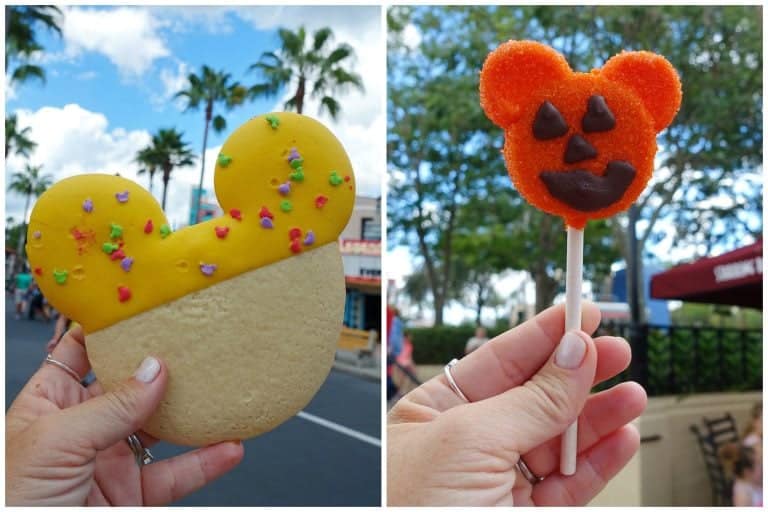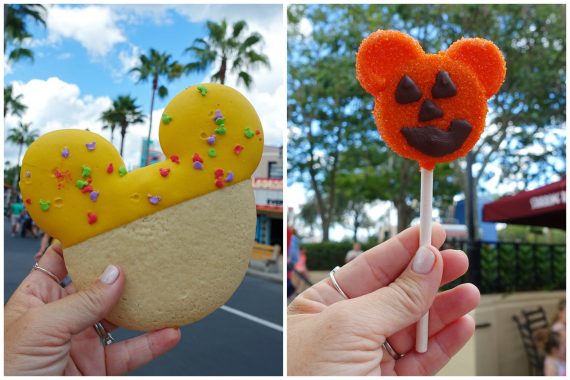 If you're looking for a meal in Hollywood Studios I definitely recommend 50's Prime Time Cafe for the experience…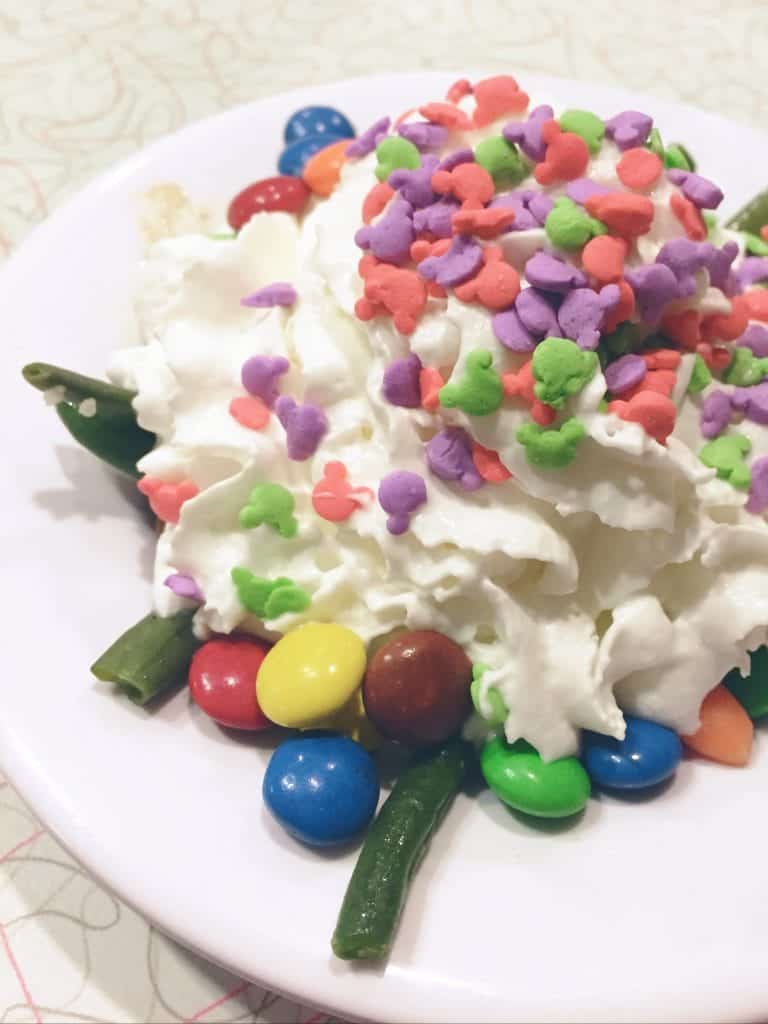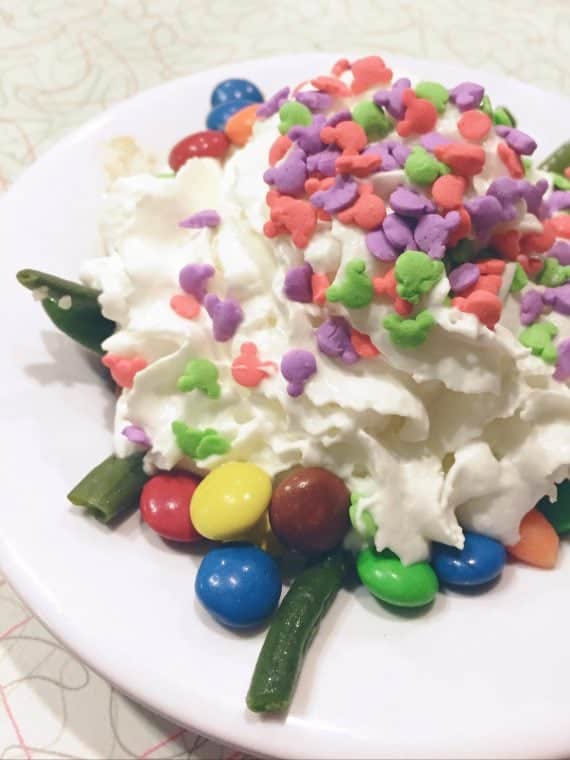 Beware!! If your kids don't eat their veggies they might bring them back out covered in whipped cream and sprinkles!
And for the food hit up The Hollywood Brown Derby and order the Chopped Salad. It is LIFE CHANGING.
Onward to Animal Kingdom…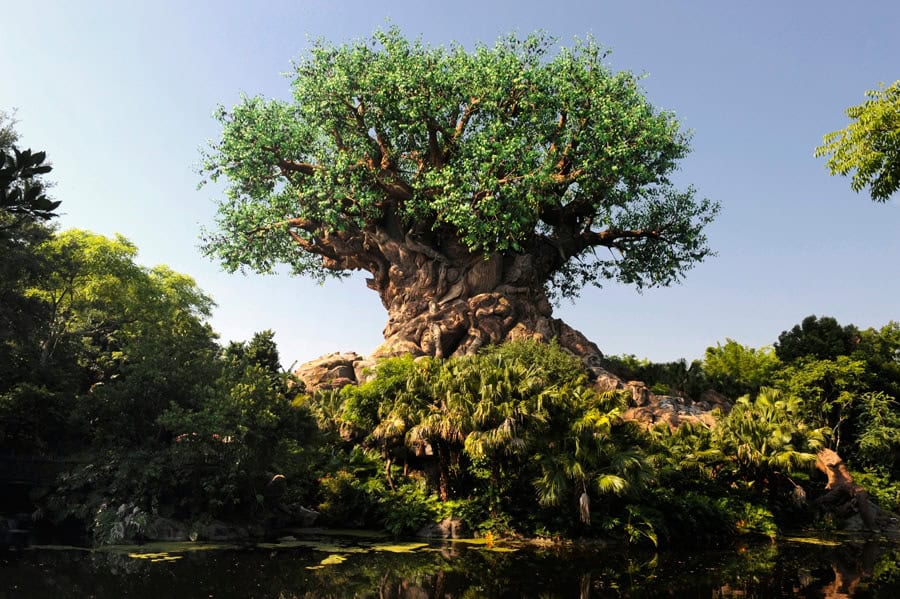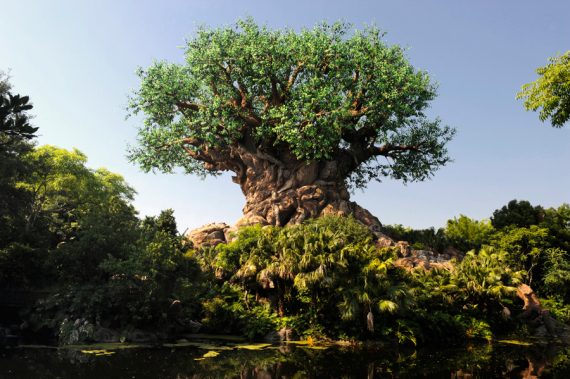 (photo via)
We always love Expedition Everest but we all know the Dole Whip is our favorite part of Animal Kingdom!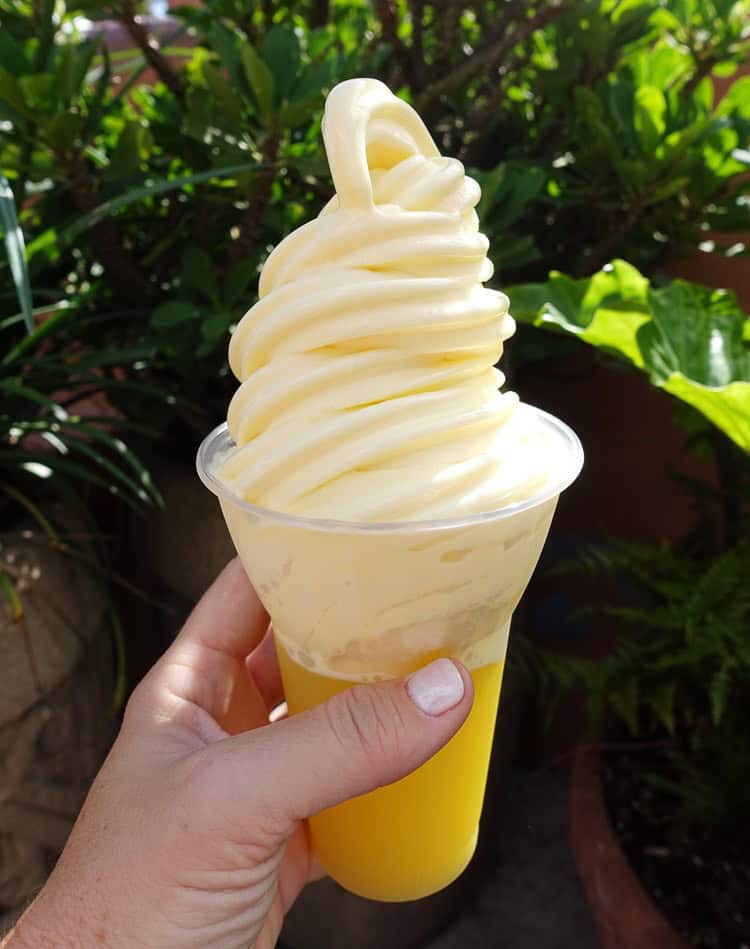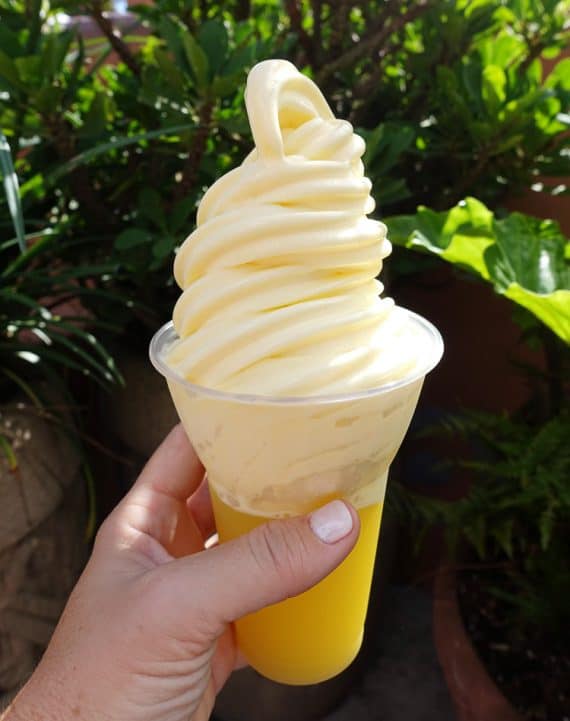 If you're looking for an exceptional meal in Animal Kingdom you ABSOLUTELY need to try Tiffins, which serves African, Asian and Latin cuisine. It's definitely upscale, but of course, in Disney fashion there is a kid's menu…even a kid's APPETIZER menu. Love it!
Tiffins has a the largest lounge on all the Disney properties called The Nomad Lounge. Crazy delicious drinks and a gorgeous view too!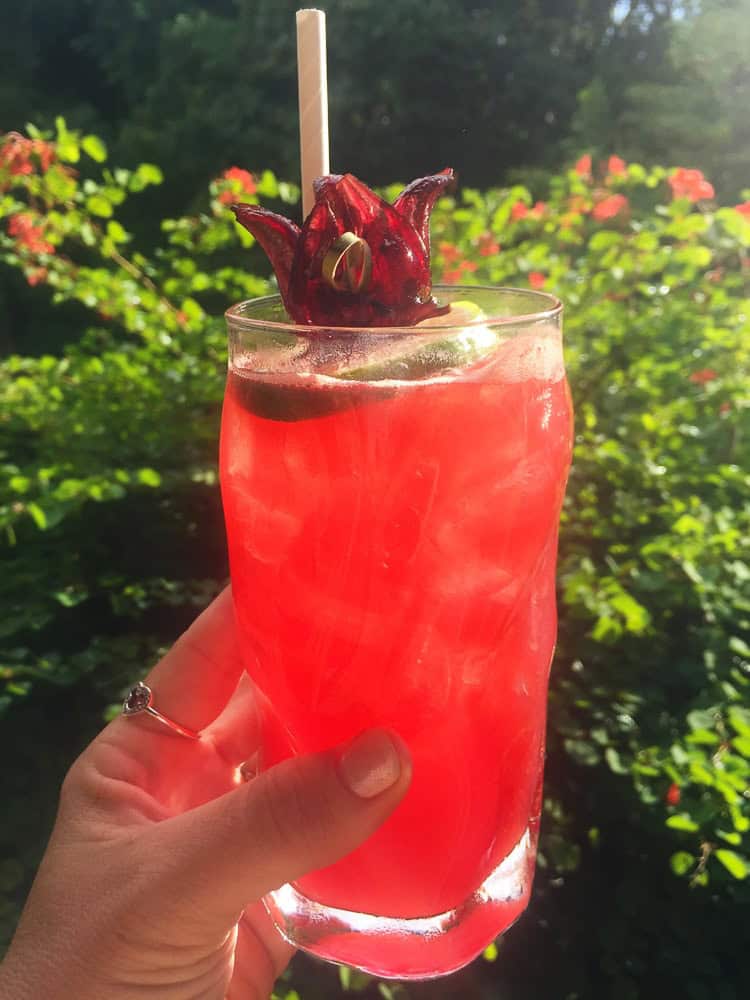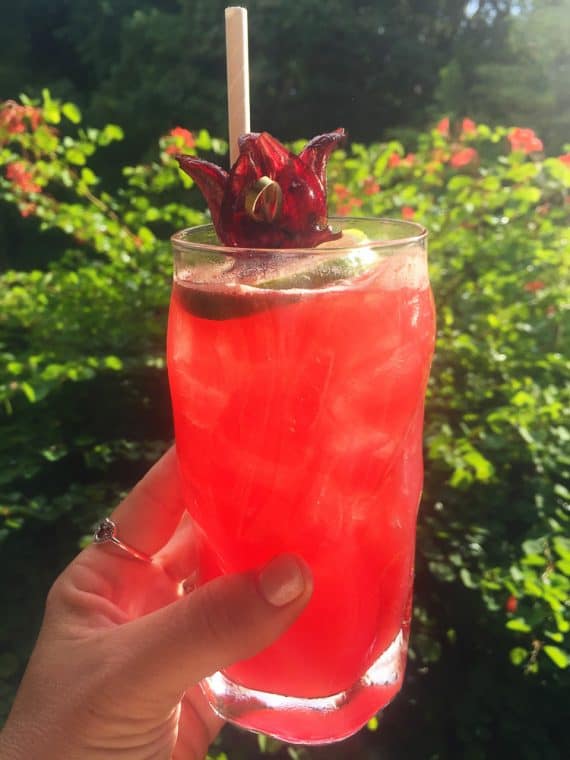 The decor in Tiffins is really thoughtful and detailed. There are recreations of art inspired from Nepal and also trinkets from travelers. I will definitely be back to this spot.
And finally you can't visit Disney without a trip to Disney Springs, formerly known as Downtown Disney. There are so many places to eat, both full service and quick service, tons of shopping and an exciting night life!
When we were there last year we attended the Cirque du Soleil show, La Nouba at Disney Springs and it is a MUST! My family loved it.
For quick service dining I recommend Wolfgang Puck Express. GET THE MACARONI AND CHEESE!
And sit down I recommend Ragland Road for Irish Pub Food and amazing live entertainment. The place is like a party!
AND for Asian you HAVE to go to Morimoto Asia for the most delicious Pan-Asian food you will ever have. I am not kidding, this place is a must! The sushi, the drinks, the ramen…we tried so many dishes on the menu and they were all stunning.
I might be a little biased, however, because Chef Morimoto stopped by our meal to chat with us. Is this even real life?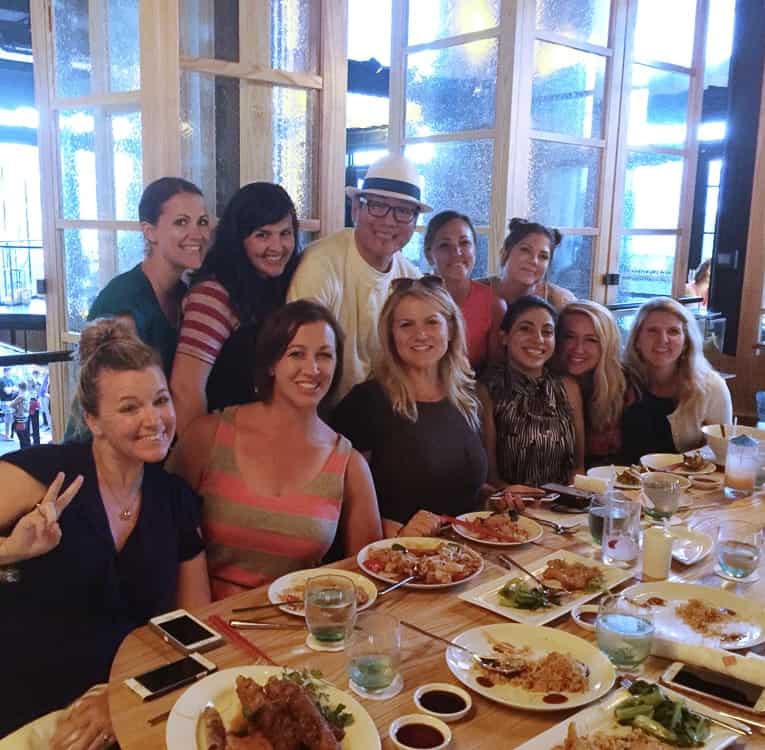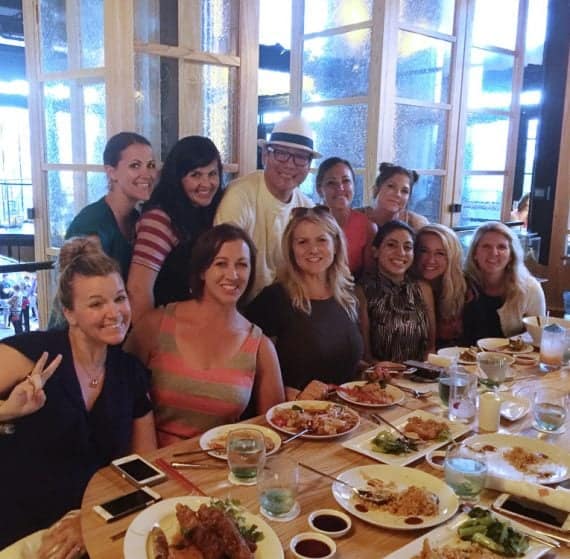 This trip was such a dream.
So many thanks to my friend Jenny for putting this all together and the team at Disney for hosting us and being so very gracious and welcoming.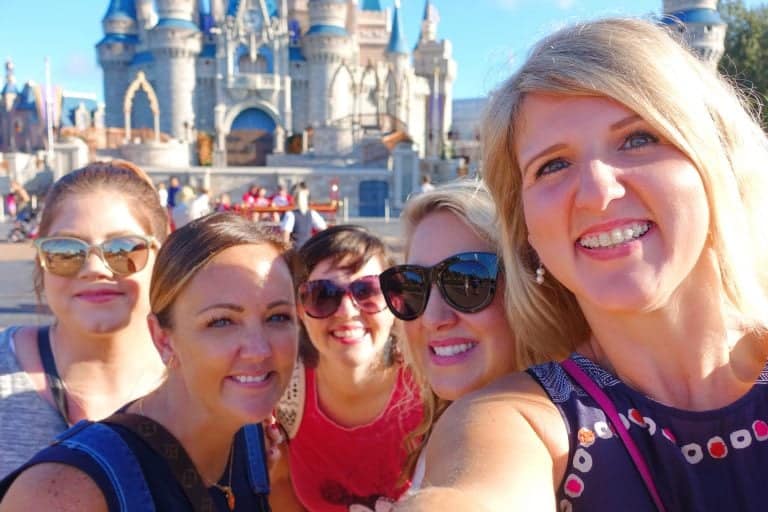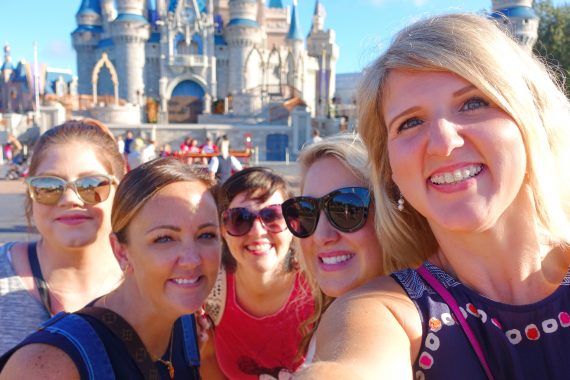 I am counting the minutes until my next Disney vacation!!
I would love to hear some of your MUST EATS at Disney World!