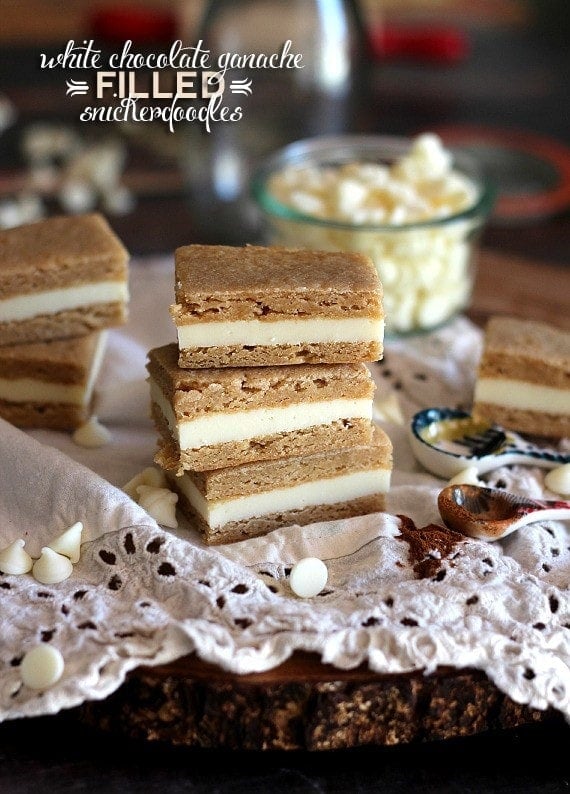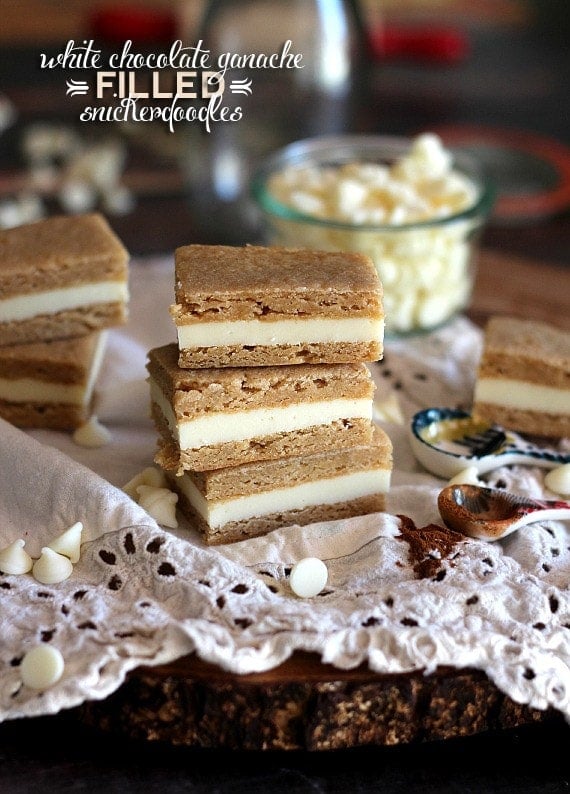 My husband had to go on a business trip.
He got to go to Spain…his hotel was on the beach…and the temperatures there were in the low 80's.
Tough stinkin' life. Meanwhile I held down the fort.
My girlfriends and I were talking though…when husbands go out of town, they pack, they kiss the family goodbye and they head out…
When the mom leaves for a trip, heck, for even an afternoon…the amount of preparation is insanity…
Pack school lunches, your child doesn't like tuna…REMEMBER? Bus at 8:00, please dress in matching clothes, homework, sports practices, VEGETABLES WITH DINNER…
When dad leaves, no notes left, no clothes laid out Garanimals-style, no teeth-brushing reminders…
How freeing must THAT be? So yeah, he went to Spain and life didn't change all that much.
Except for the fact that we all missed him.
And of course upon his return I decided to make him a treat…combining 2 of his favorites:
White Chocolate and Snickerdoodles.
I know, I'm the best.
White Chocolate Ganache filled Snickerdoodle Bars.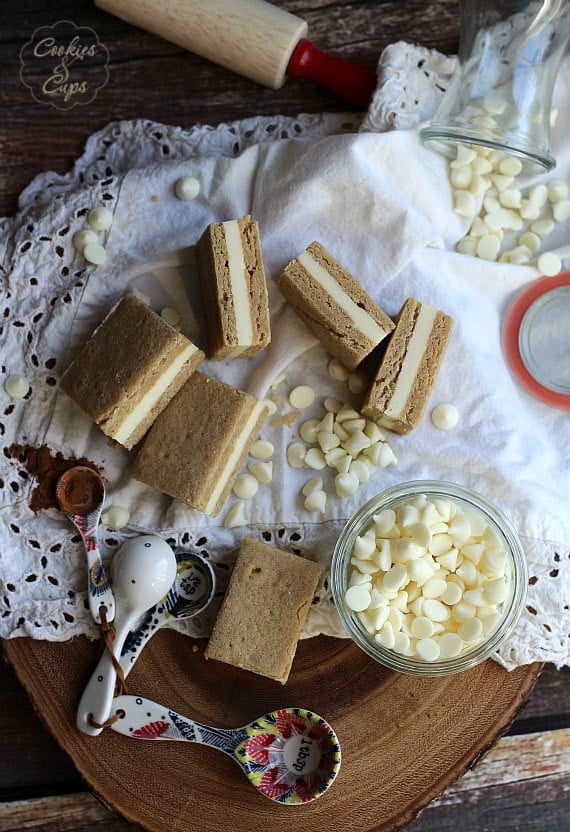 These are super impressive, and equally delicious.
And hello, brown sugar snickerdoodle? YESSSSSS.
How To Make Snickerdoodle Bars
Whisk your dry ingredients all together and set aside.
Make the batter with butter, eggs, vanilla…adding in your dry ingredients last.
Line and grease a jelly roll pan and spread the batter in the pan. It will be sticky, so do your best!
Bake that and let it cool completely in the pan.
Meanwhile go ahead and make your white chocolate ganache.
Melt some white chocolate chips with heavy cream.
Once it's melted set it aside to cool for an hour-ish. It will need to be a spreadable consistency, but not too loose.
Loosen your cookie from the pan by running a knife around the edges. And invert it onto a large cutting board.
Cut the cookie in half with a sharp spatula or sharp knife…
I even cut off the edges, because I'm OCD and wanted all my bars to look equally pretty.
Spread the white chocolate to about 1/2 inch from the edge of one half of the cookie and place the other half on top.
Cover and let that chill for a while until the ganache is completely set…and then cut into bars!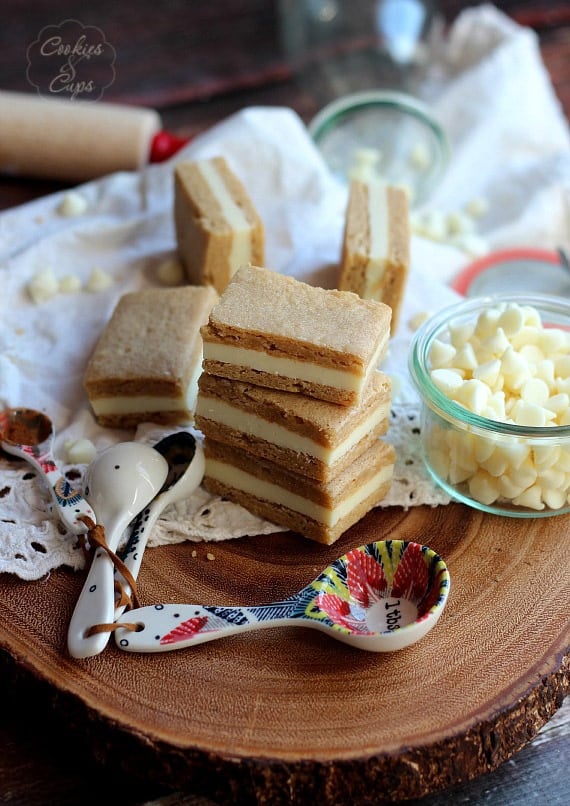 Print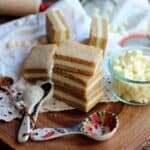 White Chocolate Ganache Filled Snickerdoodle Bars
---
---
Cookie
1 3/4 cups

flour

1/2 tsp

salt

1 tsp

cinnamon

1 cup

butter, room temperature

1 1/2 cups

light brown sugar

2

eggs

2 tsp

vanilla
Filling
---
Instructions
Preheat oven to 350°
Butter a 10×15″ jelly roll pan (baking sheet with sides), then line the bottom of the pan with parchment and then butter the paper and dust with flour. This is very important so the cookie doesn't stick…trust me. Set aside.
Whisk together flour, salt and cinnamon. Set aside.
In the bowl of your stand mixer cream the butter and brown sugar together for 3 minutes until light and fluffy. Add in eggs and vanilla and stir until incorporated and smooth.
Turn mixer to low and add you flour mixture until evenly mixed.
Spread the dough into your prepared pan. It will be very sticky, so do your best.
Bake for 12-15 minutes until golden and a toothpick comes out clean from the middle.
Allow to cool completely in pan on a wire rack.
While cookie is cooling prepare your ganache filling.
Over a double boiler combine white chips and cream. Melt together stirring occasionally.
Once just melted, transfer bowl to a wire rack to cool for about an hour. You want a spreadable consistency, not too loose, not too stiff.
When everything is cooled run a knife around the edges of the cookie pan, loosening the cookie. You might even need to run a spatula under the cookie at the edges.
Invert the pan onto a large cutting board.
With a sharp spatula or knife cut the cookie in half. I even cut the edges off the cookie, so all the bars would be equally pretty.
Spread the cooled ganache onto one of the cookie halves, spreading to about 1/2 inch from the edge. Place the other cookie half on top. Chill for at least an hour, until ganache is completely set.
Cut into squares.
---
Notes
cover and store airtight for up to 3 days.
You could also sprinkle cinnamon sugar all over the top of the cookie before baking to get that rolled sugar look of a snickerdoodle!
Want To Save This Recipe?
Find more recipes like this: