Heavenly Creamy Angel Chicken Pasta is a perfect family dinner! Even the pickiest of eaters can't resist the dreamy flavors of this tender, juicy chicken breast baked in cream sauce and served over angel hair pasta.
Want even more pasta dinner ideas? Try this easy shrimp pasta or this beef pasta recipe.
Easy Chicken Pasta with Italian Cream Cheese Sauce
If it were up to me, I'd bake cookies for every meal. However, when I'm not baking cookies, I feel like I'm baking chicken! This creamy chicken pasta, fondly known as "angel chicken" in the Midwest, is one of our favorite weeknight dinners. It's prepared with chicken breasts baked in a quick homemade cream sauce, served over angel hair pasta (hence the nickname).
I'm all about an easy chicken recipe. And for a family meal that's packed with flavor, you can't do better than this delicious, heavenly cream cheese chicken pasta with its buttery, velvety sauce. I've also included all kinds of ways you can dress up your angel chicken pasta, so you can really make your next dinner something to remember!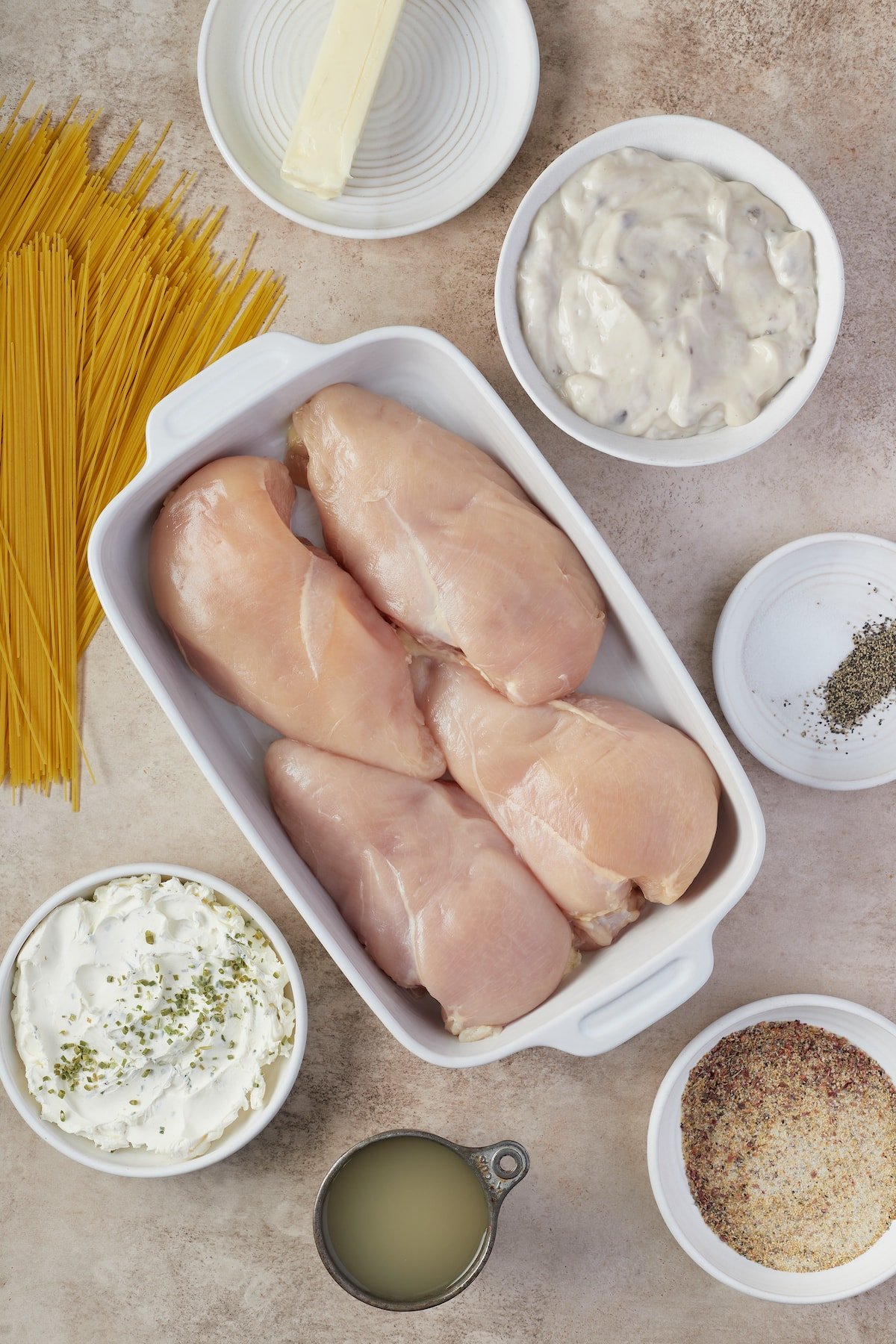 What You'll Need
I have been eating variations of angel chicken my entire life. It's a quintessential Midwest-style dinner, complete with Italian dressing and condensed soup! So, yes, you'll need to get your hands on some for this recipe. The rest of the ingredients are just as commonplace:
Chicken Breast: Boneless, skinless chicken breasts, trimmed of the tenderloins and cartilage.
Canned Cream of Mushroom Soup: Say what you want about condensed canned soup, and I even try to avoid foods with lots of additives as a general rule. But when it comes to recipes like this one that are nostalgic and quick, it just wouldn't be the same without it!
Chicken Broth: Low sodium chicken broth is perfect. You can also use white wine to make it more of a creamy white wine sauce.
Italian Seasoning: You'll need two packets of Italian dressing mix, or the equivalent amount from a bottle.
Cream Cheese: This recipe calls for the version of cream cheese that contains chives. If you want, you can use regular cream cheese and finely chop fresh chives to use instead, roughly a handful.
Angel Hair Pasta: Like spaghetti, but finer. Angel hair pasta can be found with the dried pasta in most grocery stores. Of course, you can serve this chicken with any noodles you'd like, from regular spaghetti, linguine, to penne even. It just won't technically be angel chicken!
Butter: You can use salted or unsalted, just keep it in mind when you're seasoning the dish.
Salt & Pepper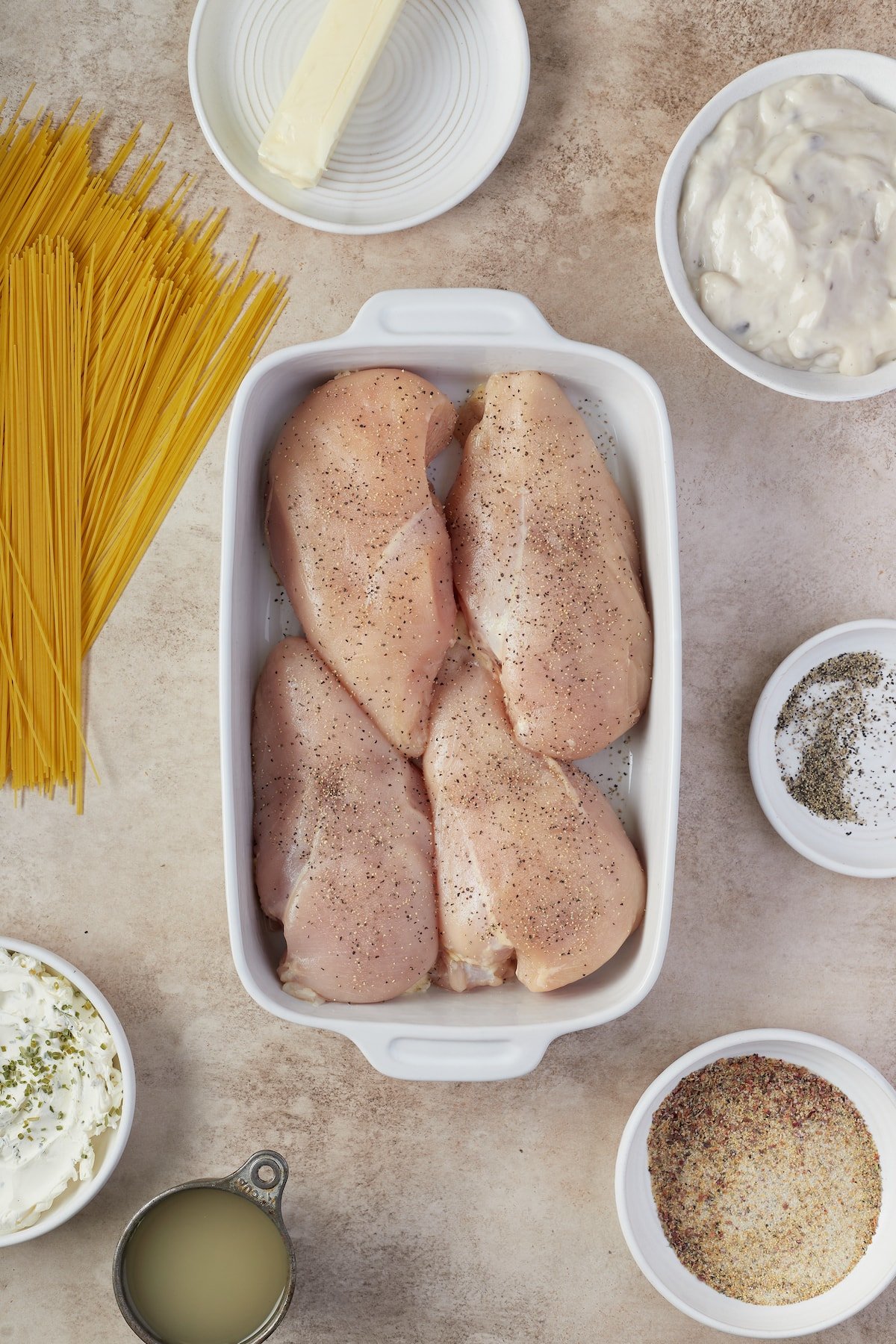 How to Make Chicken Cream Cheese Pasta
There's really only three steps to this chicken bake: melt the cream cheese sauce ingredients, pour it over the chicken, and bake. All that's left is to serve it over your pasta! Here's a breakdown of what to do:
Prep: Arrange the chicken breasts in a single layer in a greased baking dish. Season with salt and pepper.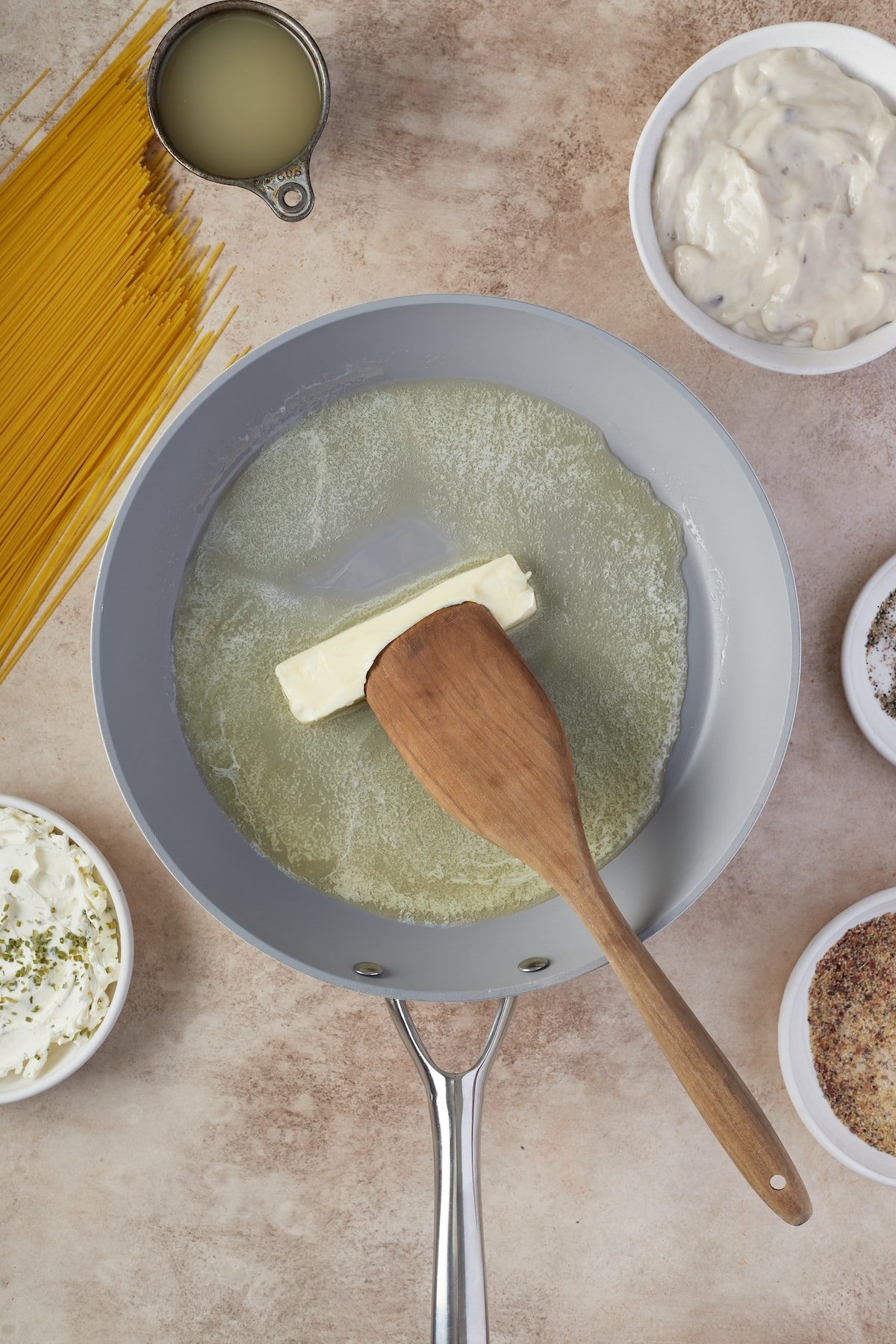 Make the Sauce: In a heated saucepan, stir together the butter, cream of mushroom soup, Italian dressing, and broth. Next melt in the cream cheese.
Bake: Pour the white cream sauce over the chicken, then bake it in a preheated oven until the sauce is bubbly and the chicken is cooked through. Use a meat thermometer if needed to check that the thickest part of the chicken is done at 165 degrees.
Serve: Coat your angel hair pasta in the cream sauce, top with the chicken, and serve! I love to garnish mine with fresh chives and a sprinkle of parmesan.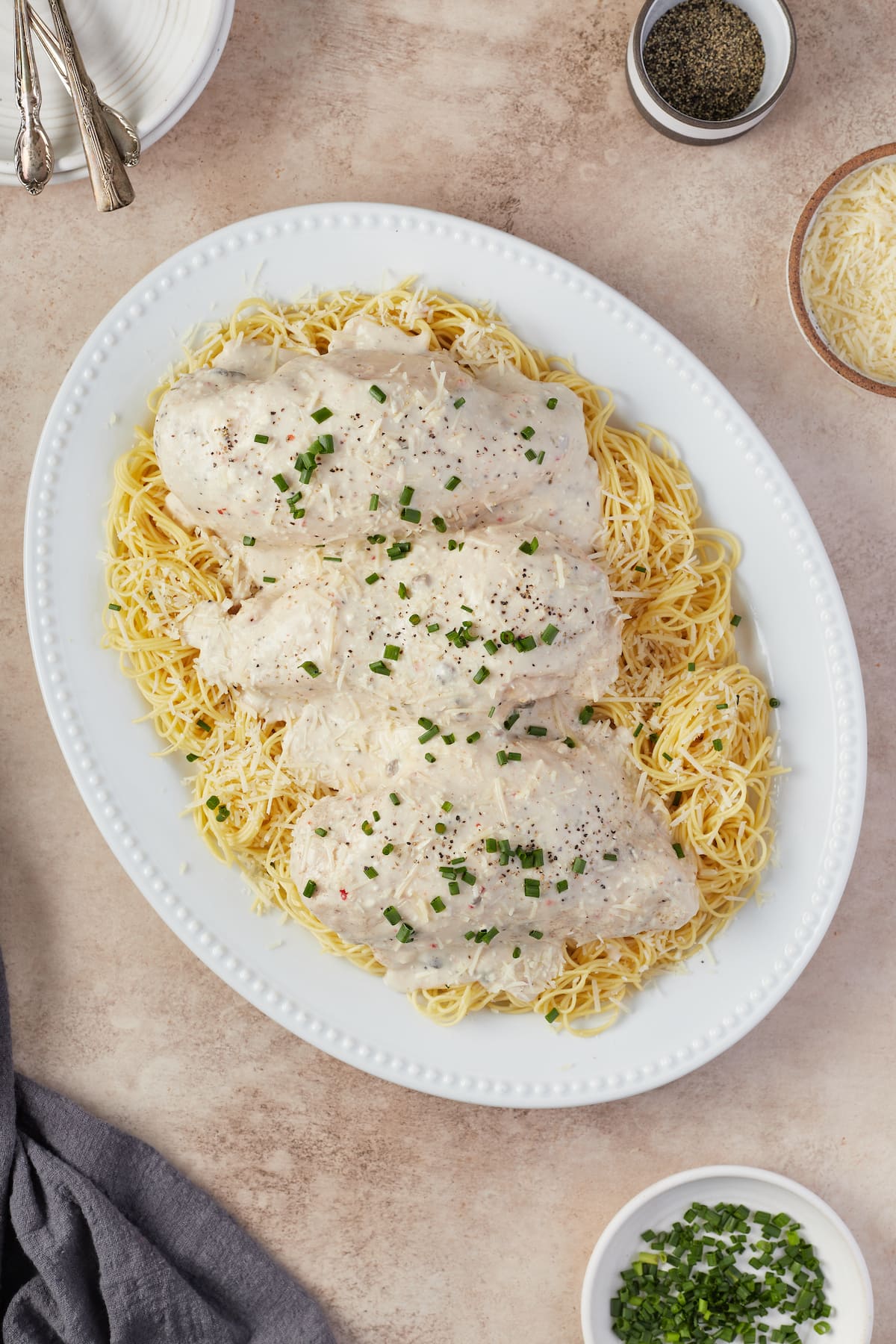 Can I Cook This in the Crock Pot Instead?
Yes! I've made this chicken with cream cheese sauce in the crock pot many times (minus the pasta, which still cooks separately). Here's how to make slow cooker angel chicken:
Season the chicken breasts with salt and pepper and place them into the slow cooker.
Heat up the sauce, the same as you would in steps 3 & 4 of the recipe.
Pour the sauce over the chicken in the bowl of your slow cooker.
Cook on low for 6-7 hours, or on high for 3-4 hours. Be mindful to not cook the chicken so long that it shreds. You want the breasts to be tender, but not so much that the chicken falls apart!
Boil the pasta and serve. Spoon the chicken and sauce over top!
Is it Make-Ahead Friendly?
Easily! The slow cooker isn't the only option if you'd prefer a meal that's ready to go come dinner time. You can also prepare this creamy angel chicken in advance, up to one day before serving it. When you're ready, just heat up the chicken and sauce using a large Dutch Oven and boil the pasta according to the package directions.
There's also the option to make this chicken even further ahead and freeze it. See my sections below on storing and freezing angel chicken!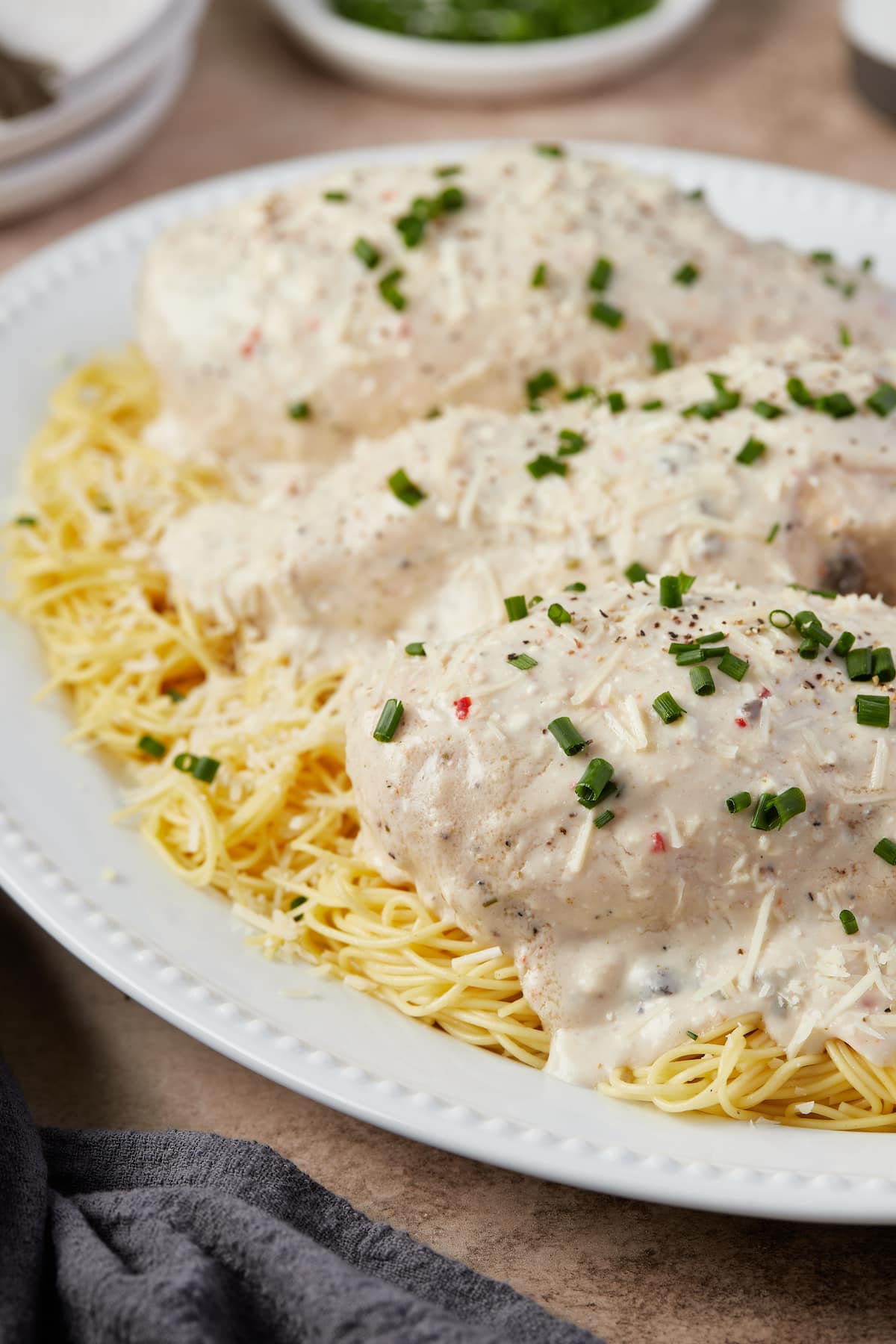 Tips for Success
If You're Serving the Chicken Without Pasta: If you would like to enjoy only the baked chicken sans pasta, bake according to recipe but cut the sauce ingredients by half.
Can I Make This With Chicken Thighs?: You can make angel chicken with chicken thighs or any other boneless cuts. Just note that the cooking times may vary. I'd recommend avoiding bone-in meat, though, as this isn't as kid-friendly or as easy to cut into when served over pasta.
Let the Cream Cheese Come To Room Temperature: Take the cream cheese out of the fridge about a half hour before you make the sauce. Not only will it melt quicker, but the texture of the sauce will be smoother as well.
To Thicken the Sauce: If you find your cream sauce is on the runny side, or if you'd prefer it thicker, add in extra cream cheese. On the other hand, if you'd like to thin the sauce at all, use a bit of milk or extra broth. Whatever you do, avoid using water as this tends to dilute the creamy flavors!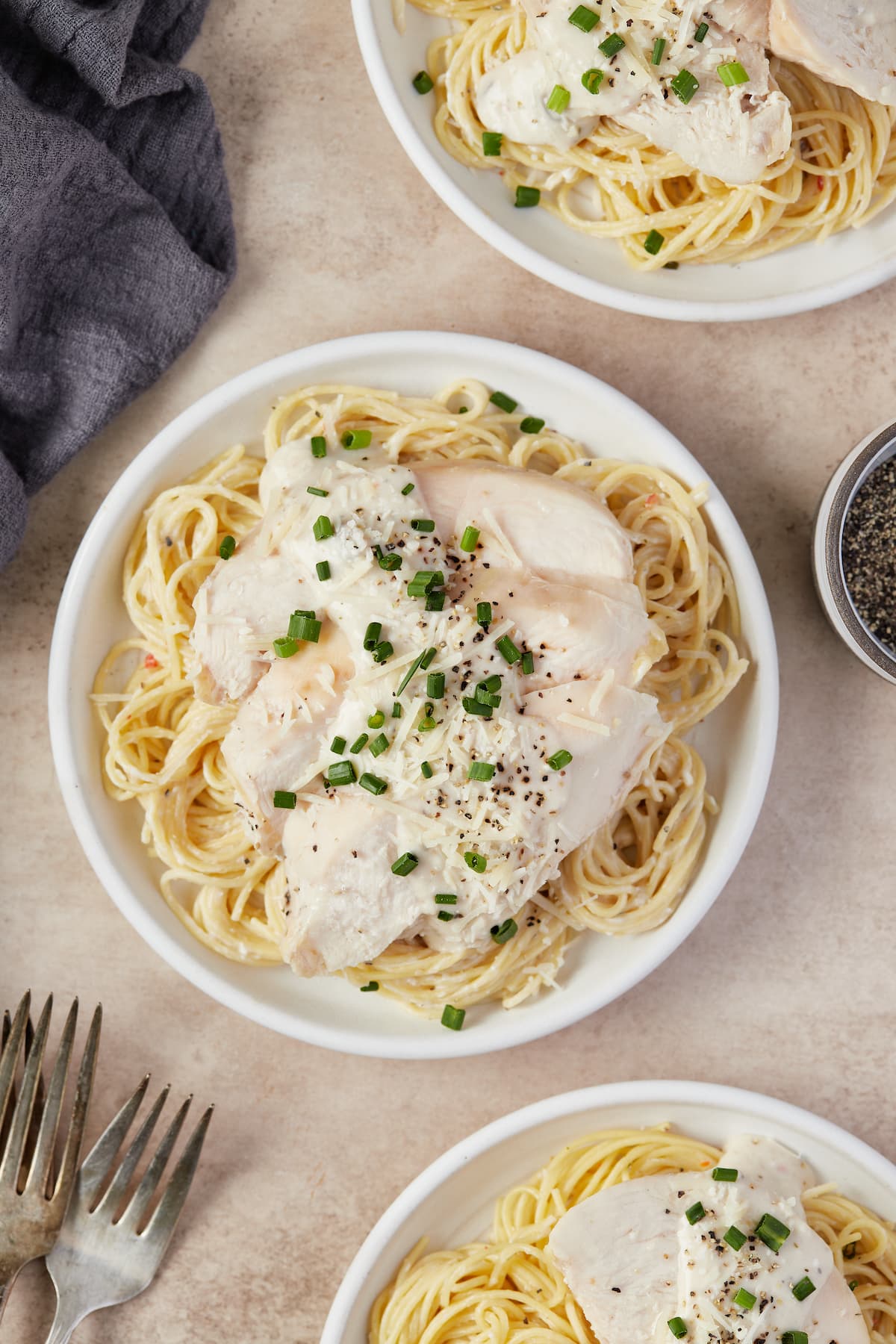 Add-In Ideas
The possibilities are pretty endless when it comes to add-ins for this recipe! You can add in just about any ingredient that you'd enjoy pairing with chicken and pasta. Here are a few of my favorite add-in ideas for angel chicken pasta:
Sautéed Mushrooms: For the mushroom lovers out there, you can really double down with fresh cooked mushrooms in addition to the cream of mushroom soup!
Tomatoes: Fresh diced tomatoes, cherry tomatoes, or sun-dried tomatoes offer a burst of juicy acidity.
Peas: I like adding green veggies right into the sauce for a nice pop of color. Peas work perfectly! Cut green beans will work also. You can use fresh or frozen, just thaw and drain the veggies and add them in before baking.
Artichoke Hearts: I LOVE artichoke hearts, so you best believe they've found their way into this recipe on more than one occasion. I buy canned artichokes, then drain and coarsely chop them to mix right into the sauce.
Roasted Red Peppers: Bell peppers are a great idea to add flavor and color. Roast and chop your red peppers to add into the sauce before baking.
Spinach: Another great way to get your greens in! Empty a bag of pre-washed spinach into the warm sauce so that the spinach wilts a bit. Don't over do it, since it will continue to wilt while it's baking! Blanched kale is another option, that will soften as it bakes.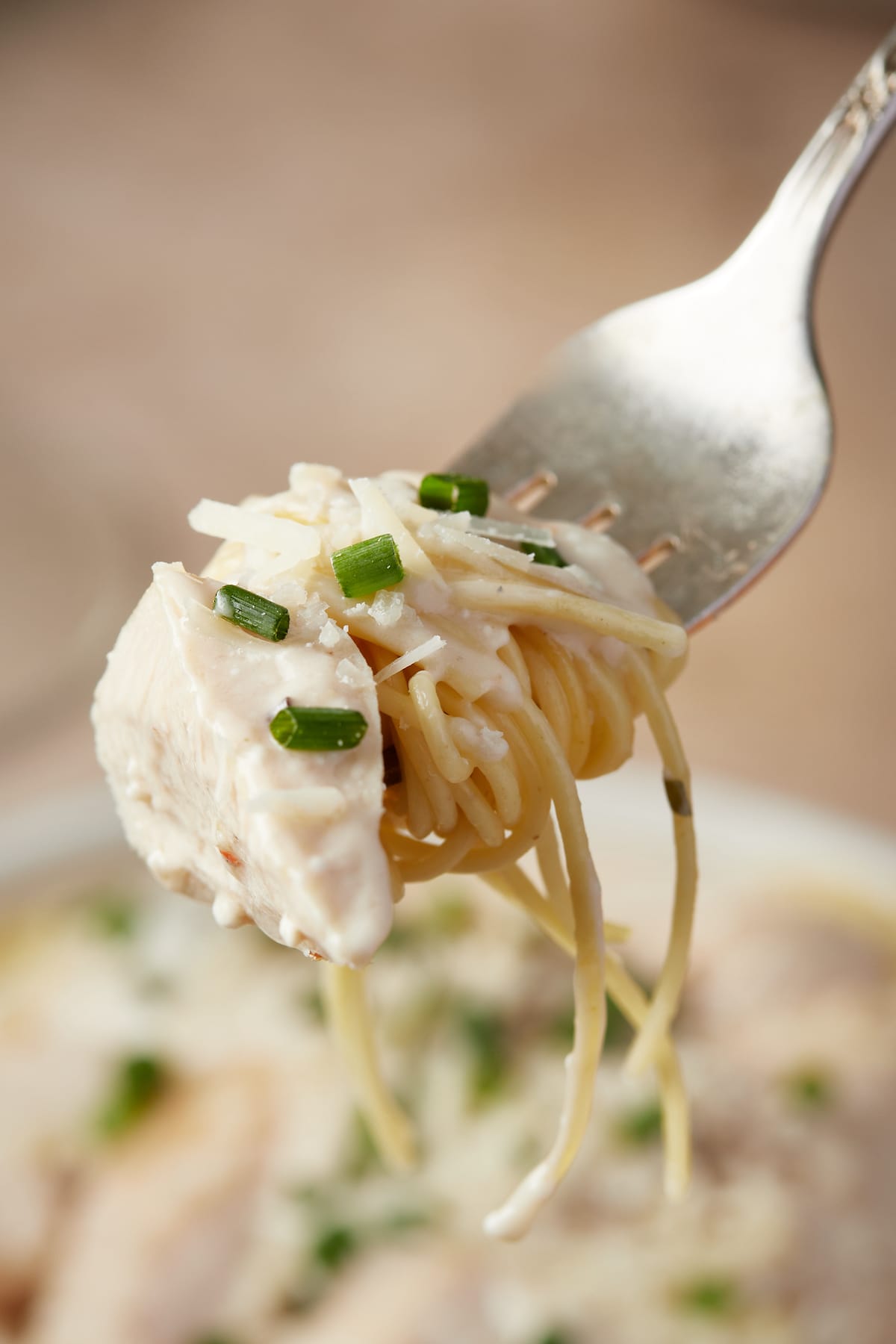 Chicken Pasta Variations
The base for this sauce is Italian seasoning, cream cheese, and cream of mushroom. So while this chicken pasta dish has plenty of flavor, it isn't a strong flavor, which is why this meal is particularly great for picky eaters.
Though if you'd like to switch things up with the sauce or jazz it up a little, there are a few ways to do it:
Swap the Soup: If you are 100% opposed to mushrooms in all forms, swap out the cream of mushroom for Cream of Chicken soup instead!
Ranch Dressing: Sub the Italian dressing for ranch dressing, and voila, easy and creamy ranch chicken!
Bring the Heat: Amp up the heat factor and add in a teaspoon(ish) of crushed red pepper flakes or chili powder. You can also toss a few dashes of sriracha hot sauce into the sauce to taste.
Flavored Cream Cheese: Instead of cream cheese with chives (that has a flavor similar to sour cream and onion dip), use a veggie cream cheese, or even bacon cream cheese to change up the taste.
Italian Seasoning: Boost the flavors of the Italian dressing by adding in a few extra teaspoons of Italian seasoning as well!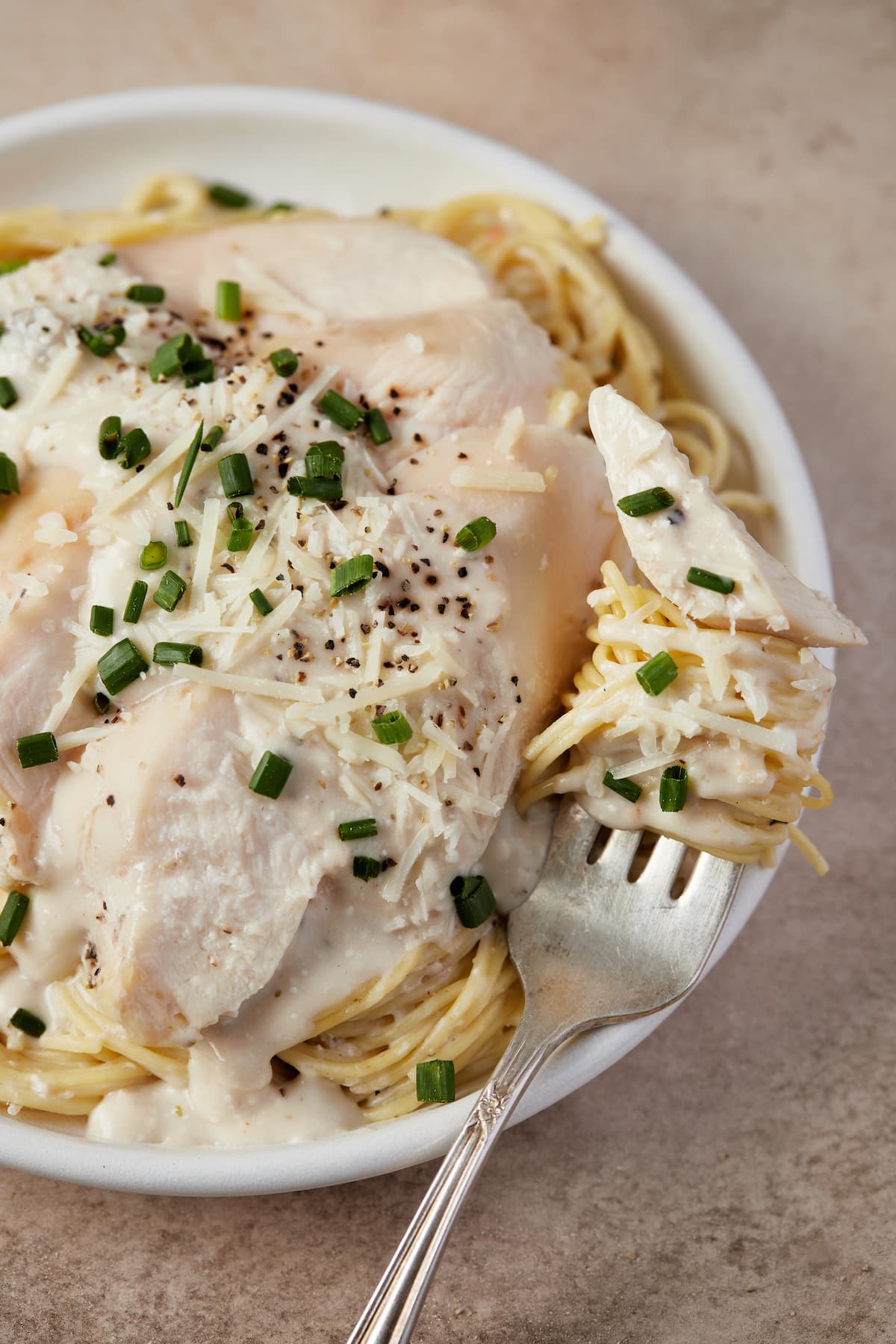 How to Store and Reheat Leftovers
Store leftover chicken and pasta airtight in the fridge, for up to 3 days. Both can be reheated in the microwave, or in a Dutch oven on the stovetop with a little added liquid (like milk), to help bring the sauce back to life.
Can I Freeze This?
The chicken and the sauce can be stored frozen for up to one month. I wouldn't recommend freezing leftovers that contain pasta, as the angel hair will become mushy when it thaws. It's best to make the pasta fresh when you're ready to serve it!
To freeze the cooked chicken: Once it's completely cool, transfer the baked chicken breasts and the sauce to a freezer-safe container or freezer bag. Defrost it in the fridge and reheat following the instructions above.
To freeze the sauce: You can make and freeze the sauce on its own as well. Allow it to cool and store it airtight in the freezer until you're ready to use it. Thaw it in the fridge, and then pour it over the chicken and bake as usual.
More Flavorful Chicken Dinners to Try
Print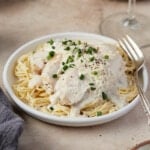 Creamy Angel Chicken Pasta
Author:

Prep Time:

15 minutes

Cook Time:

45 minutes

Total Time:

1 hour

Yield:

serves

6

-8

1

x

Category:

Chicken

Method:

Oven

Cuisine:

Dinner
---
Description
Creamy Angel Chicken Pasta is perfect for family dinners! Made with juicy chicken breasts baked in a flavorful homemade cream sauce and then served over angel hair pasta. Even picky eaters can't resist!
---
3

–

3 1/2

pounds boneless, skinless chicken breasts, trimmed

1 teaspoon

kosher salt

1 teaspoon

black pepper

1/2 cup

butter

2

(0.7- ounce) packages Italian dressing mix

2

(10.5- ounce) cans cream of mushroom soup

1 cup

chicken broth or white wine

8 ounces

cream cheese with chives

1

pound Angel Hair pasta
---
Instructions
Preheat oven to 325°F.
Coat an 11×15 baking pan with nonstick spray and place the chicken breasts in one layer in the pan. Sprinkle with salt and pepper and set aside.
In a large saucepan, melt the butter over medium heat. Stir in the Italian seasoning packets, cream of mushroom soup, and chicken broth (or wine) and heat until very warm but not boiling.
Stir in the cream cheese until melted and remove from heat.
Pour the mixture on top of the chicken and bake for 45 minutes, or until bubbly and chicken is cooked through.
When chicken is almost done, cook Angel Hair pasta according to package directions and drain.
Coat the pasta with the sauce from the chicken and serve.
Garnish with chives and Parmesan cheese if desired.
---
Notes
Store airtight in the refrigerator for up to 3 days.
If you would like to enjoy this without the pasta, cut the sauce ingredients in half and bake according to recipe.
Nutrition
Serving Size:
Calories:

687

Sugar:

3 g

Sodium:

1032.4 mg

Fat:

31.2 g

Carbohydrates:

49.8 g

Protein:

49.2 g

Cholesterol:

183.3 mg
Keywords: chicken dinner, creamy chicken recipes, easy dinner recipes
Want To Save This Recipe?
Find more recipes like this: