This Bacon Pecan Crumble Chocolate Cake is EPIC! It's a SUPER soft chocolate cake, delicious chocolate frosting and it's topped with a thick layer of caramel and salty bacon pecan crumble!! CRAZY GOOD!!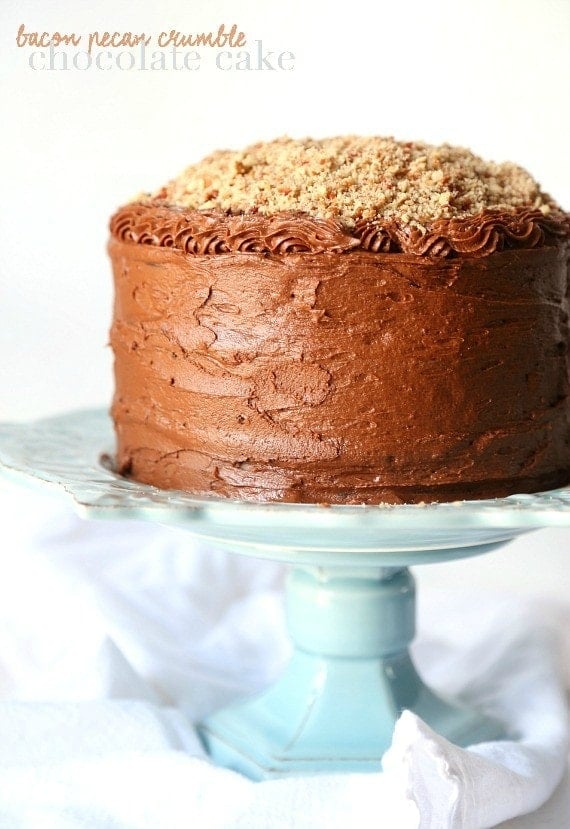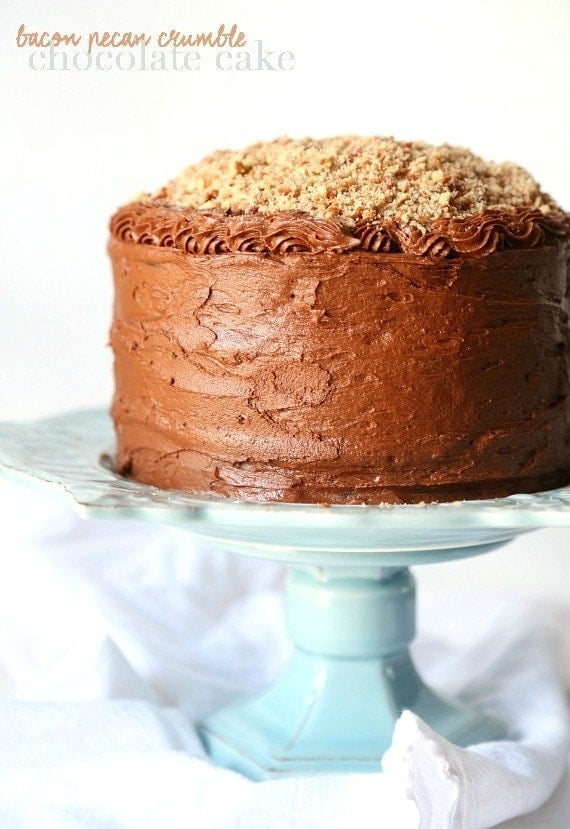 Please don't be scared.
Or don't be that person who says "eew, bacon in dessert".
Just stay with me for a few seconds.
I PROMISE you the bacon in the crumble is just enough to make it interesting.. it's not like "OMG BACON"…it's like, "Oh how nice, is that bacon?"
This cake is seriously amazing. The dark chocolate cake is like a soft sponge cake, the frosting is creamy-dreamy and the bacon-pecan crumble is ridiculous. Oh and I also threw on a thick layer of caramel goodness on the top.
If I still can't get you on board, go ahead and make the cake without the bacon. No, it won't be half as fun, but it'll still be major.
I found this basis for this recipe in the cookbook Sweet and Vicious. I adore this book. I've made a few things using her ideas as inspiration like this Blueberry Cobbler Bread that was to-die! And this cake has been bookmarked since I got it. But you know, a cake with a ton of steps takes a special day, or a special event.
This is the cake you make when you want to feel like a boss. It's a pretty hardcore cake, but we ain't scared.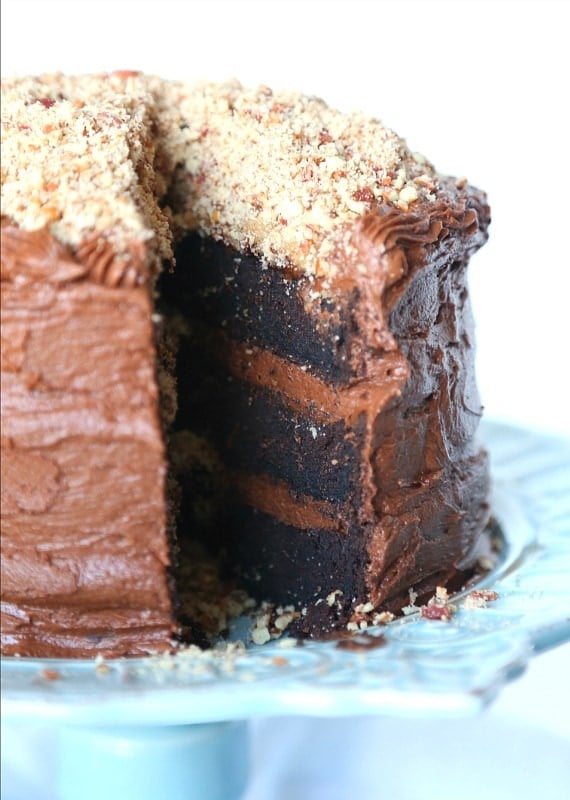 The cake itself is the recipe from the book…only I adapted the method a bit. It's a pretty straightforward cake and I LOVE the addition of chocolate milk!
I also used Hershey's Special Dark Cocoa Powder to get a dark chocolate cake, but certainly if you can't find it or don't prefer Dark Chocolate, just use regular cocoa powder!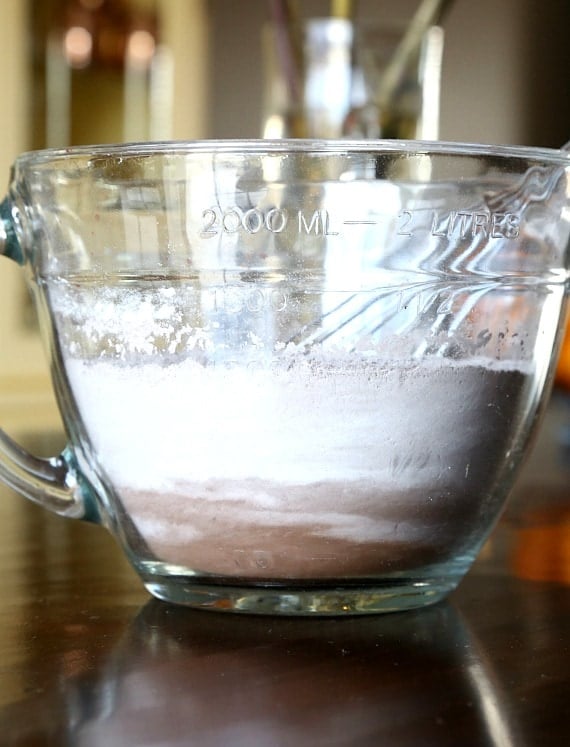 This cake will make three, 8″ layers…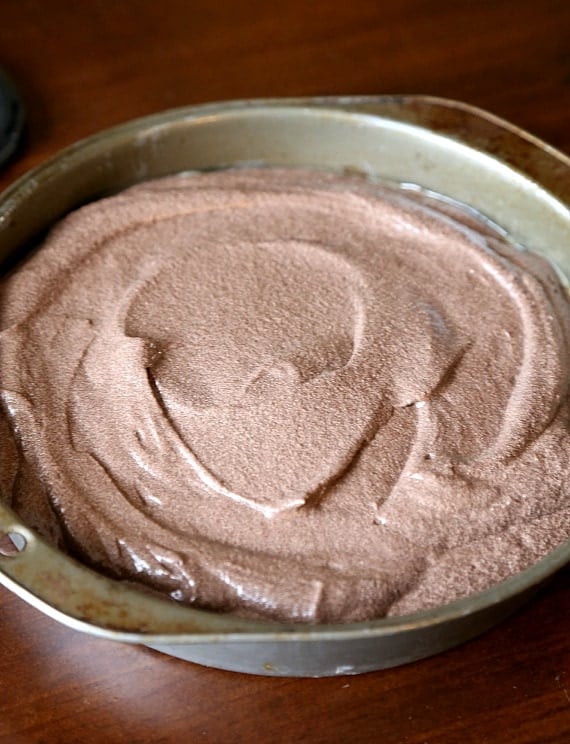 While the cake was baking I went ahead and made the crumble topping. I toasted some pecans…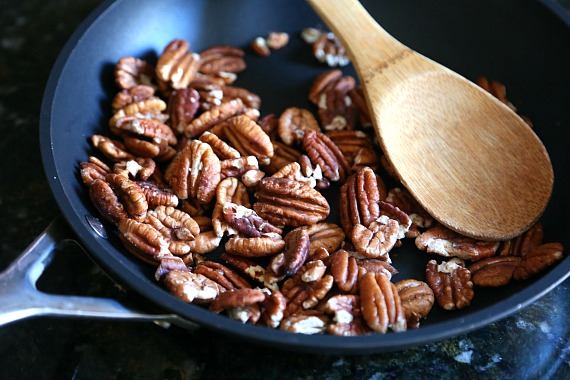 And pulsed them in my blender along with 5 slices of extra crispy bacon and a pinch of salt. You want it to be a coarse crumb.
Libbie Summers calls this stuff "Chunky Pig Fairy Dust", which might be the most glorious description of all times.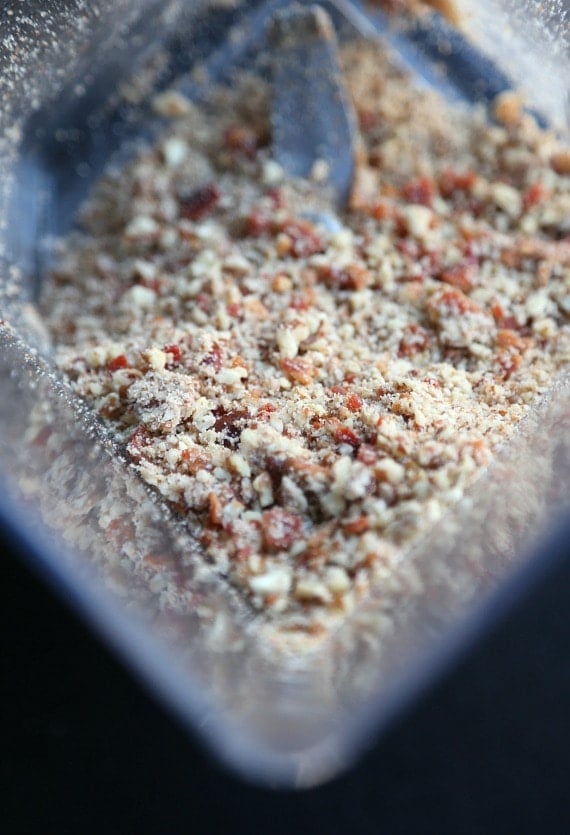 Also, you can go ahead and make your frosting too…I used my own recipe for chocolate frosting, because I don't think it can be beat! You can find the original recipe HERE. I typically use dark cocoa powder for the frosting too, but for this cake I thought there was enough intensity already and wanted to lighten the frosting up with regular cocoa powder. Plus, I liked the look of the lighter color frosting against the darker cake. Sometimes it's a fashion choice 🙂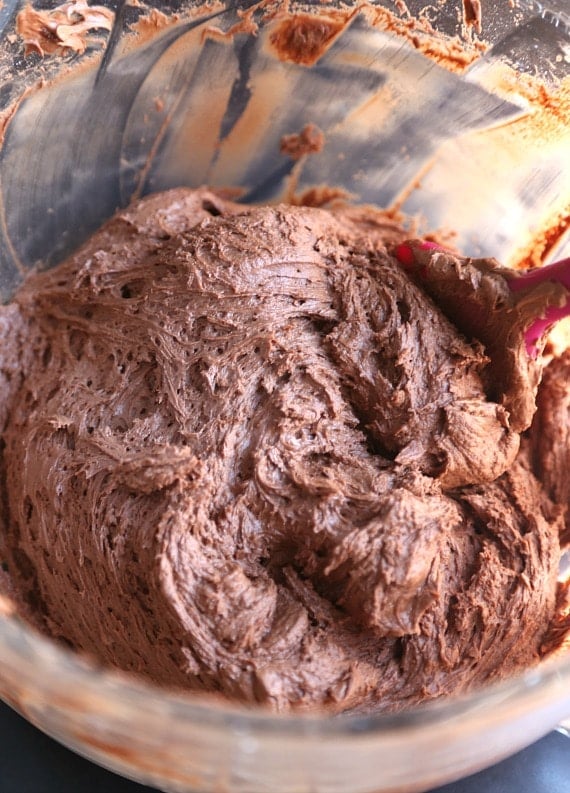 When the cake has cooled just frost it. No need to get fancy or worry about perfection…you can see that I didn't.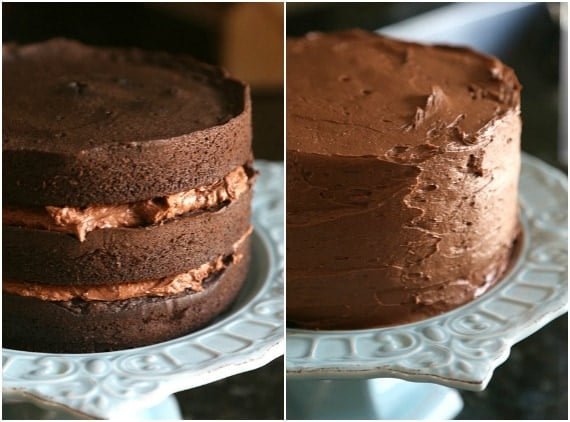 Also, this might not be your thing, but pipe a little extra around the top of the cake. While it looks profesh, it actually serves a purpose.
And again, my piping skills are super lacking, so don't worry.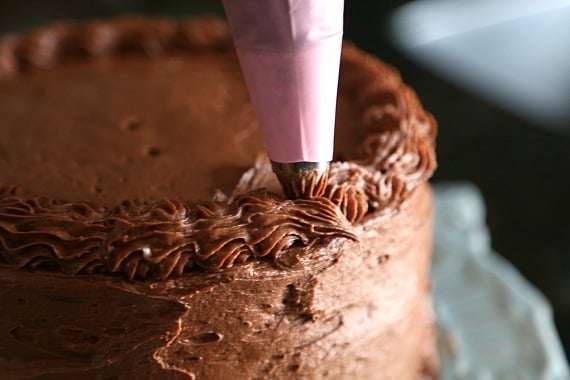 The extra frosting there works as a pool to hold a delicious layer of simple caramel. WHAT?
The original recipe didn't call for this, but you know..go big or go home, right? The caramel will only take you a few minutes to make, so don't be afraid. And it isn't a caramel sauce that you will drizzle. When this stuff cools it will make a thick caramel/frosting-ish layer.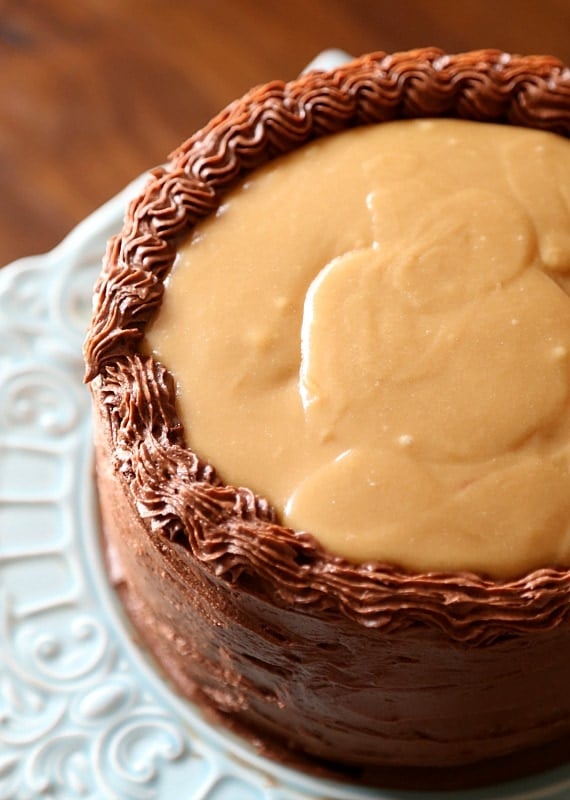 Then top your caramel with the Piggy Fairy Dust…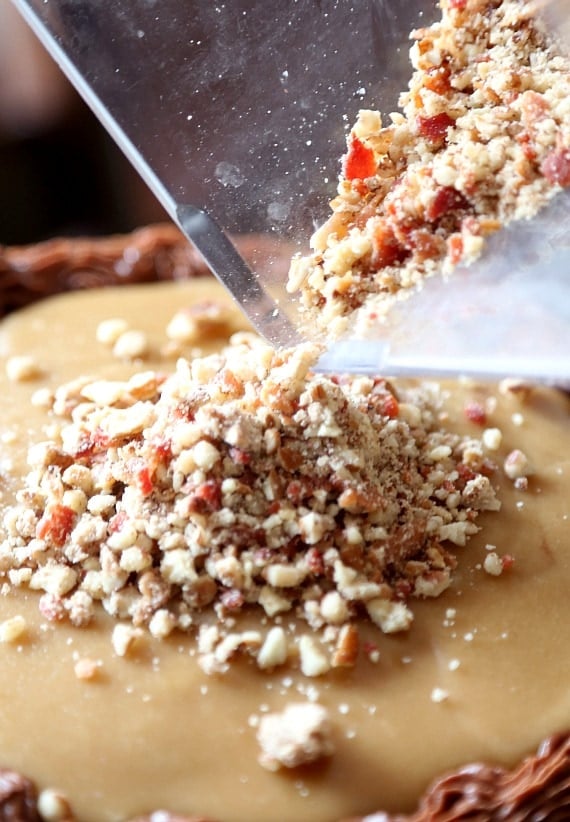 And like whoa!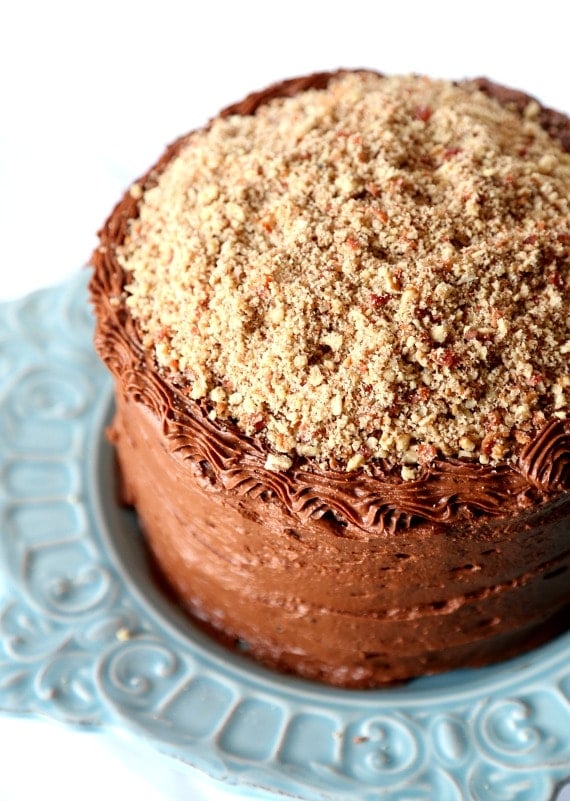 You guys…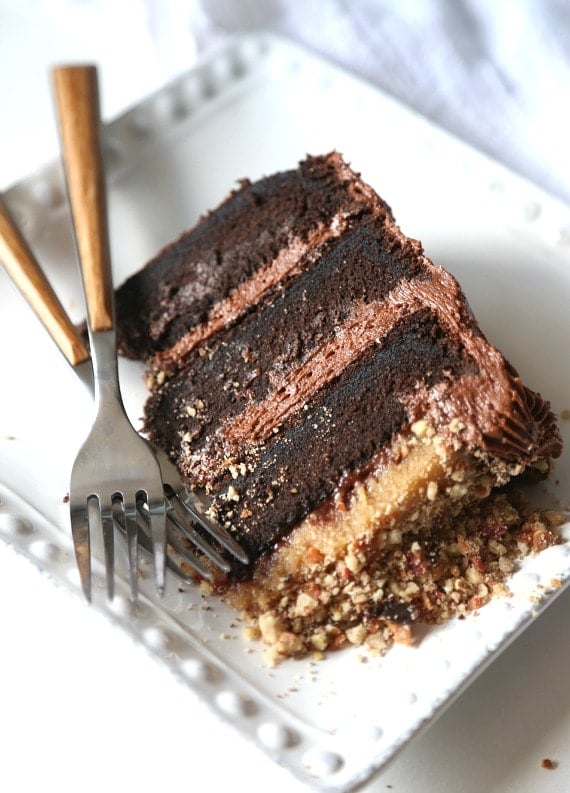 I'm not kidding you when I say you should make this.
This one's a total rock star cake!
Print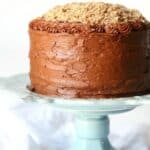 Bacon Pecan Crumble Chocolate Cake
Author:

Yield:

serves

1

2

1

x
---
Cake
3/4 cup

cocoa powder ( I used Hershey's Special Dark)

3 cups

cake flour

1 tsp

baking soda

1 tsp

salt

1 cup

chocolate milk (

1 cup

milk +

3 Tbsp

chocolate syrup)

1 cup

brewed coffee, cooled slightly

1 1/2 cup

butter, room temperature

1 3/4 cups

granulated sugar

4

eggs

2 tsp

vanilla
Bacon Pecan Crumble
1 1/2 cups

pecan halves, toasted

5

slices bacon, cooked crispy

1/4 tsp

salt
Caramel Layer
1 cup

light brown sugar

4 Tbsp

butter, cubed

1/2 cup

heavy cream

1/4 tsp

salt
Chocolate Frosting Recipe
1 cup

butter, room temperature

2/3 cup

very hot water

1 cup

cocoa powder (not dark)

8 cups

powdered sugar

1 tsp

vanilla
---
Instructions
Cake
Preheat oven to 350°
Grease three, 8″ cake pans. Line the bottoms of each with parchment rounds and grease again. Set aside.
Combine cocoa powder, flour, baking soda and salt in a bowl and whisk until combined. Set aside.
Stir together chocolate milk and brewed coffee, set this aside as well.
In bowl of stand mixer beat butter and sugar for 3 minutes until light and fluffy, scraping the sides as necessary. Add in eggs one at a time, mixing each egg in before adding the next, then mix in vanilla.
Alternately add in flour mixture and chocolate milk mixture until incorporated, beginning and ending with flour mixture, scraping sides as needed. Once all ingredients are combined turn mixer to medium and beat for 3 minutes until smooth.
Divide batter evenly among prepared pans and bake for 25-30 minutes, rotating pans once during baking.
Allow cakes to cool in pans for 20 minutes and then transfer to a wire rack to cool completely, removing the parchment paper.
Bacon Pecan Crumble Layer
Lightly toast pecans in preheated (350°) oven on a baking sheet for 4-5 minutes. Or in a skillet over medium-low heat for about the same amount of time. Remove them from heat when they become aromatic. Watch closely as they will scorch easily.
Cook bacon according to package directions until very crispy. Allow to cool.
In blender or food processor pulse pecans, bacon and salt until it is a coarse crumb. Set aside.
Caramel Layer
Combine all ingredients in a medium saucepan and heat over medium until mixture comes to a boil. Boil for 6-7 minutes. Remove from heat and allow to cool until warm. If mixtures cools completely it will become solid. If this happens, simply heat it back up until it's warm enough to become liquid. You don't want to pour it on the cake if it's too hot…just warm enough to be pourable.
Frosting
In a mixer combine all ingredients and over low speed for 30 seconds.
Increase speed to medium and beat for 1 minute until smooth.
Let frosting cool for 15-20 minutes before you frost cake or cupcakes
Assembly
When ready to assemble fill the layers of the cake with the chocolate frosting. Cover the cake wit the frosting and using a piping bag or a zip-top bag with the edge snipped off, make a border at the top of the cake. This is to hold the caramel and bacon pecan crumble.
Next pour the caramel layer on the top.
Finally top with bacon pecan crumble.
---
Want To Save This Recipe?