I've put together a quick round up of some of my favorite Potluck Desserts! These recipes are easy and crowd-pleasing!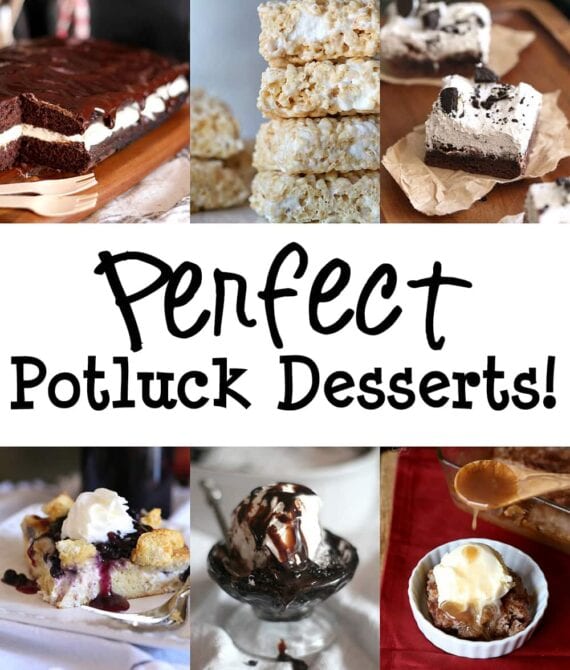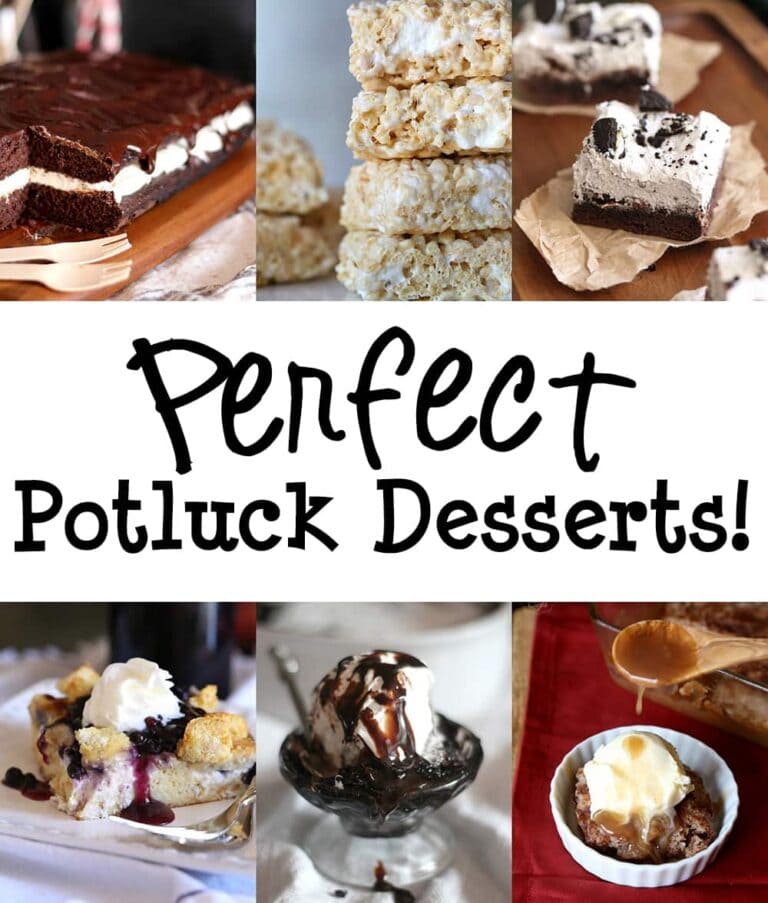 It's the season for overnight guests, holiday parties and neighborhood dinners…so I thought I would put together a quick round up here with some guaranteed crowd-pleasing desserts.
Potluck screams cozy, comforting and delicious to me…bring out the casseroles, the sheet cakes and anything that requires ice cream…right?

Most of these desserts can be made with minimal effort and also can be prepared ahead, so you can serve it up without worrying…or transport it easy to your destination!
Let's have a look at some of my favorites to make for friends…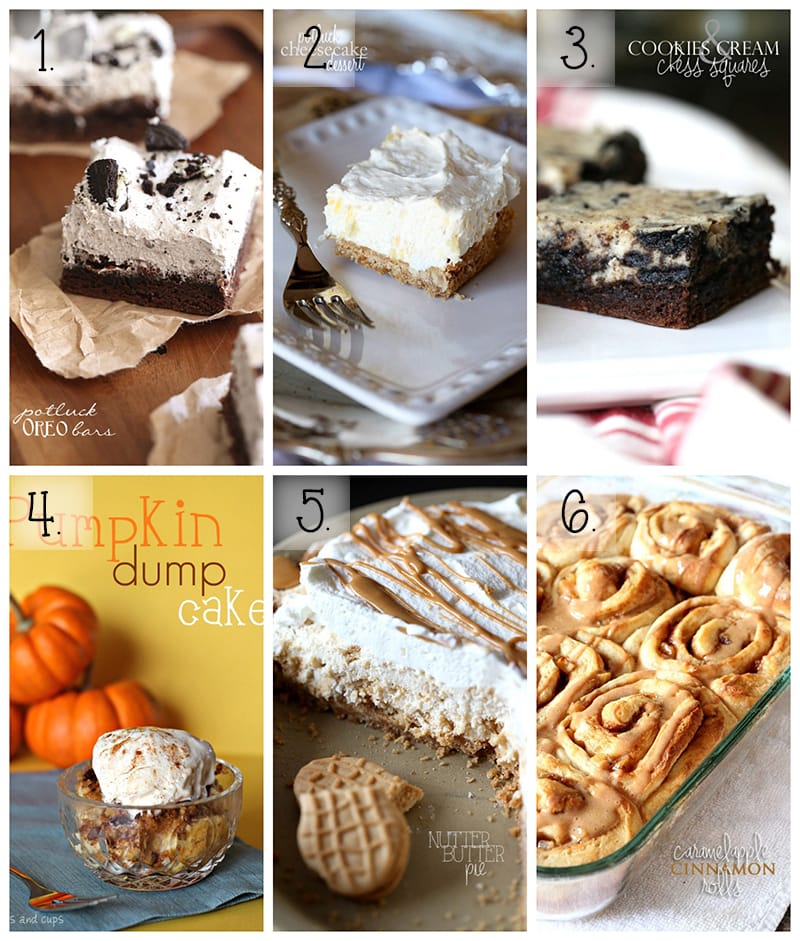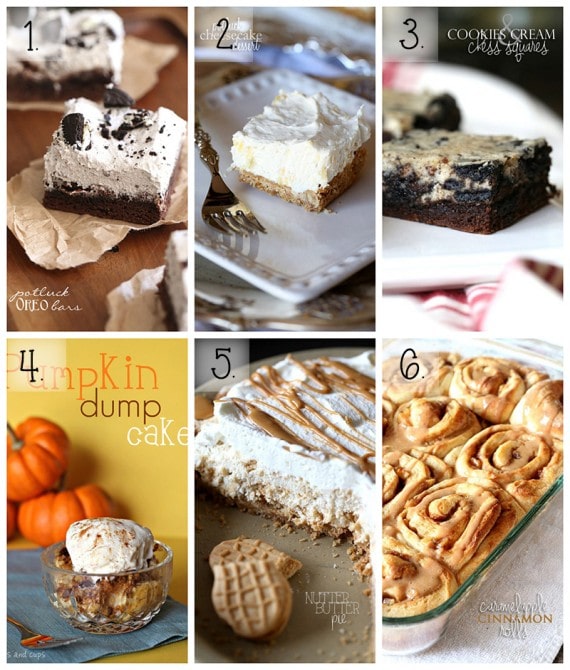 1. Potluck Oreo Bars ~ The name says it all. These easy bars are a guaranteed hit (who doesn't love Oreos?) and should be made ahead.
2. Potluck Cheesecake Dessert ~ Another one with "Potluck" in the name! This one is a favorite of mine…it's a classic dessert, one that probably reminds you of something your mom made. It's completely addictive and you'll be craving it for days!
3. Cookies and Cream Chess Squares ~ Another Oreo dessert…Can't stop won't stop.
4. Pumpkin Dump Cake ~ This is a Cookies and Cups classic recipe. I haven't met one person who doesn't love it, whether the like pumpkin or not. I swear it.
5. Nutter Butter Pie ~ My kids love this simple dessert…and so do I! We're Nutter Butter freaks over here!
6. Caramel Apple Cinnamon Rolls ~ This is a great recipe for Cinnamon Rolls that start with a cake mix! Don't worry if you can't find the Caramel Apple mix, just use vanilla..or Funfetti! YUM!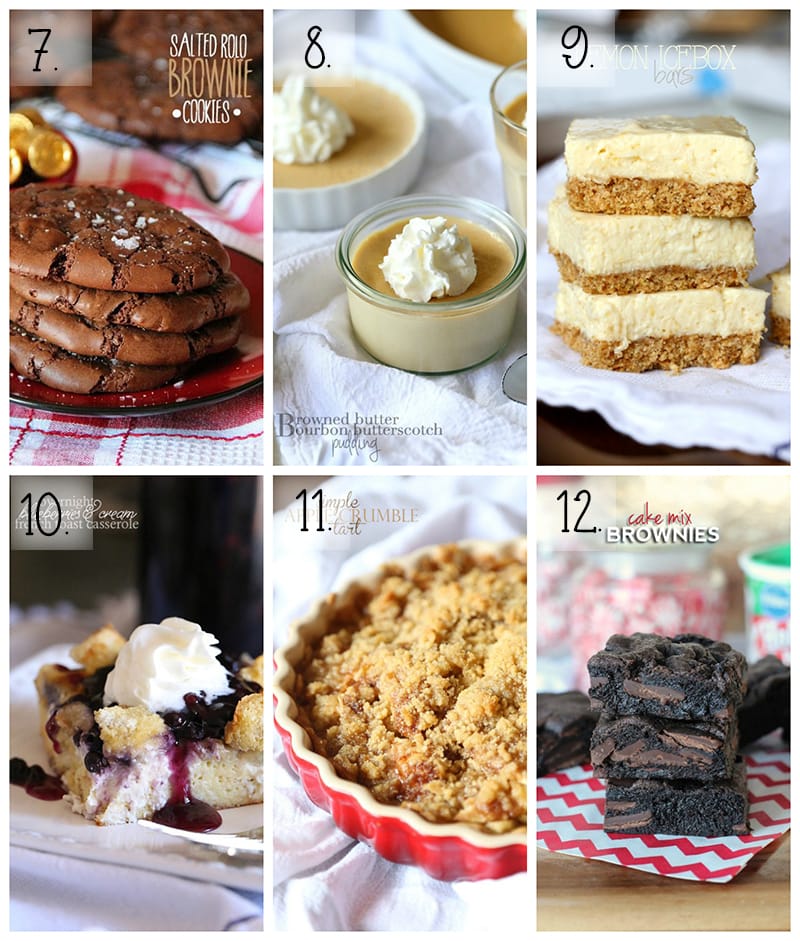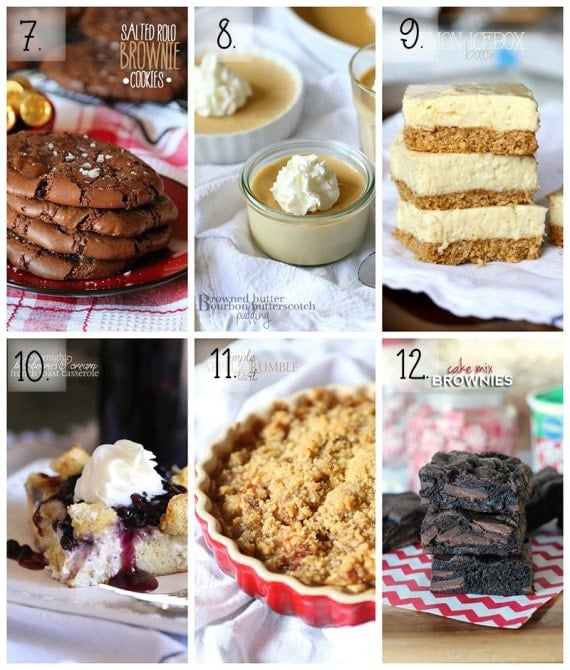 7. Salted Rolo Brownie Cookies ~ These are a quick cookie that will surely be a hit!
8. Browned Butter Bourbon Butterscotch Pudding ~ Looking for a dessert guaranteed to impress? MAKE THIS! You can do it in individual ramekins, or make it in a large pan to scoop..either way this one will blow your mind!
9. Lightened Up No Bake Lemon Icebox Bars ~ Need a dessert for that friend who is watching her waist? These Lemon Bars are the answer! Again, these need to be made ahead, but that's the beauty of them!
10. Overnight Blueberries and Cream French Toast Casserole ~ Have guests that go from dinner to breakfast? These overnight casserole is so great because in the morning you just pop it in the oven!
11. Simple Apple Crumble Tart ~ Need a dessert everyone will love in a pinch? You will have this one done quickly…and use a store bought pie crust to save even more time!
12. Cake Mix Brownies ~ The insanely chocolatey brownies start with a cake mix, so they can be whipped up quickly, and everyone will love them! You can use whatever cake mix you like!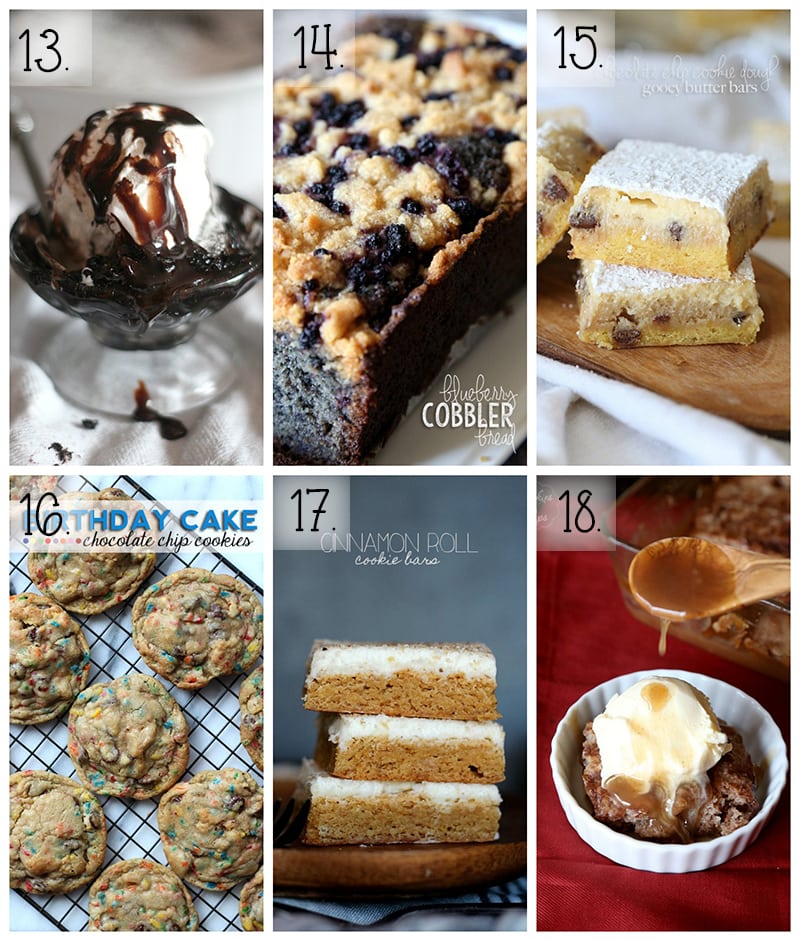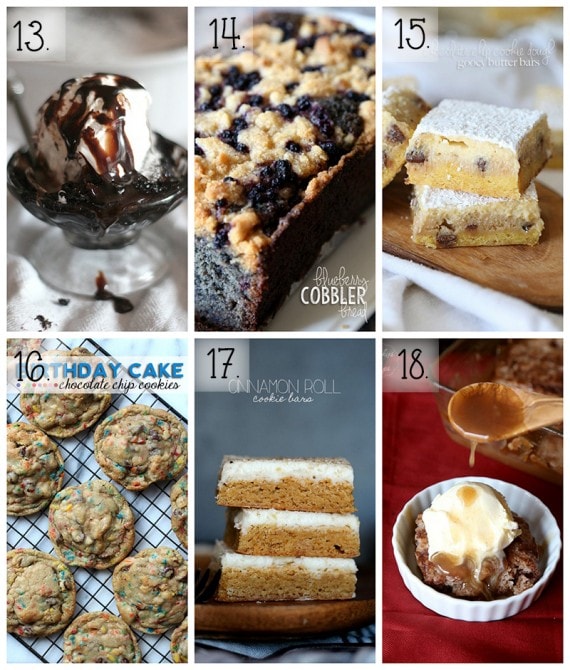 13. Brownie Pudding ~ This Brownie Pudding is like a super messy, eat from the pan dessert..Best served warm and with a mound of ice cream. Or just hand out spoons and let your guests dig in!
14. Blueberry Cobbler Bread ~ I LOVE this bread…it's a great one to serve for a brunch..or even dessert!
15. Chocolate Chip Cookie Dough Gooey Butter Bars ~ These bars will have people oohing and ahhing for sure. They are pretty, yummy and involve cookie dough.
16. Birthday Cake Chocolate Chip Cookies ~ I dare you to find someone who doesn't like these. I dare you.
17. Cinnamon Roll Cookie Bars ~ This is a simple one that you'll keep in your baking arsenal for years. LOVE these!
18. Snickerdoodle Cobbler ~ I LOVE this dessert because it can be thrown together in 5 minutes and then baked. The cobbler makes it own sauce which is like magic!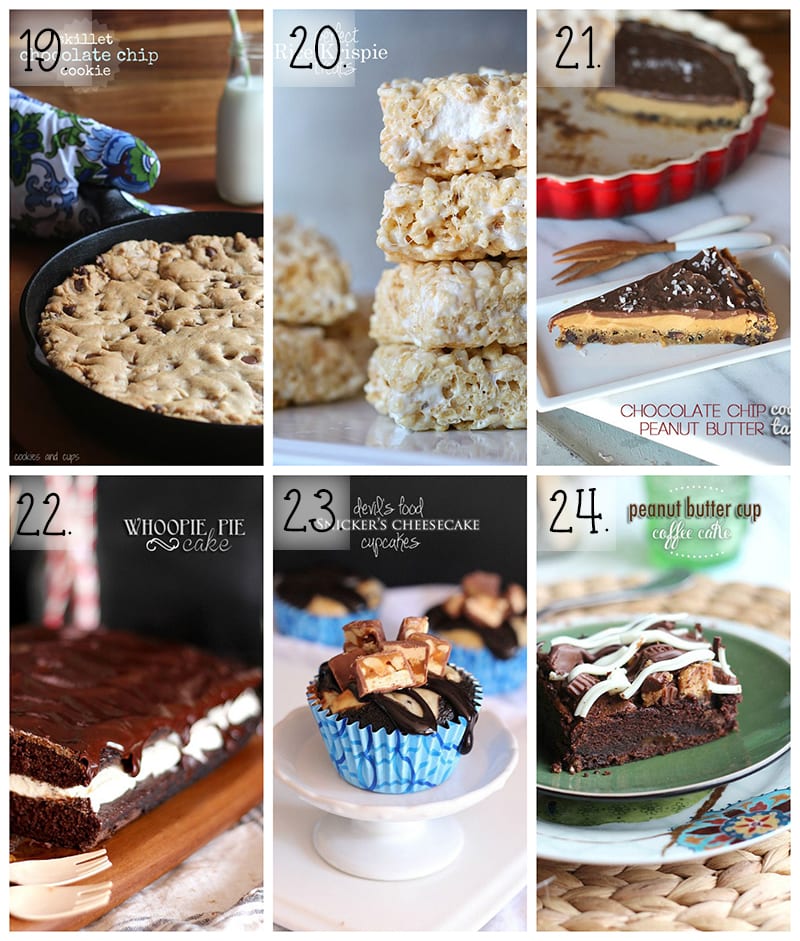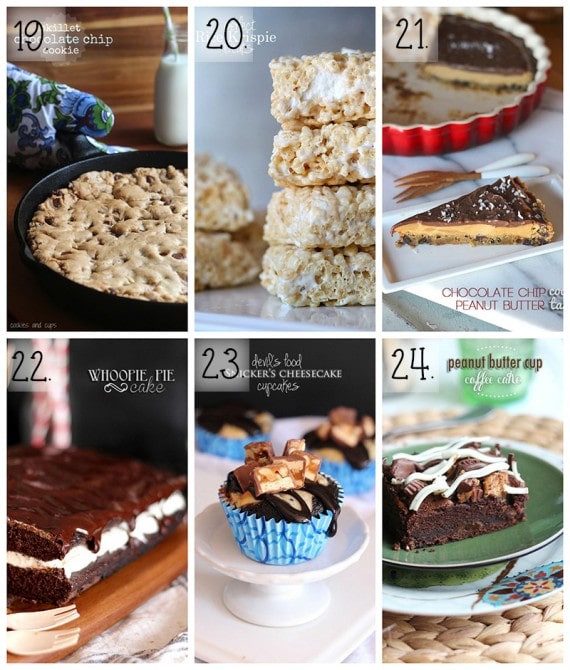 19. Skillet Chocolate Chip Cookie ~ A Skillet dessert is always a fun one for a party…again, hand your guests spoons and double dip all night long!
20. The Perfect Rice Krispie Treat Recipe ~ If you don't know what to make, make these.
21. Chocolate Chip Cookie Peanut Butter Tart ~ I love this recipe..it has everything…chocolate chip cookie, peanut butter and chocolate. Oh, and a sprinkle of sea salt. Perfection!
22. Whoopie Pie Cake ~ Another classic Cookies and Cups recipe. My kids request this cake all the time!
23. Devil's Food Snickers Cheesecake Cupcakes ~ People will go nuts for these. They are gorgeous and delicious!
24. Peanut Butter Cup Chocolate Coffee Cake ~ I call this coffee cake because it justifies eating it for breakfast. Your morning will never be the same!
So there you have it! I hope this helps makes your dessert decisions a bit easier! I'll take one of each, please!