Skillet Chocolate Chip Cookie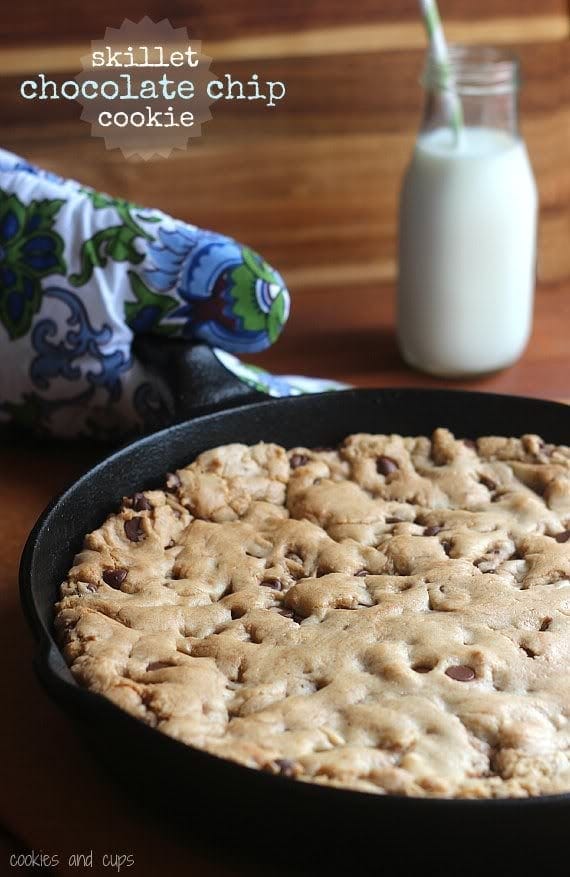 This Chocolate Chip Cookie baked in a skillet is the fastest and easiest way to make a giant cookie!

Sometimes things don't turn out as planned.
It happens to the best of us.
This was not supposed to be a giant cookie in a skillet.
Nope.
It was supposed to be a jacked-up, cobbler-ish type-deal.
When all was said and done, it was less cobbler-ish and more jacked-up.
Not jacked-up in a bad, My Strange Addiction way…
Jacked-up in a heck yeah, I-need-a, gimme kinda way.
I know I'm not reinventing the wheel here, but this was just too much delicious not to share.
I'm a giver.

What's also pretty super-duper awesome about this cookie is that you mix it up in one bowl.  All you need is a bowl, a skillet and a wooden spoon.
It's like the olden days when people wrote with feathers and used candles for light, not smells.
See…one bowl…wooden spoon…

Press it evenly into your skillet.
By the way, if you don't own a cast iron skillet you need to get one. Like now.
You won't love it at first. But stick with it. You will want to marry it soon enough…

Then bake. And under-cook the heck out of it.
Eat it out of the pan, or serve it with ice cream.
Either way is the right choice.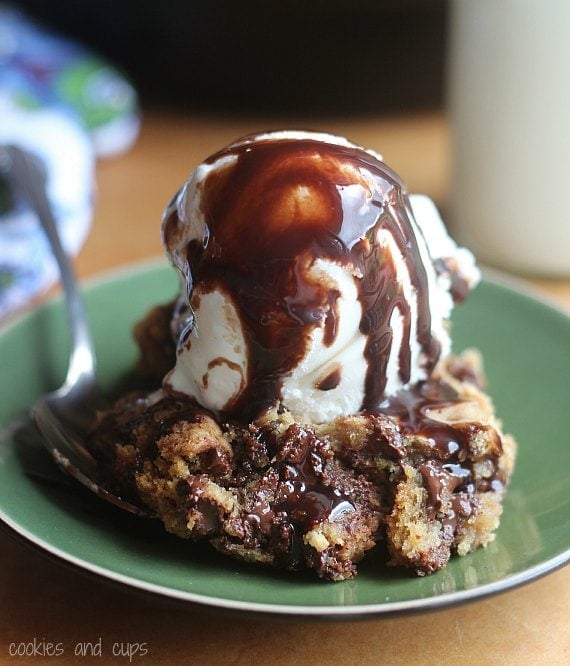 Skillet Chocolate Chip Cookie.
Print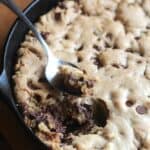 Skillet Chocolate Chip Cookie
---
Ingredients
3/4 cup

melted butter

1 cup

brown sugar

1/2 cup

granulated sugar

1

egg +

1

yolk

2 cup

s flour

3/4 tsp

baking soda

1 tsp

kosher salt

2 tsp

vanilla

1 1/2 cup

s semi-sweet chocolate chips
---
Instructions
Preheat oven to 350°
In a large bowl, using a wooden spoon, combine melted butter and both sugars. Stir until there are no lumps.
Add in vanilla, egg and yolk. Stir until mixture is smooth and egg is fully incorporated.
Stir in flour, baking soda and salt until incorporated.
Fold in chocolate chips.
Spread evenly in a 10″ cast iron skillet.
Bake 15-20 minutes until edges start to golden. Don't overcook. The center will appear slightly loose.
Let cool 10 minutes on wire rack and scoop onto plates or bowls.
Serve with vanilla ice cream.