This Easy Baked Meatballs Recipe makes delicious, flavor packed meatballs, done in 30 minutes and can be used in tons of dinner ideas!
Homemade meatballs are always a hit in my house. We will eat them on meatball subs, with sauce and pasta, or on their own! My husband is Italian and he grew up with his mom's meatballs. So when we got married he showed me how to make them like she does, and I've made a few tweaks over the years, but ultimately they're her recipe.
My Mother in law browns her meatballs in a skillet and then transfers them into a large pot of tomato sauce to fully cook. This is such a delicious way to prepare them because both the meatballs and the sauce cook together giving everything a TON of flavor!
BUT since I am generally cooking on a time crunch with busy weeknights, I short-cut her recipe and bake my meatballs in the oven! It's a quick and, I suppose, slightly healthier way to prepare them. They're done in the oven in just 15 minutes and you can have dinner on the table in no time!
Looking For More Meatball Recipes? Try These: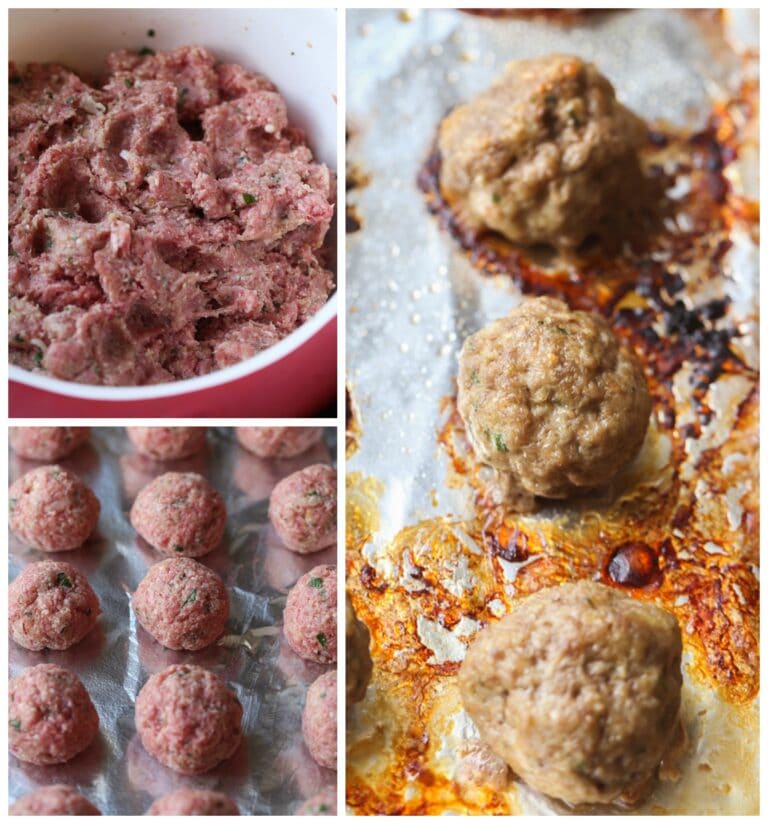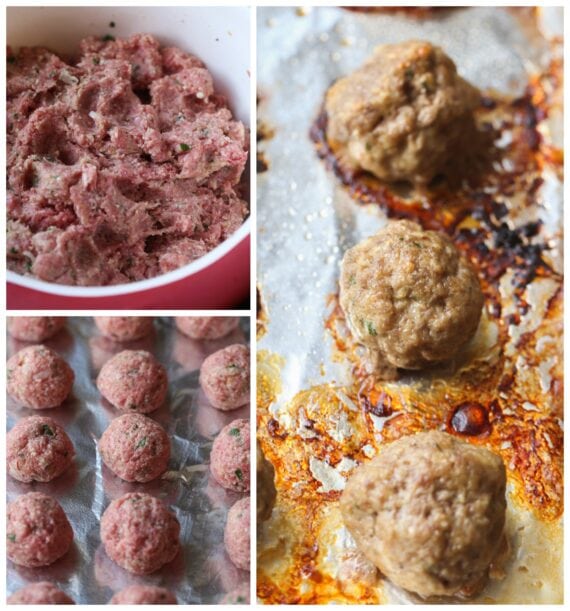 How To Bake Meatballs In The Oven
There are a few tricks I have learned over the years of baking meatballs that can ensure success.
ADD FLAVOR!
Since you are making baked meatballs and not frying them, you lose a little bit of the flavor you get from searing the outside. When you fry them in a hot skillet you get a browned "crust" on the outside which is great for texture but also adds a delicious deep flavor to the meat. So if you don't flavor your meat properly you'll have bland meatballs. Yuck!
So go heavy on your seasonings! In my recipe I have created the perfect mix of seasoning that will pack a punch but won't be too much for picky eaters. Here's what I recommend:
Seasoned breadcrumbs. You can absolutely use plain breadcrumbs, but using seasoned is a shortcut way to pack in as much flavor. If you do use plain, you might need to add some extra Italian seasoning to your meatballs to give them a little extra kick.
Parmesan cheese. Adding pre-grated Parmesan cheese is another way to add flavor. Of course I am a huge cheese fan, but in this recipe the cheese acts as a binder for the meatballs (so you don't have to add too many breadcrumbs), while also giving depth of flavor AND salt. This is why I don't add any additional salt to the meatballs, because you get enough in the cheese. This is a tip I learned from my Mother in law.
Parsley. I follow my mother in law's lead on this one, and she is heavy handed with the parsley when it comes to her meatballs. They add a mild, fresh flavor that you can't really duplicate.
Crushed Red Pepper. This is optional, of course, but I add just a little to give flavor but not heat. You can absolutely add more if you like spicy, but when I'm making these for my family I use 1/2 teaspoon of red pepper flakes and no one complains!
Onion. Don't skip the onion, folks! I am not an onion fan. Never have been. ESPECIALLY if there are onion "chunks" in things. No thanks. But I've tried meatballs without adding onion, and they're just not as great. So I've found a loophole…GRATE you onions. It gives you all the flavor with none of the onion pieces. The onions kind of melt into the meat and no one will ever know the difference. I will say, grating an onion is kind of annoying, but give it a try!
Garlic. Would it even BE a meatball if you didn't add garlic?
Do You Have To Use Meatloaf Mix?
The short answer is no. You can absolutely make these meatballs using a lean-ish ground beef. And by lean-ish I mean you don't want to go any leaner than 90% lean ground beef. Unfortunately fat is flavor and like I said above you are trying to pack as much in as possible.
BUT I always recommend using Meatloaf Mix in baked meatballs. If you haven't ever tried it, give it a go, I think you'll love it (FLAVOR!). Meatloaf Mix is any combination of beef/veal/lamb/pork. Your local supermarket or butcher might have their own meatloaf mix preference, but it will generally be a combo of all or some of those meats.
If you can't find Meatloaf Mix, make your own by combining 70% ground beef and 30% ground pork.
How Long Do You Bake Meatballs In The Oven?
I bake my meatballs at a high temperature, 450°F. This high heat helps to brown the meatballs (FLAVOR) as well as bake them quickly!
At 450°F, the meatballs only take about 15 minutes in the oven. You will know they're done when they're browned and the center is no longer pink, or the internal temperature will be 165°F.
Another trick to knowing your meatballs are done is they will feel firm to the touch.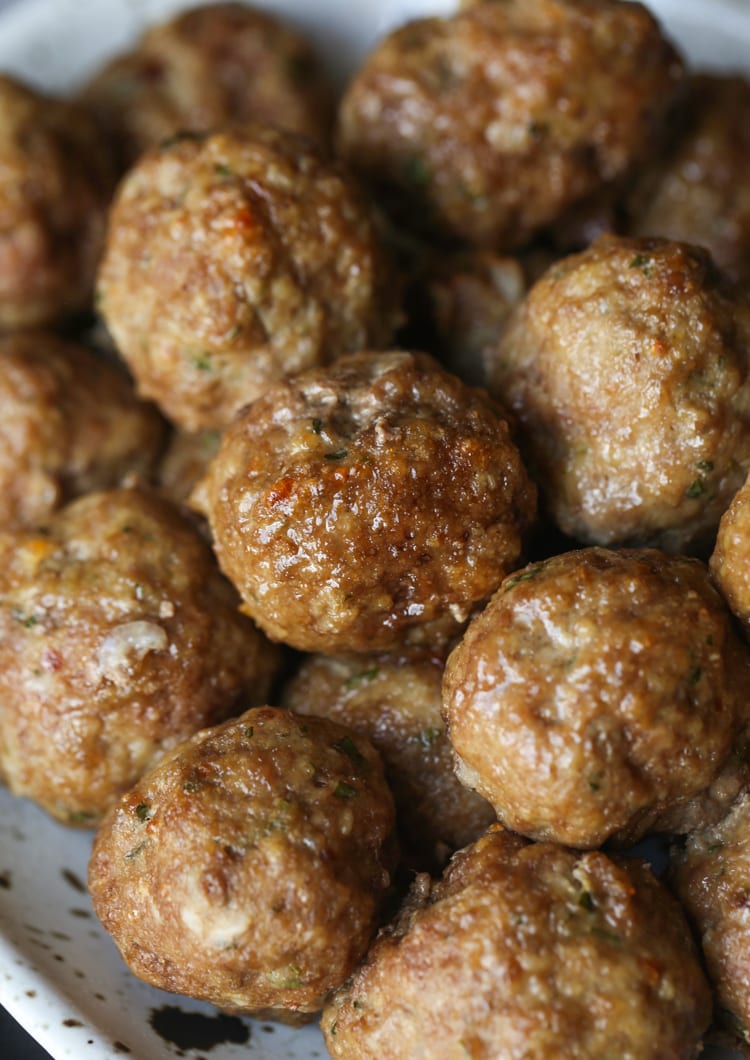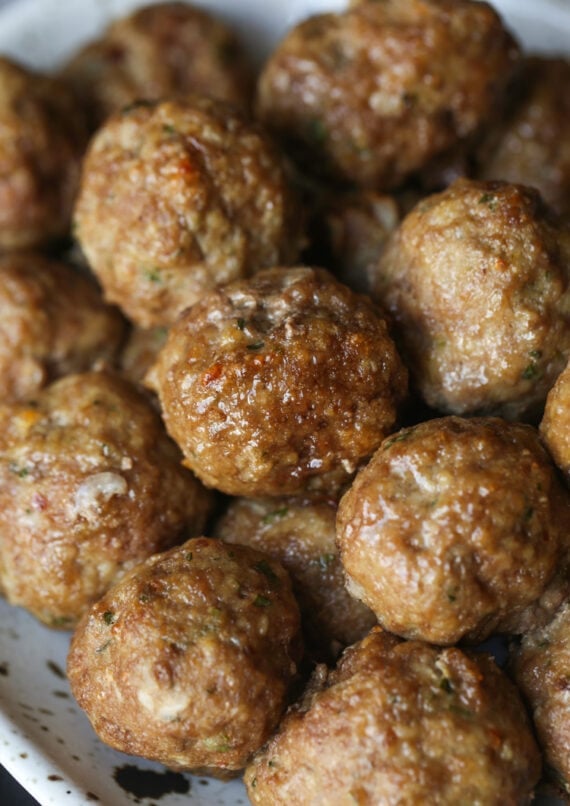 Baked Meatballs Are An Easy Dinner Starter
Of course you can eat these baked meatballs on their own, but here are a few ideas of how you can use them in other dishes:
Meatball Pizza
Meatball Sub
Pasta and Meatballs
Italian Wedding Soup
Meatball Stroganoff
Meatball Mac and Cheese
Coat them in BBQ sauce for an appetizer!
Print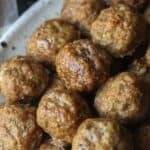 Baked Meatballs
Author:

Prep Time:

15 minutes

Cook Time:

15 minutes

Total Time:

30 minutes

Yield:

30

meatballs

1

x

Category:

Meatballs

Method:

Oven

Cuisine:

Dinner
---
Description
Oven Baked Meatballs are a quick and easy dinner starter! Have them alone, or on a meatball sub or a plate of pasta, the options are endless!
---
3

pounds Meatloaf Mix (or lean ground beef)

1/2 cup

Italian seasoned breadcrumbs

1/2 cup

grated Parmesan cheese

2

eggs, lightly whisked

1/2 cup

milk

1/4 cup

grated yellow onion (about

1/2

a medium)

2

cloves garlic, minced

1/4 cup

finely chopped fresh parsley, or

1 tablespoon

dried parsley

1/2 teaspoon

crushed red pepper
---
Instructions
Preheat oven to 450°F. Line 2 baking sheets with foil and coat with nonstick spray. Set aside.
In a large bowl combine the meat, breadcrumbs, Parmesan cheese, eggs, milk, onion, parsley, and red pepper. Use your hands to combine all ingredients evenly. Try not to over-mix the meat, as the meatballs can get dense.
Using a medium (2-tablespoon) scoop portion out the mixture and roll into balls. Place evenly on the prepared baking sheets.
Bake for 15 minutes or until browned and cooked through.
---
Notes
Store refrigerated in an airtight container for up to 3 days. Freeze in an airtight container for up to 30 days.
Nutrition
Serving Size:
Calories:

100

Sugar:

0.4 g

Sodium:

86 mg

Fat:

5.3 g

Carbohydrates:

1.8 g

Protein:

10.4 g

Cholesterol:

42.8 mg
Keywords: cookies and cups, meatballs, baked meatballs, meatball recipe, ground beef
Want To Save This Recipe?
Find more recipes like this:
PIN for later!