My Slow Cooker Ricotta Stuffed Meatballs are so juicy and flavorful! These crock pot meatballs are filled with three types of Italian cheese and cooked long and low in your favorite pasta sauce.
Want to mix melty cheese straight into your meatballs instead? Try my Cheesy Crockpot Meatballs!
Easy Slow Cooker Ricotta Meatballs
We LOVE meatballs around here (just see my recipes for Chipotle Meatballs, Swedish Meatballs, or German Meatballs – it's a lifestyle). So, when there's the opportunity to make homemade meatballs with next to no effort, I'm all over it.
The original inspo for today's recipe came from my friend Shawn's cookbook, Express Lane Cooking. She also has a delicious recipe for slow cooker meatballs stuffed with cheese, and I couldn't resist sharing my own.
These fluffy, juicy beef meatballs are filled with three types of cheese, plus savory spices and seasonings that tie all the flavors together. It's such a simple recipe when it comes down to it. I'll often prepare the meatballs the night before, and dump them in the slow cooker with the sauce in the morning.
Fast forward 6 hours, and you have moist and tender cheese stuffed meatballs simmered to perfection. They smell amazing and taste even better. Serve these over a fat bed of pasta and tell me that it doesn't change your life!
What You'll Need
Below is a round-up of everything you'll need to make tasty ricotta stuffed meatballs in the slow cooker. Don't forget to refer to the recipe card further down for the full ingredient amounts:
Ground Beef: I use lean ground beef in this meatball recipe so that there isn't too much grease in the slow cooker. However, you can make meatballs using ground pork, ground turkey, ground chicken, ground Italian sausage, or any combination you'd like.
Breadcrumbs: Plain breadcrumbs work great here as opposed to seasoned breadcrumbs, as you can season the meatballs yourself. But feel free to use the seasoned kind if that's what you have.
Seasoning: These stuffed meatballs call for a blend of Italian seasoning, garlic and onion powder, and dried parsley. Plus salt and pepper, of course.
Milk: Milk adds moisture to the meatball mixture. You can use whole milk, 2%, or any type you prefer.
Ricotta Cheese: This is a type of soft Italian cheese. Ricotta is grainy and moist, and slightly different from its similar American cousin, cottage cheese (see below). You'll find it in most grocery stores or in your local deli.
Parmesan and Mozzarella: Additional cheese to round out the filling with extra creaminess and flavor. I couldn't resist including mozzarella for those ooey-gooey strings of melted cheese!
Pasta Sauce: You can use any tomato-based pasta sauce your heart desires. Classic marinara sauce, arrabbiata sauce, or chianti sauce are all good options. Of course, you can always use homemade pasta sauce also.
Pasta: Like the sauce, you can use any pasta you'd like. Serve your slow cooker meatballs over spaghetti, linguine, penne, rigatoni, or even zoodles for a delicious low-carb option. See further down for more serving suggestions.
Is Ricotta the Same as Cottage Cheese?
Ricotta and cottage cheese look similar, but they're not the same thing. Ricotta's texture is smooth and grainy, as it comes from very fine curds, while cottage cheese is lumpier. Cottage cheese also has a higher liquid content, so it's a bit runnier. If you're in a pinch, you can substitute cottage cheese 1:1 for ricotta cheese in the meatball filling.
How to Make Ricotta Stuffed Meatballs
Making these juicy ricotta stuffed meatballs really couldn't be easier. The meatballs and cheesy filling come together quickly, and there's something weirdly meditative in the process of filling each meatball. Then it's just a matter of piling everything into the crock pot:
Prepare the Meatballs: First, you'll mix up the meatball ingredients. Combine ground beef, breadcrumbs, and seasonings in a large bowl. Get in there with your hands to really give the ingredients a good mix. Afterward, shape the mixture into meatballs about 1½ to 2 inches in size.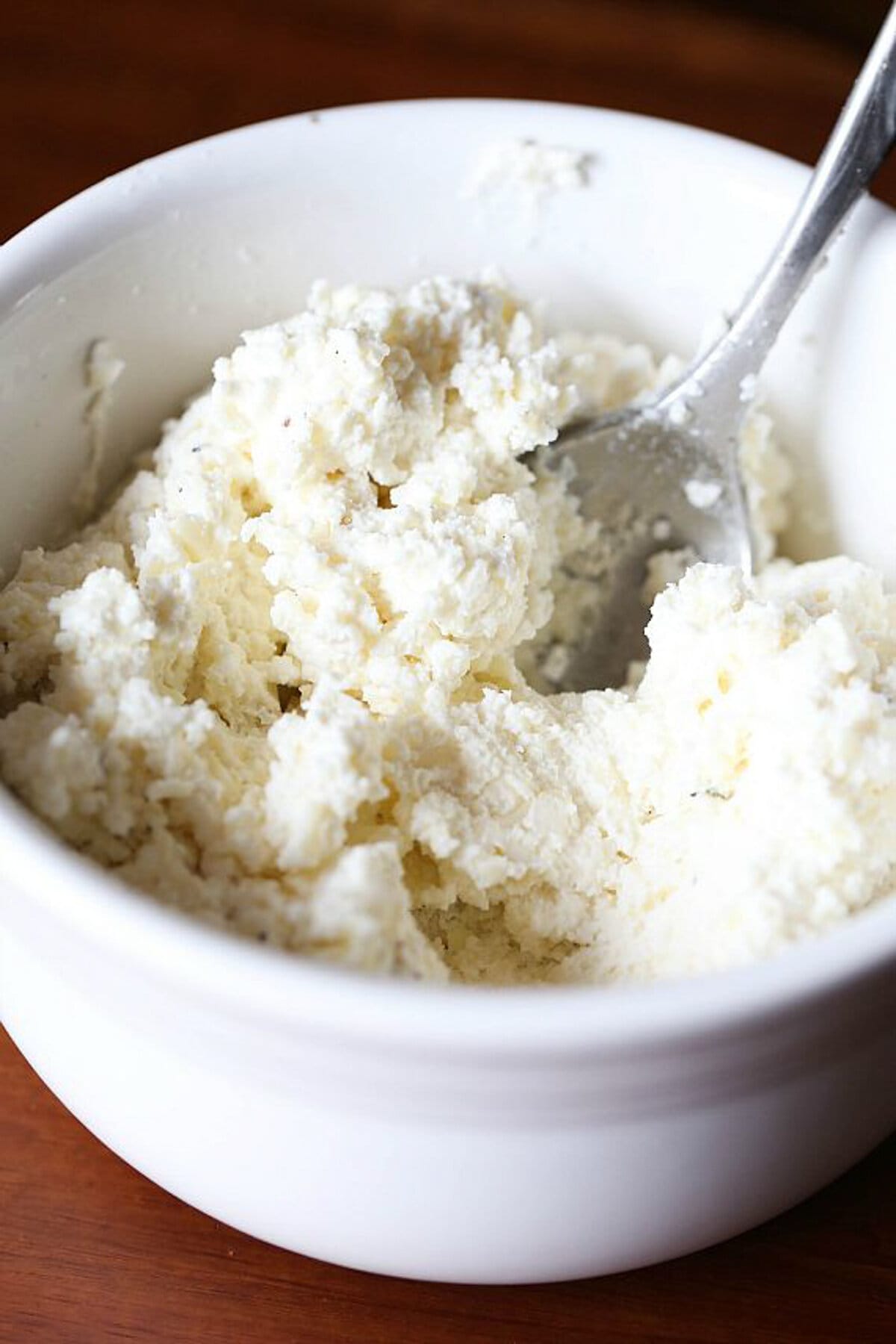 Make the Cheese Filling: Next, whip up the quick cheesy filling by folding together the ricotta with parmesan and mozzarella. Season with salt and pepper to taste, then scoop the cheese mixture into a zip-top bag (or a piping bag if you have one), and snip off the corner.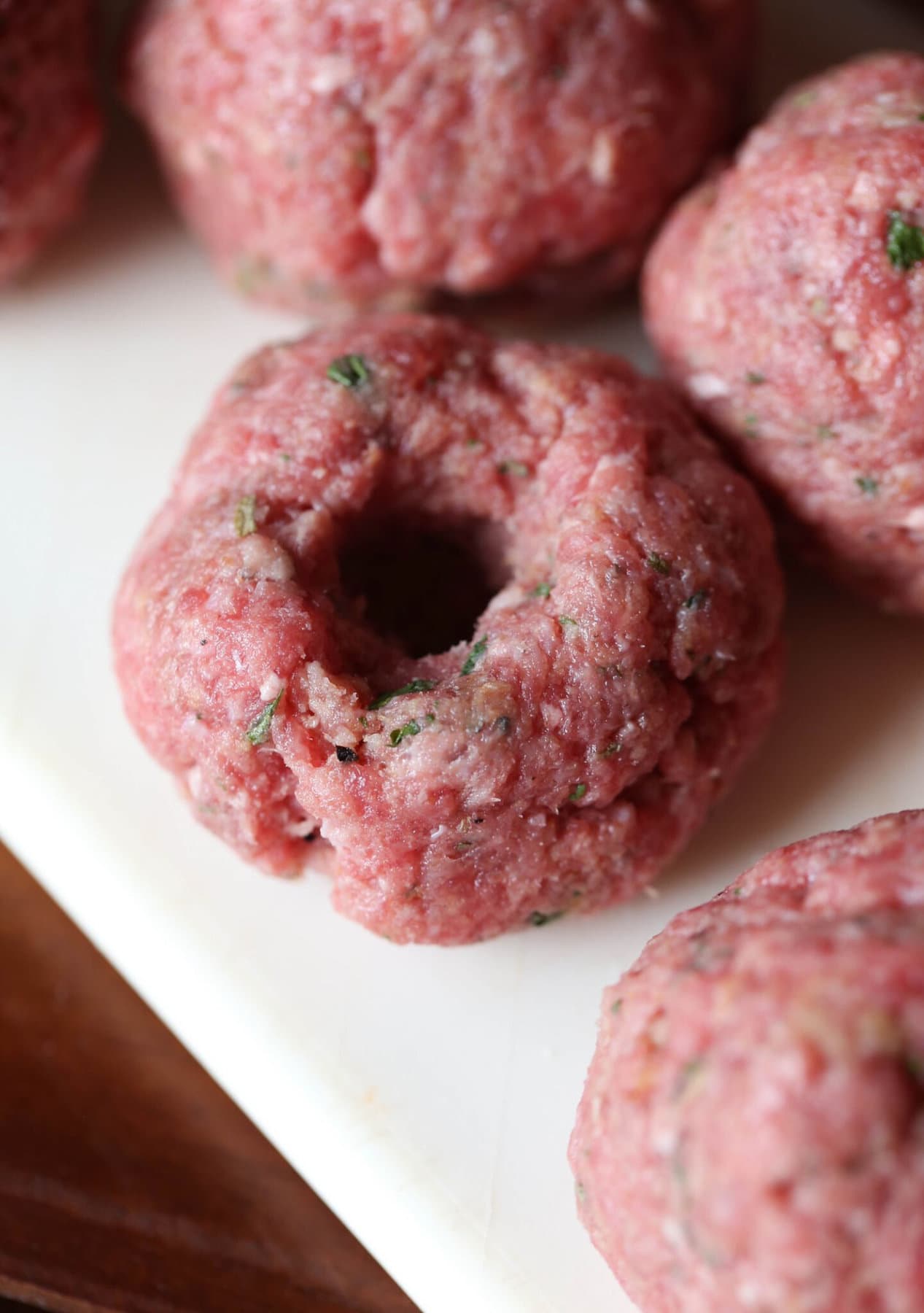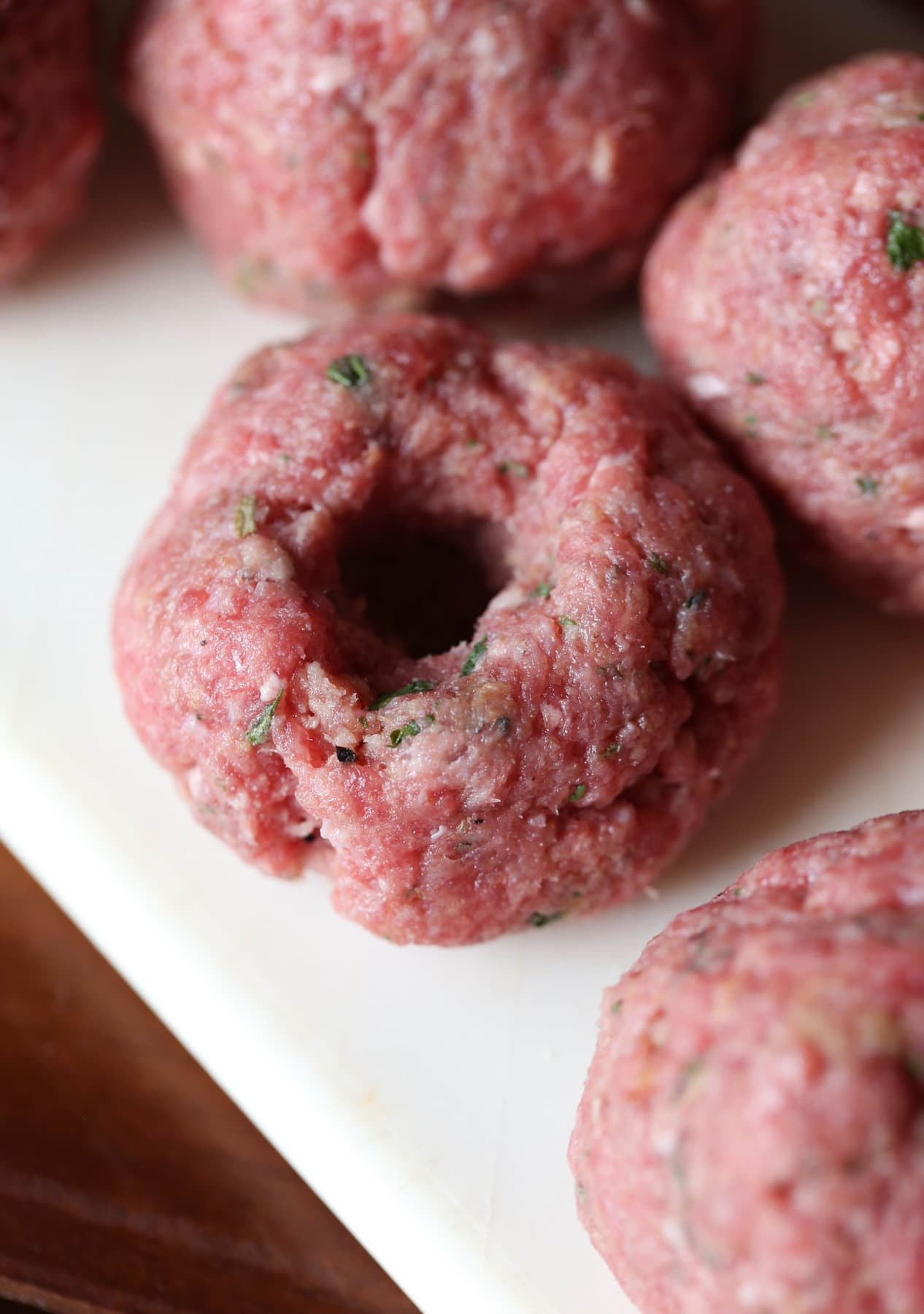 Fill the Meatballs: Pipe the cheese mixture into each meatball. Pinch the meatballs closed and place them into your slow cooker with some pasta sauce.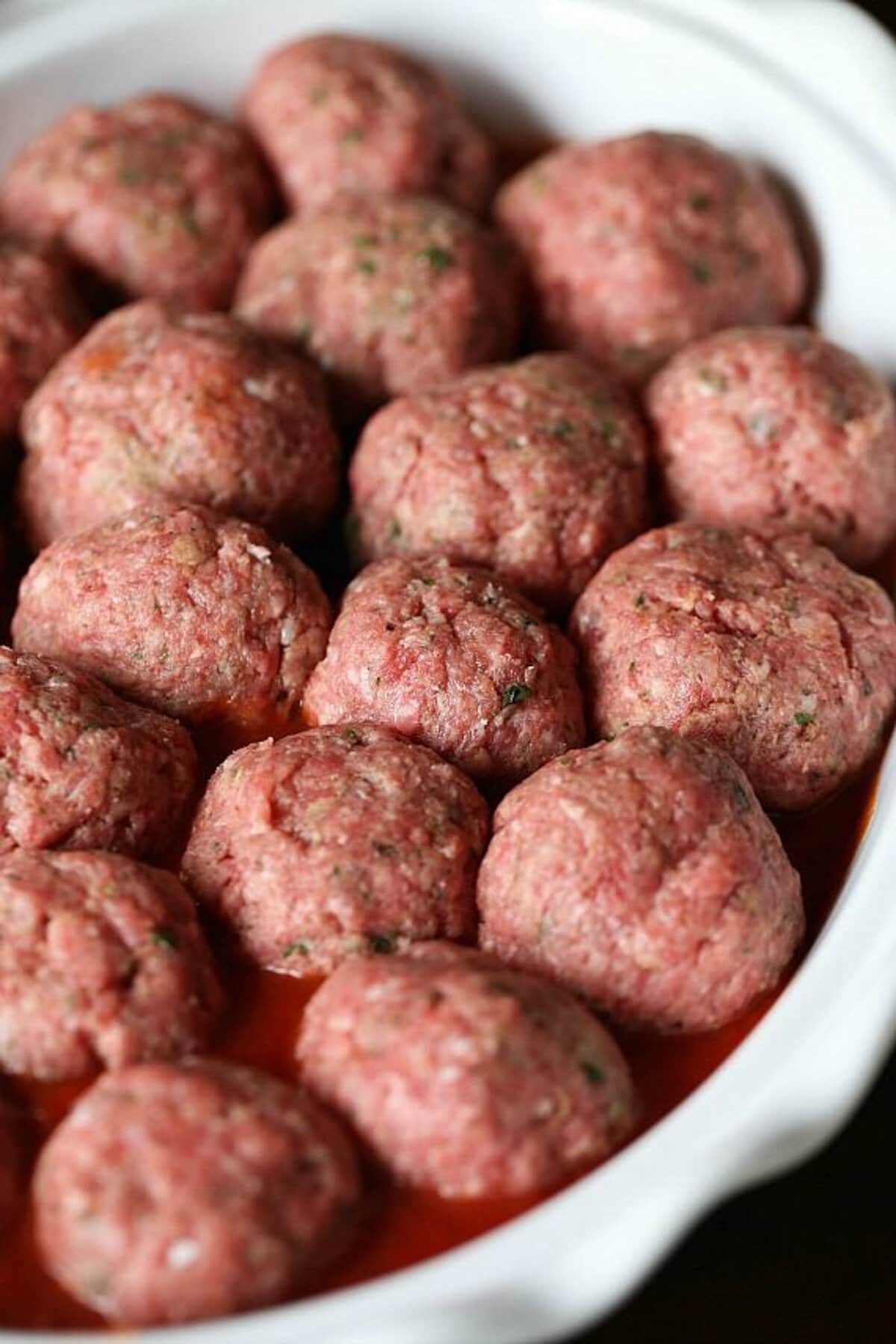 Cook: Top the meatballs with more sauce, and set them to cook on low for 6 hours. Serve them on a plate of pasta and you have dinner ready to go!
Can I Make Meatballs in the Oven Instead?
Yes! I've baked these ricotta stuffed meatballs in the oven a couple of times on nights when I didn't plan early enough for the slow cooker. They turn out great both ways and if you'd prefer to bake them, here's how to do it:
Prepare the meatballs as directed.
Assemble the stuffed meatballs and sauce in a 9×13 baking dish.
Cook uncovered at 400ºF for 30 minutes.
Fast and easy! If you prefer the oven method, I also have a recipe for Baked Meatballs that are totally worth a try, too.
Tips for Success
Here are my tips to make the most of this easy slow cooker recipe:
Don't overwork the meat. Mix the meat mixture until the ingredients are evenly combined, but don't overdo it. It's best to use your hands! Try not to pack the meat too tightly when you're shaping your meatballs, either. This can lead to tough, dense meatballs.
Rub oil on your hands when rolling your meatballs. A little bit of oil goes a long way to help with sticking.
Use up any leftover ricotta. You may have leftover ricotta cheese mixture, and that's fine. I'll usually drop some over the cooked meatballs for a cheesy garnish, or save it for another meal. This cheese mixture is great to stir into pasta sauces.
Serving Suggestions
These slow cooker meatballs go perfectly over a bed of pasta with a side of Garlic Bread, Pepperoni Pizza Rolls, or Bruschetta. When time permits, I'll even make my own Homemade Egg Noodles to smother in meatballs and sauce!
Spaghetti and meatballs pair perfectly with veggie sides like Air Fryer Asparagus, a fresh garden salad, or Mediterranean Couscous Salad. In the wintertime, we'll serve these ricotta meatballs over Mashed Potatoes instead, for a hearty cold-weather meal.
Storing and Reheating Leftovers
These slow cooker ricotta stuffed meatballs actually taste even better a day or two after they're made. It gives the flavors even more of a chance to develop. You can store leftovers refrigerated airtight for up to 3-4 days, and reheat the meatballs on the stovetop or in the microwave with a bit of extra sauce.
This recipe is also great for freezing, see below.
Can I Freeze Stuffed Meatballs?
Yes! The cooked stuffed meatballs can be frozen airtight for up to 4 months. You can freeze them right in the sauce. Simply thaw the meatballs in the fridge overnight and then reheat them as usual before serving.
Print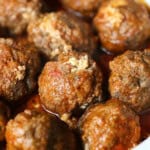 Slow Cooker Ricotta Stuffed Meatballs
Author:

Prep Time:

30 minutes

Cook Time:

6 hours

Total Time:

6 hours 30 minutes

Yield:

6

servings

1

x

Category:

Dinner

Method:

Slow Cooker

Cuisine:

American
---
Description
Easy Slow Cooker Ricotta Stuffed Meatballs are juicy and flavorful, and filled with three types of Italian cheese. Serve these cheesy crock pot meatballs over your choice of pasta for an effortless weeknight dinner.
---
1 1/2

pounds lean ground beef

1/2 cup

plain breadcrumbs

1 teaspoon

Italian seasoning

1/2 teaspoon

garlic powder

1/2 teaspoon

onion powder

1 teaspoon

dried parsley

2 tablespoons

milk

1 1/2 teaspoons

salt, divided

1 teaspoon

black pepper, divided

1 cup

ricotta cheese

1/2 cup

Parmesan cheese

1/2 cup

grated mozzarella cheese

1

(29 ounce) can pasta sauce

1

pound bowtie pasta, cooked according to package directions
---
Instructions
In a large bowl combine the beef, breadcrumbs, Italian seasoning, garlic powder, onion powder, parsley, milk 1 teaspoon salt, and 1/2 teaspoon black pepper. Use your hands to fully mix the seasonings with the meat. Form the meat into 1 1/2 – 2 inch meatballs.
In a medium bowl combine the ricotta, Parmesan, mozzarella, and remaining 1/2 teaspoon salt and 1/2 teaspoon black pepper. Stir to combine.
Spoon the mixture into a large zip-top bag and cut off the corner of the bag.
Form a well in each meatball, careful not to push all the way through. Squeeze about a teaspoon of the cheese mixture into the meatball and pinch the meatball closed so that none of the cheese is exposed.
Pour half of the pasta sauce into the bottom of the slow cooker. Place the meatballs on top of the sauce and pour the remaining sauce over the meatballs.
Cook on low for 6 hours.
---
Notes
You may have leftover Ricotta cheese mixture. Use this as a garnish on top of the cooked meatballs for a pretty presentation. You could also save the leftover cheese for another meal and stir it into pasta sauce for extra creaminess.
Oven Method: If you choose to not use the slow cooker method, follow all the instructions as written, but use a 9×13 baking dish to cook the meatballs at 400°F for 30 minutes.
Keywords: slow cooker meatballs, crock pot meatballs, cheese stuffed meatballs
Want To Save This Recipe?
Find more recipes like this:
More Slow Cooker Recipes