I'm pretty pumped today to share the recipe for these super cheesy Ricotta Stuffed Meatballs! First off they are a slow cooker dinner. Slow Cookers for president!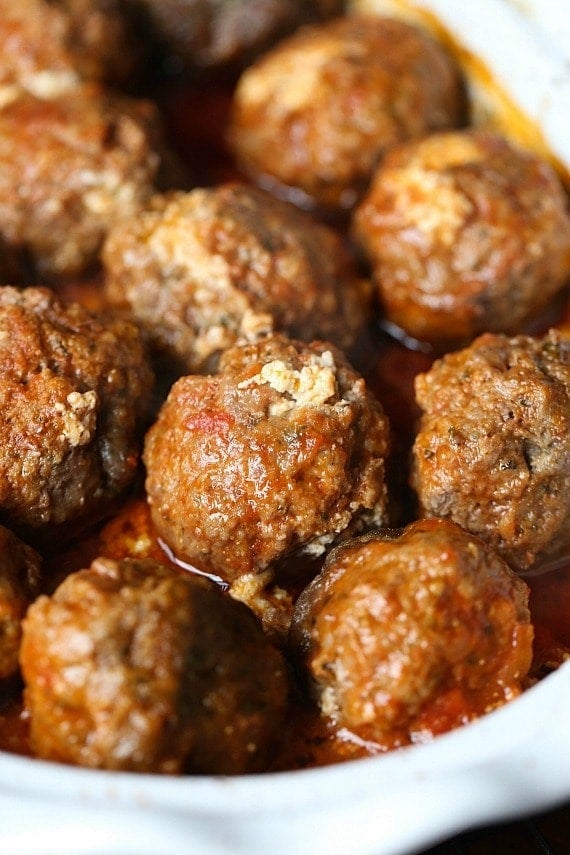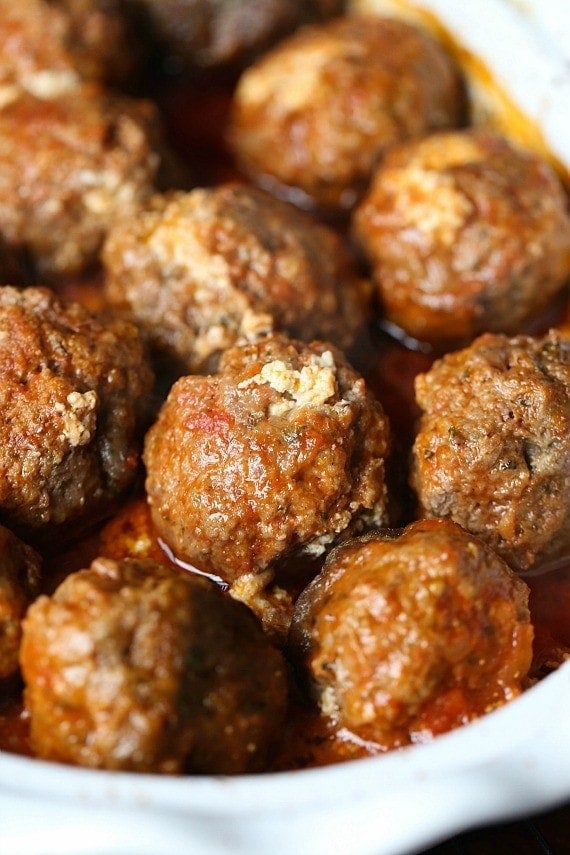 ANNND the recipe also comes from my sweet friend Shawn's new cookbook Express Lane Cooking!! Shawn's website I Wash You Dry is SO fun…..I mean she makes OMG CRAZY stuff like this Pizza Cake (WHA??) and Pumpkin Magic Cake (Magic? LOVE).
Anyhow her first book, Express Lane Cooking, has a really fun concept…a well stocked kitchen (with basics) along with a few extra ingredients and you can make really outstanding meals. I super love this idea, because the idea of the stocked kitchen is really basic and totally doable. Most of the items you probably already have! Shawn gives you a great list of things you should always have on-hand…so then when you do need to do your meal planning it makes your shopping lists short because you already have most everything you need!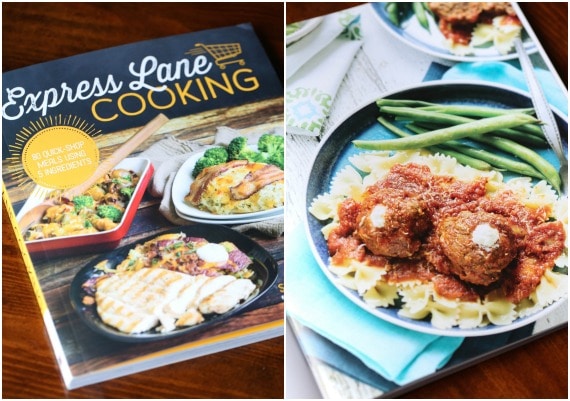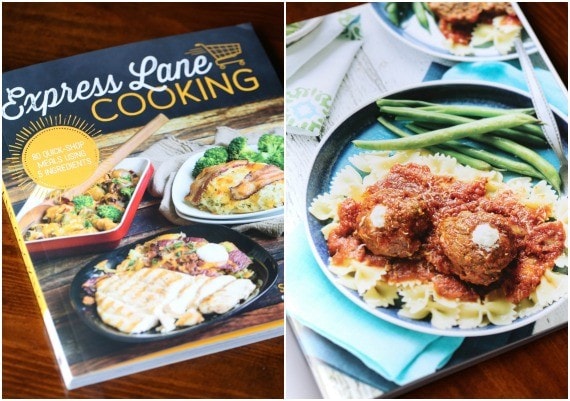 The book is gorgeous to look at with a photo for every recipe…I know how much you guys love that (me too!).
When I was flipping through the book I kept coming back to her Slow Cooker Ricotta Stuffed Meatball recipe. My family loves meatballs and the idea of making them in the slow cooker really appealed to me, especially on busy weekdays!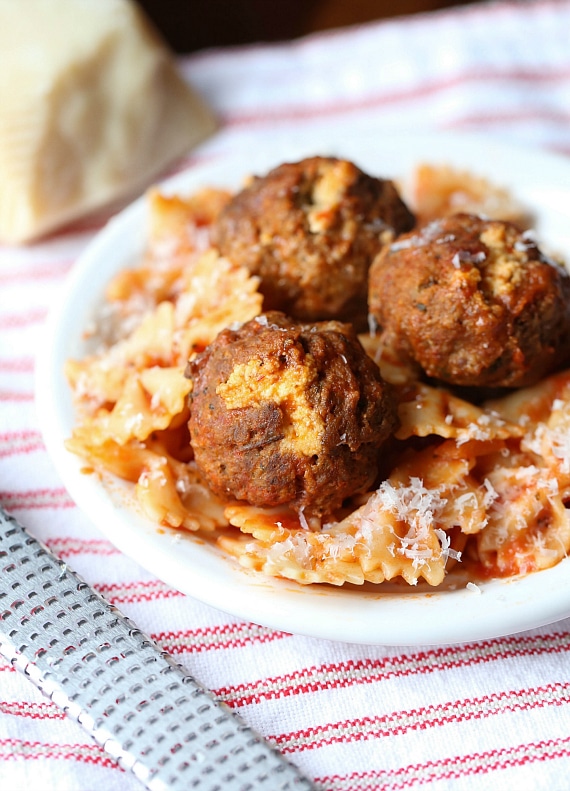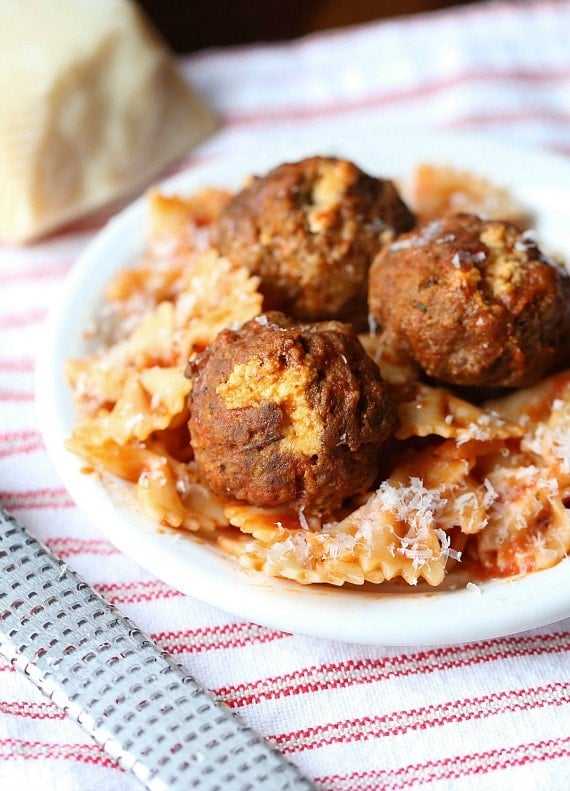 I went ahead an assembled the meatballs the night before and in the morning I just popped them in my slow cooker. Of course you could wake up early and get these going too. But I don't really operate in the morning until I have 1.5 cups of coffee…
Also full disclosure…I have made this recipe twice and the second time I made them in the oven (because I didn't plan properly). They turned out great both ways and I included the oven cooking temperature in the recipe below just in case you would like that option as well!
Anyhow, let's get started…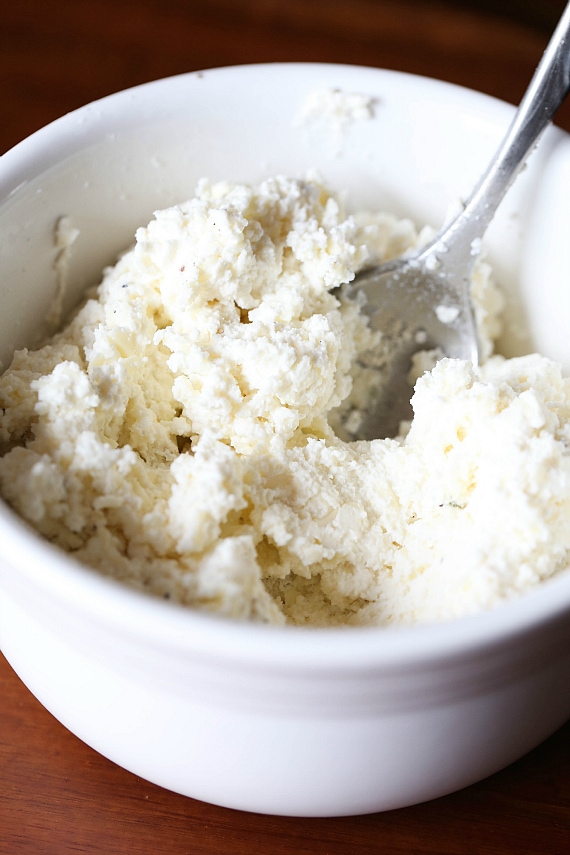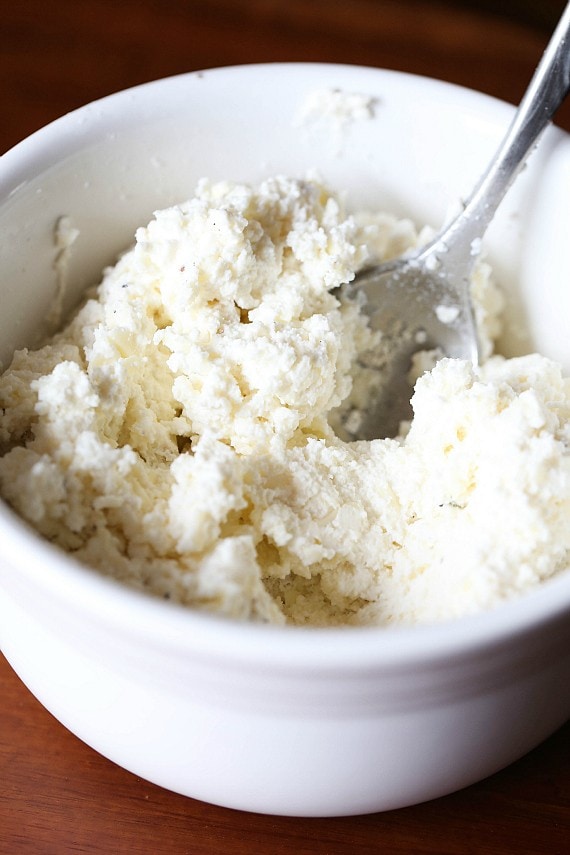 Mix up the quick cheesy filling…it's just ricotta, Parmesan and mozzarella with a little salt and pepper.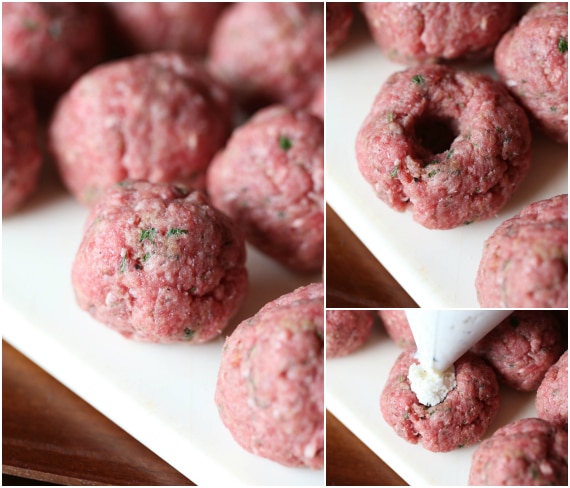 The meatball recipe is super simple. I used really lean ground beef so I wouldn't have as much grease in the slow cooker. You could totally use ground turkey too. I'm going to try that next time!
Use a zip-top bag with the corner snipped off the easily pipe the cheese mixture into the meatball. Pinch the meatballs closed and place them in your slow cooker with some pasta sauce!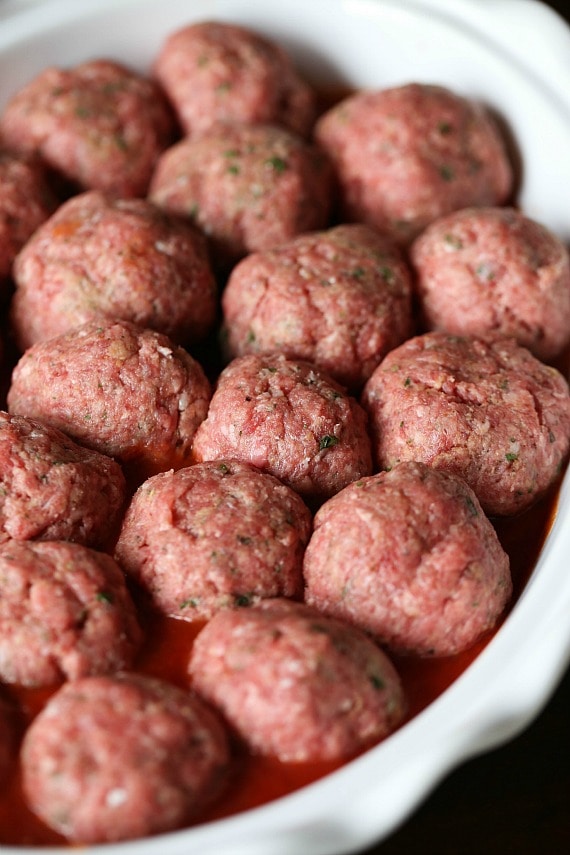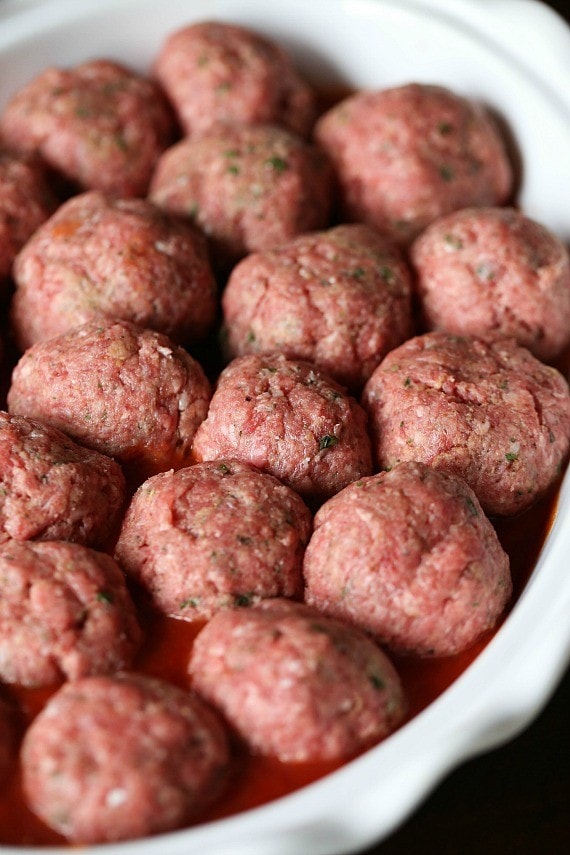 Top them with more sauce and cook on low for 6 hours!
Serve them on a plate of pasta and you have dinner!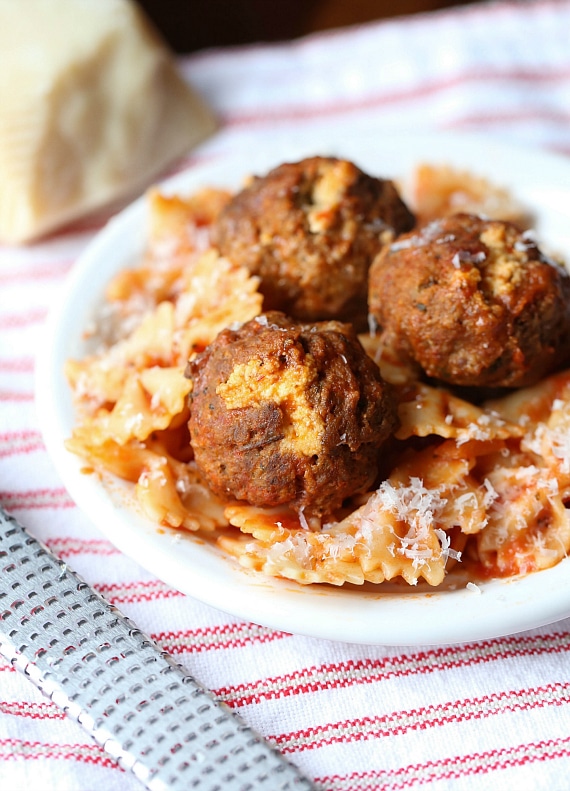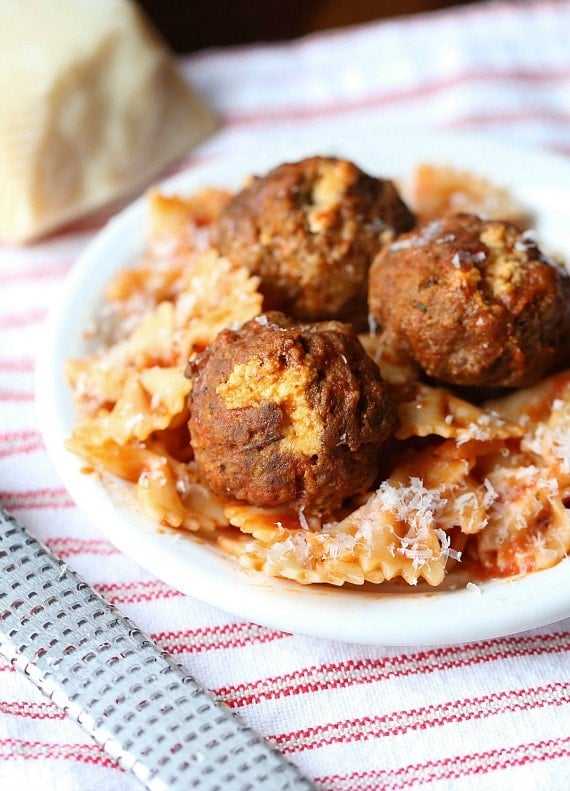 Love the cheesy inside!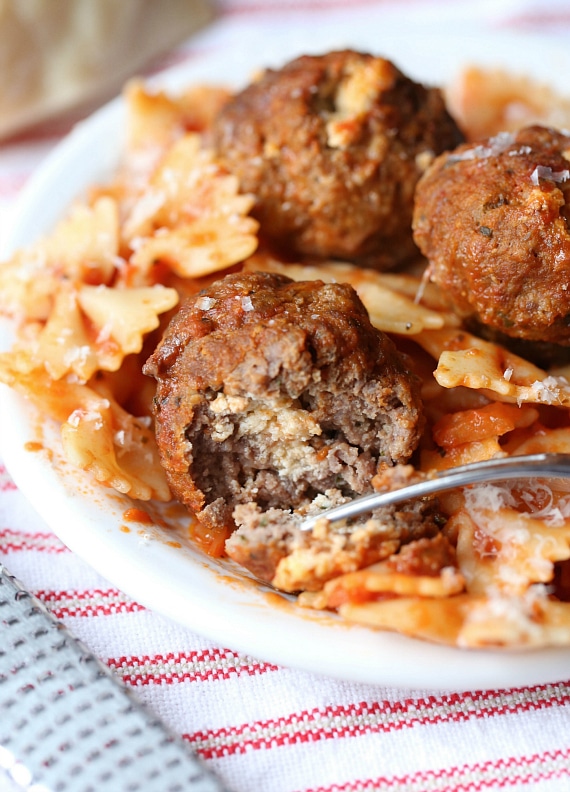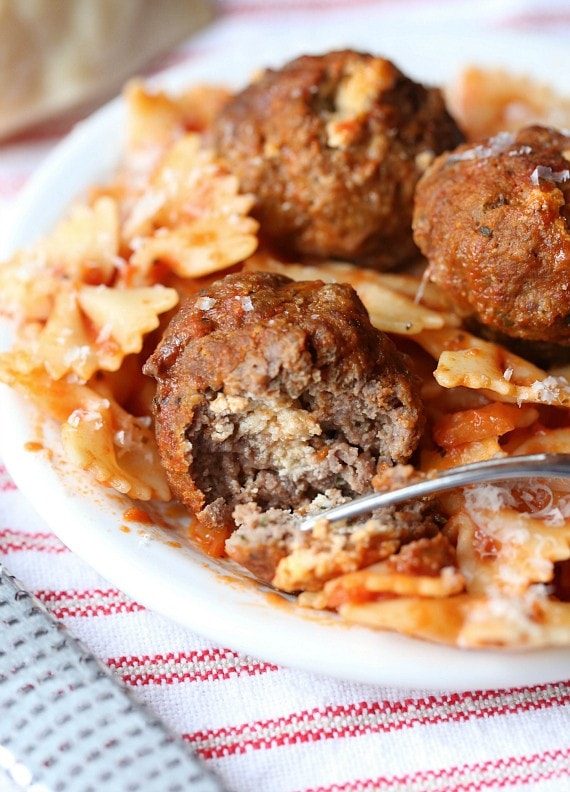 Such a great recipe in a book loaded with great recipes! If you're looking for some fun meal inspo that's both easy and interesting Express Lane Cooking is a great book!
Print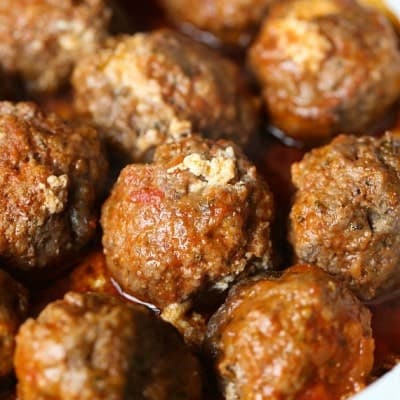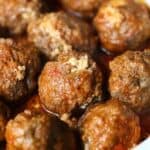 Slow Cooker Ricotta Stuffed Meatballs
Author:

Yield:

6

servings

1

x
---
1 1/2

pounds lean ground beef

1/2 cup

plain breadcrumbs

1 teaspoon

Italian seasoning

1/2 teaspoon

garlic powder

1/2 teaspoon

onion powder

1 teaspoon

dried parsley

2 tablespoons

milk

1 1/2 teaspoons

salt, divided

1 teaspoon

black pepper, divided

1 cup

ricotta cheese

1/2 cup

Parmesan cheese

1/2 cup

grated mozzarella cheese

1

(29 ounce) can pasta sauce

1

pound bowtie pasta, cooked according to package directions
---
Instructions
In a large bowl combine the beef, breadcrumbs, Italian seasoning, garlic powder, onion powder, parsley, milk 1 teaspoon salt and 1/2 teaspoon black pepper. Use your hands to fully mix the seasonings with the meat. Form the meat into 1 1/2 – 2 inch meatballs.
In a medium bowl combine the ricotta, Parmesan, mozzarella remaining 1/2 teaspoon salt and 1/2 teaspoon black pepper. Stir to combine.
Spoon the mixture into a large zip-top bag and cut off the corner of the bag.
Form a well in each meatball, careful not to push all the way through. Squeeze about a teaspoon of the cheese mixture into the meatball and pinch the meatball closed so non of the cheese is exposed.
Pour half of the pasta sauce in the bottom of the slow cooker. Place the meatballs on top of the sauce and top the meatballs with the remaining sauce.
Cook on low for 6 hours.
---
Notes
You will have leftover Ricotta cheese mixture…Shawn says to use this to add a dot to the cooked meatballs for pretty presentation.
You could also save this for another meal and stir it into pasta sauce to make a creamy sauce.
Alternately I have made this recipe twice and made it once in the oven. If you choose to not use the slow cooker method, follow all the instructions as written, but use a 9×13 baking dish to cook the meatballs at 400°F for 30 minutes.
Want To Save This Recipe?
Find more recipes like this:
*This post contains Amazon affiliate links