Epic Stuffed Garlic Bread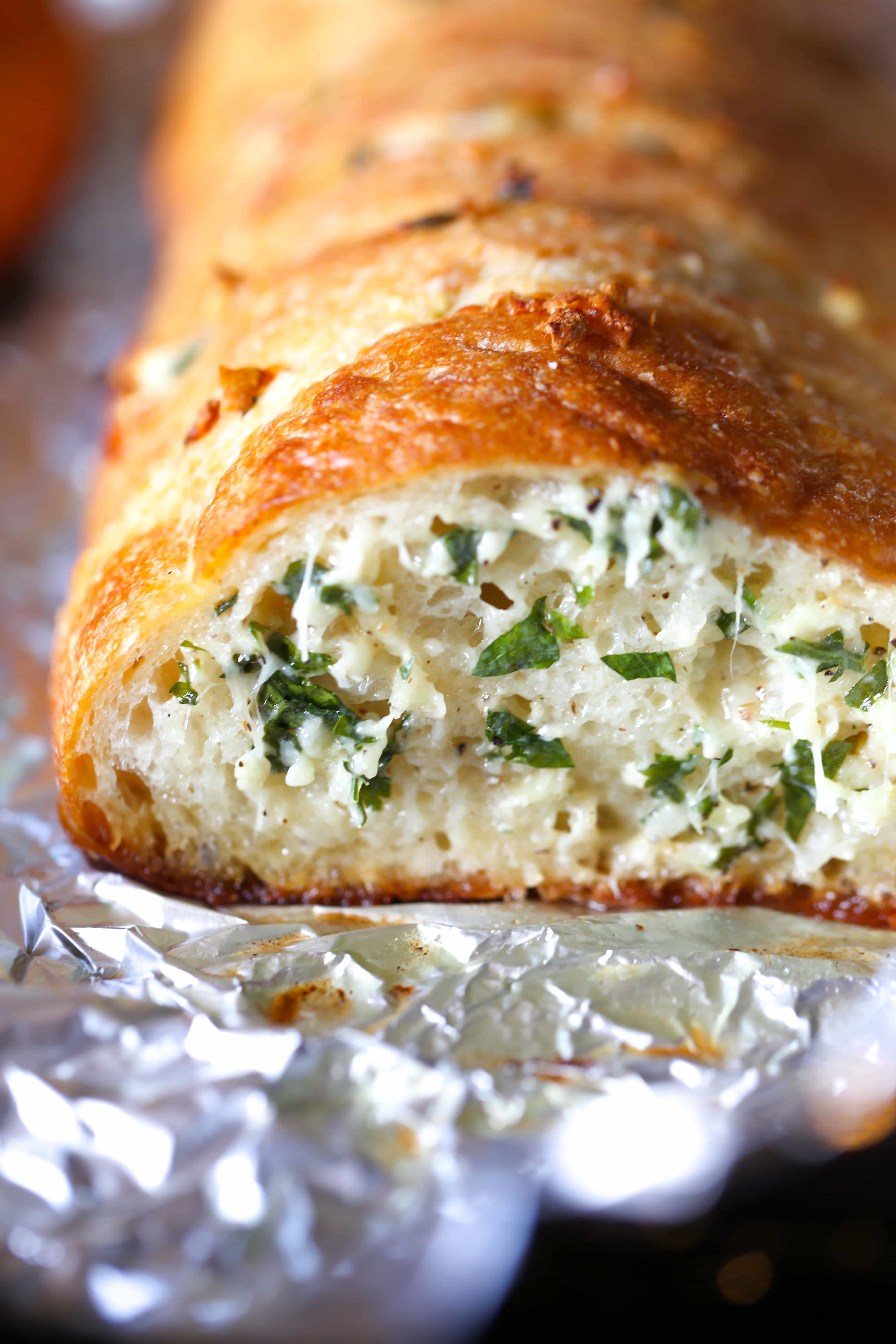 This Epic Stuffed Garlic Bread is the best you will ever make…it's buttery, cheesy and LOADED with fresh garlic!
So bread is one of those foods that I consider "special occasion". Yes, I seriously said that.
Like a slice of chocolate cake is pretty much an everyday deal around here, but indulging in the bread basket at a restaurant…well someone must have just won the lottery/got engaged/having a milestone birthday/won a Grammy.

MY OTHER RECIPES
I don't really try to understand the logic, nor will I try and explain it…however, just know my brain works a little backwards. It's basically prioritizing my carbs in the most enjoyable way possible. Kinda like drinking a diet soda while eating a Snickers.

Anyway, bread is not a food I like to drop precious carbs on. UNLESS we are talking about my Garlic Bread.
Folks. This is worth it, trust me. It might even be worth skipping the cake for. I can't. believe. I. just. said. that.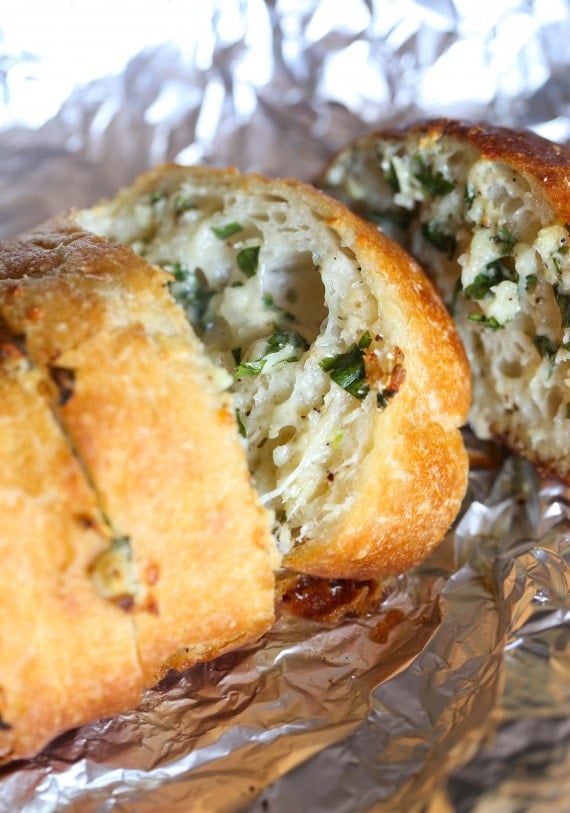 If you're gonna go there with bread, you know, you might as well go THERE.
Let's talk about the dirty details. They're major simps.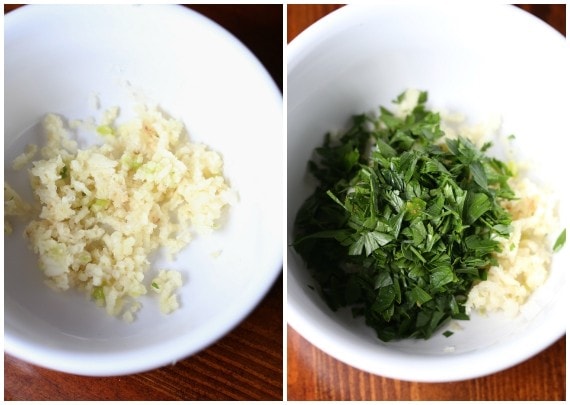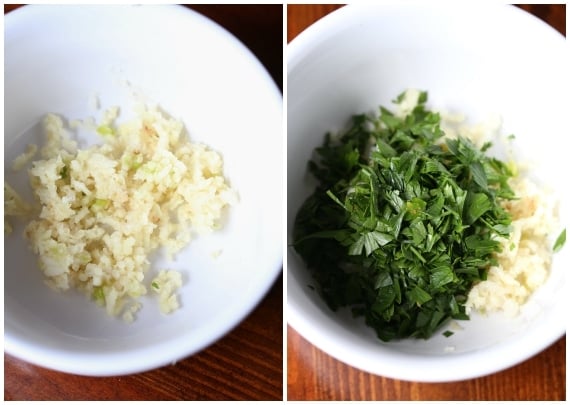 Grab a bowl and mince some garlic. Now, when I wrote the recipe, I said 4-6 cloves. This depends on a few important factors…the size of the cloves, the intensity your love of garlic, and who you will be spending the remainder of your evening with.
Let me break it down 6 cloves = opposite sides of the bed facing outwards. 4 cloves = we both are kind stinky, but hey we're stinky together.
Got it?
Oh and add your parsley.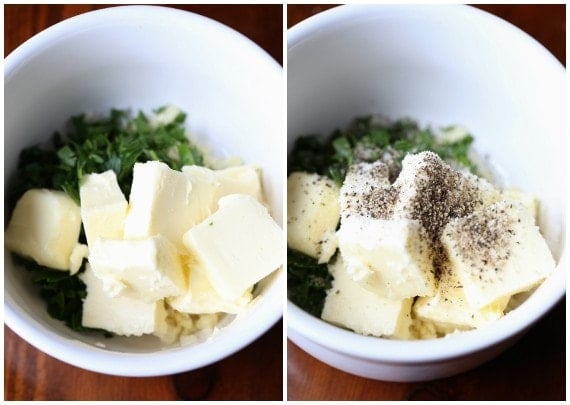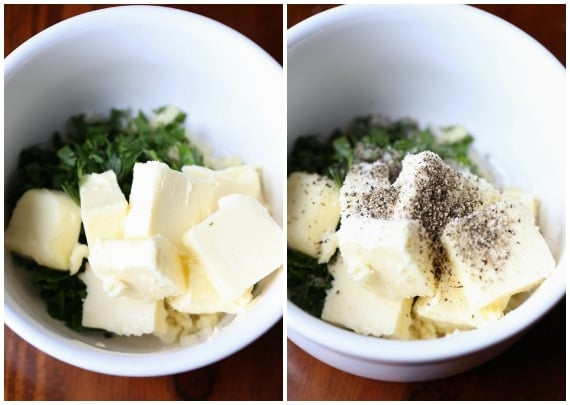 Next butter, obvi. Then salt and pepper (and cayenne if you're feeling spicy) and a little olive oil.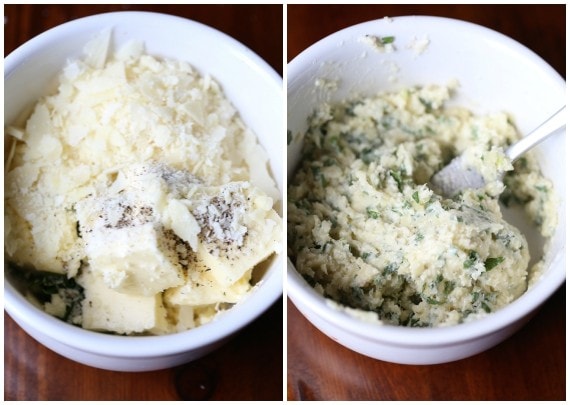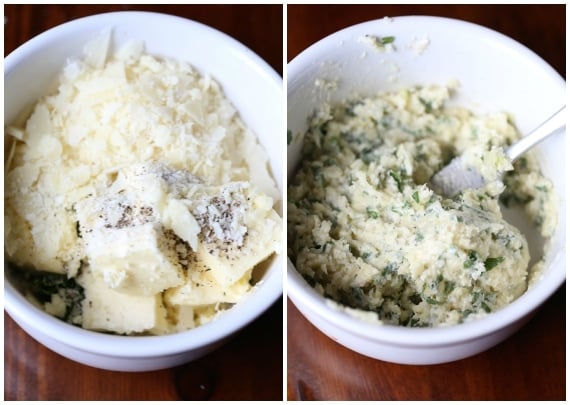 THEN freshly grated Parmesan. Please please you must use freshly grated. Do NOT use the powdery stuff and also the pre-grated is no bueno here either. Fresh.
Then mix it up together.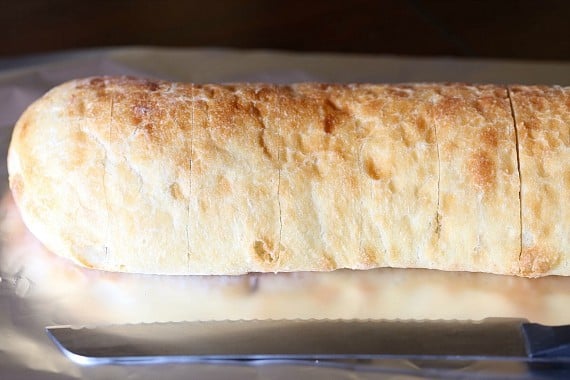 Now grab your loaf of bread. I use a large loaf of Ciabatta when making this recipe. But you can use whatever you like best…just not a French Baguette…it's not fat enough.
Slice the loaf almost all the way through, leaving the bottom of the loaf intact for stuffing.
Then grab some of your buttery garlic mixture and get to filling…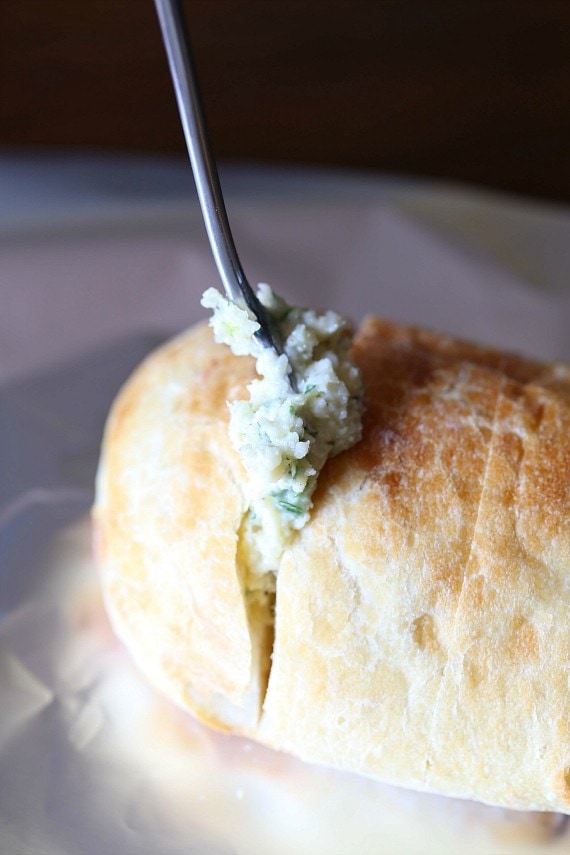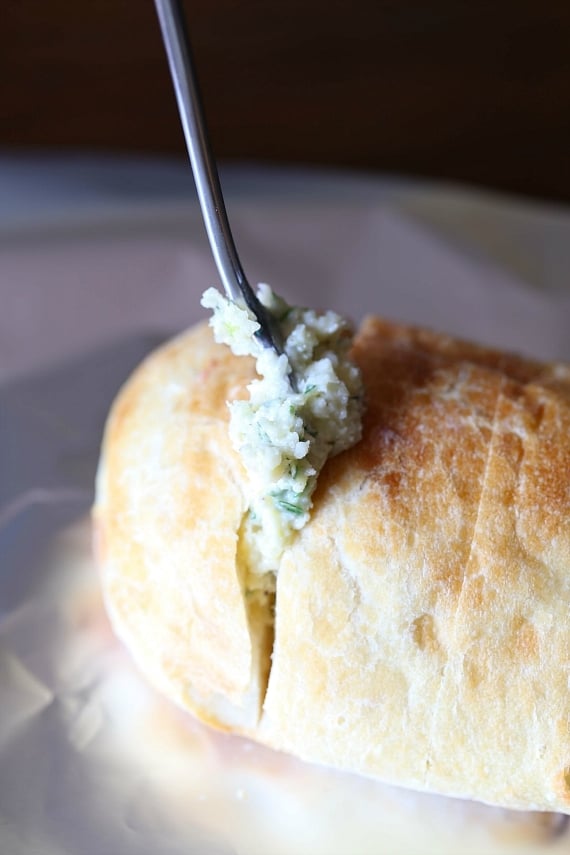 Fill all the slices. You will think it's too much filling. It isn't.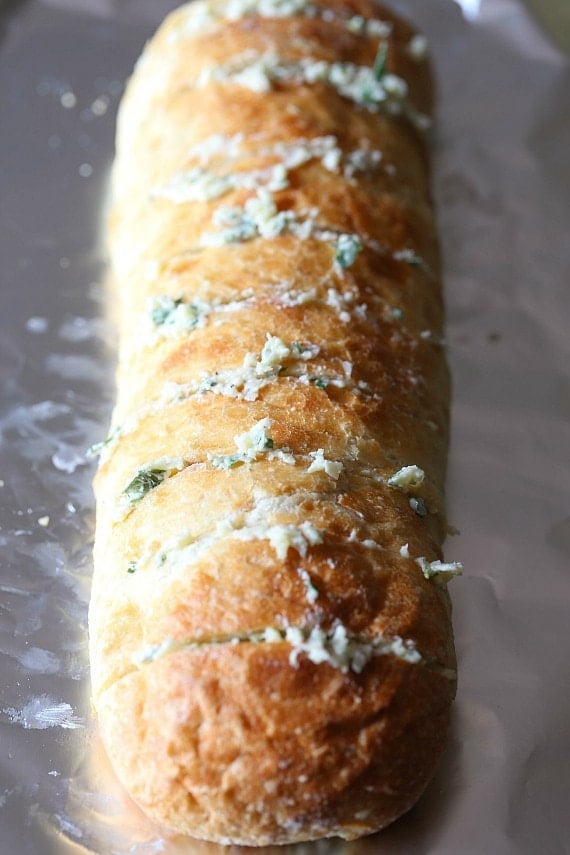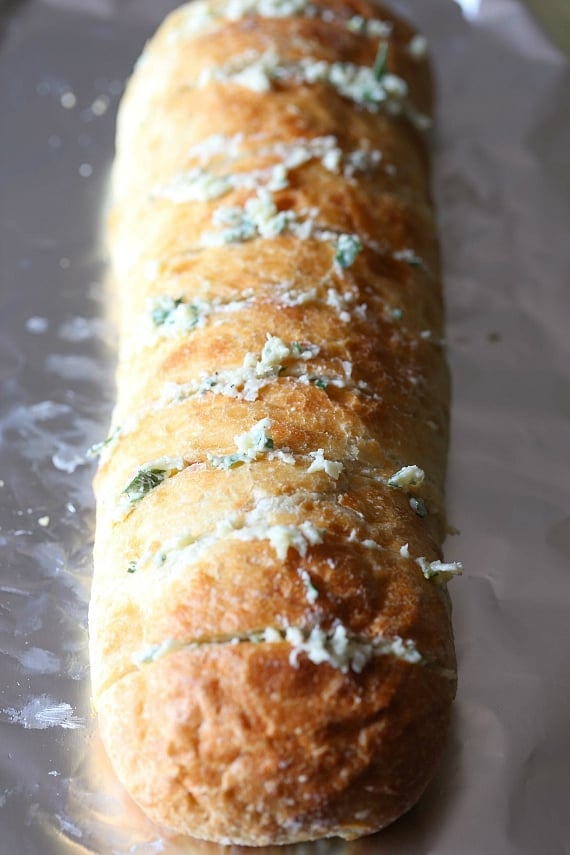 Then wrap it in foil, bake it for 25 minutes, remove the foil and bake for 5 more to make it all crispy and delicious.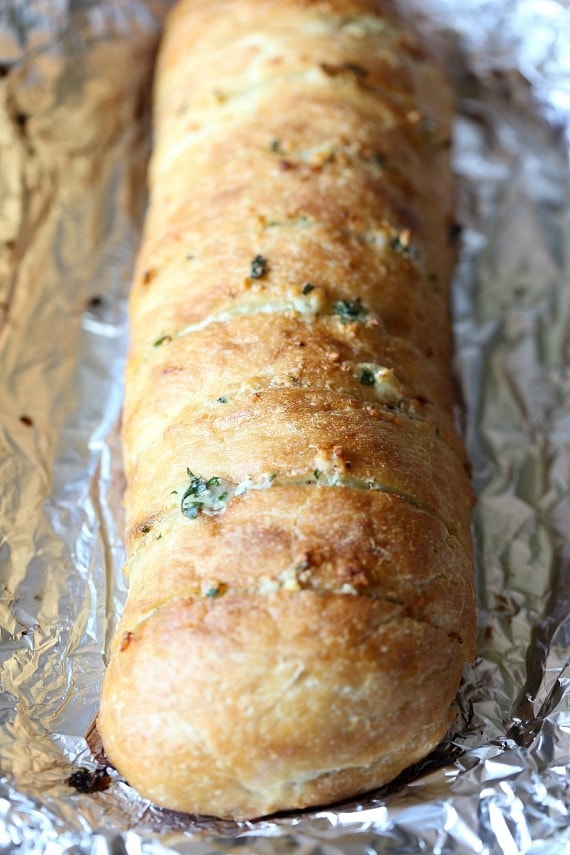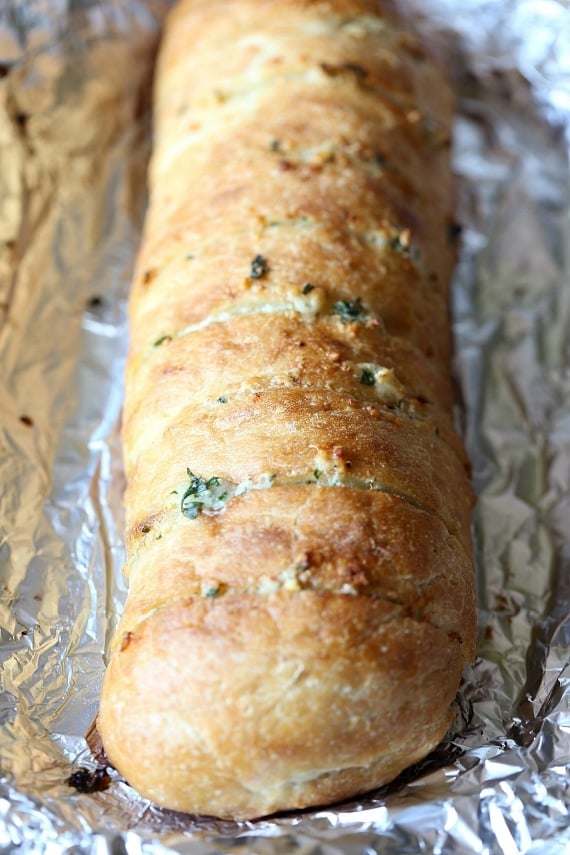 And then behold…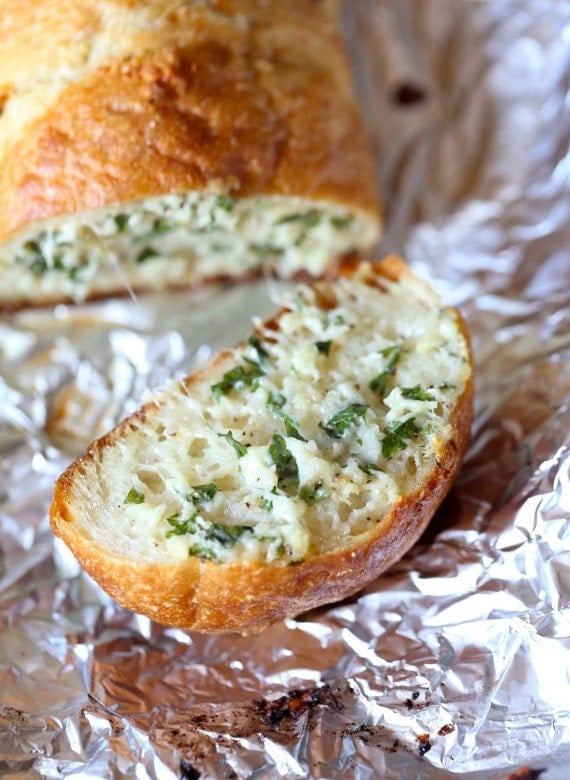 Seriously. This bread is the best. It's garlicky, packed with flavor and cheesy, but not too cheesy.
It's the best!
Print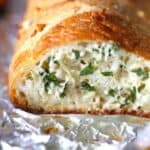 Epic Garlic Bread
Author:

Yield:

10 large slices
---
Ingredients
1 large loaf Ciabatta bread
4 – 6 cloves garlic, minced
1/2 cup chopped fresh parsley
1/2 cup room temperature butter, cut into pieces
2 tablespoons olive oil
1 teaspoon kosher salt
1 teaspoon freshly ground black pepper
1 cup fresh grated Parmesan cheese
*optional 1/4 teaspoon cayenne pepper
---
Instructions
Preheat oven to 425°F/220°C
Using a serrated knife cut your bread into thick slices leaving about 1/2- inch at the bottom uncut. Be careful not to cut the bread all the way through, as you need the bread to hold together to contain all the filling.
In a medium bowl combine the remaining ingredients with a fork.
Stuff the filling into the crevices of the bread evenly. You might think you have too much filing, you don't. Use it all.
Wrap the bread tightly in aluminum foil, place the bread on a baking sheet and bake for 25 minutes. Uncover the bread and bake for an additional 5 minutes to crisp up the outside of the bread.
Serve warm.
---
Notes
You can adjust the amount of garlic depending on the size of the cloves and how much you love garlic.
Additionally you can omit the cayenne pepper if you prefer no heat.
Save