Sharing some of my Baking and Kitchen Essentials for 2014!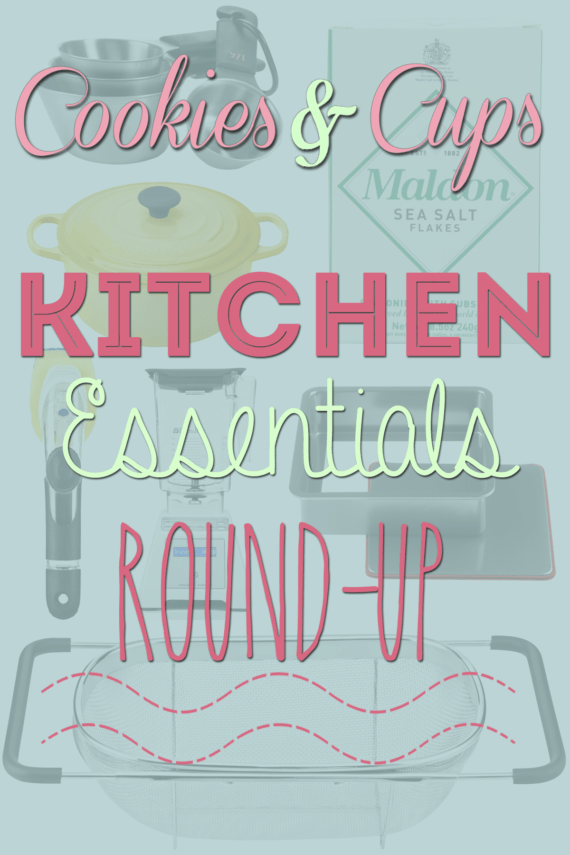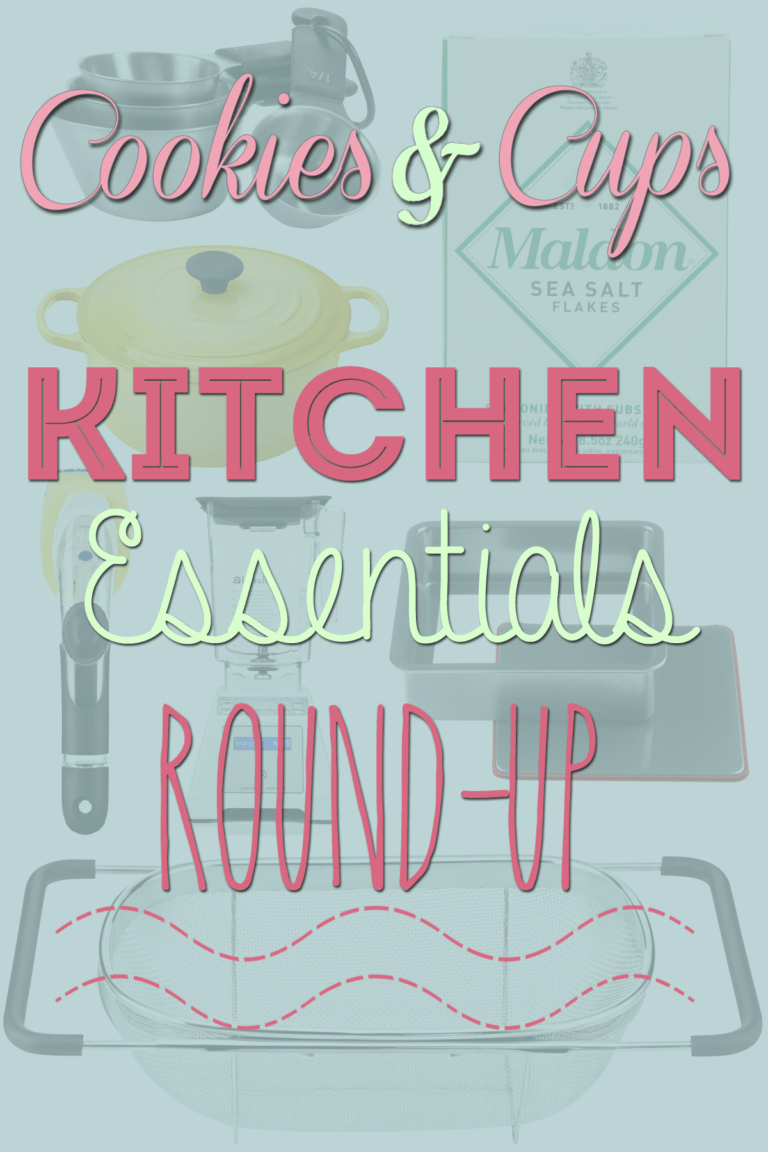 Hi friends! Popping in today to share a few of my kitchen "musts".
This is actually my second list of must-have stuff. Here's the link to last years…and trust me, everything on that list is still super essential.
But I thought it might be appropriate to update things a little. Because I'm fickle. Because I always have a new "favorite". Because because because…
So let's get this show on the road.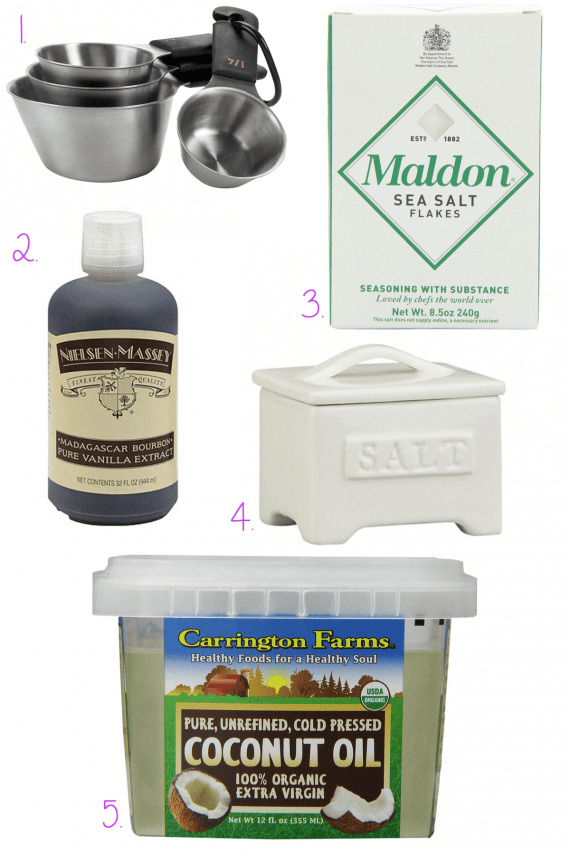 1. Oxo Good Grips Measuring Cup Set, Stainless Steel, 4-Pc ~ Ok, Measuring cups might seem SUPER obvious. Like duh. But hear me out. Do you know how many sets of measuring cups I have gone through over the years? Actually not full sets…just usually the 1 cup and 1/2 cup. I have about 13 half-sets going right now. WHY YOU ASK? Because I am a hopeless brown sugar scooper. You'd think I would learn my lesson. Turns out, no.
I have broken the handles off of SO MANY plastic measuring cups it's out of control. So here's the word: Buy solid stainless cups. Save yourself the time and trouble. The end.
2. Nielsen-Massey 32 oz. Madagascar Bourbon Pure Vanilla Extract. Ok, fancy vanilla might not be a HUGE priority to you. But oh friends, it's just lovely. Try it. You'll agree.
3. Maldon Sea Salt Flakes And also fancy salt. This salt will last you years. But sea salt flakes are mah jam. Sprinkle them all up on everything: Cookies, pie, cake, candy, garlic bread, your finger. whaterr.
4. Crate and Barrel Homestead Salt Cellar Well duh. now you need a cute place to keep your salt. This cute little salt cellar has it's place on my counter and it's possibly the most useful thing I use. It make grabbing salt super handy. You need one of these guys.
5. Carrington Farms Organic Extra Virgin Coconut Oil Now this might be annoying, but y'all, try it. I swear you will be converted. This is my favorite brand of coconut oil, because it actually does smell and taste subtly like coconut. If you don't love coconut, maybe get a coconut oil that isn't cold pressed, but I promise you, this makes the most epic coconut chocolate chip cookies of ALL TIMES!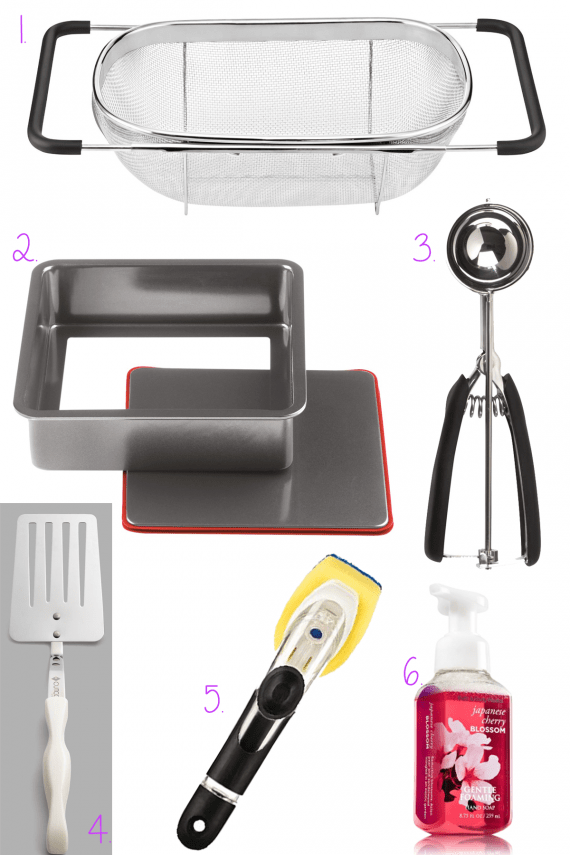 1. Cuisinart Over-The-Sink Colander Hello people. If you don't have a colander that hangs on your sink, run don't walk to the amazon and buy yourself one. Yes, there are uber adorable decorative colanders out there that look beautiful holding your fruit or whatever…but you need a workhorse and this guy is the bombdotcom.
2. Kuhn Rikon PushPan, 9-Inch Square This pan is a newbie to my kitchen and I love it. It's basically a brownie maker's dream…like a springform pan, with no hinges.. it will make cutting bars easy-breezy.
3. OXO Good Grips Large Cookie Scoop I had a cookie scoop on my last year's list, but I had to buy a new one because my old one broke. This one from OXO is the best. You need a cookie scoop, spoons don't cut it. Once you start using one you will never go back. Also, go big or go home. I use the large (which is 3 tablespoons) and it's perfect. Ain't nobody got time for small cookies.
4. CUTCO Model 1716 Slotted Turner with White "Pearl" Handle This is a bit of a splurge…and not TOTALLY necessary, but it's my favorite spatula. I love a solid metal spatula with a shard edge. It's great for getting under cookies perfectly as well as cutting bars!
5. OXO Good Grips Soap Dispensing Dish Scrub SO since you're baking and cooking and being an all-around domestic goddess, you have to wash a dish from time to time. I know. It sucks. But I do like this scrub with a soap dispenser built in.
6. Bath and Body Works Japanese Cherry Blossom Foaming Hand Soap Hand soap in the kitchen is essential too…and B&BW makes some stellar flavors. Their seasonal stuff is amazing, but I always come back to my beloved Japanese Cherry Blossom. Sigh.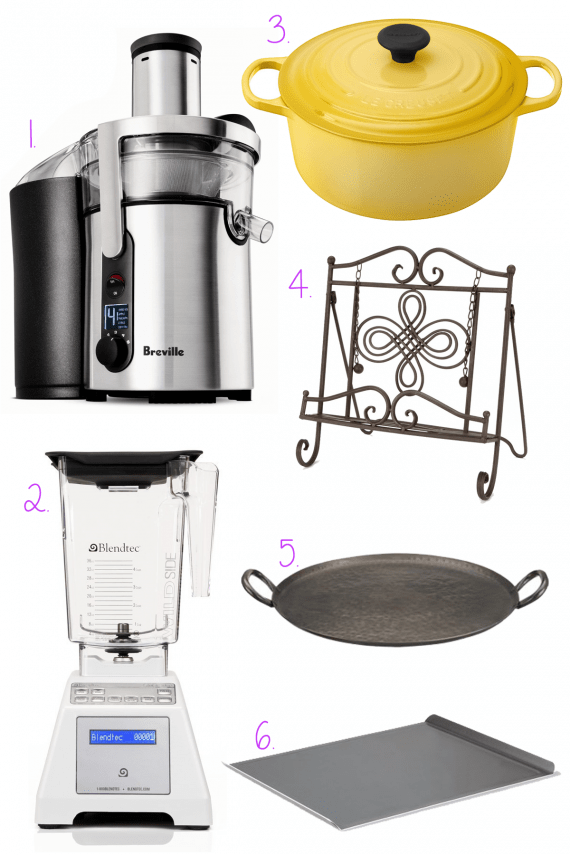 1. Breville BJE510XL Juicer. Ok, this juicer. It's my husband's baby. Everybody and their dog is juicing now, and we bought this one 9-ish month ago. It's done a great job and didn't make us poor. Also, juicing is just an expensive habit. Who knew it took 14 pounds of veggies to make 3 Tbsp of juice? Ok, that's a teeny exaggeration, but you get it. Anyhow, this juicer does it perfectly and we've been super happy.
2. Blendtec Total Blender Classic with WildSide & Twister Jars Here's another splurge, but people.. you need this blender. I have never been much of a smoothie or milkshake person…so when I got this, I figured it would go to my appliance graveyard to be pulled out once a year with my ice cream maker. But no. This guy has changed my brain. It does it all. I use it way more than I thought I ever would and the motor is a work-horse. We love to make nut butters here…our favorite being peanut butter. All you do is dump some honey roasted peanuts in and turn it on. That's it, seriously. Put this bad boy on your Christmas list, you'll thank me for it!
3. Le Creuset Signature Enameled Cast-Iron 5-1/2-Quart Round French Dutch Oven, Soleil OK, here's another pricey item, but if you don't have a Dutch Oven you should get one. Especially if you like to cook. You'll use it for everything, and it just looks pretty! I have one that site on my stove top all the time…ready to use at all times.
4. Tripar Swirl Design Cookbook Stand You need a cookbook stand until all the publishers in the world get their heads on straight and start making all cookbooks spiral bound. Rant over.
5. Crate & Barrel Feast Platter This might be a little out of left field…it's a serving tray. But here's the thing.. it's super versatile and pretty…not too fancy that you can't use it everyday but nice enough to use when guests come over! I use it as a condiment tray, a dessert server, a pizza plate etc etc. It's always out in my kitchen, if even just to put a vase of flowers on on my kitchen table!
6. Calphalon Classic Bakeware Cookie Sheet. My favorite. It's the only cookie sheet I bake cookies on. That's the truth.
Ok friends! There's my kist of updated essentials.
Again, check out my last year's list for more must-haves…I would LOVE to hear what you guys can't live without in the kitchen too! Leave me a comment and share your faves!