These super soft Pumpkin Spice Snickerdoodles are a great way to turn a classic into something extra special!
Snickerdoodle cookies are my husband's most favorite.
AND I also have to say that I don't make them that often…
Not sure why, but I just don't. Sorry husb. It's not you, it's me.
Also, I only seem to make them in the fall. When cinnamon is seems most appropriate.
Which I know is not really a thing…it's just cinnamon speaks cozy to me.
All the excuses, I know.
So I'm breaking the drought in my house with these phenom Pumpkin Spice Snickerdoodles.
They're soft, they're perfectly Pumpkin Spicy…
And since Pumpkin Spice is basically a fall drug, I am fully bandwagoned up with these babies.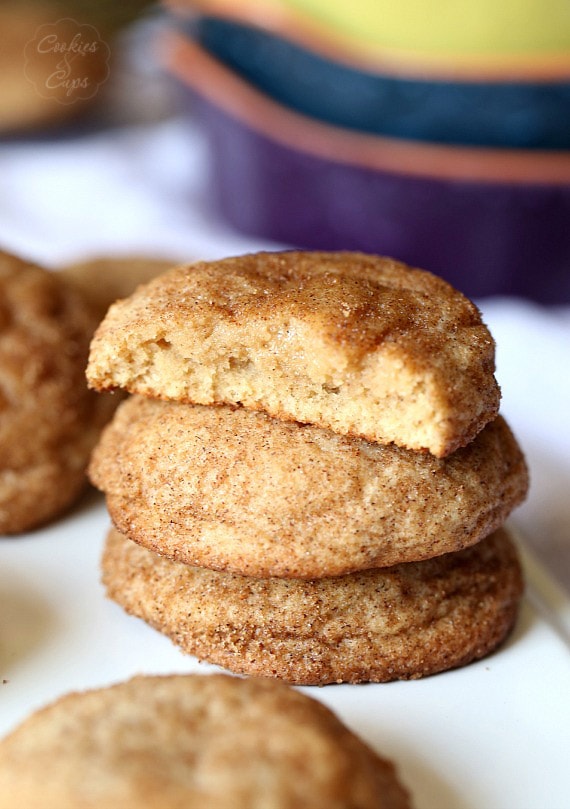 Grab some Pumpkin Pie Spice. That's the first step. They sell it down the spice aisle if you're wondering.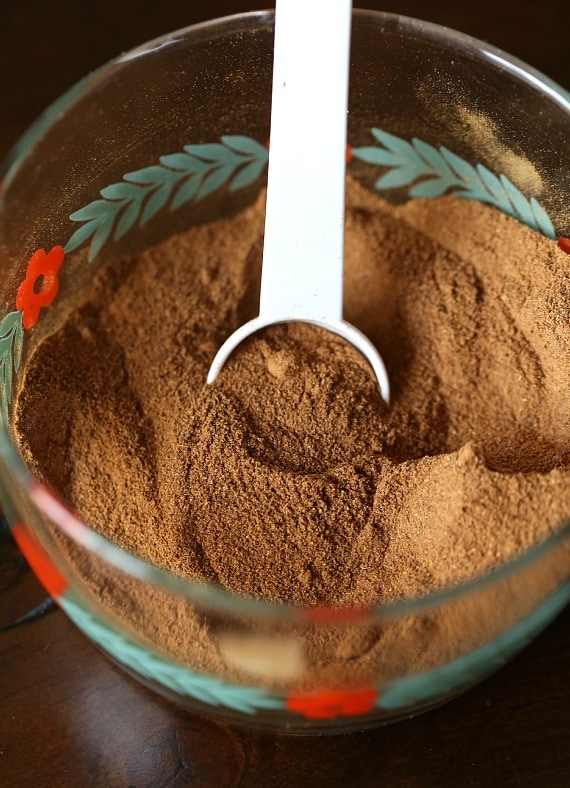 The cookie dough is super simple. Also, I have to admit I didn't use cream of tarter in these snickerdoodles. GASP!
I know this might offend the snickerdoodle purists out there, but CoT is an annoying ingredient that I never seem to have in my spice rack…I know I am not the only one. Turns out I have made snickerdoodles with cream or tartar AND without…and you know what? I can never really tell the difference.
If you really insist that cream of tartar is a must, or if you're just trying to use up the container you bought back in 2003 use my PERFECT SNICKERDOODLE recipe and sub in pumpkin spice wherever it calls for cinnamon. (Also note this recipe uses brown sugar in the coating, so definitely try that).
BUT if you're willing to throw caution to the wind and rebel out…this is the cream of tartar-less recipe for you!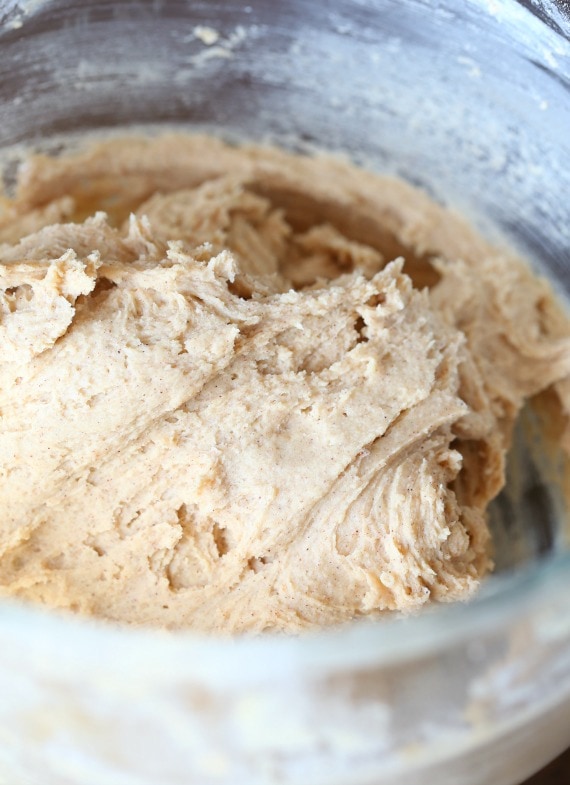 After you chill your dough a beat, roll your cookie dough in a glorious mixture of brown sugar and Pumpkin Pie Spice.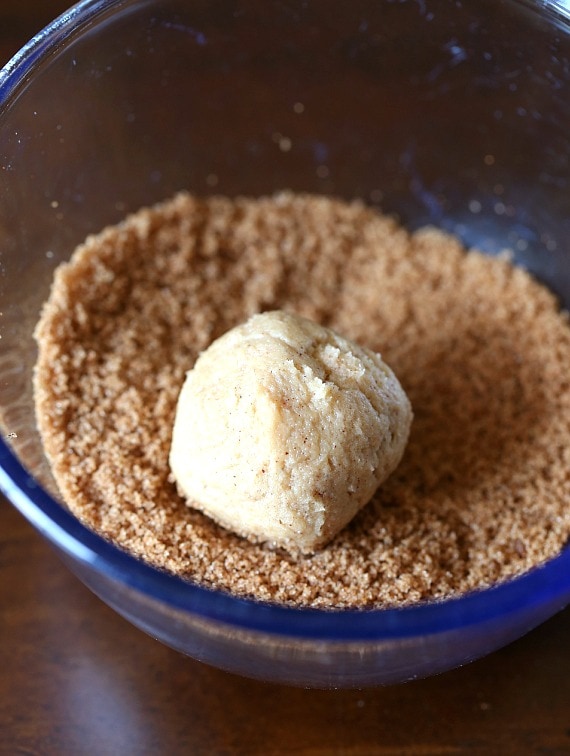 …
When they're baked they will look like this…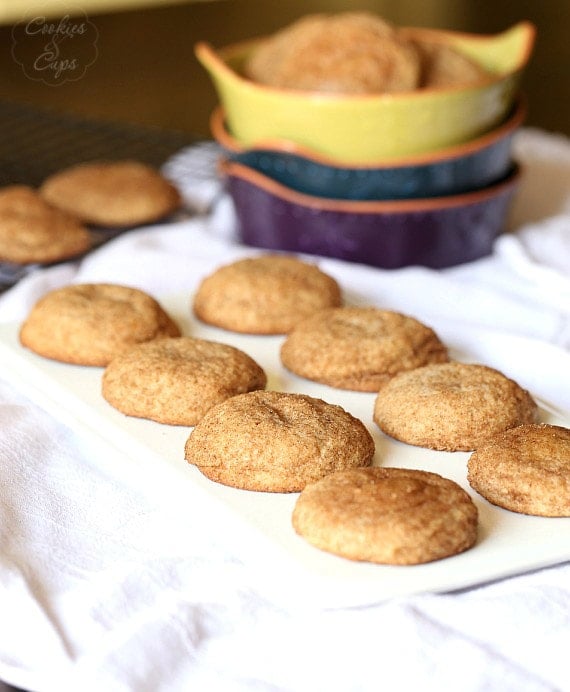 And your house will smell like the perfect candle from Bath and Body Works.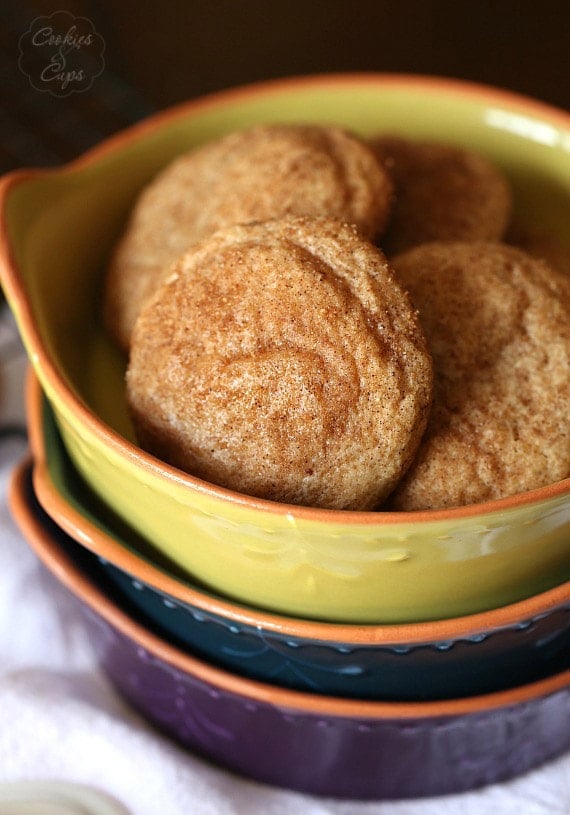 Let's all Fall it up!
Print
Pumpkin Pie Spice Snickerdoodles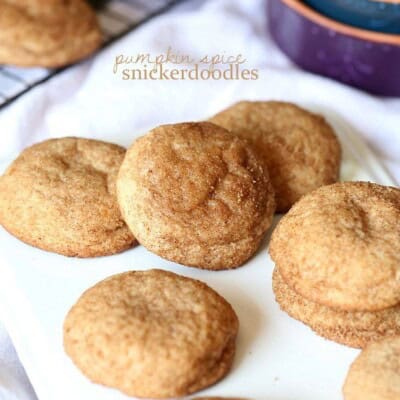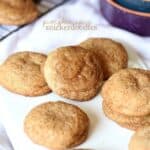 ---
Description:
makes about 2 dozen large cookies
---
Ingredients:
1 cup

butter, room temperature

1 cup

light brown sugar

1/2 cup

granulated sugar

2

eggs plus 1 yolk

2 tsp

vanilla

3 tsp

Pumpkin Pie Spice

1 tsp

baking powder

3/4 tsp

salt

3 cup

s flour
Coating
1/4 cup

light brown sugar

1 1/2 tsp

Pumpkin Pie Spice
---
Instructions:
Preheat oven to 375°
In bowl of stand mixer cream butter and both sugars together for 2 minutes until light and fluffy.
Add in both egg and additional yolk into butter along with vanilla and beat until smooth, scraping the sides as necessary.
Mix in Pumpkin Pie Spice, baking powder and salt until combined.
Reduce speed on mixer to low and mix in flour until dough comes together.
Chill dough for at least an hour.
When ready to bake, line baking sheet with parchment paper and preheat oven to 375°
Mix coating ingredients (light brown sugar and pumpkin pie spice) together in a bowl, set aside.
Roll dough into large balls, about 1 1/2 inches in diameter and then roll into the sugar/pumpkin pie spice mixture, coating completely.
Bake for 7-8 minutes until cookies are lightly browned on the bottom. Remove from oven and transfer to wire rack to cool.
Want To Save This Recipe?