I'm doing it again! Today we're counting down a whole new set of cookies looking for a new winner of the Best Bakery Cookies to Order Online Showdown!! Last year's cookies were REALLY tough to beat, so check out the 2018 winner of Best Online Cookies. But here we are in 2019 doing it all again with a whole new set of contenders!
The BEST Bakery Cookies To Order Online!
YOU GUYS! This is easily the most anticipated post of the year here on Cookies and Cups! Last year I ordered and tried TONS of cookies online, and had an epic time doing it. And I still think last year's top 3 bakeries last year are pretty hard to beat. But I decided to try it again with a whole new batch of bakeries. And you know what I found? This year's top 3 are ALSO pretty fantastic!
Like last year, I wanted to follow along the same set of parameters. I LOVE visiting bakeries when I travel, and am able to try so many fun sweet treats wherever I go, so I thought it would be fun to see how many of these bakeries across the country SHIP their treats, so everyone can try the cookies I talk about over on Instagram. Last year I chose some bakeries I had already tried when I visited them, but hadn't ever ordered online, so it was great to be able to compare their shipped version vs their "fresh" version. Last year's winner ended up being a bakery I had never visited in person, but next time I am in Chicago I am DEFINITELY popping in.
This Year Is a Whole Set of Bakeries That Are New To Me!
Like last year, I tried to mostly eliminate big chain companies. I try to keep it small, local bakeries that ship their treats…with one (I think) exception. AND this year I took every single Bakery recommendation from you guys over on Instagram, which I think it SUPER fun! I had a few late entries come in with folks who wanted to get in on the showdown, which is always fun that you guys get as excited about cookies as I do!!
I will be sharing the Top 10 that I ordered this year. I had more than 10 entries, but I honestly didn't love a lot of the cookies I received this year, so instead of talking about what I didn't like, I will focus on those I did and why! The #1 cookie this year is SUPER fun, totally different, and would seriously be the best gift to receive in the mail, or heck, just a fun treat to gift yourself!
How Did I Rate The Bakeries?
So there were a few key points I wanted to hit on when I ranked these bakeries. Also know that this is completely my opinion only, and my aim is to help you guys as readers and giving my honest opinion without being negative. Also note that I only picked a few types of cookies from each bakery (always truing to order the chocolate chip cookie) so I certainly wasn't able to sample everything each bakery has to offer. But here were the main points I used in my ranking:
Taste/Freshness (obviously). This is the most important factor in the ranking. It won't matter how pretty a cookie is packaged or extravagant the ingredients if it doesn't TASTE good!
Packaging/Presentation. While this isn't as important as taste, I feel like it's a huge factor when ordering cookies online. I would guess that over half the time cookies are ordered online it is as a gift, and the way the cookies are packaged and presented is part of the fun. A few of the cookies I ordered were left off the list completely due to poor packaging. Plus, if they aren't packaged carefully, they can come broken, which is another huge cookie fail.
Speed of Delivery. I believe this also factors into the freshness, so if the cookies take a week to get to me after being ordered, they are obviously at LEAST a week old.
Price. Sure, ordering cookies online isn't the cheapest way to get your cookie fix, so certainly there is a premium to be paid for this. But if the cookies are overly priced, or if shipping costs more than the cookies (yep, that's a thing), that is a huge turn off.
So let's get started, shall we?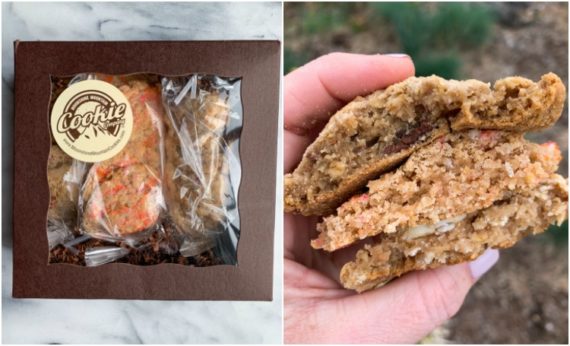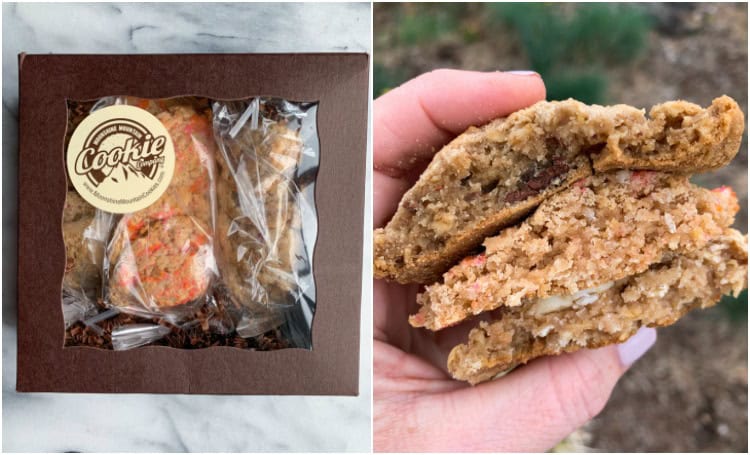 7343 Kingston Pike Knoxville, TN 37919
Price: $25.99 for a dozen
Shipping: $12.50. Arrived 2 days after order was placed.
Ok, I will say that my least favorite part of my Online Bakery Showdown is having to let you know which cookies I wouldn't recommend. Unfortunately if I have 10 slots, and someone has to come in last. While cookies from Moonshine were soft and fresh, they were all broken. I enjoyed their flavor, and thought their "Berry White" and "Sugar Shine" were standouts, tasting like something you baked right in your own kitchen. BUT they fell apart and were all broken. Such a bummer.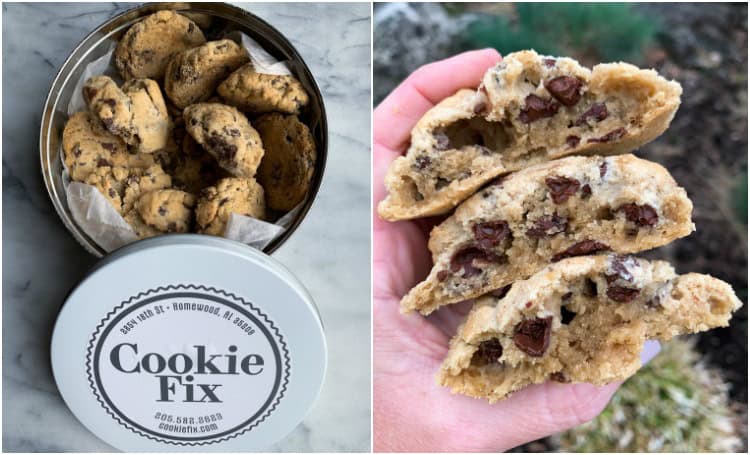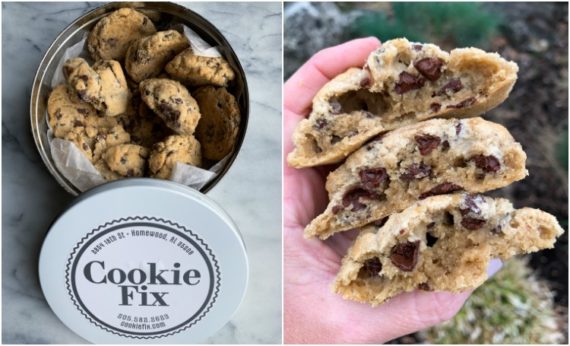 2854 18th Street South Homewood, AL, 35209
Price: $33.88 for a tin of a dozen
Shipping: $30.20. Arrived 4 days after order was placed
Ok, so when I'm spending over $60 on cookies I expect to be wowed. Looking at the cookie selections on their website got me instantly excited, but unfortunately none of the amazing flavors seem to be available to ship, only for local delivery. I totally get that, especially for small shops. What they do ship are tins filled with a dozen cookies. Unfortunately you can't alter the flavors in the tins. So if you order a dozen in a tin you can only get one flavor per tin. The images on the page are misleading, looking like each tin comes with a variety of flavors, but when you read the description, each tin is only one flavor.
I ordered one tin with a dozen chocolate chip cookies. The tin was cute, but again, about half the cookies came broken inside. The bottom of the tin was a layer of cookie crumbs from the broken cookies, with the cookies on top being mostly intact. The cookies themselves were ok, but when shipping costs over $30 you would hope they wouldn't all be broken. I completely understand that once the cookies are out of the bakery's hands and into the hands of the shippers there isn't much you can do, BUT I know I have ordered lots of cookies for these posts and most of the cookies come in perfect condition, so I know it's possible.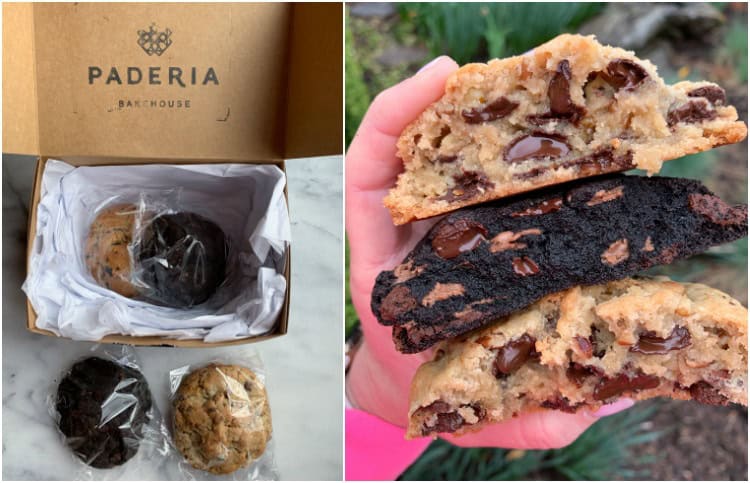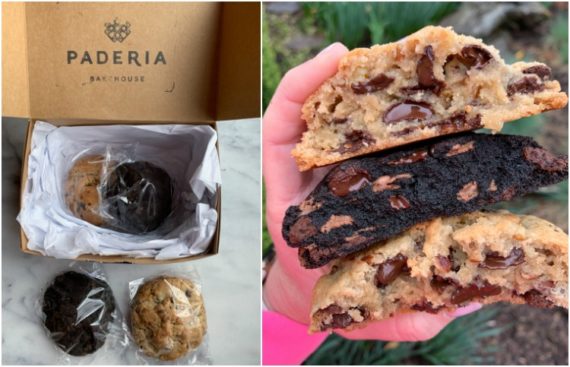 #8 – Paderia Bakehouse
18279 Brookhurst St. Suite 1 Fountain Valley, CA 92708
Price: $18.95 for 4
Shipping: $20.75. Arrived 7 days after order was placed
This was a late addition to the showdown, and they were good! I ordered 4 cookies, and they are pretty huge. They have a limited selection of flavors for shipping, so I chose the Assortment Box which included a Chocolate Chip, Dark Chocolate Peanut Butter, Triple Chocolate, and Blueberry Coconut Pecan. The site says you can alter the flavors in the assortment by just leaving a comment when ordering, so I appreciated that option. The reason they came in eighth on the list is that shipping was more than the cookies, and they also came 7 days after the order was placed, which was longer than most. I will note they are in California and I am in New Jersey, so they did have to travel across the country, but I other comes from CA and they arrived much quicker.
Also I will note that I tried these cookies both straight out of the box, and also heated up in the microwave for a few seconds, and I only liked them warm. Of course most cookies are better warm, I get it, but I found these were really ONLY good warm. I am going to assume that's mainly because they weren't quite as fresh due to the long shipping time.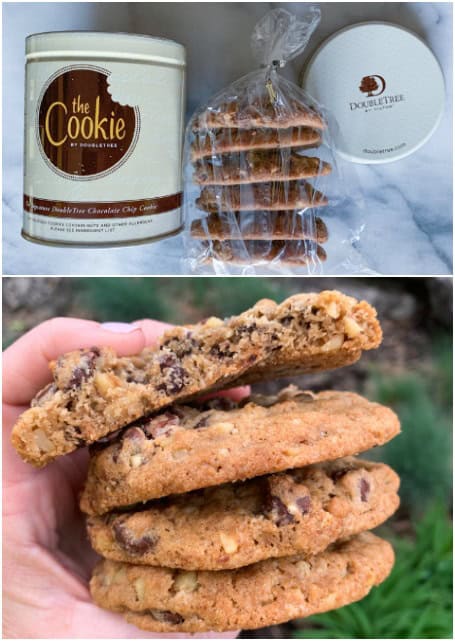 1205 3rd Ave N Nashville, TN 37208
2606 12th Ave S. Nashville, TN 37204
Price: $14.95 for a tin of 6
Shipping: $8.00. Arrived 3 days after order was placed.
Ok, have you ever stayed at a DoubleTree Hotel? Upon check-in they give you a warm Chocolate Chip cookie. It's pretty amazing. So when a reader recommended that I try Christie's Cookies in Tennessee I almost passed because it gave me more of a "Corporate Gift" vibe than homemade cookie vibe. Until I saw that they are the bakery responsible for the famous DoubleTree cookie!
I decided to order a tin and just see if they were as good as I remember, and oh yes they are. They came in a tin with 6, and they were soft, fresh, and equally as good warm or at room temperature. The shipping was totally reasonable, and came in 3 days.
The only reason I didn't rank this one higher, is beyond the DoubleTree Cookie, I felt like everything else was a little standard. BUT I would absolutely recommend these.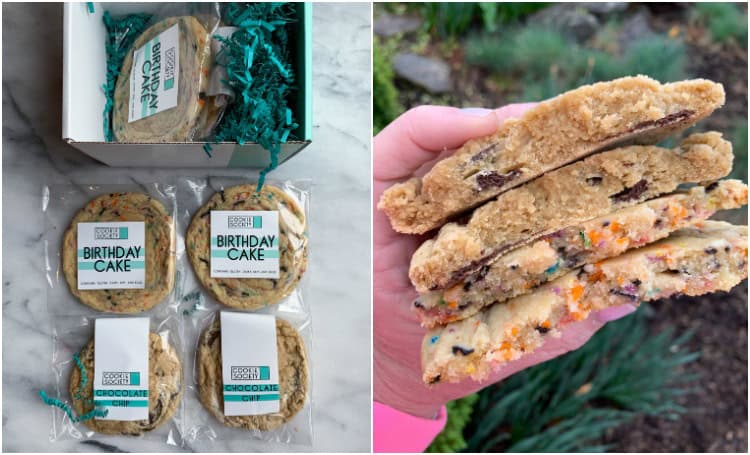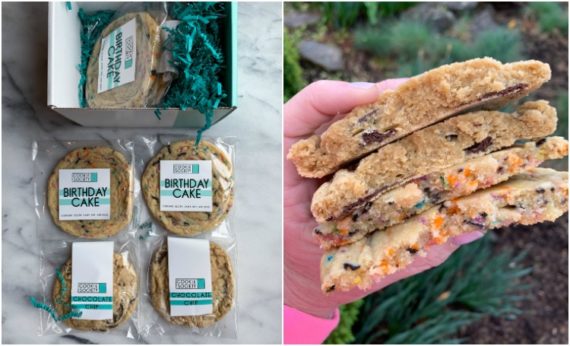 #6 – Cookie Society
Check website for local markets in Texas
Price: $32 for a box of 6
Shipping: $0. Arrived 7 days after order was placed
I was really loved The Cookie Society and only wished I had ordered more flavors! I ended up ordering a a "Bakery 6 Pack" which only allows you to choose 2 flavors, so I picked Birthday Cake and Chocolate Chip. Both were good, but we liked the Birthday Cake flavor the best, which was a soft sugar cookie loaded with sprinkles.
The cookies were on the thinner side, but were both soft and fresh. They have some really fun flavors and would absolutely order from The Cookie Society again!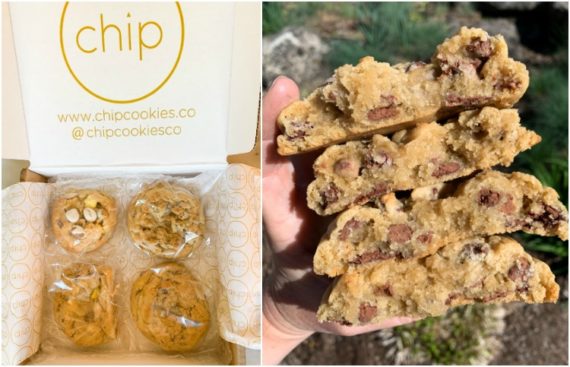 Multiple locations in Utah
Price: $10 for a box of 4
Shipping: $16.03. Arrived 7 days after order was placed
Ok, just look at that chocolate chip cookie. That is MY kind of cookie. We really loved the cookies we got from Chip and I bet if you have a local Chip near you they are phenomenal. We also ordered the seasonal option which was essentially a chocolate chip cookie but with Cadbury Eggs and white chips. It was good, but we liked the Chocolate Chip better.
I will say their website was a little glitchy, and their flavor selection was limited for delivery. Also they took 7 days to get to me, with shipping costing more than the cookies, but they were packaged nicely, came intact, and were just as good straight out of the box as they were heated up!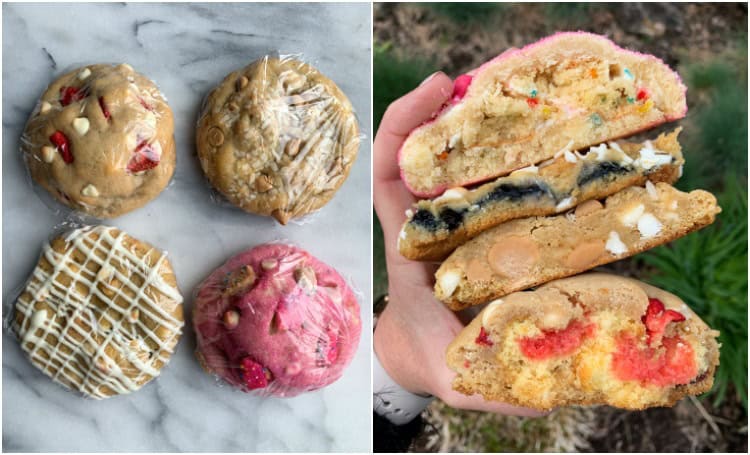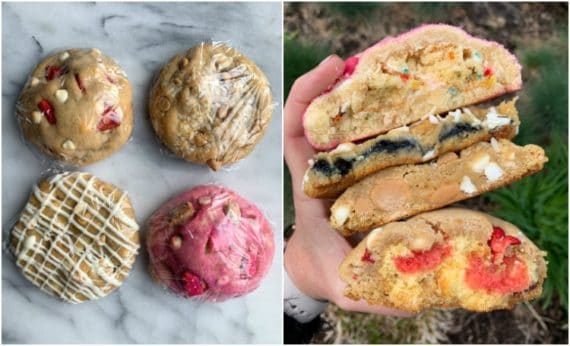 Sweet Treats Truck Stop in San Diego
Price: $32 for 6 cookies
Shipping: $15. Arrived 3 days after being shipped.
Ok, these cookies are super creative and really fun. The owner reached out to me on Instagram and I told her to surprise me with what flavors she sent. You can order these via Instagram, or if you're in San Diego on the Sweet Treats Truck. I got The Blueberry Pie Stuffed Lemon Cream, the Carnival Cookie which is a sugar cookies stuffed with a White Fudge Ding Dong, Strawberry Dreams which is Strawberry Cheesecake Dough stuffed with a Strawberry Twinkie, and MOnkey's Paradise which is banana dough with coconut, peanut butter chips and stuffed with caramel.
We really liked these, and warmed up they were great. Hopefully they will come up with an easier way to order as their business grows, because as of right now you message the owner on Instagram.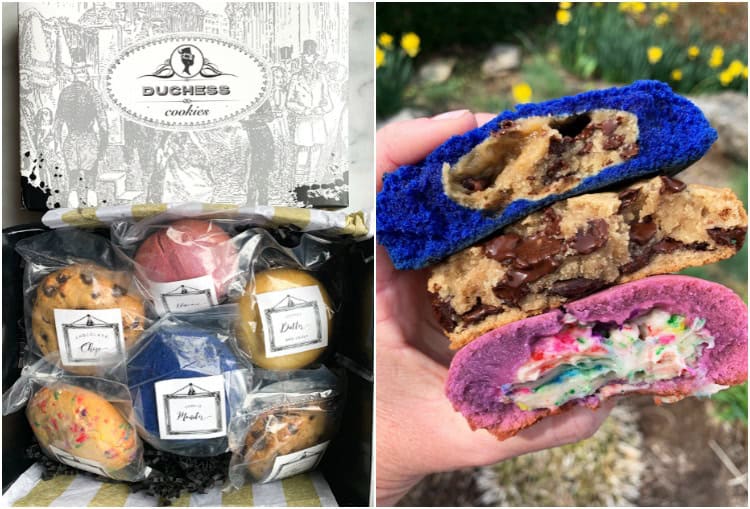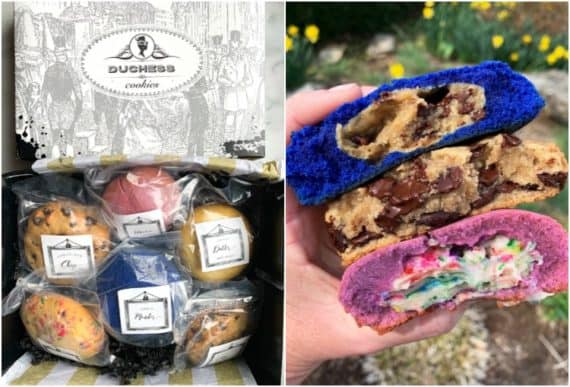 2 locations in NYC
Price: $5.50 each (I ordered 6)
Shipping: $8. Arrived one day after order was placed.
And just like last year, things now get a little murky. What I mean is any of these top 3 cookie selections could be #1 depending on my mood! You aren't going to go wrong getting any of these, but I definitely feel like they all could appeal to what you're craving!
Duchess Cookies were the first cookies to arrive at the house after all the orders were places, only taking 1 day to arrive. I will say that I am in NJ and these come from NY, so they didn't have far to travel. We LOVED the fun flavors and if you follow them on Instagram you will see all the videos of people breaking these beauties in half. They are definitely a showstopper.
I LOVED LOVED the Unicorn Cookie which was stuffed with a sprinkle cheesecake filling, but my boys loved the Cookie Monster Cookie and the chocolate chip.
I will say these should definitely be heated up to get the full effect, but I HIGHLY recommend getting these if you're looking for a super dun cookie!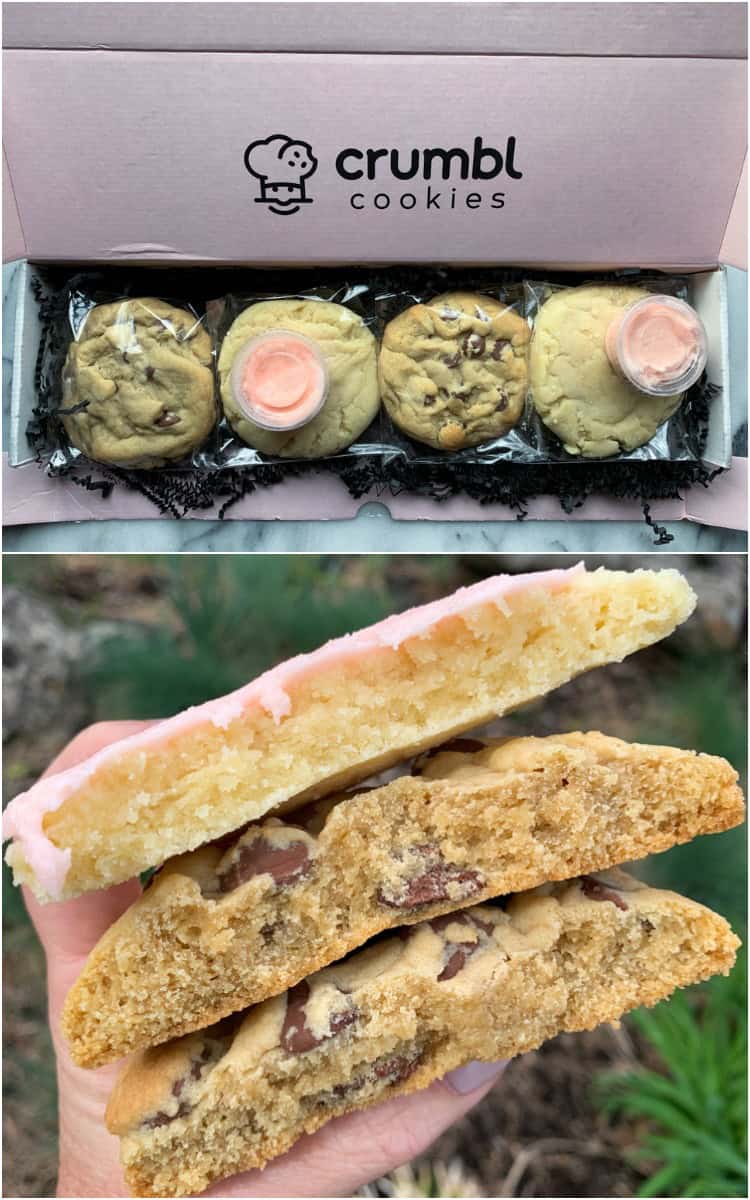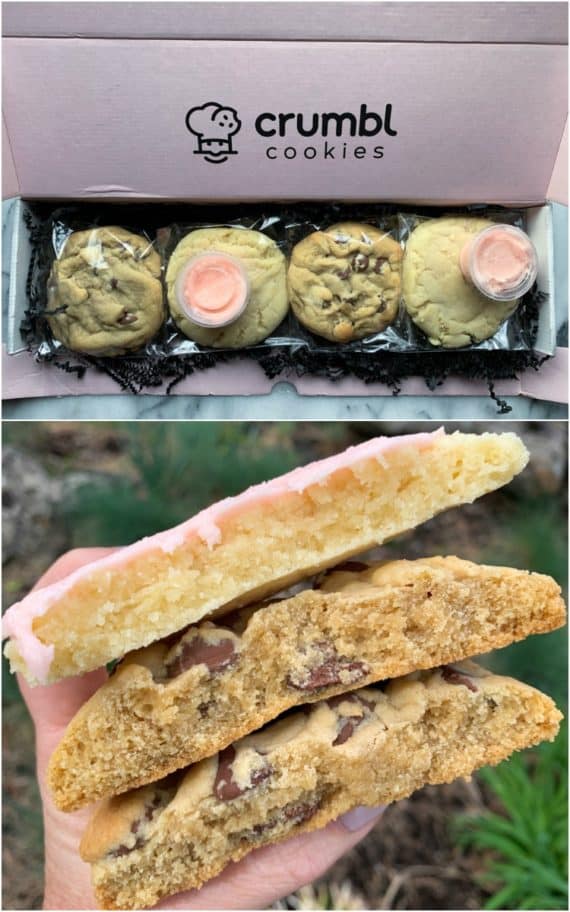 Multiple locations across the country
Price: $10 for a box of 4
Shipping: $19.14. Arrived 5 days after order was placed.
So Crumbl was THE MOST recommended cookie from you guys. I got hundreds of votes for Crumbl when I asked for bakery ideas over on Instagram, and now I know why. Against my overall annoyance when shipping costs more than the cookies themselves, there is no denying that Crumbl Cookies are WORTH IT. I hate that the picture above doesn't really capture how good these are. I only got a 4 pack, 2 Sugar Cookies and 2 Chocolate Chip cookies, but their Chocolate Chip Cookies were my favorite of the year (with the only contender for CCC being from Chip). SO SO GOOD!
I wish I had ordered the Party Box, which contains 12 huge cookies. The Sugar Cookies come with the frosting separate, which is nice, and are supposed to be chilled. I tried them not chilled and then chilled, and they are right, chilling the sugar cookies is the way to go!
The chocolate chip cookies are SO soft and yummy, and my only regret is I didn't order more. UGH.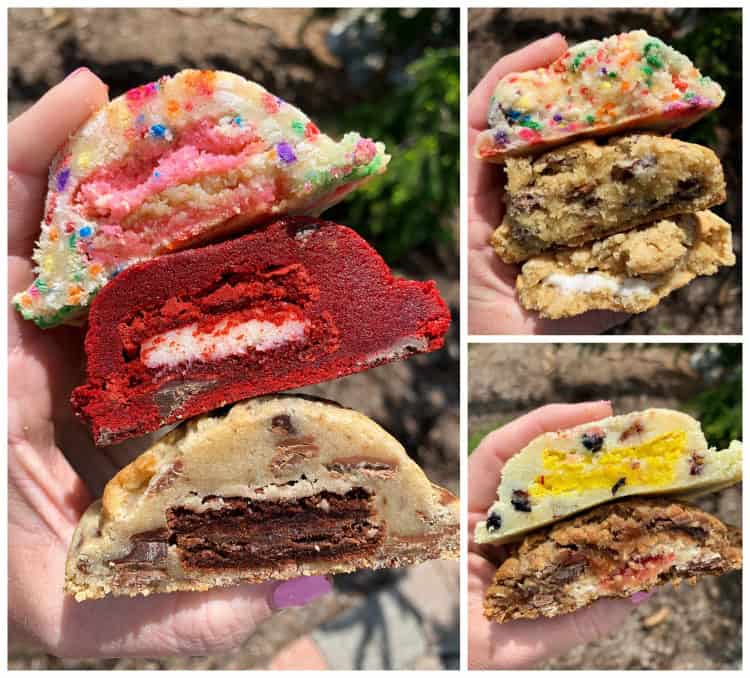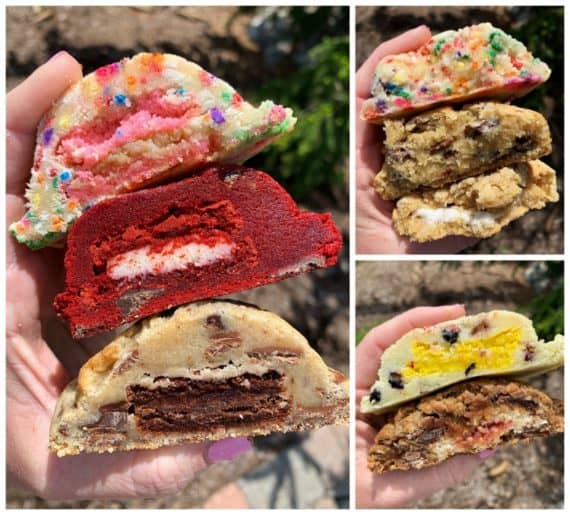 69 Wesley Street South Hackensack, NJ 07606
Also sold at Dylan's Candy Bar NYC
Price: $25 for a box of 4
Shipping: $18. Arrived 2 days after order was placed
Ok, here we are at the top spot. But like I said at the beginning, any of the top 3 bakeries are winners, all for different reasons. It was REALLY hard to pick the #1 this year because if I was just craving a chocolate chip cookie, Crumbl would be the winner. BUT if you are looking for a true, unique cookie EXPERIENCE Dana's is the winner.
The reason Dana's won is their "Mookie" which is a huge cookie stuffed with a Macaron! These were SO fun!! We loved the Funfetti Flavor the most, but the Oatmeal Rain stuffed wit a raspberry jam macaron was so so good too. I mean all their flavor combos were great! If you warm them up they get SUPER gooey and delicious.
The Cookie Lover Combo is the way to go, with some of their super fun Rainbow Black and White Cookies and 5 "Mookies".
Dana's HQ is in New Jersey, so I was so excited to learn that they were local to me, although I will say that I had no idea they were in NJ until after I had placed the order.
Dana's seems to be most known for the amazing French Macarons, which are also amazing gift options. But dear friends, the Mookie is an EXPERIENCE and I highly recommend, which is why I am choosing Dana's as #1 this year!!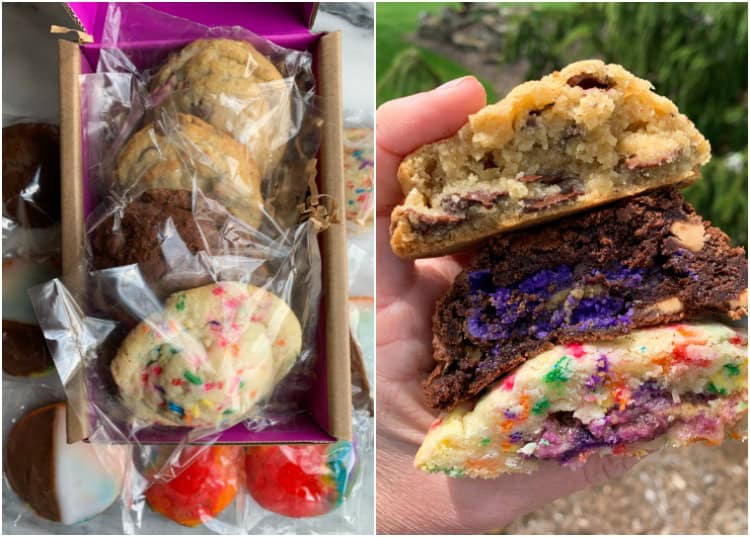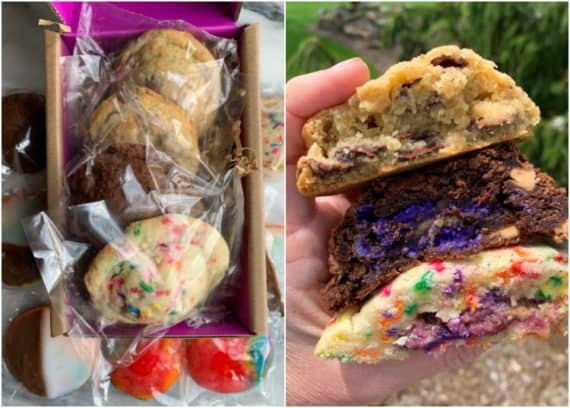 Are You Craving a Cookie Yet?
Again, this post is completely unsponsored, based soley on my opinions, and not meant to be anything but informative. And like I said before, every bakery on this list was a recommendation from YOU GUYS! It's also safe to say that every bakery on this list is someone's favorite, so do your best to check them all out and make your own decisions. I'd LOVE to know if you agree with me!