These Blackout Cupcakes are ALL chocolate! The Devil's Food Cupcake with Brownie Batter Filling topped with a whipped chocolate ganache, brownies, chocolate chips and milk chocolate are the perfect combination for any chocolate lover!
So remember when I went to Texas a few weeks ago and ate my way through Austin?
Well, there was one place on that trip that I dream about still.
Honestly, the doughnuts are ginormous and the flavors are out of control amazing.
So today is a whole day dedicated to recreating Gourdough's Doughnuts!  (Just wait until you get to the bottom of this post!)
17 other girls and I decided to do the heavy lifting for you.  Literally.
Basically so you don't have to go to Austin to get a big fat doughnut for yourself.
Just call today a Doughnut PSA.
Now, as the first picture shows, I didn't make a doughnut.
I know it makes no sense at all.
But here's the thing…when I was at Gourdough's we ordered a Blackout Doughnut.  Here's the picture…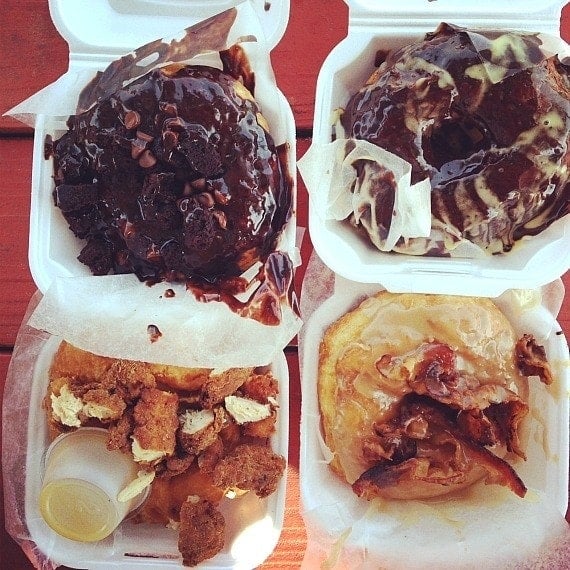 The top left doughnut is the Blackout.  It's described as Brownie Batter, Chocolate Fudge Icing, Chocolate Covered Brownie Bites topped with Chocolate Syrup.
As you can see in the picture it's pah-ritty messy.
What I kept thinking was how I loved the idea of the doughnut, but not necessarily in doughnut form.
Annnd wouldn't it make a fantastic cupcake.
Welp. Y'all.  It makes an INCREDIBLE cupcake.
INCREDDDIBBBLLLEE.
Those folks at Gourdoughs do know their flavor combos that's for sure.
Let's take a look at my Blackout Cupcake ~ Inspired by Gourdough's Doughnuts.  No frying required.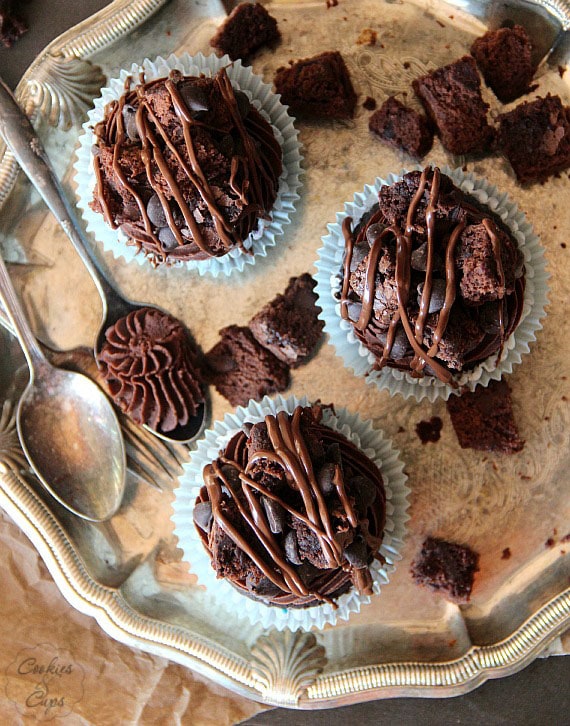 What we have is a Devil's Food Cupcake, with Brownie Batter Filling, topped with a whipped chocolate ganache frosting and garnished with brownie pieces, chocolate chips and milk chocolate drizzle.
Hubba. Hubba.
Here's how I did it.
I started by making the chocolate ganache.  It takes some chill time so I actually made it a day in advance, but you don't have to.  A few hours will do.
You'll need 12 oz of semi-sweet chocolate.  I used chips, but you could use finely chopped chocolate as well.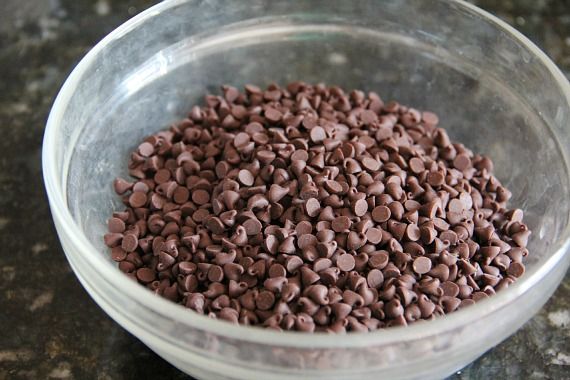 Heat one cup of heavy cream until it almost comes to a boil and then pour it over the chocolate.
The hot cream will melt the chocolate.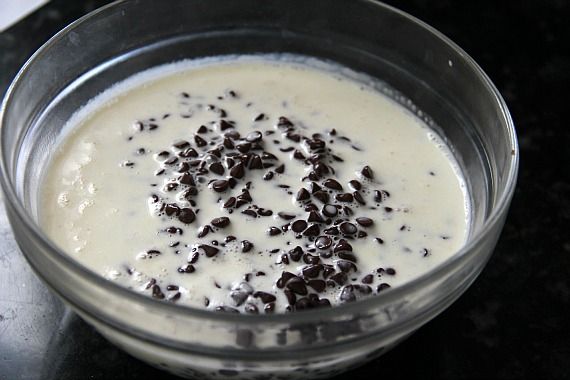 Stir it until all the chocolate is melted and it's gorgeous and silky smooth.
Pop it into the fridge until it's chilled through.
Also, yes, I stuck my finger in it.
Because I am gross.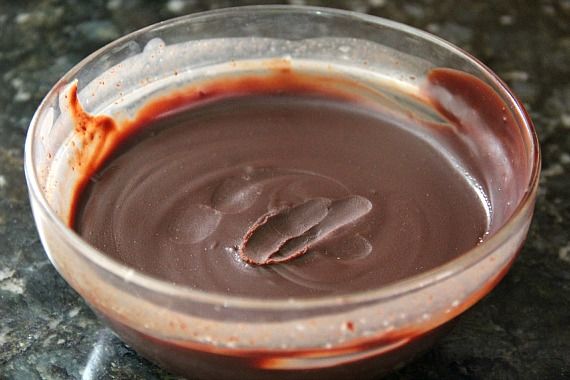 After that, scoop it out into the bowl of your mixer and whip it up until it's smooth.
Go ahead and make your cupcakes now.  And let them cool.
Next make your brownie batter filling.  It's super easy.
Just take a cup of dry brownie mix…
And mix it with some butter, powdered sugar and cream.
Hollow out your cupcakes with a paring knife and then fill them with the brownie batter mix.  I used a zip-top bag with the corner snipped off.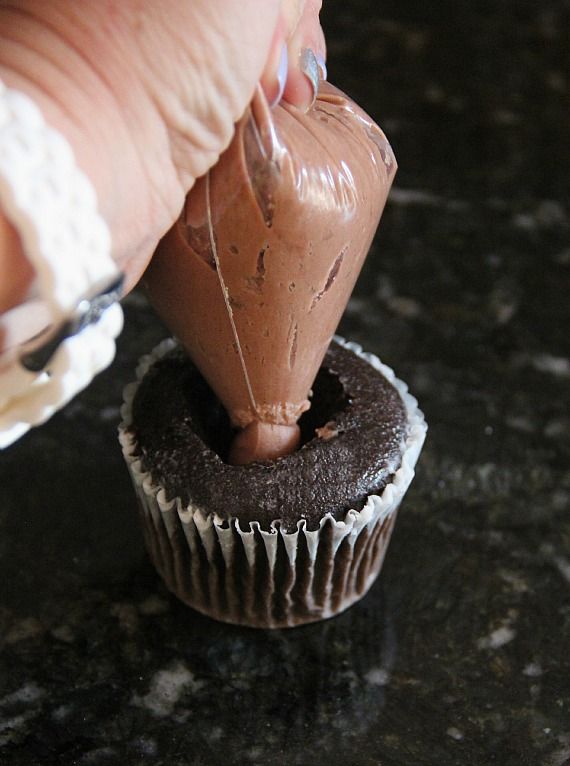 Don't worry about the top of the cupcake.  You're gonna cover it up with frosting.
I mean unless you want to replace the top.
I might have eaten the centers of mine.
What?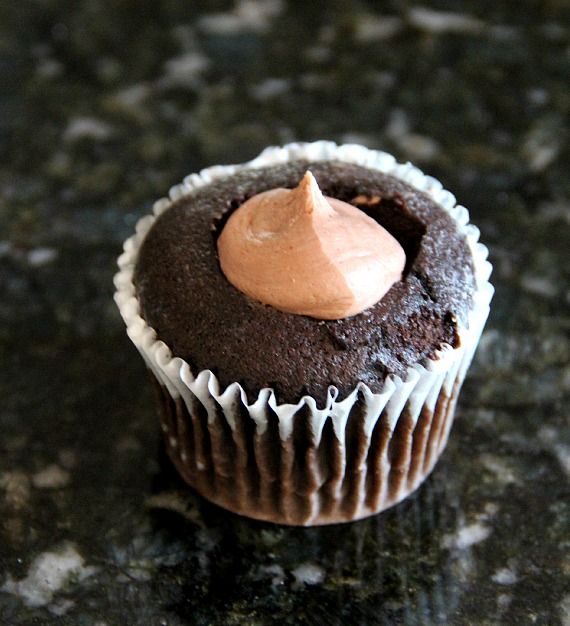 You can pipe your ganache on, or spread it with an off-set spatula.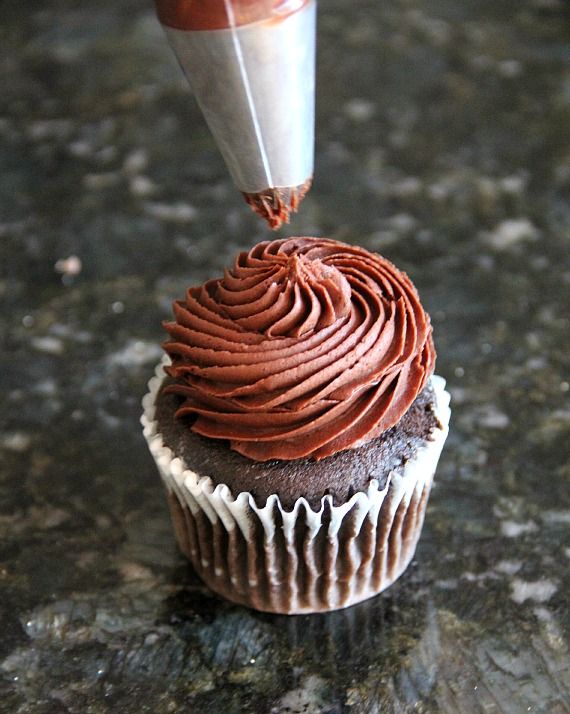 Then comes the garnish.
I baked a small batch of brownies to use on mine, but I think in this case pre-packaged brownies will be just as easy.
I mean, it's just for garnish.
Top the gorgeous ganache with brownies, chocolate chips and milk chocolate drizzle.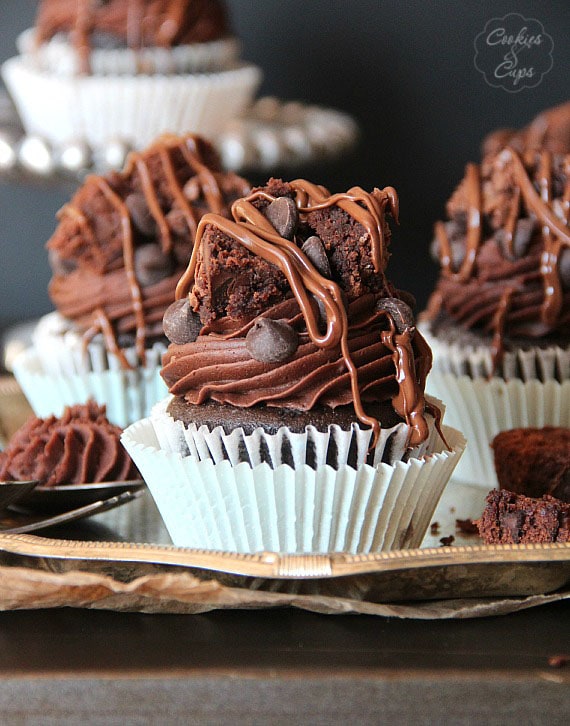 Could there be a prettier cupcake?
And let me tell you, it was SO delicious.
Like SOOOOO.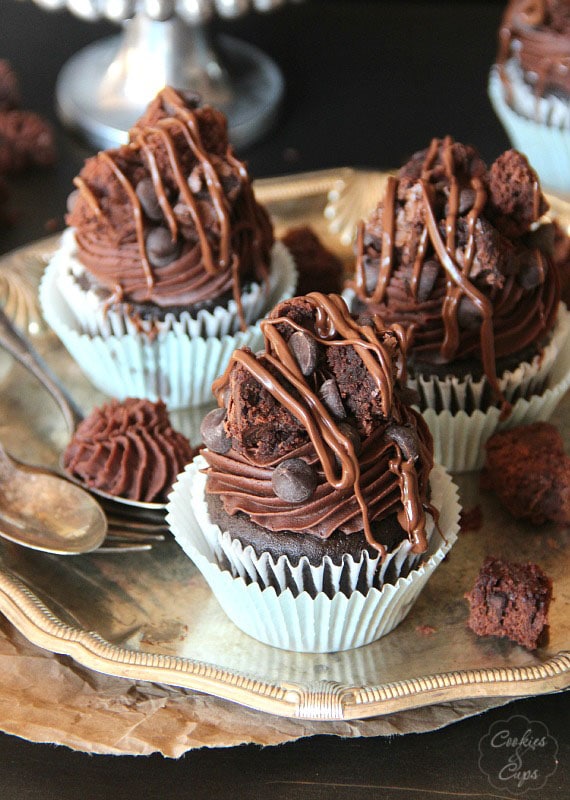 Print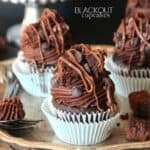 ---
Description:
Makes 15 cupcakes
---
Ingredients:
Chocolate Ganache Frosting
12 oz

semi sweet chocolate, either chips or finely chopped

1 cup

heavy cream
Cupcakes
1 cup

cake flour

1/2 tsp

salt

1/2 tsp

baking soda

1 tsp

baking powder

1/2 cup

cocoa powder

1 cup

granulated sugar

1/2 cup

vegetable oil

1/2 cup

brewed coffee

1/2 cup

buttermilk

1

egg

1 tsp

vanilla
Brownie Batter Filling
1/2 cup

butter, room temperature

1 cup

dry brownie mix

1 1/2 cup

powdered sugar

2 Tbsp

heavy cream
Garnish
Brownie pieces
chocolate chips

3/4 cup

milk chocolate, melted
---
Instructions:
Chocolate Ganache Frosting
Pour chocolate into a heat-safe bowl.
In small saucepan heat the cream until it almost boils, but not quite. Pour hot cream over chocolate and let sit for 3-4 minutes. Stir the chocolate until it's completely melted with the cream.
Allow to chill in refrigerator for 2 hours to overnight. It will become a solid.
Cupcakes
Preheat oven to 325°
Put all ingredients into stand mixer and beat for 3 minutes.
Fill cupcake liners 1/2 way full and bake for 20 minutes until the centers spring back.
Allow to cool completely.
Brownie Batter Filling
In bowl of stand mixer beat butter and brownie mix together until combined and smooth.
Slowly add in powdered sugar and beat until combined.
Finally beat in cream until incorporated.
Assembly
Hollow out the cupcakes using a paring knife and fill them with the brownie batter filling. I used a ziplock bag with the tip cut off for easy filling.
Place chilled chocolate ganache into bowl of stand mixer and beat until fluffy and smooth. Fill piping bag with chocolate ganache and pipe onto cupcakes. Or you can easily spread it on with a knife instead of piping.
Garnish cupcakes with brownie pieces, chocolate chips and drizzle with melted chocolate.
---
Notes:
*if you would like to pipe the ganache on like I have in the pictures you will need to double the ganache recipe. But if you spread on a smaller amount, the recipe as written will be perfect.
Want To Save This Recipe?
Helpful Tip… Out of buttermilk?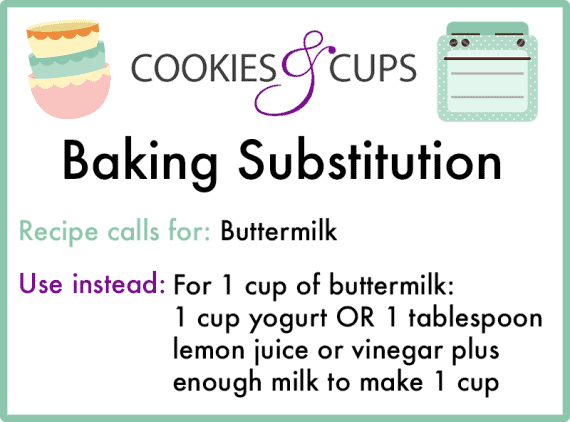 Now I have something extra for you!
A fun group of girls got together and recreated more of Gourdough's great flavors!
And I bet they all followed the rules and actually made doughnuts.
I'm such a rebel.
Anyhow, hop over and check out the ridiculous creations. You're gonna wanna make all these at home.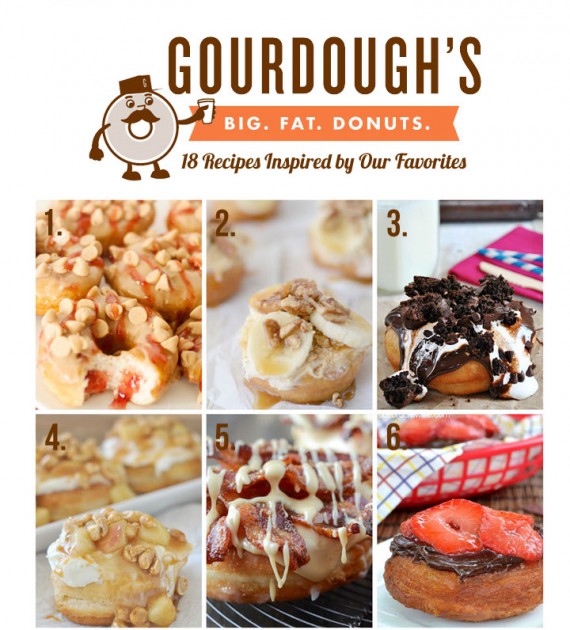 1.  PB & J | Capturing Joy
2.  Granny's Pie | Crazy for Crust
3.  Heavenly Hash | Something Swanky
4.  The Carney (Apple Pie Doughnuts) | Shugary Sweets
5.  The Flying Pig | The Novice Chef
6.  Dirty Berry | Inside BruCrew Life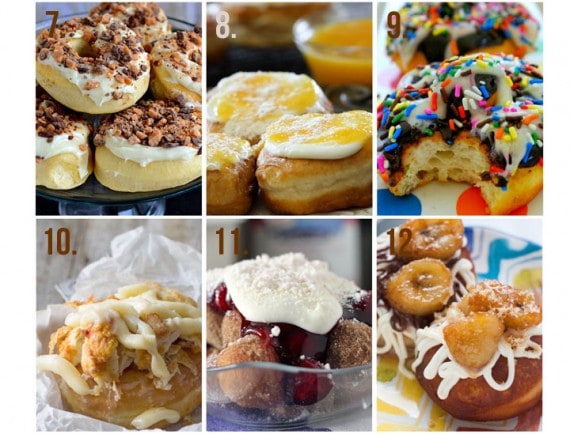 7.  Bring the Heath | Mom on Timeout
8.  Son of a Peach | Chef-in-Training
9.  Mama's Cake | The Domestic Rebel
10.  The Mother Clucker | Oh Sweet Basil
11.  Cherry Bombs | My Life as a Mrs.
12.  The Funky Monkey | The Little Kitchen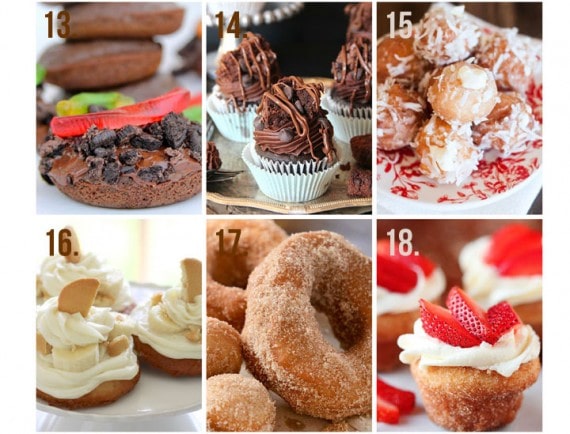 13.  The Baby Rattler | Confessions of a Cookbook Queen
14.  Black Out Cupcakes | Cookies & Cups
15.  ODB | Sweet Treats and More
16. The Puddin' | Lauren's Latest
17.  Naughty & Nice | Life's Ambrosia
18.  Miss Shortcake | Kevin & Amanda
Save