These Brownie Roll Ups are an easy version of a Swiss Cake Roll! Made with a fudgy brownie recipe that is perfect on its own!
Brownie Roll Ups Start With a Super Fudgy Brownie Recipe
When I was growing up my mom always packed my lunch for school.
I was allowed to buy school lunch once a week, the day of my choosing. Of course I always chose pizza Friday. Pizza Friday ruled.
The other 4 days of the week I brown-sacked it.
I do remember getting made fun of a time or 15 for bringing lunch…apparently the cool thing to do in the 7th grade was to buy everyday. I'm not sure why I remember that, because honestly I've tried to bury my middle school years deep down in the depths of my soul. Deep deep down. Nothing good comes from middle school, that's a hard fact.
Anyway, when I begged my mom to buy hot-lunch she tried to convince me that the reason that she packed mine for me was because it was "much healthier". When that reasoning didn't work she tried to convince me that she loved me and she must care about me more than other moms who let their kids buy everyday do. Who knew the sack lunch was a declaration of devotion? With that logic Valentine's Day has it all wrong with chocolates and flowers. All men in the world have to do is pack a sack lunch for their sweetie and call it day.
When I called my mom's love-bluff she pulled out her favorite "go-to" problem solving device: "The other kids are just jealous".
Do you know how many times over the course of my childhood that I heard those words? If I didn't get invited to a birthday party…well, she must be jealous of me. If I was last to be chosen at kickball…yes, those kids were just jealous of my kickballing skills. If little Kimmi made fun of the fact that I couldn't hoist myself up the rope climb during gym class..well, yes…she was extremely jealous of my weak upper body strength. It made total sense.
But you know what? I'm thinking back…when my mom packed my lunch she would always throw in a Little Debbie snack cake. Dare I say that it might be possible that the other kids WERE indeed jealous of my home-packed lunch on account of the delicious, prepacked snack cake that almost always resided at the bottom for dessert?
While this theory doesn't necessarily apply to the rope climb or the birthday party I think my mom might have been onto something.
Now, instead of running out the store to prove my love to my kids in the form of Swiss Cake Roll or Yodel, I decided to go the DIY route…
I'm gonna show you how to make these Brownie Roll-Ups!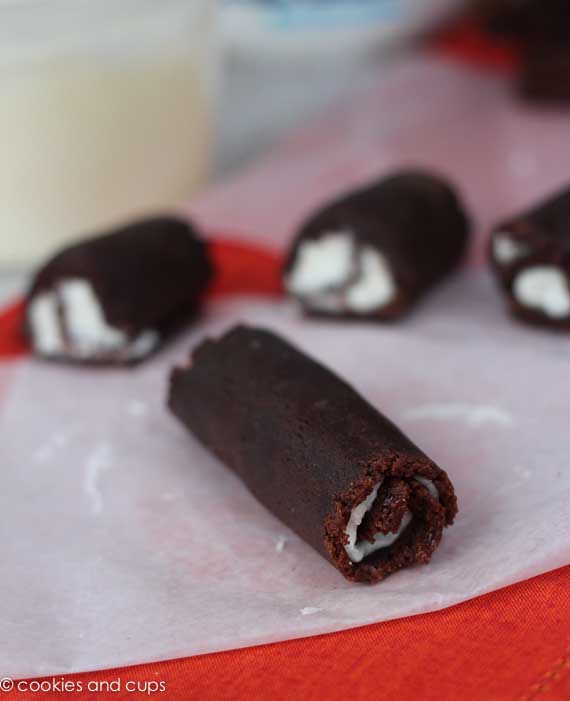 But to get there I first had to make brownies. A yummy, fudgy brownie…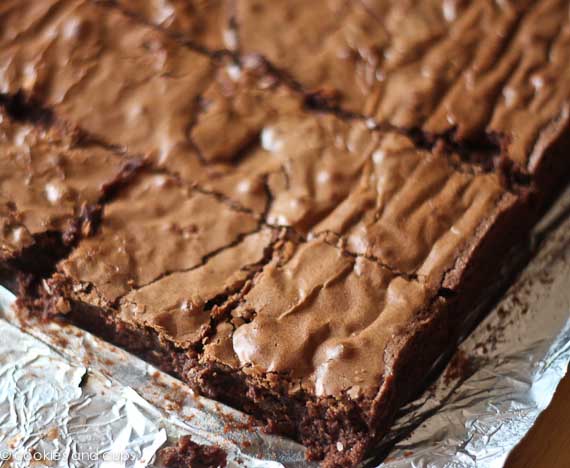 Now I am sure I will get questions on this, if boxed brownies can be used in place of these and the straight up answer is I don't know. Haven't tried it.
But honestly, this brownie recipe is so easy and so good, I say, just give it a try.
After your brownies are baked and cooled cut them into squares.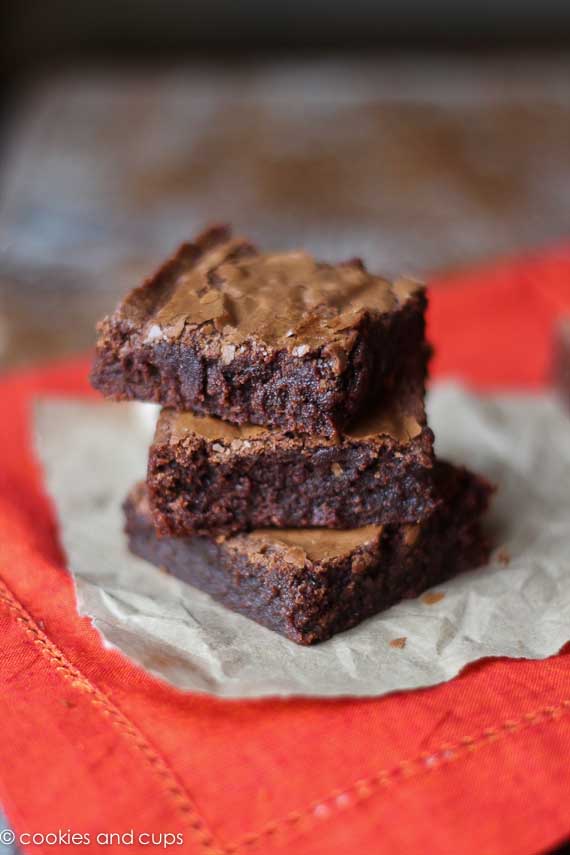 You can stop there if you want. I won't be mad.
How to Make Homemade Swiss Rolls
But if you are feeling crafty, then get out your wax paper, a rolling pin and some frosting…
Place a single brownie in between two sheets of wax paper and roll it until it's thin…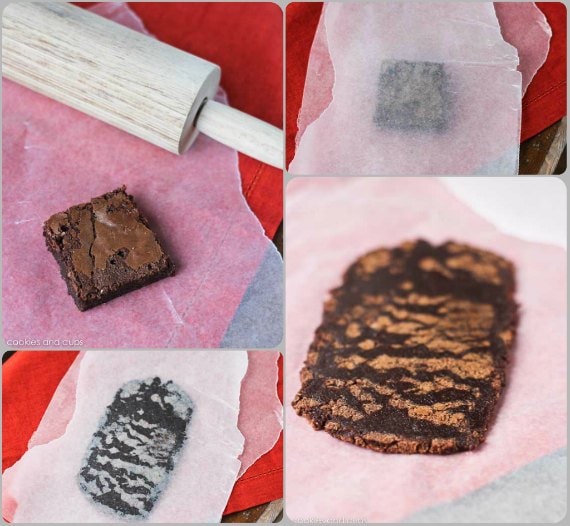 You can trim off the uneven edges if you'd like…it's up to you.
Then spread a thin layer of frosting on top of the thin brownie…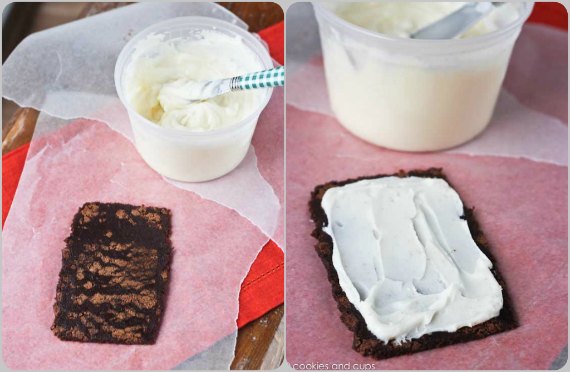 Now if you don't want to use frosting, you could use Marshmallow Fluff, or Nutella or peanut butter or or or…the possibilities are huge!
Now carefully roll it up. I pushed with the wax paper as I rolled so the brownie wouldn't break.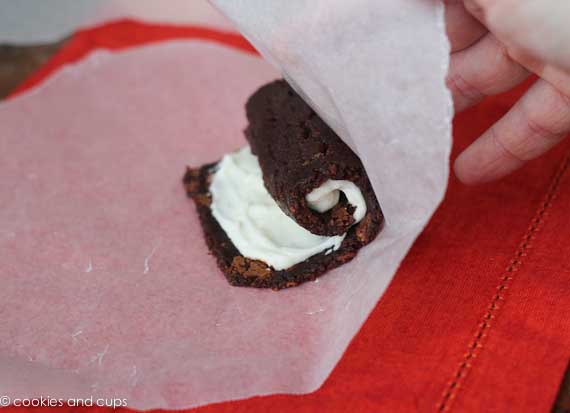 And there you go!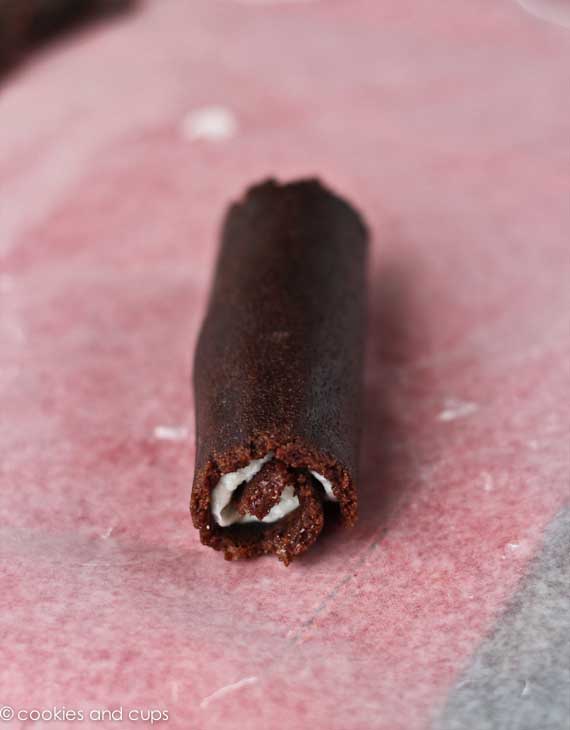 Repeat until you're beat.
Print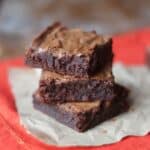 Fudgy Brownies Recipe
Author:

Prep Time:

5 minutes

Cook Time:

35 minutes

Total Time:

40 minutes

Yield:

24

large brownies

1

x

Category:

Dessert

Method:

Oven

Cuisine:

American
---
Description
This Fudgy Brownies Recipe makes the moistest, most chocolatey brownies ever! They're perfect for making into different desserts like my homemade Swiss Rolls!
---
1 cup

semi sweet chocolate chips

1 cup

milk chocolate chips

1/2 cup

butter (

1

stick)

3/4 cup

light brown sugar

3/4 cup

granulated sugar

4

eggs

2 tsp

vanilla

1 cup

flour

1/2 tsp

salt
---
Instructions
Preheat oven to 325°
Line a 9×13 baking pan with aluminum foil and spray generously with cooking spray.
Melt chocolate and butter in a medium sauce pan over medium-low heat
Remove from heat.
Whisk both sugars into the chocolate mix. Add in eggs, one at a time and then add vanilla. Whisk until combined.
Stir in flour and salt until evenly incorporated and pour batter into prepared pan.
Bake 35-40 minutes until center is set and a toothpick placed 2 inches away from edge comes out clean.
Let brownies cool completely before cutting into squares.
---
Notes
You can use all milk chips or all semi sweet chips. I used both because I like the combination of the two.
Nutrition
Serving Size:
Calories:

200

Sugar:

21.9 g

Sodium:

68.5 mg

Fat:

9.4 g

Carbohydrates:

27.2 g

Protein:

2.8 g

Cholesterol:

42.8 mg
Keywords: fudgy brownies, fudgy brownies recipe, swiss rolls, swiss rolls recipe, moist brownies recipe, easy brownies recipe, easy homemade brownies
Want To Save This Recipe?
Find more recipes like this: