These Chocolate Chip Magic Bars are so chewy, flavorful and delicious! This super easy dessert bars recipe uses only 6 ingredients and is done in about half an hour!
Chocolate Chip Magic Bars Recipe
In my old age I have decided that there are some things I can do without.
By that I mean I get more confident in my likes and dislikes.
Here are some things that "in my opinion" have run their course:
The cha-cha slide…actually any party-type dance that has the word "slide" in it….I'm not "slide" exclusive. It's time to call it a day. No more, please. It's possible I don't like these dances because I have absolutely zero coordination and I feel like masses of people are all mocking me in perfect rhythm…Who knows.
People saying that their high heels are "super comfortable". No, they're not. I have worn high heels and they are only comfortable while you're sitting. Stop trying to make me think that you wear them for any other reason than to make your legs looks skinnier.
Angelina Jolie. Put your leg away please.
Tattoos of your child's face. Please just hear me out on this one…I am not judging your child, or even your right to have a tattoo. Alls I am saying is that however great a tattoo artist you might go to, they can't control future sagging. Your sweet child's face can go from angelic to Crypt Keeper in a matter of just a few years. I mean it's like one of those creepy computer programs that will show you what you will look like when you age. Your kid doesn't need a constant reminder of what they will look like when they're 80. I'm really looking out for your child here. And beyond the Crypt Keeper time machine your tattoo will most likely produce, there there is a solid chance that your child's inked eyes will look cross-eyed. I have seen this on numerous occasions.
Being "zany". The word, the action, just all of it.
Zombies. They are fiction. There will not be a Zombie Apocalypse. Stop trying to figure out how you will survive one. Maybe start planning for the real end of the world in December. Mayans trump Zombies any day.
I am quite confident I will get emails from some telling me how they love the cha-cha slide and do it, like all the time everyday of the week, or have a gorgeous child tattoo on their arm that they like to wear cut-off T-Shirts to show off. Which is totally cool. I say if there weren't you in the world I wouldn't have anyone to make fun of. We're like a team. High five.
So to try and get back into your good graces I'll make cookies for you. Although I know Angelina Jolie doesn't eat cookies and really there won't be anyone out there defending her, but hey…cookies make everything better…especially magical ones.
These are a take on the Magic Bar that has been around for ages.
But you don't really have to make any of the parts…it's just an "open package and combine" kind of recipe. I feel like I am dangerously close to "Semi-Homemade" territory. It's a slippery slope.
You could certainly make your own chocolate chip cookie dough, but really…for these bars, it's not necessary.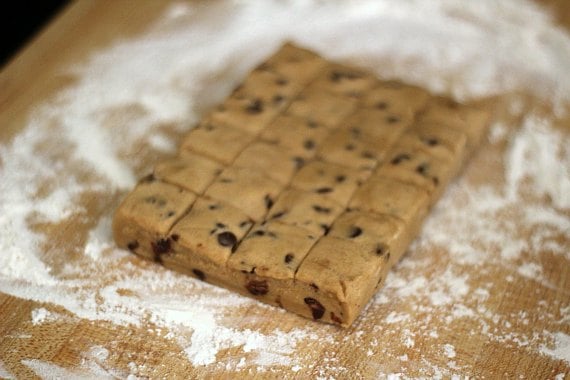 Roll it out…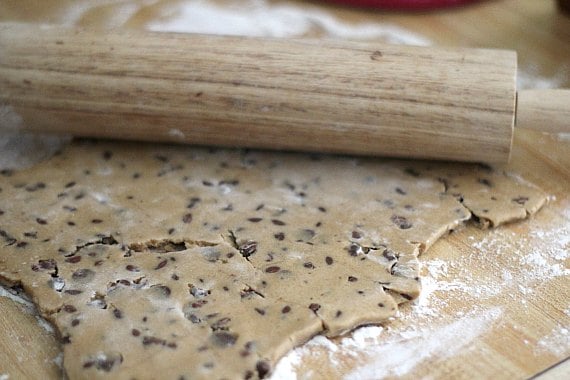 Press it into your 9×13 pan and bake it for a few minutes.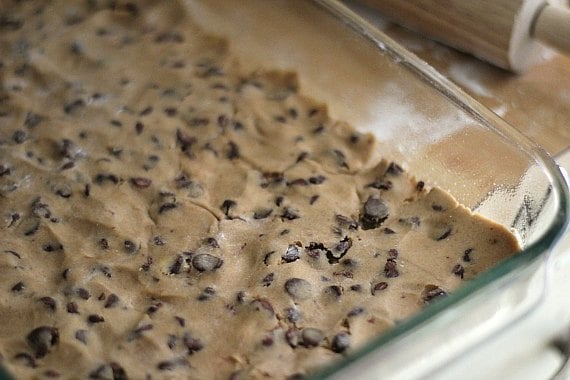 Then get to layering…chocolate chips, butterscotch chips, toffee bits and coconut…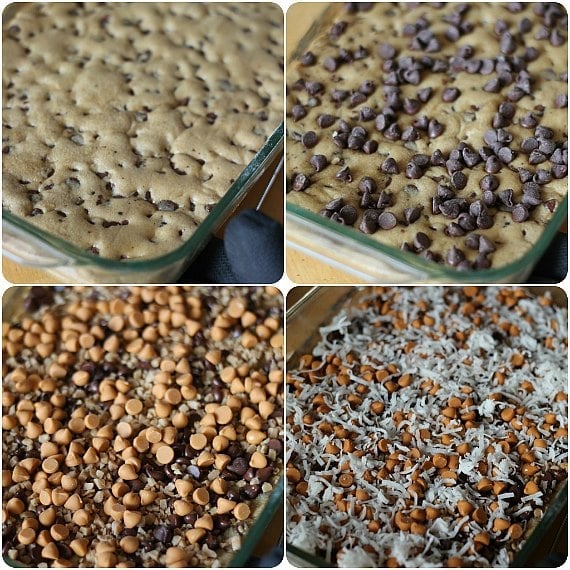 Then pour a whole can of sweetened condensed milk all over top.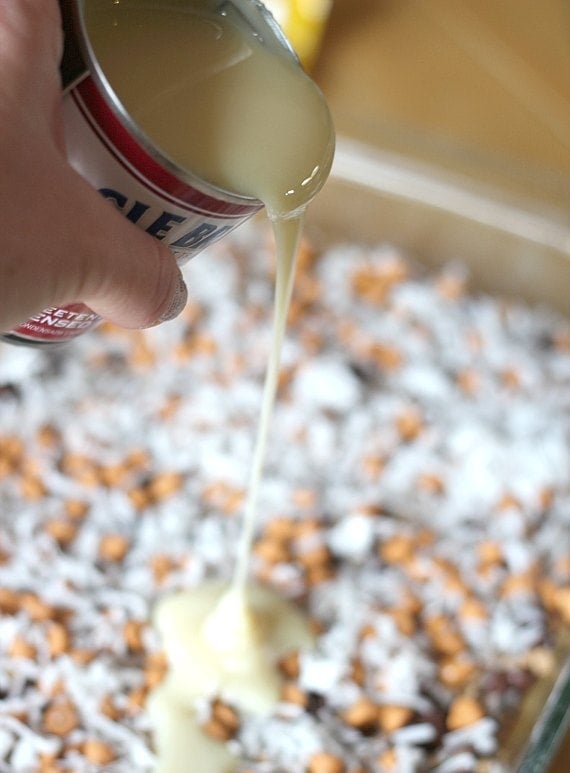 Bake it up until it's golden and delicious.
You'll be happy you did.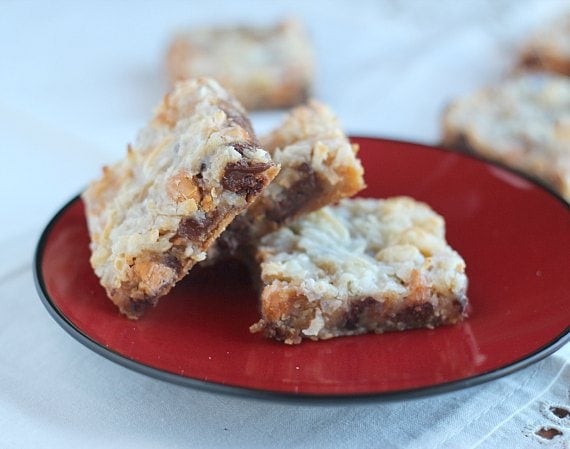 Print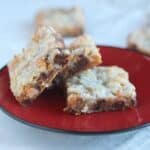 Chocolate Chip Magic Bars
Author:

Prep Time:

10 minutes

Cook Time:

23 minutes

Total Time:

33 minutes

Yield:

About

16

bars

1

x

Category:

Dessert

Method:

Oven

Cuisine:

American
---
Description
These Chocolate Chip Magic Bars are so chewy, flavorful and delicious! This super easy dessert bars recipe uses only 6 ingredients and is done in about half an hour!
---
1

(16.5 oz) package refrigerated cookie dough

1 cup

semi-sweet chocolate chips

1 cup

toffee bits

1 cup

butterscotch chips

1 cup

sweetened flaked coconut

1

(14 oz) can sweetened condensed milk
---
Instructions
Preheat oven to 350°
Spray a 9×13 baking dish with cooking spray
On a floured surface roll your cookie dough out. I used the break apart cookie dough, so it was fairly easy.
Place in prepared baking dish and press evenly to edges of pan.
Bake crust for 8 minutes.
Remove from oven and sprinkle chocolate chips, butterscotch chips, toffee bits and flaked coconut evenly on top.
Drizzle the sweetened condensed milk over top of everything and bake for 14-17 minutes until lightly browned.
Remove from oven and let cool completely before cutting and serving.
---
Notes
Store at room temperature in an airtight container for up to 4 days.
recipe adapted from Paula Deen Magazine
Nutrition
Serving Size:
Calories:

368

Sugar:

47.4 g

Sodium:

161.7 mg

Fat:

15.9 g

Carbohydrates:

53.9 g

Protein:

4.6 g

Cholesterol:

21.5 mg
Keywords: magic bars recipe, magic bars, dessert bars recipe, dessert bars, cookie bars, cookie bars recipe, easy dessert recipe, easy dessert recipe few ingredients, quick and easy dessert
Want To Save This Recipe?
Find more recipes like this: