This post is dedicated to Buttercream Basics. Whip up a batch of my favorite Buttercream Frosting Recipe and let's get creative!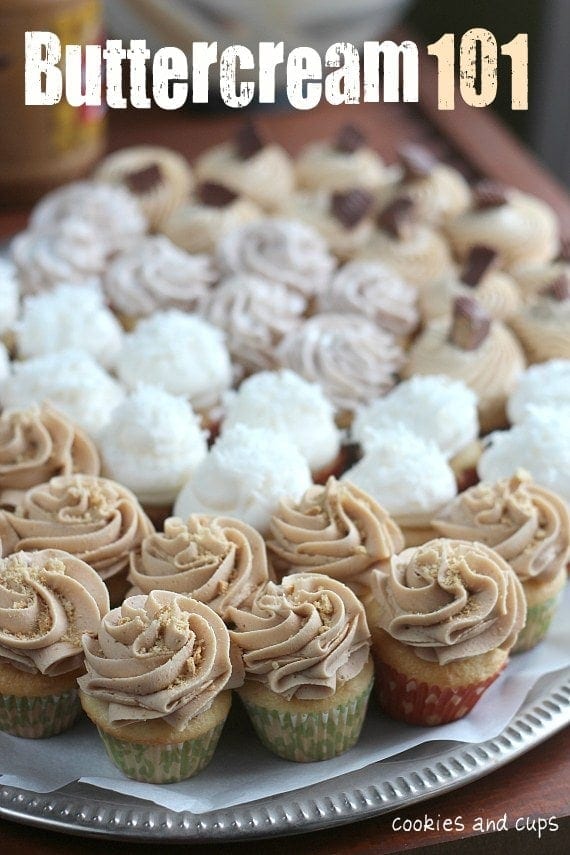 Buttercream is basic, it's delicious, and you need to know how to make it. Luckily it's really simple to make, and WAY better than any canned frosting you could buy. And today I'm going to show you how easy it is to turn vanilla (white) buttercream into something completely unique!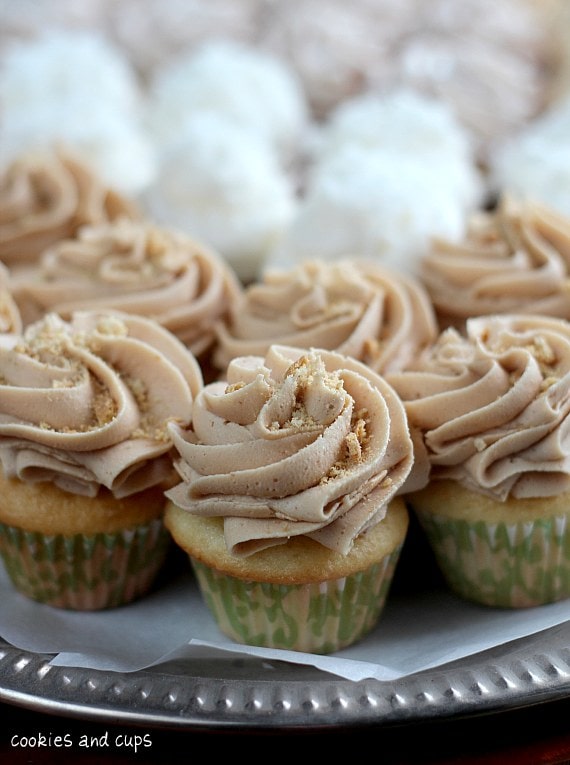 Tips to Making Buttercream
If your buttercream is too stiff for your liking, add more milk. Add it one teaspoon at a time while mixing until you get the consistency you're after. If you're looking for creamy, a little more milk will help you achieve that. If you want to pipe tall stiff roses, add a little less milk!
BUT if you have an oops and add too much milk, no worries! Just add in some more powdered sugar. Add 1/4 cup more at a time to get it back to the thickness you are after.
What Can You Add Into Buttercream Frosting?
Once you have your perfect buttercream, let's get creative. You can add pretty much whatever you want.
Here are a few examples…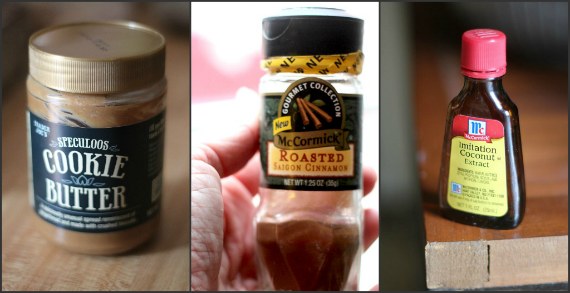 Here we have a delicious "Cookie Butter" (which is about the same consistency as peanut butter or Nutella), cinnamon and coconut extract. These are just a few ideas…use your imagination! What about caramel? Or Strawberry jam? Or pumpkin pie spice? Or cereal?
** The Cookie Butter is the Trader Joe's version of Biscoff spread. It was just something I had on-hand that I thought would make a yummy buttercream. It did.
Now. Here's where I want you to trust me. I am not going to give you measurements…AND I want you to be ok with that.
For the experiment I separated some frosting into bowls…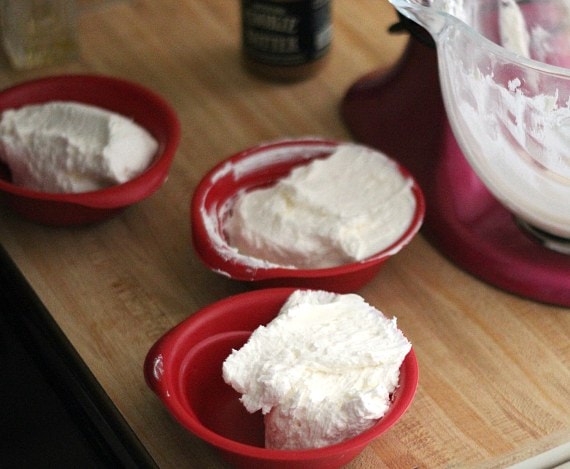 For the first flavor I wanted to give the "Cookie Butter" a try. (It tastes a little like the best graham cracker that you have ever eaten)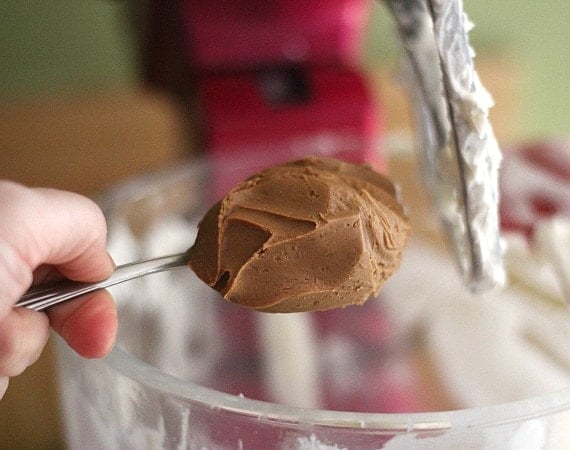 I took a large dollop and added that to the buttercream…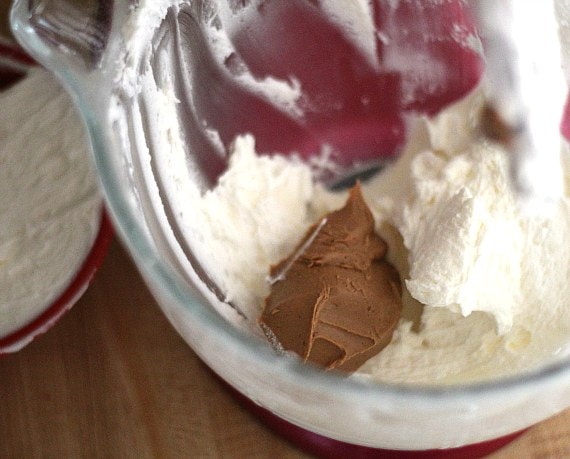 Then you know what I did? I turned my mixer on. That is all.
You can add more to create a more intense flavor or less for something a little more subtle. You aren't going to mess this up, people.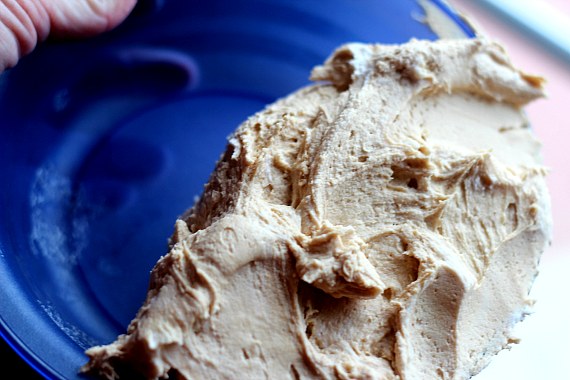 I repeated the process with peanut butter…If you add too much peanut butter and your frosting becomes too creamy what should you do?
Add more powdered sugar. Trust me on this, the worst that can happen is your frosting will be too sweet…and is that REALLY a problem? If you said yes, please leave now.
For my next batch I added some cinnamon and mixed away. Use a light hand when adding spices, you can always add more…
This applies to extracts too…a little generally goes a long way. If you MUST measure, start with 1/4 teaspoon and add more if you need to. The only way to fix an over-extracted frosting is to add more frosting.
So with one batch of frosting I made four flavors of buttercream…Coconut, Peanut Butter, Snickerdoodle (the cinnamon) and Graham Cracker (using the "Cookie Butter").
I frosted a batch of mini vanilla cupcakes with all the different flavors I made.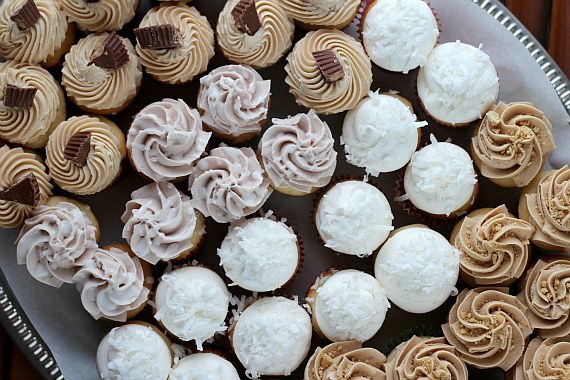 Garnish them however you like.
But see how easy that is?
Buttercream Frosting is really hard to mess up, so I want you to get creative with extracts and add-in flavors! Can't wait to see what you create!