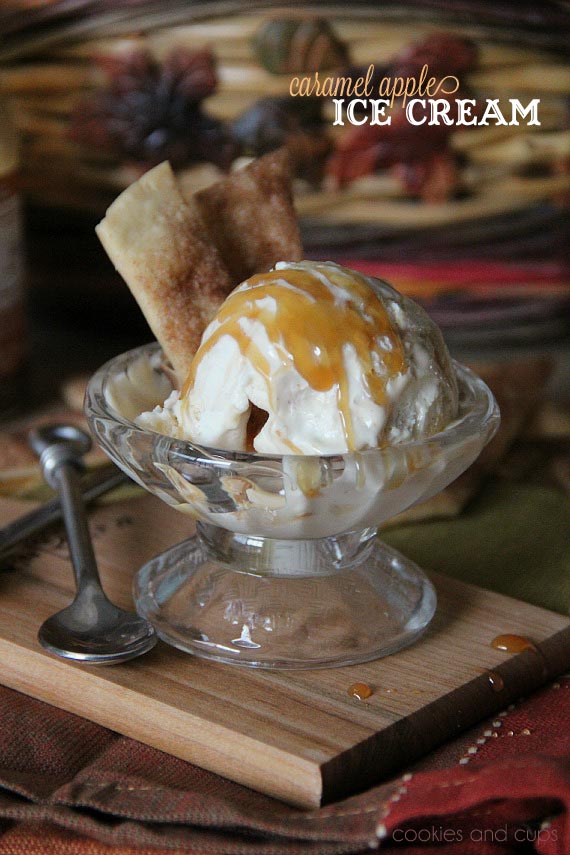 So since we are trying to make fall happen, but it's still 4,000 degrees out, I figured today I would solve that dilemma.
Like, hey summer, I still feel you..but fall is here and you two need to meet.
And really, once they meet they will become friends…
And friends make ice cream together. At least they do in my world.
I do have to say that I am not a huge ice cream person.
I am more about the add-ins and less about the ice cream.
But it's like frowned upon or something to just sit on front of the TV with a giant bowl of cookie dough or peanut butter cups, so I accept the ice cream, strictly as a vehicle.
Usually I have half a bowl of vanilla leftover, which I promptly give to my husband.
And don't even get me started on Blizzards.
PEOPLE OF DAIRY QUEEN…ARE YOU LISTENING?
YOU NEED TO FIGURE OUT A BETTER TECHNIQUE TO GETTING THE COOKIE DOUGH TO THE BOTTOM!!!
No one likes a few delicious bites of Blizzard, and then half cup with just plain vanilla.
NO ONE LIKES IT!
I understand these are first world problems I have, but seriously…it's not that difficult.
And sorry about the all-caps-yelling.
Add-ins to ice cream ratio is a big deal.
Yes, I need a life.
But here's the deal.
This Caramel Apple Ice cream, which is a riff on this recipe, is so good it doesn't even NEED add-ins.
It's so good that I even added apples and it didn't kill it's dessert cred.
Like, usually adding fruit sends dessert back to the bottom of the dessert pie chart. This time, the ice cream said to me, "go ahead, add apples…I can handle the other desserts making fun of me. You wanna know why? Because my friends sweetened condensed milk and heavy cream have got my back."
And having ice cream that talks to you is also pretty cool.
So here we are.
Caramel Apple Week, take 3.
Caramel Apple Ice Cream.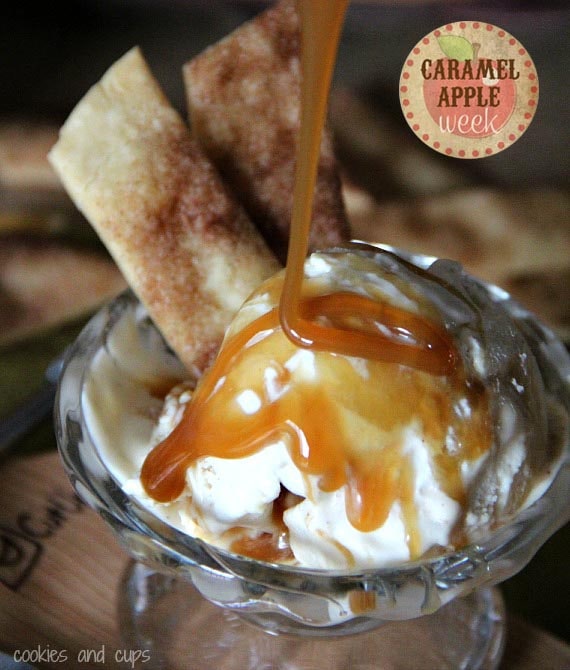 And also with these, I made some easy pie crust cookie garnishes.. because pie crust rules. But more on that in a minute.
First cook some diced apples with a little butter and brown sugar…
Cook them until they are soft and yummy and there is absolutely zero nutrition left in them.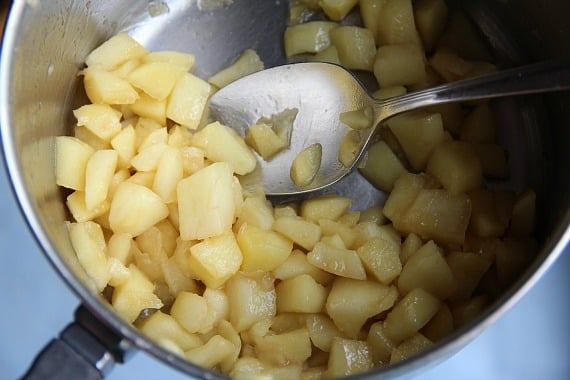 Set them aside to cool.
Next beat your heavy cream and some pumpkin pie spice together.
Yes, I know we're making apple ice cream, not pumpkin…duh.
But pumpkin pie spice has loads of yummy ingredients and it's all in one handy bottle, like cinnamon and nutmeg and allspice…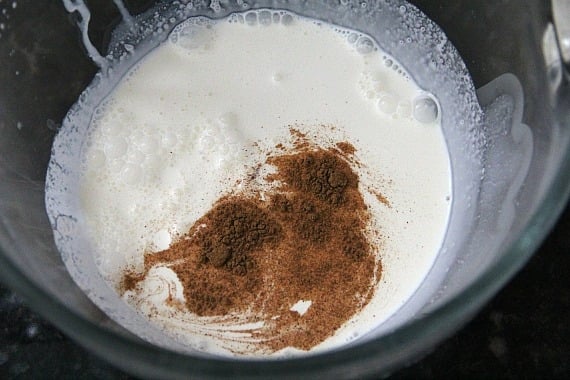 Fold in your sweetened condensed milk and apples into the whipped cream and place it in a freezer safe container.
Then get your caramel involved. Drizzle it all over and swirl it into the ice cream.
You don't want to mix it in, just swirl.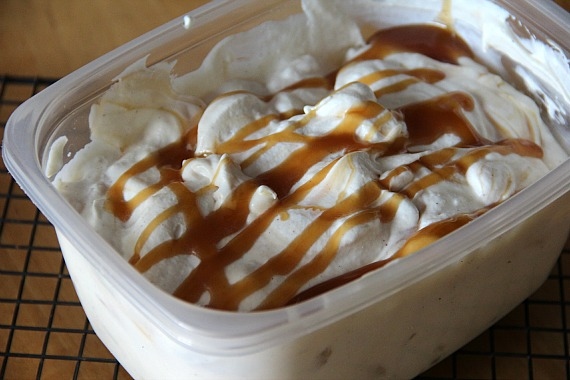 Now let that freeze for at least 6 hours.
Next, if you're feeling garnishy, make your pie crust cookies.
This really couldn't be easier.
Just roll out a pre-made pie crust. Brush a little butter on and sprinkle it with cinnamon sugar.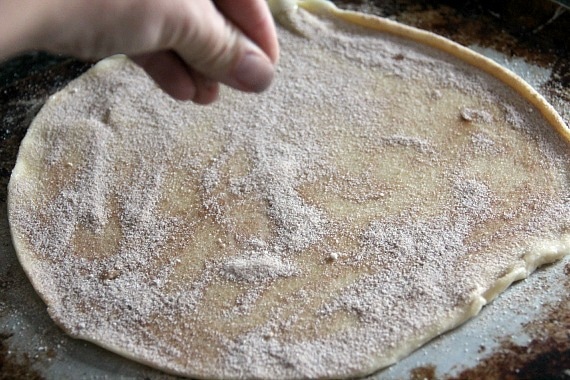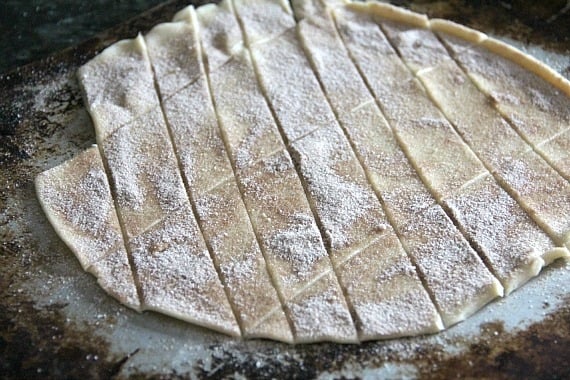 Then cut it into pieces. I used a pizza cutter, but you could use cookie cutters or a knife….whatever.
Bake them for about 10 minutes.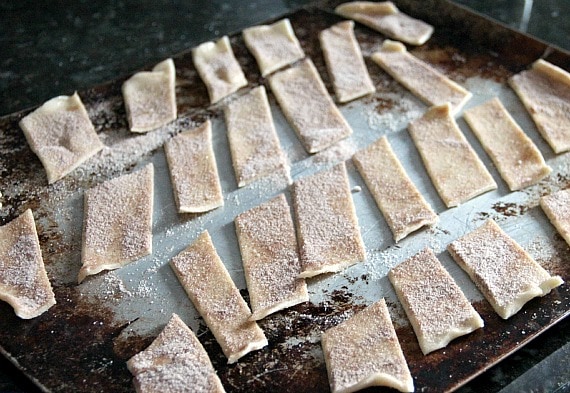 When you're ready to serve your ice cream, let the container sit out for about 15 minutes or so to softened up…
And of course I always recommend adding more caramel.
It would be wrong of me not to.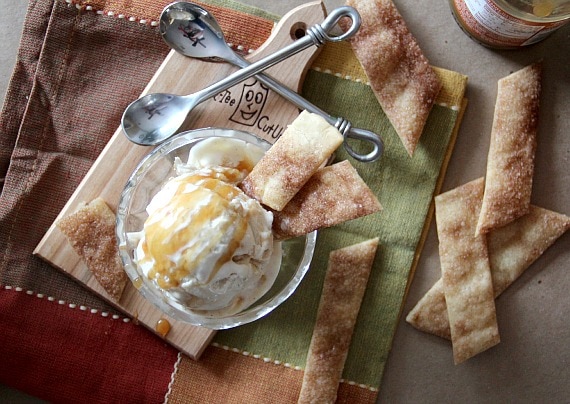 So Caramel Week is in full effect..and my sweet friend Kristan has outdone herself with these Caramel Apple Cheesecake Cookies. Seriously yummy!
Print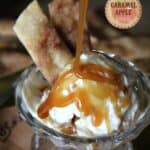 Caramel Apple Ice Cream
---
---
Ice Cream
1 Tbsp

butter

1 Tbsp

brown sugar
pinch of salt

3

small Granny Smith apples, or

2

small, peeled and large-diced

1 pint

heavy whipping cream

1/4 tsp

pumpkin pie spice

1

(14 oz) can sweetened condensed milk

1/2 cup

caramel sauce
Cinnamon Sugar Pie Crust Cookies (optional)
1

pie crust, pre-made

1 Tbsp

butter, melted
Cinnamon Sugar (3 Tbsp sugar + 1 tsp cinnamon combined)
---
Instructions
In a medium sauce pan melt 1 Tbsp butter. When melted, add your diced apples, pinch of salt and brown sugar.
Cook on medium-low heat until apples are soft, about 10 minutes. Set aside to cool.
In a mixing bowl, beat together your whipped cream and pumpkin pie spice with whisk attachment, until stiff peaks form, about 1 minute 30 seconds – two minutes.
Fold in your can of sweetened condensed milk.
When apples are cooled, fold into your whipped cream mixture.
Place in a freezer safe container.
Drizzle your caramel sauce on top of the whipped cream mixture and swirl in with a knife. You don't want your caramel to mix in, but leave ribbons through out the ice cream.
Freeze for at least 6 hours.
Cinnamon Sugar Pie Crust Garnish
Preheat oven to 400°
On a round baking pan (I used my pizza pan) unroll the pre-made pie crust.
Brush with melted butter and sprinkle with cinnamon sugar.
Cut into strips or wedges using a pizza cutter, or even a cookie cutter.
Bake for 10 minutes until golden brown and crisp.
Garnish ice cream with pie crust cookies and drizzle with extra caramel.
---
Want To Save This Recipe?
Find more recipes like this: