This German Chocolate Cream Cheese Snack Cake is such a simple and delicious treat! Cut it into into cake bars for the perfect party dessert!
German Chocolate Cream Cheese Snack Cake
So I've noticed online and on Instagram lately that lots of people like to take pictures and post about what they are wearing.
Here's the thing. I love it and I hate. Not to be confused with "love to hate" it. It's just some days I love to see it and other days I hate it. It's not a 50/50 split, either…it's more like 25% love and 75% hate.
Ok, ok, it' more like 2% love and 98% hate. Sorry. I cannot tell a lie.
Let me further explain…
My dislike comes purely from jealousy and laziness. So easy, there, outfit-posting-people. I know I am bitter.
Here's how it usually goes…I scroll through Instagram and see all you people with your polka dots and jaunty indoor-scarfs…all pastel-y and "Amaro" filtered…and then I take a gander at my yoga pants and Target tee and feel like a schlep.
Yes, I know I could take a shower. Yes, I know I could go to Anthro and get vintage, lady-like clothing. But I live in a world where when I vacuum, my kids ask who's coming over?
I can't imagine what might happen to their innocent eyes if I put on a fedora to go to the supermarket. No offense fedora-people. I really wish I could pull it off.
What ends up happening, is I end up going on an online shopping binge, buying sweet little blouses and accoutrements that I will end up wearing once…and without fail, the one time I DO dress nicely, I forget to take a photo of myself. Which basically means it didn't happen.
So I think what I am going to do is take pictures of what I am actually wearing and filter the heck out of it. Take THAT nice-dressing-outfit-posting people.
Yoga pants will certainly look dreamier filtered in "Walden", right? Ok, maybe "Sierra".
By the way, totally follow me on Instagram. I won't make you feel bad about wearing yesterday's t-shirt again. I get that it's still clean.
And I do have to mention that on any given day, while wearing said casual-wear, I generally have flour dusted on my pants and frosting in my hair.
Speaking of hair, don't expect anything more than a ponytail or messy up-do. And by messy up-do I don't mean a top bun that takes any longer than 3 seconds to get that way. After about 20 years of trying I have given up the casually-cool, hair pulled back in a messy/cute knot. My hair just looks messy, no matter the number of bobby pins or amount of product.
I am not effortless. That's a fact.
But here's what I CAN offer you. A super simple cake mix recipe hat LOOKS like it took you a bunch of time, but really only took you minutes. The antitheses to the effortless-looking messy up-do.
Now, to introduce this amazing snack cake recipe.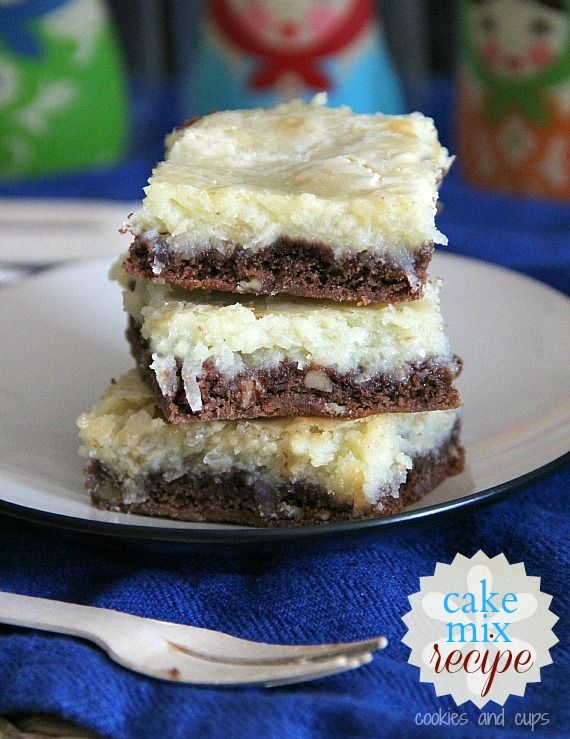 Ever hear of snack cake?
It's my new BFF.
Cake that counts as just a snack. Not dessert. A snack. So you can still have dessert, because it's like, what? I only had a snack today.
Completely brilliant.
How to Make a German Chocolate Cream Cheese Snack Cake
Start with some chopped pecans. You don't HAVE to use nuts if you're allergic or just think nuts have no place in baked goods.
I get it.
But nuts are kind of a thing in German Chocolate Cake, so I included them today. I'm trying to stay legit.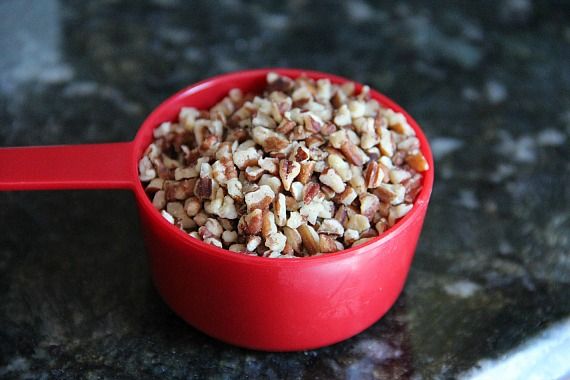 Now toast your pecans on a baking sheet for just a few minutes. It makes them better.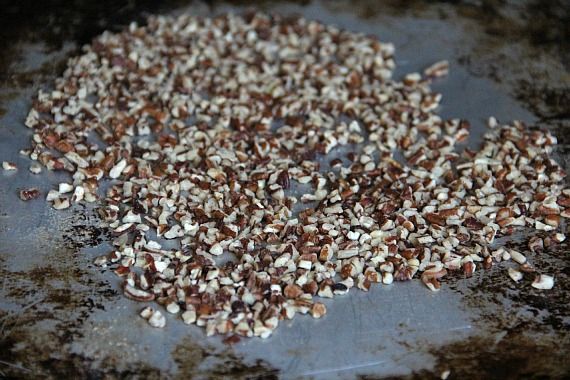 Then grab your German Chocolate Cake Mix and mix in the pecans, an egg and some butter…
Press into a 9×13.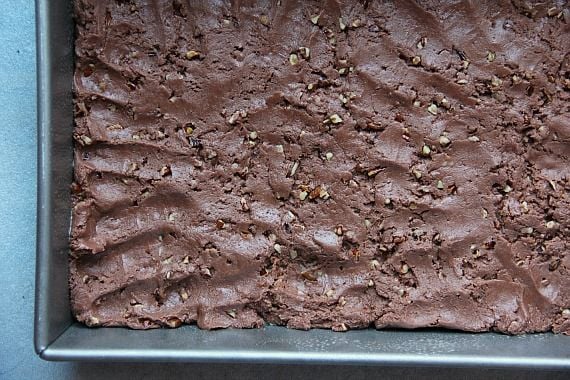 Now, grab some cream cheese, some shredded coconut, a few more eggs, a few cups of powdered sugar and some vanilla.
Mix it up and spread it all over your chocolate base.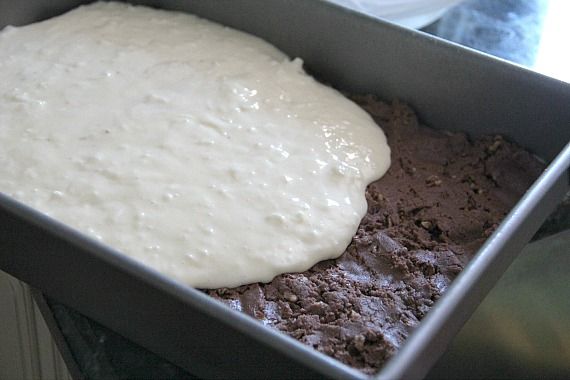 Then bake. That's it.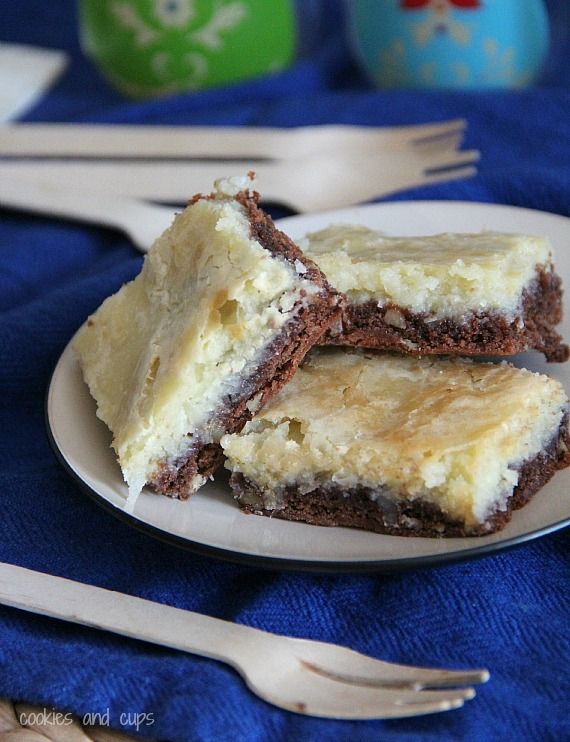 Snack away.
Print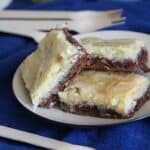 German Chocolate Cream Cheese Snack Cake
Author:

Prep Time:

10 minutes

Cook Time:

50 minutes

Total Time:

1 hour

Yield:

18

cake bars

1

x

Category:

Dessert

Method:

Oven

Cuisine:

American
---
Description
This German Chocolate Cream Cheese Snack Cake is such a simple and delicious treat! Cut it into into cake bars for the perfect party dessert!
---
1/2 cup

chopped pecans

1

(18.25 oz) box German Chocolate Cake

4

eggs, divided

1/2 cup

butter, melted

4 cups

powdered sugar

1 tsp

vanilla

1

(8 oz) block cream cheese

1/2 cup

sweetened shredded coconut
---
Instructions
Preheat oven to 350°
Spread chopped pecans on baking sheet and bake for 2-3 minutes until lightly brown. Remove from oven immediately.
Reduce oven temperature to 300°
Spray a 9×13 pan lightly with cooking spray
In large bowl combine cake mix, melted butter, 1 egg and toasted pecans. Batter will be thick. Press into prepared pan.
In mixing bowl combine cream cheese, powdered sugar, vanilla and remaining 3 eggs and beat until smooth. Add in coconut and stir until incorporated.
Spread cream cheese mixture on top of the cake batter.
Bake for 50-55 minutes.
Let cool completely before cutting into squares.
---
Nutrition
Serving Size:
Calories:

356

Sugar:

39.2 g

Sodium:

284.3 mg

Fat:

16 g

Carbohydrates:

52.1 g

Protein:

3.9 g

Cholesterol:

67.6 mg
Keywords: german chocolate cake recipe, german chocolate cake, german chocolate cake frosting, german chocolate cake icing, cream cheese cake, cream cheese cake recipe, cake bars
Want To Save This Recipe?
Find more recipes like this: