Did I ever tell you about the time I almost got arrested?
Thought that'd get your attention!!
ok, let me break it down for you…
My long-time best friend came up to NJ for a visit from Austin, like she does once or twice a year.
We were freshman college roommates and have been together ever since…18 years later.
She loves going into Manhattan when she visits.
Ok, fine, all totally normal.
Here's where it gets sketchy.
Said friend enjoys a stroll down
Canal St
during her day trips to the Big Apple.
For those of you unfamiliar with Canal St….it's where they sell all sorts of purses, watches, perfumes, sunglasses and NYC memorabilia. Most of these items are "quite a bargain":
(We will give them super secret aliases)
Dolce Banana watches for $9
Louis Baton bags $25
Smucci sunglasses 2 for $10
and so on..
I am all for budget shopping so we made the trek downtown.
While strolling Canal St. you get approached by a lot of colorful characters…people wanting to make deals and negotiate pricing.
It was all touristy fun until a rather pleasant Asian woman hands us a black trash bag full of handbags bodes the question,"What you like?" I'm not super quick in pressure situations…
I get confused when I get a manicure and they say, "You pick color, 5 minutes"
So needless to say I stood there, mouth gaping…
Now, to smarter girls, the offering of "Louis Baton" in a black trash bag might have been the first indicator that things weren't completely kosher…but you know, the promise of discounted, designer handbags made us a little loopy.
We opened the bag…hit hard in the face with the smell of fake leather, formaldehyde and I think a hint of baby unicorn death.
Here's where it gets good…
My completely innocent friend and I thought we hit the jackpot! We opened the bag…eyes glazing over at the prospect of a "Louis Baton" duffle-bag…or maybe it was the toxic fumes from counterfeit chemicals causing the glazing…either way we were speechless!
Next we were suddenly approached by an average gentleman with a mustache and mirrored sunglasses.
He was straight up
Reno 911!
Who, just like in the movies, whipped out a Police badge.
Uh-oh.
The lady who offered us the trash bag full of "Louis Baton" took off like a bullet. Seriously, Like. A. Bullet.
If my friend and I had been one person she would have severed us in half with her lightning speed.
But there we stood, still intact, 2 imbeciles holding a bag full of baby unicorn death looking, all at once, bewildered, guilty and amused.
Seriously we were in the middle of an undercover sting!
Awesome.
The cop looked at us, asked if we bought the purses, to which we (2 blond haired, blue eyed Texans) answered, the always clever, "umm, huh? No habla ingles?"
The officer, decided not to waste his time on such inarticulate dummies and took off after the Asian Bolt of Lightning.
There we were left standing at the corner of Canal and Mulberry with a giant trash bag full of, apparently "counterfeit" and allegedly illegal handbags.
Now what? Well, for fear of ending up with a poisonous dart in the backs of our necks we dropped the bag, only to be snatched by Nextel wielding cousin of the Asian Bolt.
For fear that Special Agent Purse Snatcher would be back to get us we decided to do what any law abiding citizen would do…we fled the scene.
Without making eye contact with anyone around we quickly needed a safe place, a shelter…luckily for us Little Italy intersects with Canal St.
Little Italy…where all the men think we are amazingly beautiful and call us "Bellisimo" and tempt us with canolli cream instead of Dolce Banana.
Drowning your fears in pastry is completely normal, right?
So, we escaped, purse and poisonous dart free.
Lesson learned, friends.
Never buy "Louis Baton" purses out of a trash bag sold on a street corner from an Asian Bolt.
You'll thank me later.
All right, now onto sweets.
This is a pretty straight forward recipe.
Chocolate Chip Cookie Bark
6 oz. quality dark chocolate chopped
10 oz quality white chocolate chopped
2 Tablespoons mini chocolate chips
Now…when I say "quality chocolate" that is certainly relative. I used Ghiradelli because that is readily available in my supermarket. The better the chocolate, the better the bark.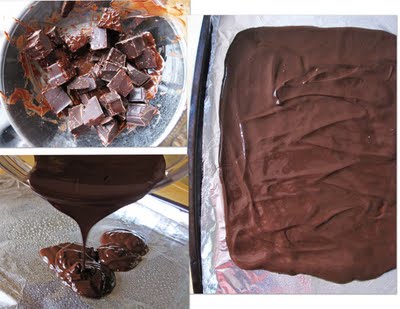 Melt your dark chocolate in a double boiler or microwave.
*I most always use a make-shift double boiler (a glass bowl on top of a simmering pot of water) because I have made numerous mistakes in the microwave and killed many an ounce of perfectly delicious chocolate.
But certainly the choice is yours.
Line a baking sheet with foil and spray LIGHTLY with cooking spray.
Pour the melted dark chocolate onto prepared pan and spread.
Pop this into the freezer while you coarsely chop your Chips Ahoy.
Now melt your white chocolate over the double boiler or in the microwave.
When the white chocolate is melted, remove your dark chocolate from the freezer and pour the white over the dark.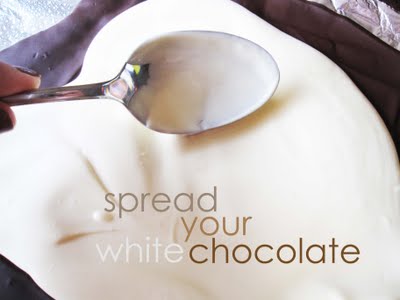 Spread evenly.
Now sprinkle your chopped cookies evenly over the chocolate.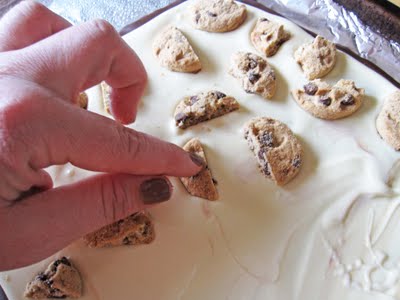 Now your mini chocolate chips.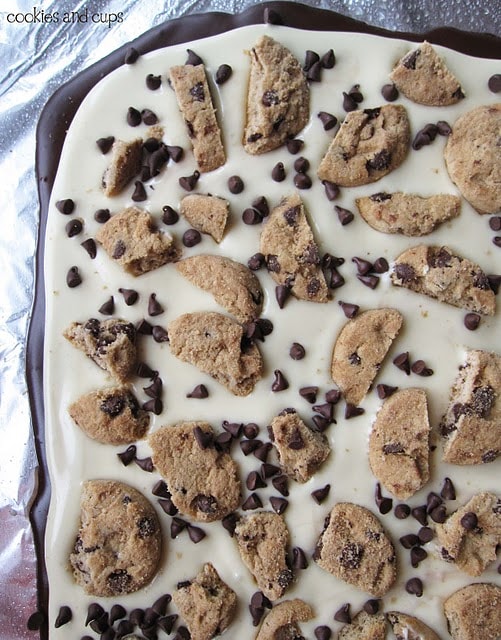 Pop back in the freezer until set.
Cut (or break) into pieces.
Store in sealed container in the fridge.