This Chocolate Chip Cookie Brittle is insanely addictive! It's basically the perfect buttery, crispy, salty edge of the cookie in every bite!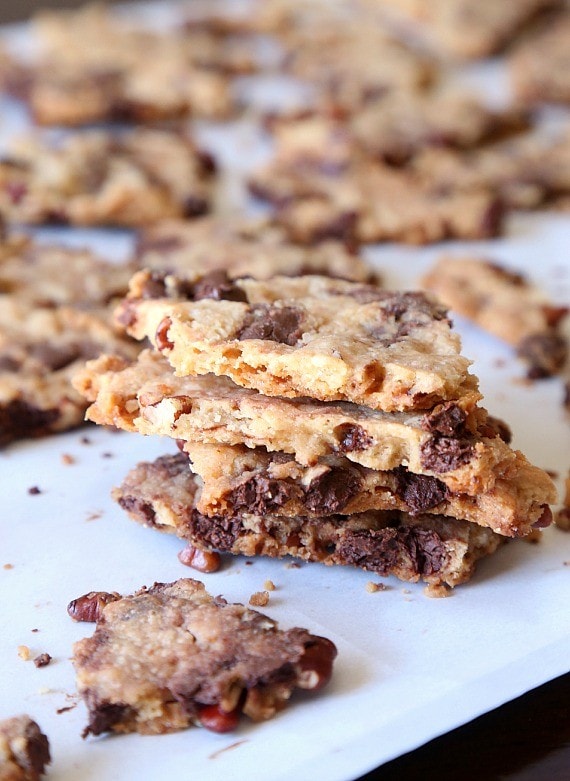 Oh friends, today I have a situation. A real life situation.
Honestly, I have taken real pause about today's recipe. This Chocolate Chip Cookie Brittle.
It's not a nice thing to do to you. Or to me. Or to anyone really.
Its essentially a recipe for chubby. Because ICANTSTOPEATINGIT!!!! It's major danger, but I love it. And hate it. But love it more. It's basically the crispy, buttery edge of the perfect chocolate chip cookie…it every-dang-bite.
But you know what? It's not really my fault, because I didn't come up with it. I'm just the messenger. The proprietor of your gateway to chub is my gal Shauna.
You see she wrote this book called Real Sweet. Which is sah great. It's a book all about baking with natural sugars.
Don't be scared, seriously…this does NOT mean health food. It's all sugar, just in different forms. And it totally doesn't mean crazy-weird ingredients you can only buy online.
I made this gorgeous bark with ingredients I had in my pantry!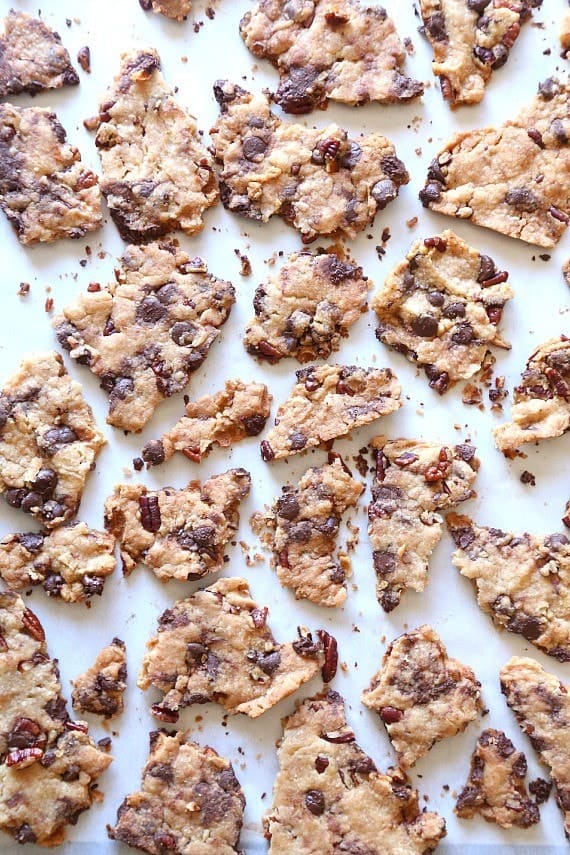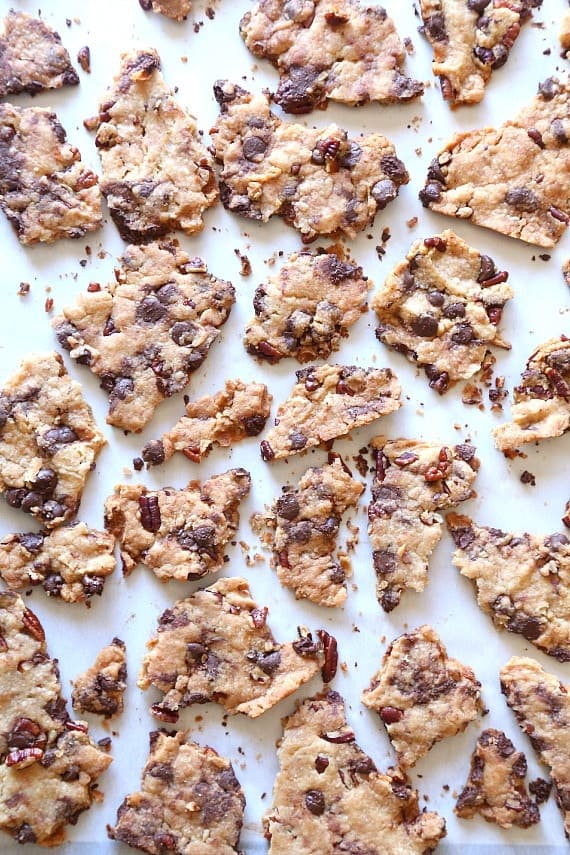 Like I said, I almost feel bad sharing this recipe with you because dude…it's possibly the most addictive treat ever to come out of my kitchen!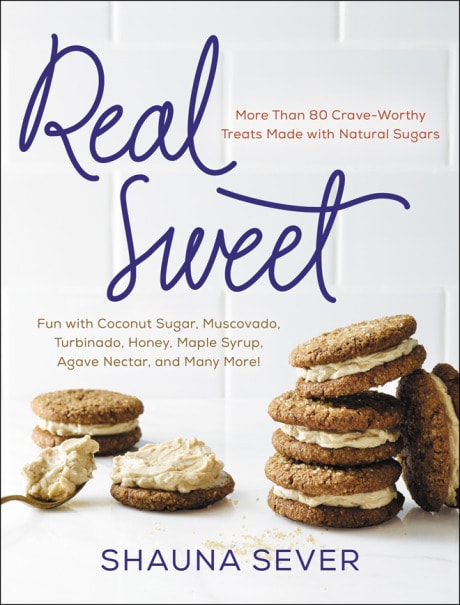 Real Sweet is gorgeous, full of simple recipes with solid instructions. It also gave me firm confidence in thinking outside the granulated sugar box.
The Turbinado sugar (Sugar in the Raw) in this recipe is a great sub-in for brown sugar, because you want a crispy brittle, and without the added moisture from the brown sugar you're left with crispy, buttery, sweet cookie bits.
You just make a pretty standard dough, but you melt the sugar slightly in your butter first. Again, no worries here, you can do this in the microwave. I told you it's easy.
Press the dough into the pan, ALL the way to the edges…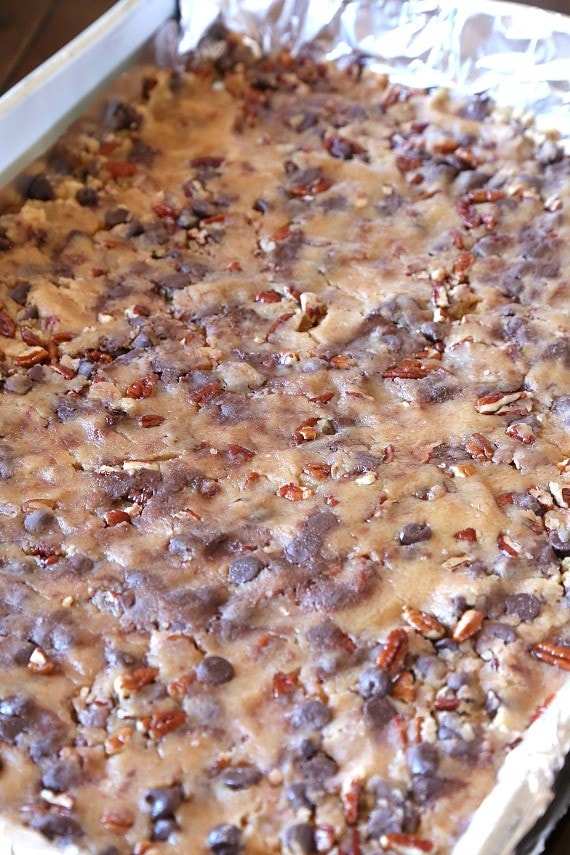 Oh and p.s I added nuts. My name is Shelly and I added nuts to my cookies. DO it.
When it's baked let it cool a bit and flip it out of the pan…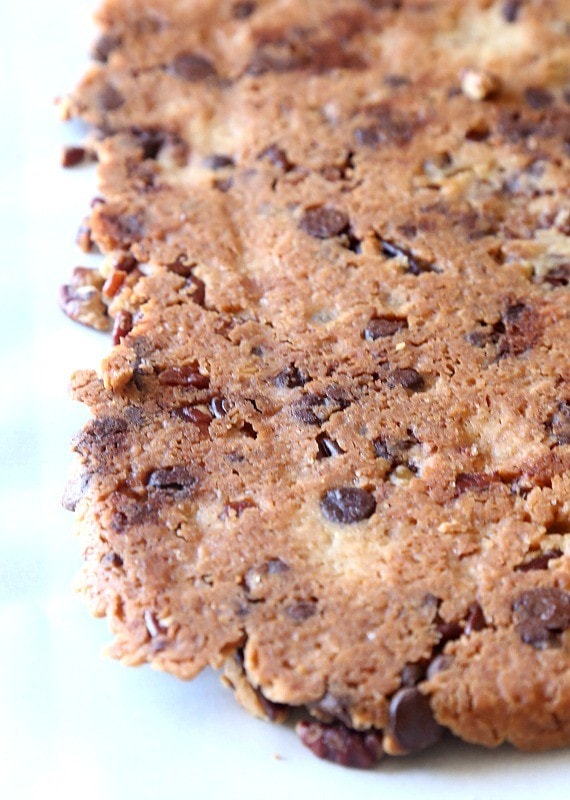 Then break it up…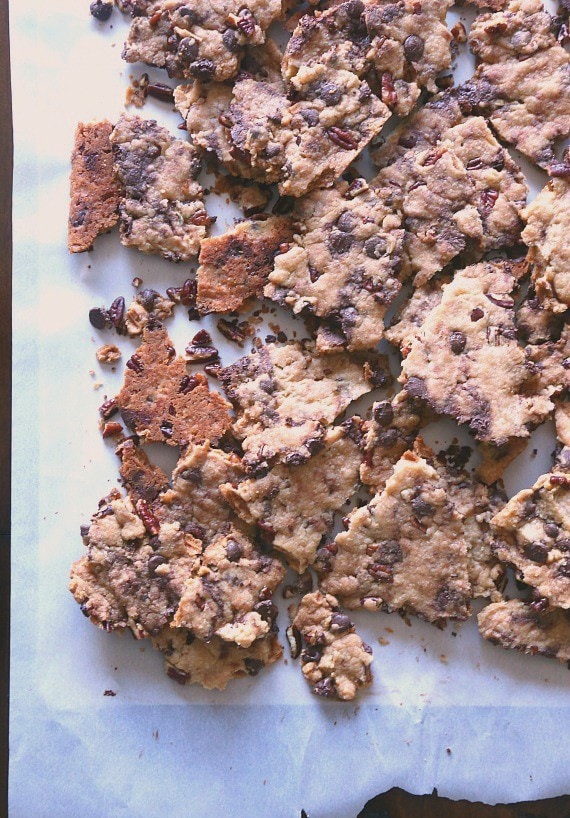 Lookie there. The crispy, layery bits of love.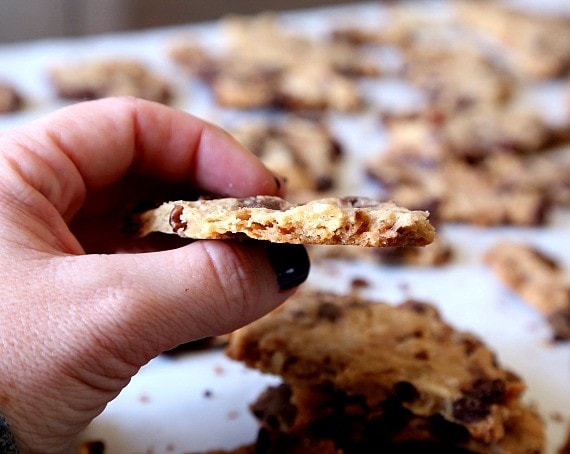 You guys, make this recipe and you'll be convinced you need the book.
It's pretty special.
Print
Chocolate Chip Cookie Brittle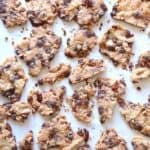 ---
Ingredients:
14 tablespoon

s butter, cubed

1 cup

Turbinado Sugar (Sugar in the Raw)

2 teaspoon

s vanilla

1 teaspoon

kosher salt

2 cup

s all purpose flour

1/2 cup

chopped pecans

1 cup

semi sweet chocolate chips
---
Instructions:
Preheat your oven to 350°F/175°C.
Set aside a large (12×17) rimmed baking sheet.
In a medium saucepan on medium heat combine the butter and sugar, stirring constantly. Once butter is melted, cook for one more minute and remove it immediately from the heat, being careful not to bring the mixture to a boil. Alternatively place butter and sugar in a large heat-safe bowl and heat in the microwave for 90-120 seconds until the butter is melted and sugar has dissolved slightly. Whisk mixture until it is combined.
Let the mixture cool for 5 minutes and then whisk mixture again for 1 minute.
Whisk in the vanilla and the salt.
Stir int he flour until the dough forms and then stir in the pecans and chocolate chips.
Press the dough onto the ungreased pan spreading it out all the way to the edges, you want the brittle to be thin.
Bake for 22-25 minutes, rotating the pan every 7-8 minutes until it's lightly golden and firm to the touch in the center.
Let the brittle cool int he pan for 3 minutes and then line a counter or second baking sheet with parchment paper and invert the first pan onto the second, and allow it to cool completely.
Break the brittle into pieces and enjoy!
---
Notes:
store airtight for up to 5 days
Want To Save This Recipe?