So, besides Hurricane Sandy taking away my power for 9 days so far, I think she took my self control too.
I have been wearing elastic pants for over a week…nary a zipper to be found.
I've been eating Pop Tarts for breakfast every morning…
And pizza for dinner.
And all the Halloween candy in the house … because they cancelled Halloween until Christmas this year.
You might say, "Hey Shelly…eat a banana…an apple…some carrots…"
But then you would die. Because I would kill you with a swift karate chop to the throat.
Health food has no place in my hurricane survival plan.
Annnd my husband decided that we need to stock up on "MRE"s…like we are in Afghanistan, or on an episode of Doomsdayers…for the next time this happens.
No thank you, sir. I refuse to accept that this will happen again.
So anyway, I am basically a fat, unhappy person right now who is living in denial.
Stay far, far away.
But to pass my time, I borrowed a neighbors kitchen who has a big, showy generator. She can run her oven, which I frankly think is kind of rude.
But then she said I could use her oven, so it stopped being rude and started being neighborly.
Thanks.
So I decided to invent something fun…Cranberry Bliss Bark.
I LOVE those Cranberry Bliss Bars from Starbucks and even make this version at home from time to time.
So why not turn it into a buttery, toffee-like bark?
Why the heck not.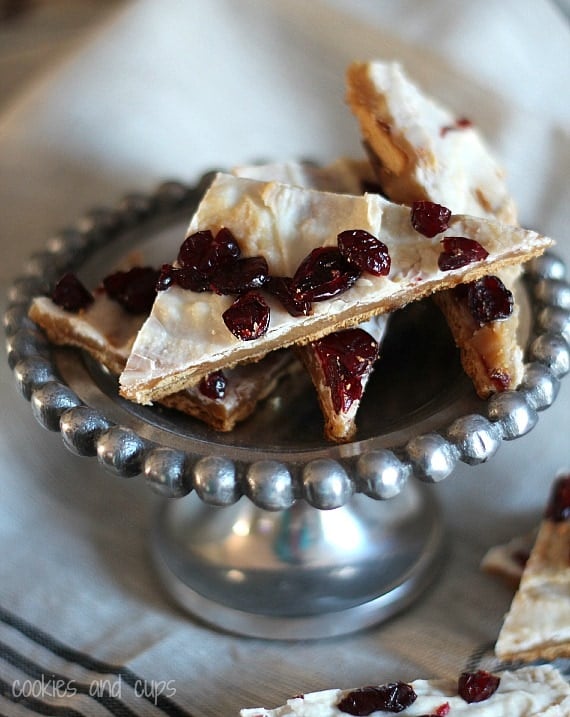 I brought my supplies over and infiltrated my neighbor's kitchen…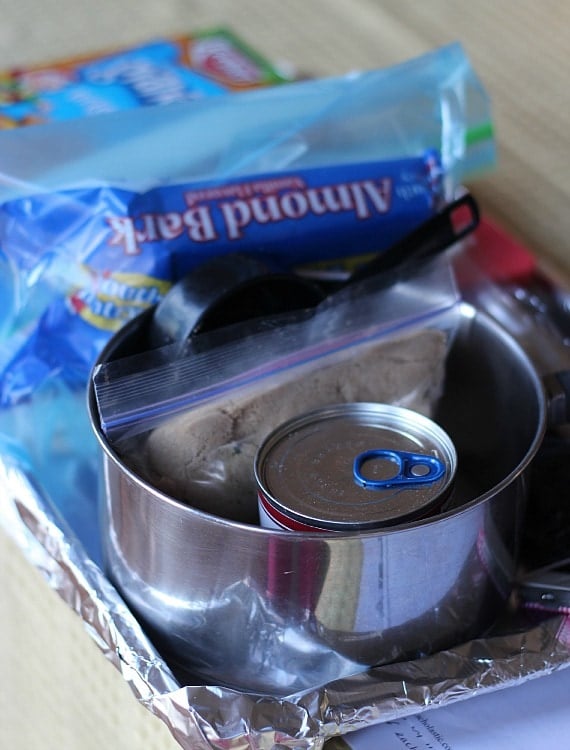 This bark is really easy…you can throw it together in just a few minutes.
Line a jelly roll pan with foil and spray it with nonstick spray. Lay your graham crackers evenly out on the foil…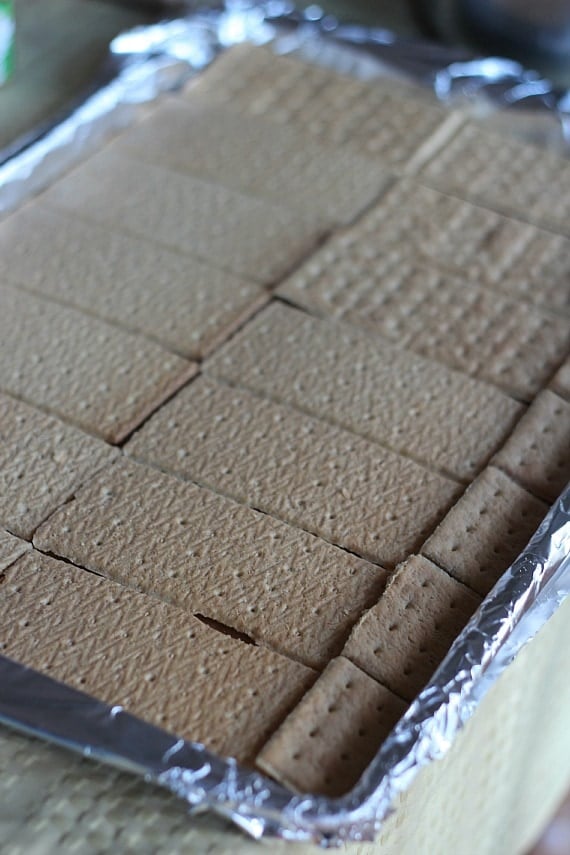 Then boil your butter and brown sugar together…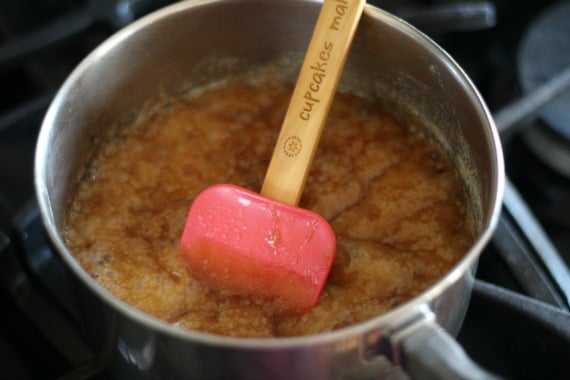 After it's boiled a few minutes remove it from the heat and pour in an entire, delicious can of sweetened condensed milk.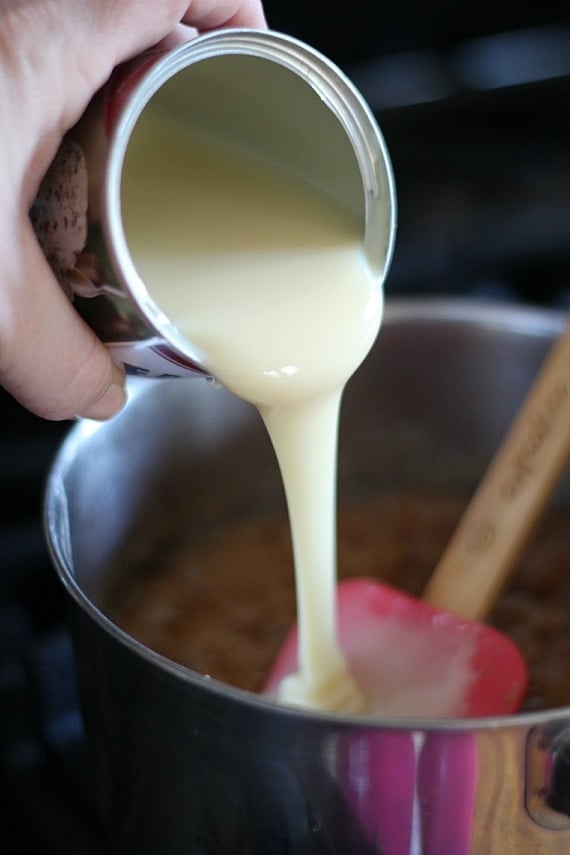 Sigh…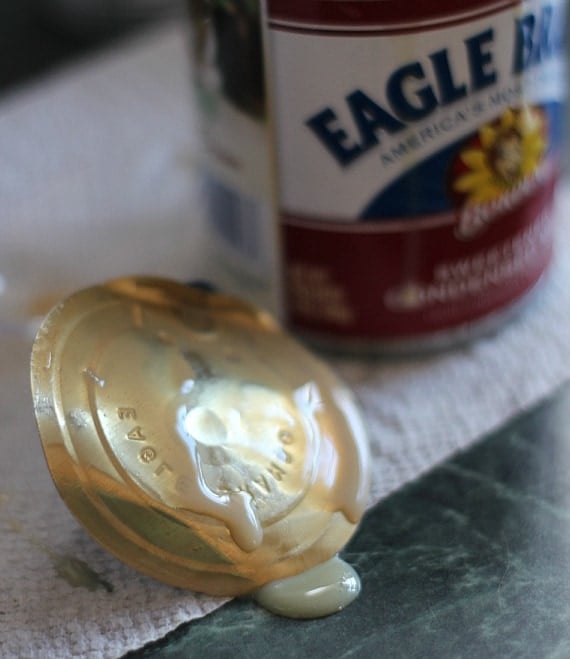 Mix that up and pour it all over your graham crackers…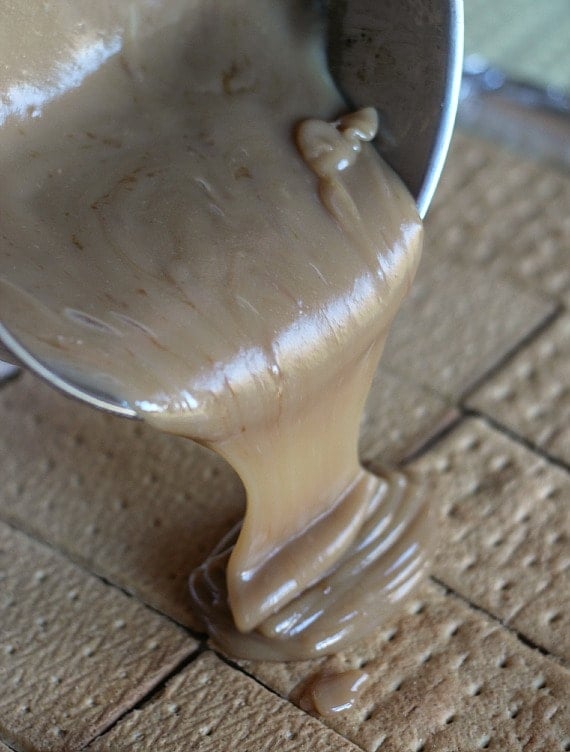 And bake it for about 7 minutes. It will get bubbly and yummy.
While it's baking chop up some white chocolate…I used Almond Bark…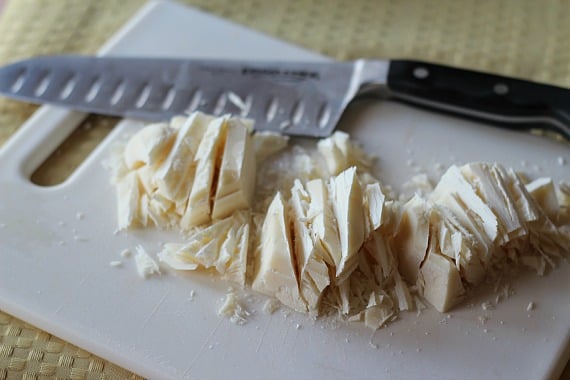 When the toffee-bark comes out of the oven sprinkle your white chocolate over top and let it sit a few minutes until it's softened enough to spread…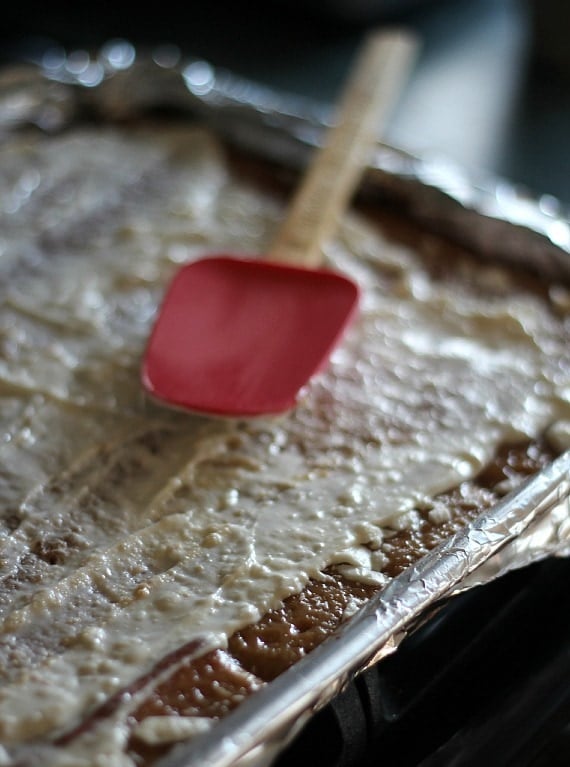 Then sprinkle your Craisins on top…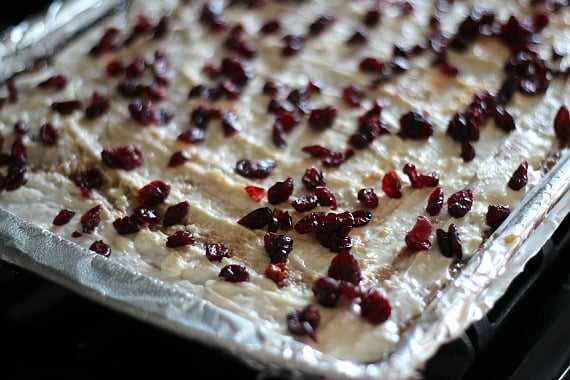 Let it cool completely before you try cutting it into pieces.
Honestly I let mine sit overnight, but it should take about an hour or so…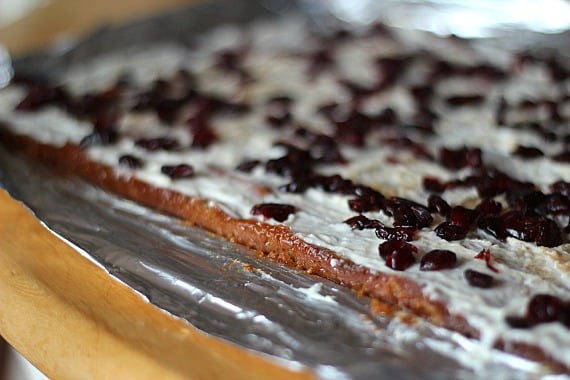 The foil will peel off easily.
And that's it!
Now really…just try and stop eating it.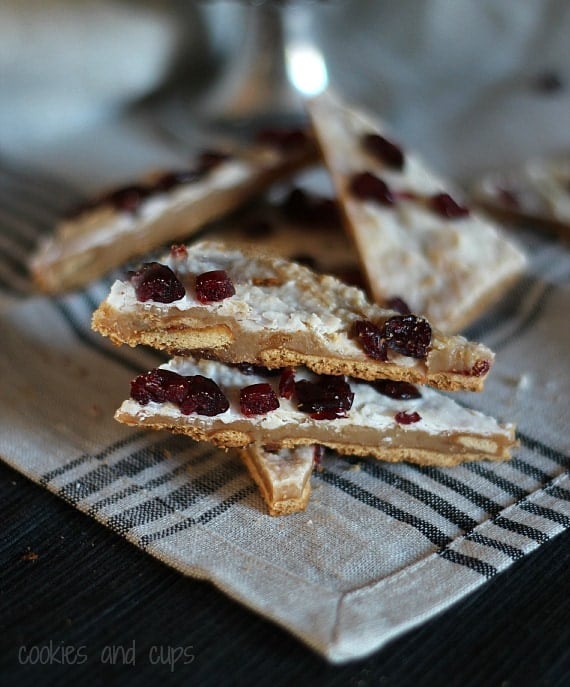 Print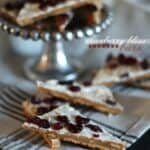 ---
18

Graham Crackers

1 cup

butter

1 cup

light brown sugar, packed

1

(14 oz) can sweetened condensed milk

8 oz

white chocolate or almond bark, chopped finely.

1 cup

Craisins
---
Instructions
Preheat oven to 400°
Line a 15″x10″ jelly roll baking sheet with foil and spray with non-stick spray.
Line the pan with graham crackers in an even layer, breaking to fit the pan if necessary.
In a large saucepan melt butter and brown sugar over medium-low heat. Heat until mixture boils and then boil it for 2 minutes.
Remove from heat and stir in sweetened condensed milk.
Pour over graham crackers.
Bake for 7-8 minutes until bubbling. Remove from oven and let it sit for 1 minute before sprinkling white chocolate evenly over top.
Let white chocolate sit for 3-4 minutes until softened and then spread with a spatula or off-set spatula evenly over toffee layer.
Immediately sprinkle Craisins on the white chocolate, pressing gently to stick.
Let cool completely before cutting into pieces.
Sprinkl
---
Notes
Store in an airtight container for up to 5 days
Want To Save This Recipe?
Find more recipes like this: