You know one of my favorite all-time movies?
Please don't judge me, mmmkay?
Seriously.
Maybe one day I will share with a you a list of all my other favorite movies, but I can only stand so much humiliation right now.
So, today we will focus on Can't Buy me Love.
I was *lucky* enough to come across this gem of a movie not too long ago on some random syndicated channel.  You know, the channels where they come up with super funny alternates for curse words. (Monkeyfighter, anyone?)
Anyway,  channel surfing ceased and I, once again, got sucked into an 80's haze of cropped shirts and crimped hair.
How BAD did I want to be Cindy Mancini?
Her car…I wanted her car ~ that white  convertible VW Rabbit…sigh.
The obsession continued with her hair, which I tried to duplicate with a bottle of Sun-In and a crimp iron.  (Disaster).
AND I maybe memorized the steps to the African Anteater Ritual…maybe.
So, yes, I love that movie and all it's 80's glory.
But here's the thing…the end of Can't Buy Me Love…I kinda hate it (gasp!).
  Not when Cindy and Ronald go riding into the sunset on his lawnmower…THAT I love.
The part that I cringe at and regularly fast forward through is where Ronald's friend Kenneth gives the speech about how nerds and jocks should all be friends and how they all used to get along..blah blah…THEN…wait for it… the whole cool California outdoor cafeteria starts clapping…cringe!
It drives me crazy in movies where someone gives a speech and then there's the one guy or girl who starts slow clapping.
Then, of course, everyone else in the gym or cafeteria or wherever joins in and then they're all shouting and giving high fives.
Just stop it..STOP the slow clapping!
In real life no one will join in.  I mean, have you ever been somewhere and started clapping when no one else does?  It's not fun. People look at you.
Or like when you're at the movies and the credits roll and someone starts clapping.
I don't know why, but when people do this, no matter how good the movie was, I feel awkward.
Like, sink down in my chair awkward.  It makes no difference whether I know the clapping culprit.  I get straight up embarrassed.
Maybe it's me and I just have an aversion to clapping, but I don't think so…because I like to clap when it's appropriate.
And appropriate clapping just doesn't happen to occur in school cafeterias after someone stands up to a bully OR movie theaters.
The end.
So now onto inappropriate desserts.
Don't say I didn't warn you.
French Toast Bread Pudding with Vanilla Custard Sauce:
32 French Toast Sticks (this is the equivalent to 8 slices of bread)
4 eggs, beaten
1 cup light cream (you can use milk if you prefer)
1 cup milk
3/4 cup white sugar
1 tsp vanilla
1 tsp cinnamon
2 Tbsp melted butter
Preheat to 350°
Thaw the French Toast sticks (they come in the freezer section at your supermarket)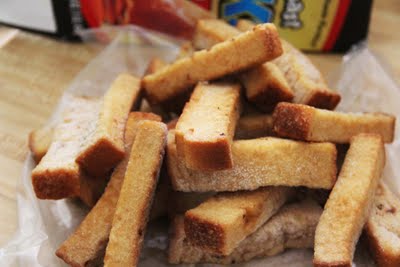 Cut each stick into 4 equal pieces.
Put all your French Toast pieces into a 9″ baking pan.
Pour melted butter over the pieces.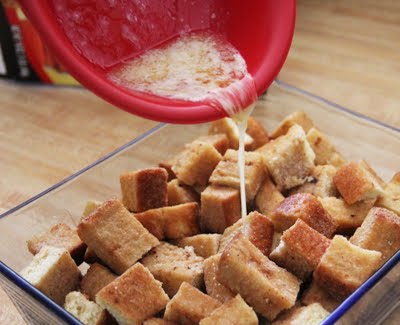 In a medium sized bowl whisk together the eggs, milk, cream, vanilla and cinnamon.
Pour the mixture over the French Toast pieces.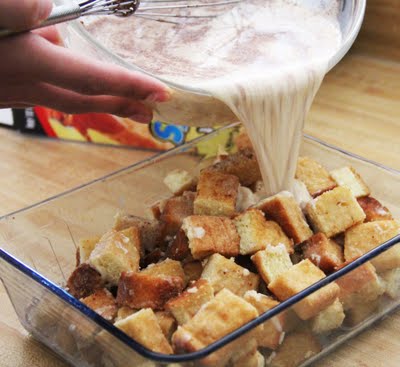 Press all the pieces down so they are covered and soaking up the milk mixture.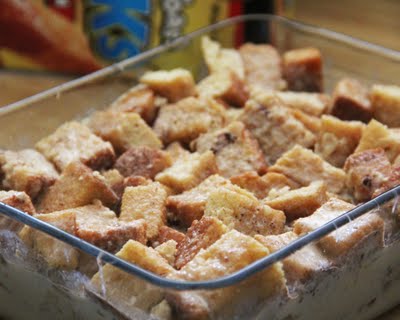 Bake for 45 minutes until the center is set.
If the top starts to brown too much cover the baking dish with aluminum foil.
For vanilla custard sauce:
adapted from Southern Living
1/2 cup sugar
3 tablespoons light brown sugar
1 tablespoon all-purpose flour
1 large egg
2 tablespoons butter
1 1/4 cups light cream
1 tablespoon vanilla extract
Whisk first 6 ingredients in a heavy saucepan; cook over medium heat, whisking constantly, 10 to 12 minutes or until thickened. Remove from heat; stir in vanilla.
When ready to serve drizzle sauce over each serving of bread pudding.
Bread pudding is such a versatile dessert, here's a fun recipe using
banana bread
… an all-time favorite of mine!
Have a great week 🙂
Tweet