This is an easy recipe for homemade Ice Cream Sandwiches, made with vanilla bean ice cream and festive Gingerbread Pop Tarts! These ice cream treats are such a fun holiday dessert to make with kids!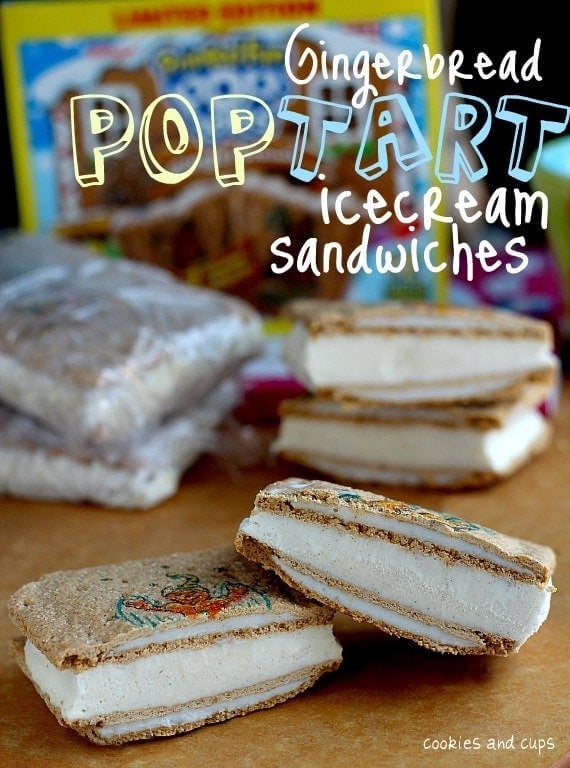 Food shopping isn't my favorite thing.
I know some people love it and say it's therapeutic and relaxing and yada yada.
Not me.
I am not a good food shopper.
This is probably the case because I am not a good planner.
I know lists work.
I know coupons work.
And I really have no excuse about dinner ideas.
The thing is, I am a great NON-food shopper…really unyielding when it comes to shoes, clothes or make-up.
Food just takes the joy out of shopping. Maybe because I HAVE to do it, or that people are depending on me to stock the pantry with food for dinner. It's just when something becomes an obligation it crosses over into "fun sponge" territory.
But ever since Target added the "produce section" I have fallen a bit out of love. It's really sad, like saying that you and your best friend have grown apart.
And you know what I REALLY hate? The self check out lanes at the supermarket. No! No! NO!
I mean, now shopping is not only a hassle but I have to check myself OUT?
Don't get me wrong, I am all for avoiding human contact and awkward chatter with the checker-outer, but that self scanner…I have to do volunteer work too?
I haven't been trained in produce names.
What if I forgot my "bonus card"?
Put too many items on the belt the lights starts flashing and the sleepy "self check-out" monitor has to come cancel and rescan your stuff. BECAUSE I'M NOT SMART ENOUGH TO WORK AT A SUPERMARKET! But guess what? Sleepy "self check-out" monitor is NEVER around because she is helping all the other scanning challenged people.
While I wait (my lane light flashing) I watch all the other people who took the lazy way out come and go with their baskets full of "sacked for you" bags. It makes me jealous and full of resentment.
Plus, I'm not really that up on current events, but don't people NEED jobs? I mean giving perfectly good checker-outer jobs away to futurey self check-out lanes just seems unpatriotic.
So yeah.
I don't enjoy the supermarket. That's why I try and send my husband.
The only downside to that is, he comes home with copious amounts of junk food. Ring Dings, Squeeze Cheese, Pop Tarts…
He's my beast of burden. I love you, honey.
Needless to say, there is rarely a shortage of Pop Tarts in our house. But I am a lemons into lemonade kinda gal. Not that Pop Tarts are lemons…it's just when you have 6 boxes currently in your pantry you need to get creative.
I saw this idea in the fabulously adorable book CakeSpy Presents Sweet Treats for a Sugar Filled Life. You need this book. I met Jessie on a trip last June to Wilton and I will tell you that she is as cute and sweet as the treats in her book. Again, go buy it now.
Since it's the holiday season, I decided to give the fun Pop Tart ice cream sandwich idea a wintery twist with Gingerbread Pop Tarts. Aren't they awesome?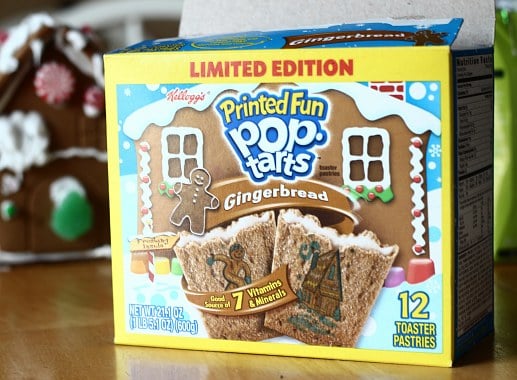 I let the ice cream sit out for a few minutes to soften. It will spread much easier.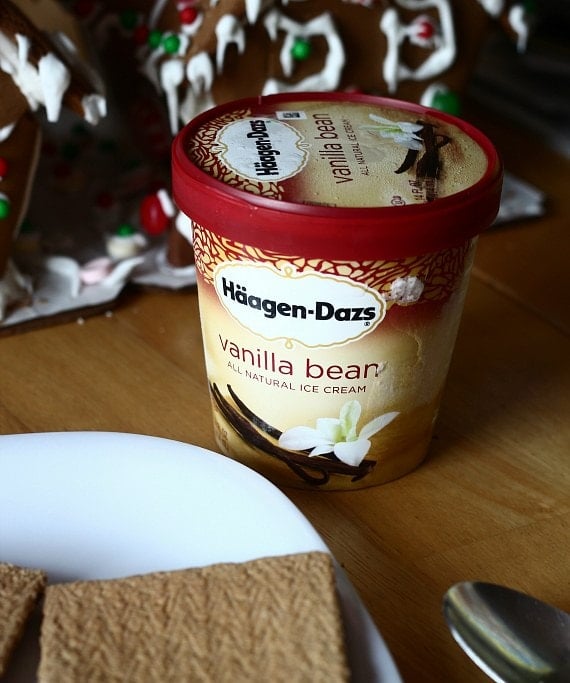 I spread some softened ice cream on top of a Pop Tart, leaving a little space at the edges, so the ice cream doesn't squeeze out.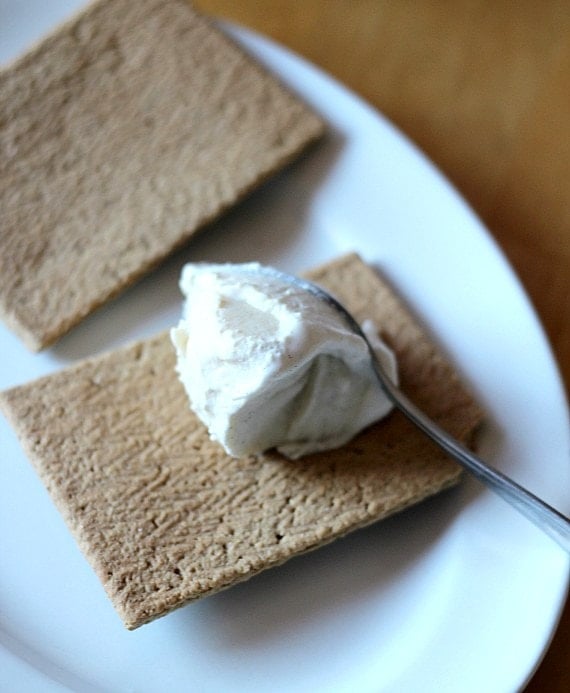 I used vanilla bean ice cream so the gingerbread flavor could be the star of the show.
Then I gently placed another Pop Tart on top.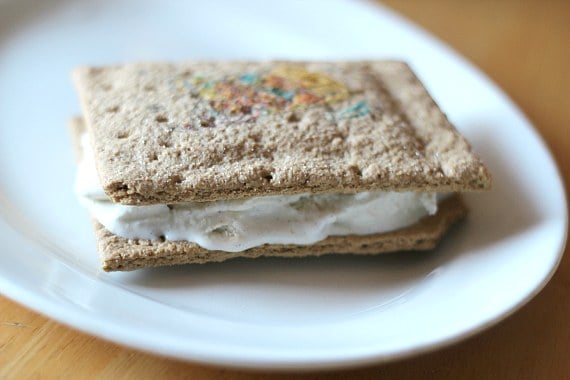 I wrapped the ice cream sandwich up in cling wrap and placed it in the freezer, so the ice cream could re-freeze.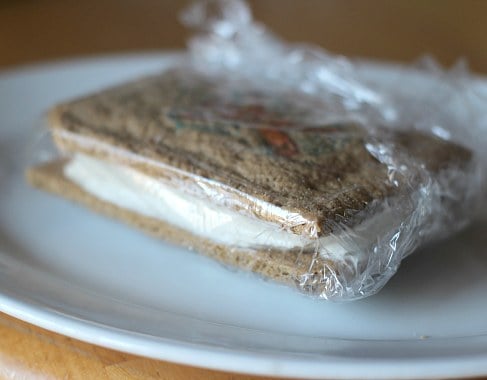 I cut them in half to serve…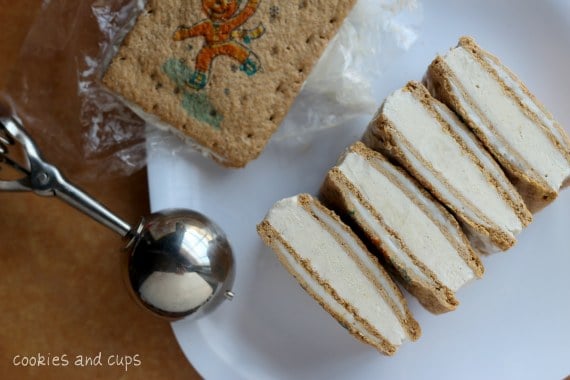 Aren't they pretty?
I am dying over the flavor combinations we could come up with!
S'mores Pop Tarts with chocolate ice cream. Cookies and Cream Pop Tarts with Cookies and Cream ice cream. Strawberry Pop Tarts with coconut ice cream…Brown Sugar Cinnamon Pop Tarts with Butter Pecan ice cream..sigh…