Have some extra buttercream you don't know what to do with? Here's your answer: Buttercream Truffles!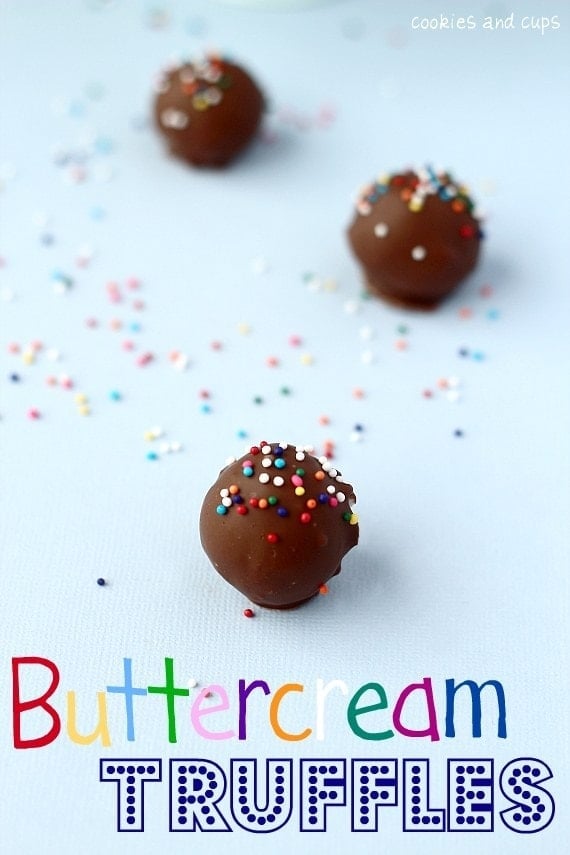 Here's what happened…
I made buttercream.
I had leftover buttercream.
I decided that I needed to remove the buttercream from my house for fear I would do a swan dive into the bowl.
Whatever is a girl to do?
I considered tying a bow on the bowl and taking it over to my neighbors…I mean, it IS Christmas.
And really isn't a big vat of frosting the gift that keeps on giving?
But just a bowl of frosting, while delicious and functional, would be re-gifting. And while I am not above re-gifting, I try not to make it so obvious.
So, I got a little creative.
I dressed my buttercream up.
NO, I am not talking about cute packaging.
I am literally talking about putting an outfit on my frosting.
A chocolate outfit.
Buttercream Truffles.
You dig?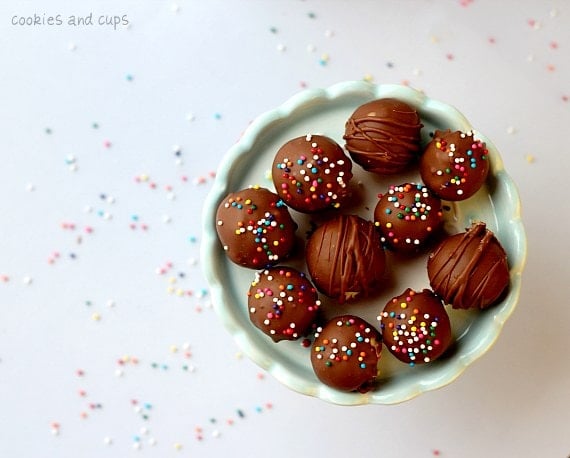 I had about 2 cups of leftover frosting that I trufflized (that's SO a word).
Here's the recipe for Buttercream.
I refrigerated the extra frosting overnight, but I imagine a few hours would be plenty. Just long enough that the frosting gets hard…
When the frosting is completely chilled, roll into teaspoon sized balls. You don't want to make them too much bigger than teaspoon sized because there's a lot of sweetness going on here.
Once they're rolled, place in the freezer for at least 30 minutes.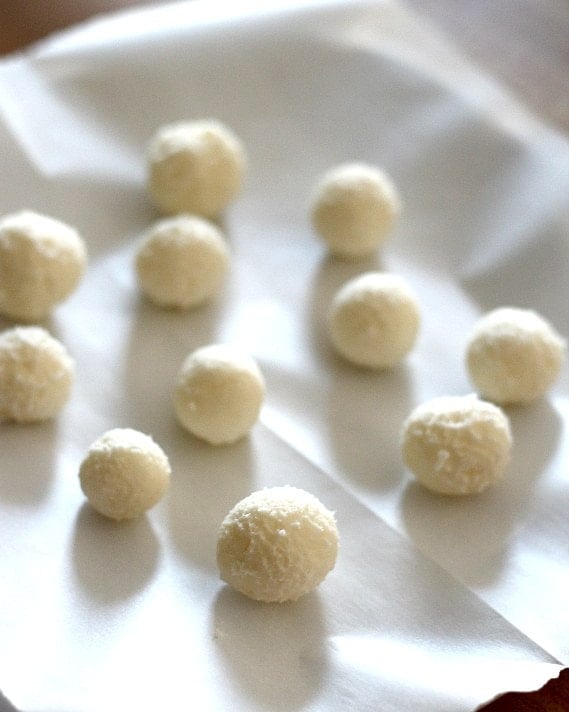 They need to be very cold because you don't want the frosting to melt when you dip them in the chocolate.
Next melt 10 oz of chocolate. I used chocolate candy disks. I added about 2 teaspoons of vegetable shortening to the disks to thin the chocolate a bit. You don't have to, but it helps get a smooth finish.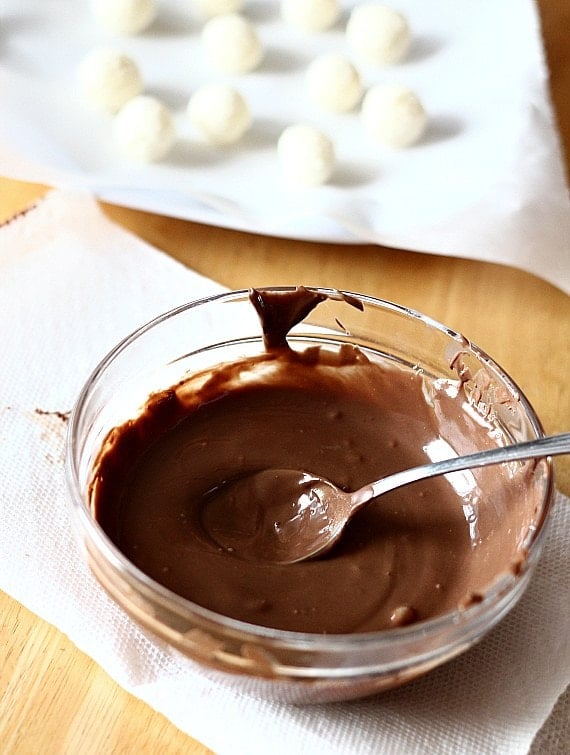 Dip the frosting balls into the melted chocolate quickly, and tap off the excess chocolate. I use a fork and I tap, tap and then tap some more.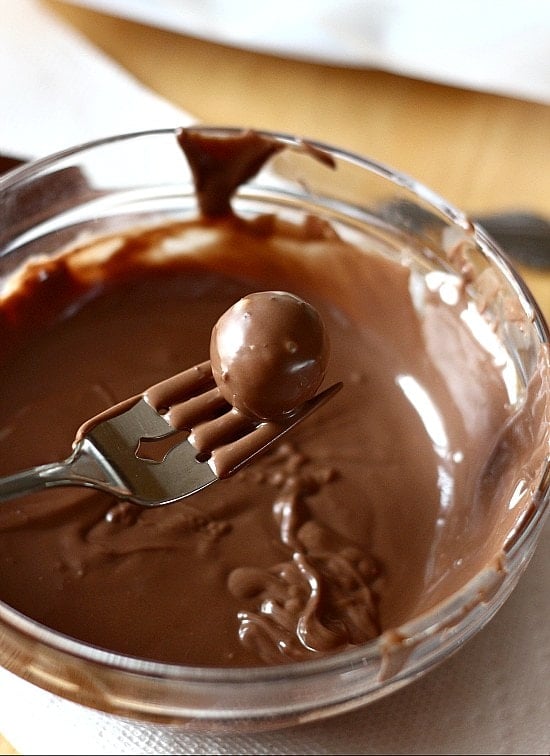 Just know that since the frosting is frozen the chocolate coating will set rather quickly. If you want to decorate the truffles with sprinkles, you need to add them now, so the chocolate doesn't set.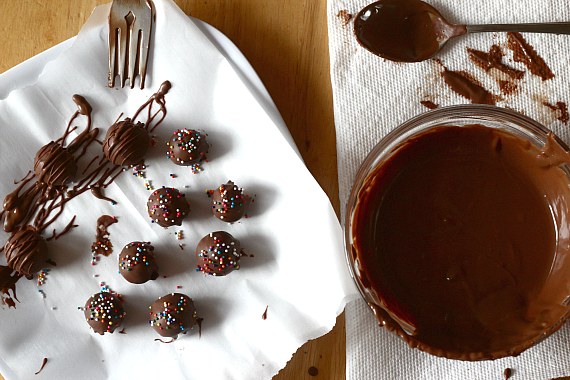 That's it. Little bites of dressed up frosting.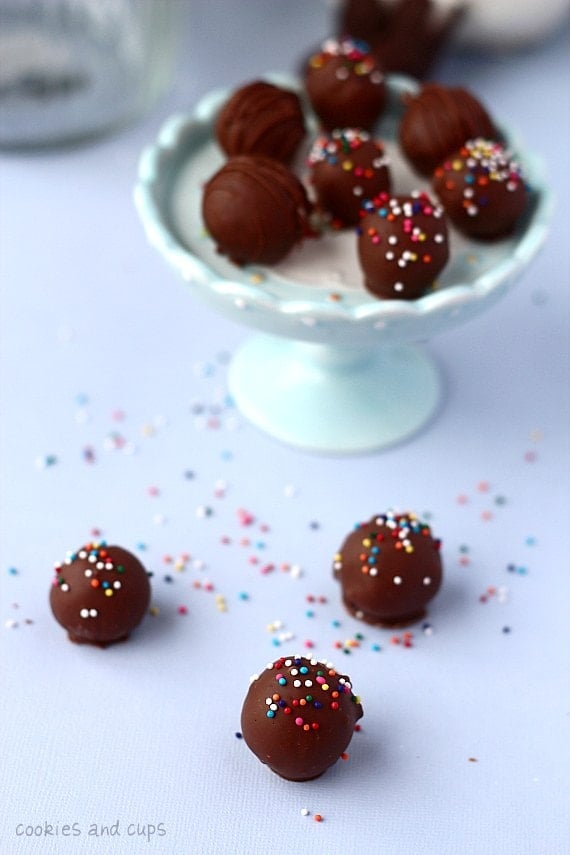 Really, is there anything better?