Soft, sweet Gingerbread Sandwich Cookies are the ultimate holiday cookie! Buttery and soft cookies with a sugar crunch on top filled with creamy frosting!
Make sure to try my recipe for Soft Gingerbread Cookies too!
This recipe is made in partnership with my friends over at Imperial Sugar. Find the FULL RECIPE HERE.
This festive take on a classic soft gingerbread cookie is my take on the popular cookie sold at Trader Joe's every year at the holidays! Soft gingerbread is my favorite type of gingerbread. Of course I love those cute little gingerbread men, but they never seem to be as delicious as I want them to be. A soft gingerbread cookie is a lot like a snickerdoodle with a bit more spice! And of course you have that rich, molasses flavor that is a must in gingerbread!
Why not?? Why have one cookie when you can have two…plus the addition of creamy, sweet filling on the inside. They're basically a whole dessert! The buttercream pairs beautifully with the spiced gingerbread cookie. You could even use a delicious cream cheese frosting as well, that would be such a great pairing! These are a fun way to switch up your usual Christmas Cookies.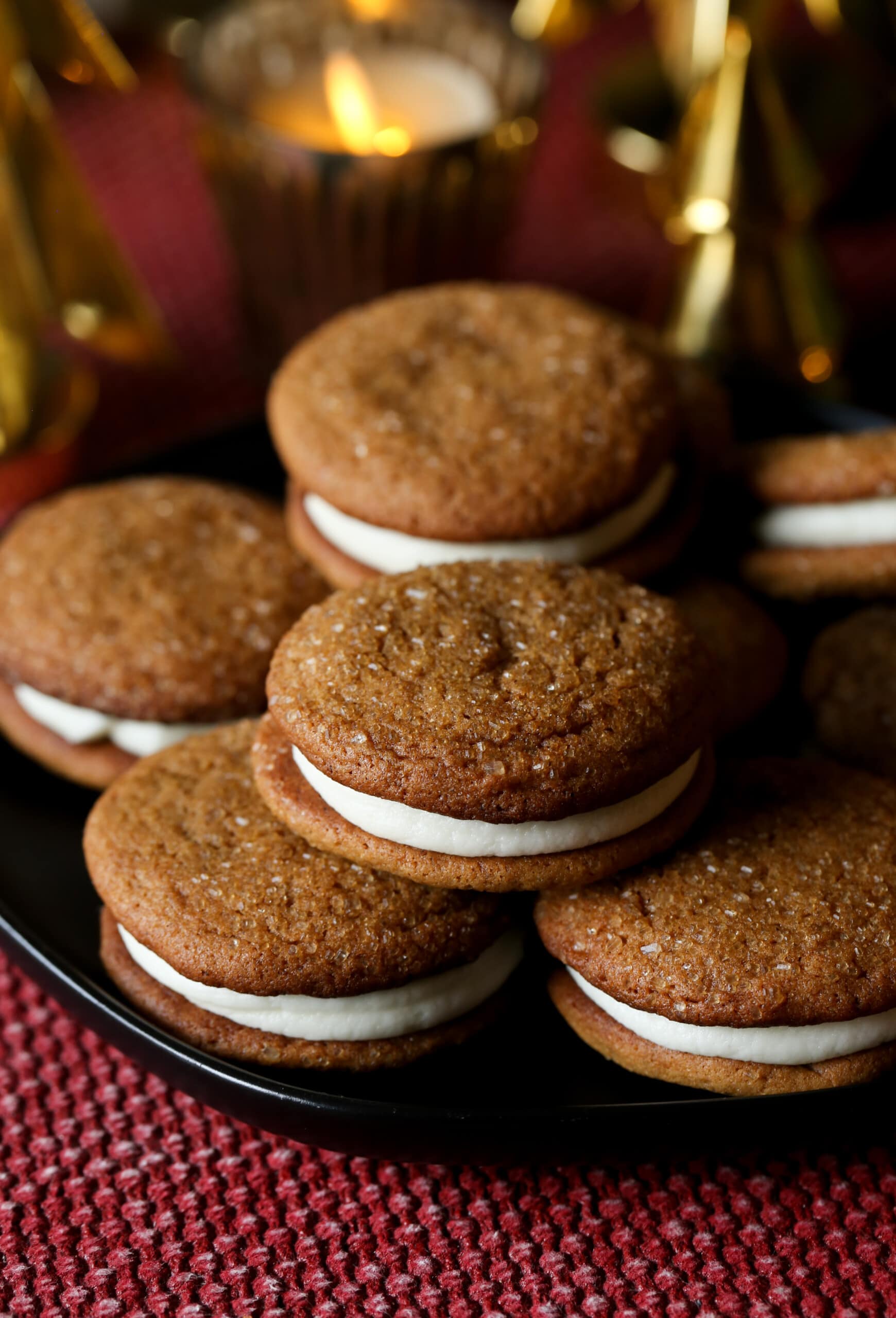 Ingredients
For the full recipe and list of ingredients CLICK HERE.
Butter at room temperature
Granulated sugar
1 egg plus 1 egg yolk
Molasses
Baking soda
Kosher salt
Ground ginger
Ground cinnamon
Ground cloves
All purpose flour
Coarse Turbinado sugar
Filling
Butter at room temperature
Powdered sugar
Milk
Steps
For the cookies: preheat the oven to 350°F. Line your baking sheet with parchment paper and set aside.
In the bowl of your stand mixer fitted with the paddle attachment mix the butter and sugar together for 2 minutes on medium speed. Add in the molasses and mix until incorporated.
Then mix in egg plus additional yolk, baking soda, salt, ginger, cinnamon and cloves until smooth, scraping the sides of the bowl as neeeded to make sure everything is combined.
Turn the mixer to low and add in flour until dough comes together.
Pour the turbinado sugar into a small bowl and set aside.
Using a small cookie scoop portion out the dough and roll into balls. Dip half of the dough ball into the turbinado sugar and place them onto your prepared baking sheet 2 inches apart. You only want the top of the cookies to be coated with the coarse sugar because you are making sandwiches. You certainly could coat the whole cookie in the turbinado sugar if you would like, but it's not necessary.
Bake for 7-8 minutes until the edges are golden and cool completely before making your sandwiches.
For the filling: This is just a simple buttercream recipe. Mix all the filling ingredients until creamy and then pipe onto the bottom of half the cookies. Adjust the creaminess of the filling by adding a tablespoon more or less of milk if needed. You can spread the frosting as well, I just find piping the frosting is quicker and less messy. You can do this easily with a piping bag or a zip-top bag with the corner snipped off.
Press the remaining cookies on top of the filling creating sandwiches.
The key to making your gingerbread soft is the ratio of ingredients. Adding an egg yolk along with a full egg makes the cookies chewy and soft. The amount of molasses matters paired with the correct amounts of sugar and flour.
This is simple and is great for this recipe as well as all cookie recipes!
Use a cookie scoop! This is an easy way to ensure that your cookies are all the same size!
Weigh the cookie dough. If you don't have a cookie scoop, you can weigh the dough to make sure they are all the same size.
For these cookies, rolling the dough into uniform balls ensures that they will bake evenly.
Make sure all your ingredients are mixed well. If you don't mix well you can get pockets of butter or sugar causing the cookie to bake unevenly and spreading.
As soon as the cookies come out of the oven, if you notice any are misshapen, use you spatula to form them back into the correct shape. Once they cool this won't work, so do this asap!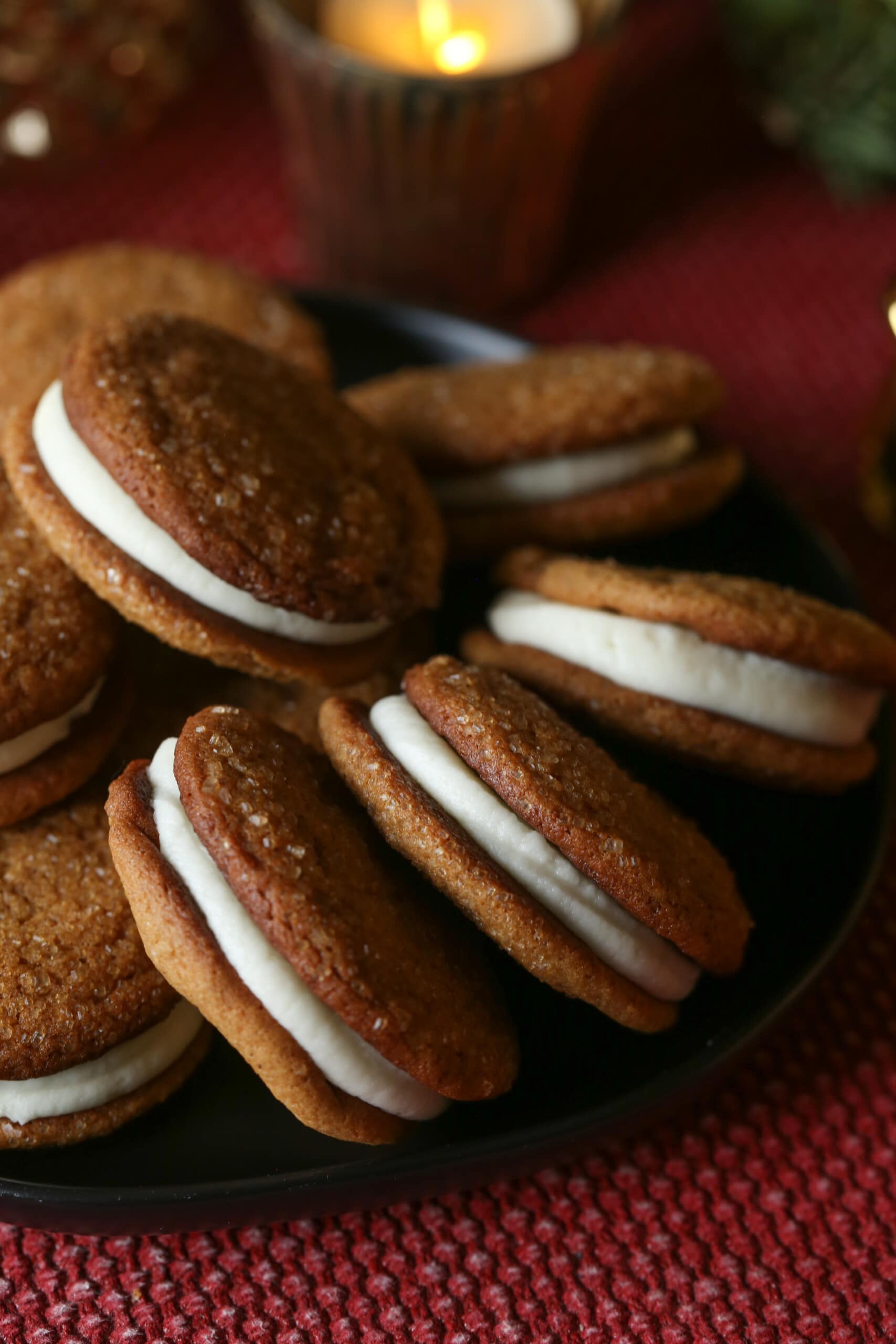 Variations:
Use cream cheese frosting instead of buttercream! That would be a delicious combo!
Add in a teaspoon of ground cinnamon to the frosting for a cinnamon buttercream filling!
Coat the filling edges with some mini chocolate chips, coconut or sprinkles for a festive and pretty touch!
Store these chewy ginger sandwich cookies airtight at room temperature. You can also freeze these for up to 30 days airtight!
PIN for later: