These Ice Cream Cone Cannolis are an adorable twist on the classic Italian dessert recipe! The cannoli cream is super easy to make with just 3 ingredients!
Ice Cream Cone Cannolis Recipe
My house is crazy-town right now. Loon-ville.
My 8 year old has played Mary Had a Little Lamb seventy bazillion times on his recorder in the past 30 minutes, my dogs have not accepted the time change and won't stop barking at me to feed them an hour early, I still have groceries in the bags on my dining room table ever since I got back from the super-market 6 hours ago, my 6 year old is insisting we decorate his gingerbread house right now and dinner is totally not getting cooked.
Yet, I sit here typing.
I don't think I have ever given you the illusion that I have it all together…at least, I certainly don't hope so.
The other day I legitimately wrote "take a shower" on my "to-do" list. It's true.
So instead of doing any of the grown-up things I SHOULD be doing, like making schedules and addressing Christmas cards, I decided to attempt cannoli cream.
It's like my super-hero power…coming up with completely unrelated diversions from my adult responsibilities.
I will be called Procrastination Girl. I will wear sweats and a pink cape made of cozy fleece and my weapon will be a laser-shooting gun that looks like nail polish. Because, honestly, painting my nails is my go-to form of procrastination. Why? Because not only does it take a good 30 minutes, you have at least an hour after you're done to procrastinate more while they dry.
Fold laundry? Nope, sorry, my nails are wet.
Unload the dishwasher? No can do…wet nails.
Ok, back to cannoli cream.
I tried to make it once before and it was a huge heaping pile of suck.
How to Make Cannolis
It seems the trick is to let your ricotta drain, drain, drain. And then drain a little more. When you're done with all the draining, it's about as easy as anything I have ever made.
Here's how I did it…
I used a strainer and a paper towel, but if you have a cheese cloth that would work better.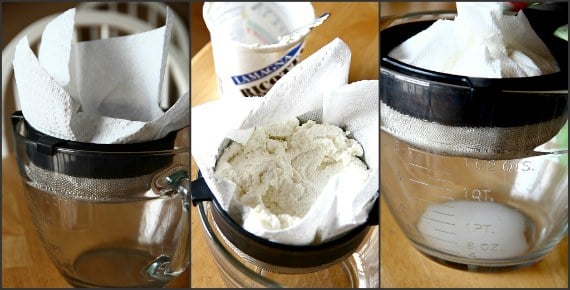 I let it sit in my fridge overnight. I am not a ricotta cheese expert, but it worked perfect for me. See in the last picture the liquid that drained out? I would occasionally give it a little squeeze and I changed the paper towel once or twice when it appeared to be getting really wet. If you have a cheese cloth, that would be best, but it worked for me with a paper towel.
When my ricotta was dry I mixed in some sifted powdered sugar and chocolate chips. I filled a ziplock with the cream and stuck it back in the fridge until I was ready to use it.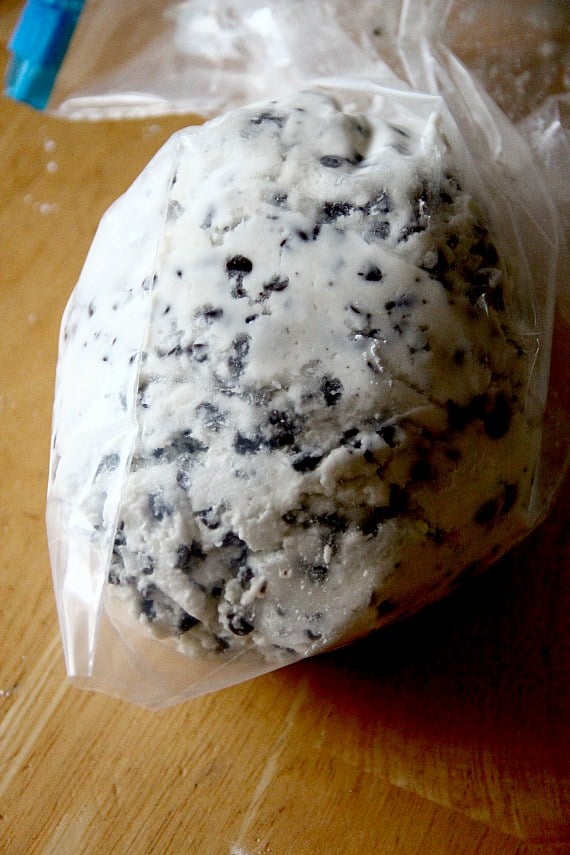 Now to the cannoli "shells".
Since I am all about taking the easy route I decided to fill ice cream cones with the cannoli cream instead of going to all the trouble of making shells…because that would require me to fry stuff and that doesn't fit in with my procrastination schedule.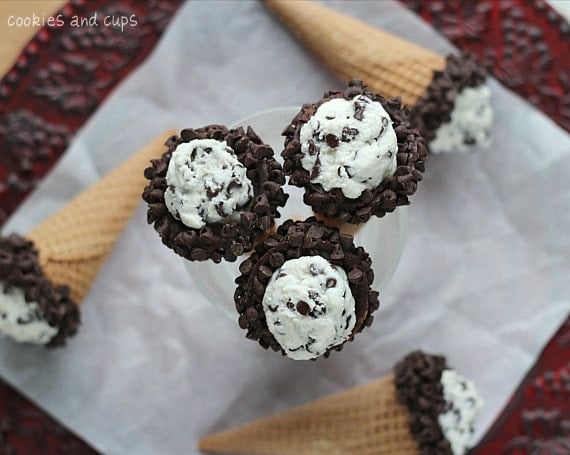 The idea has been around for a while, but I thought it was just too cute not to try and share.
Ice Cream Cone Cannoli.
Here's the details..
You need sugar cones, melted chocolate and mini chocolate chips…or you could use pistachios…that'd be really good!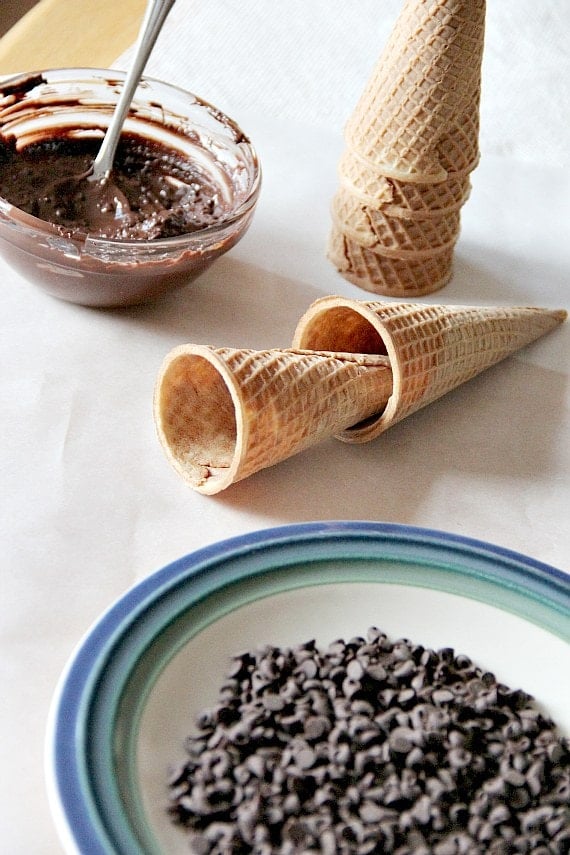 Just melt some chocolate and dip the edge of your cone in that…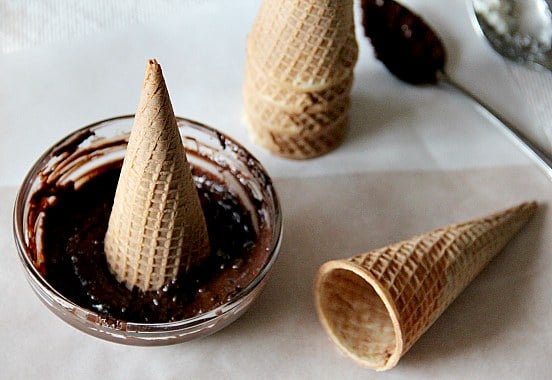 and then roll the chocolate into the chips…
Let them set up…it shouldn't take too long and fill them with your prepared cream when you are ready to serve. The cones will get soggy if you fill them too far in advance.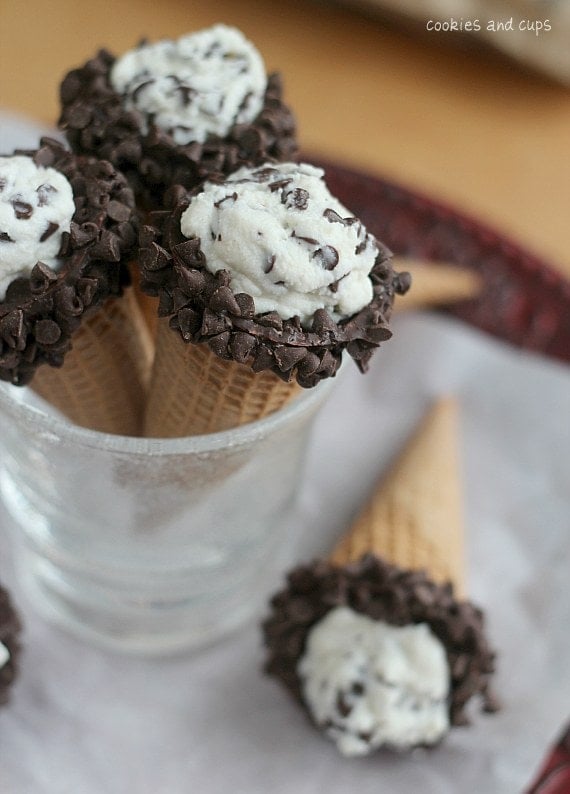 Ok, Procrastination Girl must now remove her cozy fleece cape and start dinner. My family insists on eating, it's kind of a drag.
Print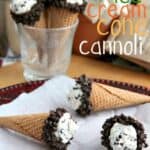 Ice Cream Cone Cannolis Recipe
Author:

Prep Time:

10 minutes

Cook Time:

0 minutes

Total Time:

10 minutes

Yield:

12

Cannoli Cones

1

x

Category:

Dessert

Method:

No Bake

Cuisine:

Italian
---
Description
These Ice Cream Cone Cannolis are an adorable twist on the classic Italian dessert recipe! The cannoli cream is super easy to make with just 3 ingredients!
---
24 oz

whole milk ricotta

3/4 cup

sifted powdered sugar

1 cup

chocolate chips
---
Instructions
Place your ricotta in a strainer lined with a cheese cloth or paper towel. Let it sit overnight, occasionally squeezing to help release the liquid.
When the ricotta is strained, stir in your sifted powdered sugar and chocolate chips until combined thoroughly.
Place in a piping bag or ziplock until ready to use.
---
Notes
* Optional ~ you can add 1 teaspoon of vanilla or the zest of an orange or lemon to give it a different flavor
Nutrition
Serving Size:
Calories:

240

Sugar:

23.3 g

Sodium:

47.8 mg

Fat:

12.7 g

Trans Fat:
Carbohydrates:

26.2 g

Protein:

7.7 g

Cholesterol:

28.9 mg
Keywords: how to make cannolis, cannolis recipe, cannoli cream recipe, cannoli cream, italian dessert, italian dessert recipe, homemade cannoli
Want To Save This Recipe?
Find more recipes like this: